originally published: 11/26/2019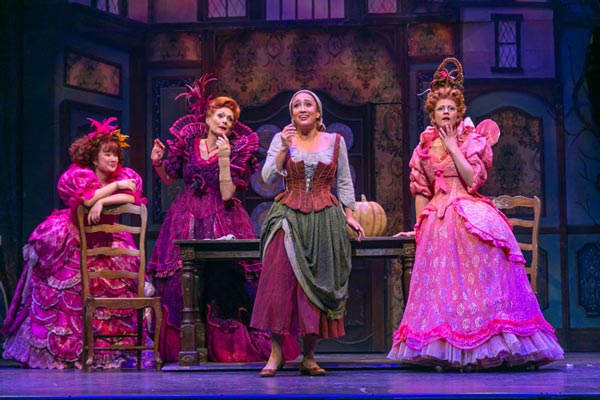 Here's a look at plays taking place on stages across the Garden State in December.  Remember to add your plays to the New Jersey Stage event calendar (listings are free) and send press releases to info@newjerseystage.com.
It's A Wonderful Life: The Radio Play - November 30 - December 1 @ The Theater Project, Union. Based on the classic Jimmy Stewart movie, this American holiday tradition comes to life as a live 1940's radio broadcast. Join us in the LUX RADIO THEATER as 12 actors, one musician and an extremely overworked sound technician prepare for the big broadcast of this favorite story.  Performed in the Unity Bank Annex (952 Stuyvesant Avenue)
Shrek, The Musical - November 30 - December 8 @ AxelrodPAC, Ocean Township. Based on the Oscar-winning DreamWorks Animation film, Shrek The Musical is a Tony Award-winning fairy tale adventure, featuring all new songs from Jeanine Tesori (Thoroughly Modern Millie; Caroline, or Change) and a sidesplitting book by David Lindsay-Abaire. Shrek brings all the beloved characters you know from the film to life on stage and proves there's more to the story than meets the ears.​
Annie - November 30 - December 15 @ Algonquin Arts Theatre, Manasquan. A Broadway classic, Annie follows an optimistic young orphan living in New York City on her quest to find her parents, who abandoned her on the doorstep of an orphanage run by the cruel Miss Hannigan. Annie escapes to New York City to find a world of adventure and finds a new home with billionaire Oliver Warbucks, his secretary and his lovable dog, Sandy. The heart-warming production first opened on Broadway in 1977 and ran for almost six years, winning seven Tony Awards, including Best Musical.
Love In Hate Nation - Now through December 1 @ Two River Theater, Red Bank. A turbulent rock romance by Joe Iconis, composer and lyricist of the worldwide sensation Be More Chill! Set in a 1960s Juvie Hall, Love in Hate Nation uses classic "bad girl" movies as the inspiration for the story of young people caught between eras of a changing America. Sixteen-year old Susannah Son is carted off to the National Reformatory for Girls to get her head put on straight. There she meets the aggressively incorrigible Sheila Nail, and a relationship forms which leads to an all-out "revolution in the institution" as they attempt to break out of the boxes society has created around them. Girl Group Wall of Sound harmonies are filtered through a punk rock spirit in this rebellious and romantic new musical.
---
The article continues after this ad
---
---
Beauty and the Beast - Now through December 15 @ Centenary Stage Company, Hackettstown. Based. Based on the Academy Award-winning animated feature, the stage version includes all of the wonderful songs written by Alan Menken and the late Howard Ashman, along with new songs by Mr. Menken and Tim Rice. The classic story tells of Belle, a young woman in a provincial town, and the Beast, who is really a young prince trapped under the spell of an enchantress. If the Beast can learn to love and be loved, the curse will end and he will be transformed into his former self. But time is running out. If the Beast does not learn his lesson soon, he and his household will be doomed for all eternity.
My Life On A Diet - Now through December 15 @ George Street Playhouse, New Brunswick. This hilarious comedy stars the Academy Award-nominated and Emmy Award winning writer and actress Renée Taylor, known for her recurring role on television's The Nanny. In this acclaimed show, she looks back on a life full of memorable roles in Hollywood and on Broadway, and just as many fad diets, all while dishing juicy anecdotes about legends like Joan Crawford, Marilyn Monroe, and Barbra Streisand. 
Jersey Boys - December 3-4 @ State Theatre, New Brunswick. They were just four guys from Jersey, until they sang their very first note. They had a sound nobody had ever heard…and the radio just couldn't get enough of. But while their harmonies were perfect on stage, off stage it was a very different story—a story that has made them an international sensation all over again. Go behind the music and inside the story of Frankie Valli and The Four Seasons in the Tony® and Grammy Award®-winning true-life musical phenomenon, Jersey Boys. From the streets of New Jersey to the Rock and Roll Hall of Fame, this is the musical that's just too good to be true.
Charles Dickens' A Christmas Carol - December 4-29 @ Shakespeare Theatre of NJ, Madison. A whole generation of children have arrived since we last did Neil Bartlett's whimsical and moving adaptation of this holiday classic. This tale speaks to every generation and to people of all beliefs, and joyously celebrates the priceless value of good will and generosity of spirit toward our fellow "voyagers." This version uses a small ensemble of actors to bring an abundance of animate and inanimate characters to life, as the despicable Ebenezer Scrooge encounters the haunting spirits of Christmas Past, Present and Yet to Come.
A Christmas Carol - December 5-15 @ Crossroads Theatre Company, New Brunswick. The classic story of Ebenezer Scrooge comes to life on stage in spectacular fashion as this multi-cultural musical celebration is delivered in a unique fashion in a way that only Crossroads can. Broadway veteran performer Count Stovall embodies the world most famous curmudgeon, who values his wealth above the lives others.  Three Spirits visit on Christmas Eve who force Scrooge to examine his life choice which will ultimately show him the error of his ways. Experience this holiday favorite with spectacular dancing and top-tapping singing.
'Tis The Season - December 5-15 @ Surflight Theatre, Beach Haven. This toe-tapping musical treat comes complete with a score that will warm your heart, lift your spirits and send you dancing into the New Year. Glamour, glitz, goodwill and garland fill the stage with a huge splash of holiday cheer. If you and your family see only one show this season, make it 'Tis The Season!
A Merry Little Christmas Carol - December 5-29 @ Mile Square Theatre, Hoboken. A Merry Little Christmas Carol is a Dickens of a tale, told many times and many ways- but never before like this! Mile Square's new production features five actors celebrating the magic of stage craft as well as the joy of the holiday season. Audiences will delight in quick change artistry, puppetry, traditional music and the warmth, laughter and tears of this beloved holiday classic.
The Christmas Caper - December 6-8, 13-14 @ Hackensack Performing Arts Center, Hackensack. This a two-act ninety-minute seasonal fantasy saga of Santa's stolen sleigh. A terribly despondent Santa announces that no toys can be delivered to all the children because his transportation has been maliciously ripped off by terrible villains; the vicious Count Evo, his three goofy sidekicks, Patch, Itch and Maxie. Gloom replaces glee in Santa's workshop until Sparky the elf calls on Thorndike, the magical, mystical pet dog of the Snow Queen of The North Pole. This oversized pooch helps the elves and Mrs. Claus retrieve the missing sleigh before the evil crooks can use it to kidnap all the children of the world, turn them into "popsickies", and feed them to the dreaded Snow Monster.
A Change is Gonna Come - December 6-15 @ Luna Stage, West Orange. Join actor-singer-writer Ami Brabson on a journey through life's transitions, big and small. This World Premiere one-woman show combines storytelling, poetry, and song to reflect on the inevitable changes in our lives and the self discovery that often follows. The loss of a parent, the demolition of a house, and the discovery of political passions all inspire reflection, music and, ultimately, hope.
Miracle on 34th St The Musical - December 6-22 @ Broadway Theatre of Pitman. Single mother, Doris Walker, doesn't want her six-year-old Susan's head filled with romantic notions. Their neighbor, Fred Gailey, tries to woo Doris by charming Susan and taking her to see Santa Claus at Macy's, where Doris works. Doris is not impressed, but when it turns out that Macy's Santa may, in fact, be the real Kris Kringle, a wave of love spreads across New York City that melts even the most cynical hearts. Filled with humor, spectacle and such beloved songs as "Pinecones and Hollyberries," "It's Beginning to Look a Lot Like Christmas" and "My State, My Kansas," this musical is pure family entertainment.
A Very Special (Holiday) Special - December 7 @ Dreamcatcher Repertory, Summit. The Dreamcatcher ensemble will entertain you with holiday songs, comic sketches and improv, and lots of good old-fashioned fun. The show is appropriate for the whole family, and every year's show is completely original!
Dogfight - Now through December 8 @ Eagle Theatre, Hammonton. Compassion takes center stage in this beautifully romantic and hauntingly heartbreaking musical. It's November 21, 1963. On the eve of their deployment to a small but growing conflict in Southeast Asia, three young Marines set out for one final boys' night of debauchery, partying, and maybe a little bit of trouble. But, when Corporal Eddie Birdlace meets Rose, an awkward and idealistic waitress whom he enlists to win a cruel bet with his fellow recruits, she rewrites the rules of the game and teaches him the power of love and compassion. Based on the 1991 Warner Brothers film, Dogfight is packed with an unstoppable pop score, an unexpected love affair, and a genuine and charming message that takes audiences to new heights.
This Wonderful Life - December 8 @ Skyline Theatre Company, Fair Lawn. Actor David C. Neal stars and inhabits every role in this funny and touching retelling of the iconic holiday film by Frank Capra. George Bailey, Clarence the angel, the evil Mr. Potter and the entire town of Bedford Falls come to life as a single actor creates this inspiring story about the effect one hardworking mans life has on the people around him and the world. Part of this event is a live holiday musical mini-concert and sing-a-long. The music will be provided by live musicians and singers under the direction of Fernanda Douglas. This is the perfect holiday show for audiences of all ages!
​The Great Tree And Other Tales - December 8, 12-14 @ ​East Lynne Theater Company, Cape May. ​American classic Christmas stories by Zona Gale, adapted and performed by Gayle Stahlhuth.
​​Reid Farrington's A Christmas Carol - December 11-22 @  ​Art House Productions, Jersey City. ​A live mash-up of nearly every movie version of A Christmas Carol ever made. Reid Farrington's A Christmas Carol conjures up over 100 years of film history through Dickens' classic tale. Fast-paced, funny and moving, this multimedia theater experience is both a contemporary spin on a classic tale and a nostalgic journey for all ages - it's perfect for the whole family!
​​It's A Wonderful Life: Live from WVL Radio Theatre  from December 12-15 @ ​AvenelPAC, Avenel. ​It's Christmas Eve in 1945, and only a handful of WVL Radio's actors have braved the blizzard to perform that evening's broadcast of It's a Wonderful Life and keep the station afloat. This fresh new adaptation of the film is set in the fictional studio of WVL Radio Theatre, which is struggling to stay on the air one snowy winter's night. The professional voice actors are unable to get to the studio, but the show must go on—and so a small but intrepid band of employees manages to create the story's dozens of characters and scenes using just their voices and some everyday household items for sound effects.
​​​And My True Love Gave To Me! December 13-14 @ ​Hudson Theatre Works, Weehawken. ​A reprise and the company's new annual tradition. Santa, Elves, French Hens, Cats, Princes, Magical Bird, Princesses and Beautiful Swans! What's not to love? A magical holiday comedy by Luigi Jannuzzi, directed by Frank Licato.
​​​Santaland Diaries - December 14 @ ​Passage Theatre Company, Trenton. David Lee White returns to Passage Theatre for one-night only for this mini fundraising event. Based on an autobiographical essay by David Sedaris, the Santaland Diaries is a wry and witty comedy about the combination of retail hell and theatrical spectacle that is the holiday season.
A Christmas Carol - December 14 @ RVCCArts, Branchburg. Nebraska Theatre Caravan presents a celebrated adaptation of Charles Dickens' A Christmas Carol that weaves the spellbinding fable of a man who is given the rarest of gifts…the chance to change. Alive with color and movement and rich with thrilling ensemble music—including moving renditions of favorite holiday carols—this sumptuous production tells Dickens' enduring tale in a manner that people of all ages will enjoy. Featuring a cast of 23 performers, live musicians and Broadway-style scenery and costumes, this cherished holiday classic has been touring for over 40 years, delighting thousands of audience members each season.
​​A Christmas Carol: Dickens By Dickens - December 15 @ Strand Center for the Arts, Lakewood. A Christmas Carol as you have never experienced it before! Join us as we welcome Gerald Dickens, the great, great grandson of Charles Dickens, for his one-man show, a theatrical performance of A Christmas Carol inspired by Charles' own energetic readings of the 1860s. Gerald Dickens conjures A Christmas Carol with just a table, wing chair, and hat rack accompanying him on stage. As he leaps, sobs, and laughs, 26 characters of the classic tale are brought vividly to life. Gerald has created different postures and voices for each character, achieving this so adeptly that the audience has no doubt about "who is who," so to speak.
​Elf, The Musical - November 29 – December 22 @ The Growing Stage, Netcong. Buddy, a young orphan, mistakenly crawls into Santa's bag of gifts and is transported to the North Pole. The would-be elf is raised, unaware that he is actually a human, until his enormous size and poor toy-making abilities cause him to face the truth. With Santa's permission, Buddy embarks on a journey to New York City to find his birth father and discover his true identity. Faced with the harsh realities that his father is on the naughty list and his half-brother doesn't even believe in Santa, Buddy is determined to win over his new family and help New York remember the true meaning of Christmas. Based on the cherished 2003 New Line Cinema hit, Elf features songs by Matthew Sklar and Chad Beguelin, with a book by Thomas Meehan and Bob Martin.
---
Thank Yule For Being A Friend - December 27 @ The Company Theatre Group, Hackensack. 
---
​Rodger + Hammerstein's Cinderella - Now through December 29 @ ​Paper Mill Playhouse, Millburn. ​This enchanting, Tony-nominated Broadway adaptation of the beloved musical will put a spell on audiences of all ages. Rodgers + Hammerstein's Cinderella showcases some of the songwriting duo's loveliest tunes, including "In My Own Little Corner," "Impossible/It's Possible," and "Ten Minutes Ago," as well as some new characters and surprising twists. Add a dash of fairy-tale romance, magical onstage transformations, and the iconic pumpkin and glass slippers—and you're guaranteed to have a ball!
​Murder For Two: The Holiday Edition - Now through - December 29 @ Cape May Stage, Cape May. It's Christmas Eve... and while there shouldn't be a creature stirring (not even a mouse), a mystery writer has been murdered.  With a bevy of suspects, an intrepid police officer aims to identify the killer.  This musical features just two actors - one playing the investigator, one playing the variety of suspects - and the only weapon at their disposal is a piano.  Can the officer make his suspects spill their guts and sing? Murder For Two: The Holiday Edition puts the laughter in manslaughter.
​A Christmas Carol - December 10-29 @ McCarter Theatre, Princeton. Follow Ebenezer Scrooge on a magical journey through Christmas past, present, and future and watch as this story comes to life around you! This annual holiday tradition will usher you into the spirit of the season with all the joy, wonder, and generosity that Scrooge himself discovers. The classic by Charles Dickens is adapted by David Thompson. The production is directed by Adam Immerwahr.
Fiddler On The Roof - December 20-22 @ State Theatre, New Brunswick. Rich with musical hits you know and love, including "Tradition," "Sunrise, Sunset," "If I Were A Rich Man," "Matchmaker, Matchmaker," and "To Life (L'Chaim!)," Fiddler on the Roof is the heartwarming story of fathers and daughters; husbands and wives; and life, love, and laughter. Tony Award®-winning director Bartlett Sher and the team behind South Pacific, The King and I, and 2017 Tony®-winning Best Play Oslo, bring a fresh and authentic vision to this beloved theatrical masterpiece from Tony®-winner Joseph Stein and Pulitzer Prize winners Jerry Bock and Sheldon Harnick. Featuring stunning movement and dance from Israeli choreographer Hofesh Shechter, based on the original staging by Jerome Robbins.
A Christmas Carol - December 20-22 @ BergenPAC, Englewood. Get in the spirit of the season and follow Ebenezer Scrooge on a magical journey through Christmas past, present, and future in this classic story. bergenPAC presents this special production. For the first time, local talent will shine in all the roles. Come early to have your picture taken with Santa Claus in the lobby before the show.
---
Photo by Evan Zimmerman for MurphyMade