originally published: 11/20/2019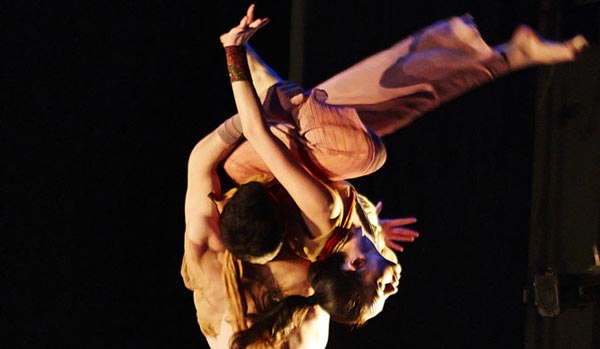 (NEW YORK, NY) -- In celebration of Nai-Ni Chen Dance Company's 30th year anniversary, the company will present a retrospective production CrossCurrent showcasing Chen's distinctive cross cultural style and diverse influences that has informed her work. Performance take place from Thursday, December 5 to Sunday, December 8 at New York Live Arts Theater. Tickets are $30 (student and senior tickets are $15) and available for purchase online.
The program will open with one of Chen's earliest signature work Calligraphy II which explores the spirituality, the flow of energy and the dynamics of the brush strokes in the art of Chinese writing with an original music score by Joan La Barbra and set designed by Myunghee Cho.
"When all seven performers swirl through individual patterns simultaneously, you imagine a scroll dancing," said Deborah Jowitt, The Village Voice.
Looking forward, she will share her recent work Truthbound developed in a residency in Trier, Germany in reaction to the crisis of faith and trust today.
"In their body and visual language sensitively created fantasy and poetry. Tradition and experiment are combined with dance-like precision and dynamics," said Eva-Maria Reuther, Volksfreund.
---
The article continues after this ad
---
---
Truthbound will be followed by Bamboo Rap an experimental piece created in collaboration with hip-hop artists and DJs exploring the sound of Chinese language with contemporary urban dance vocabulary, both rooted in storytelling and the desire for equality and justice.
The concert will conclude with Whirlwind, a dance inspired by Chen's journey to the Silk Road with music by Glen Velez. The dance explores trance, rhythmic breathing, sound and spiral motion.
Performances are December 5-7 at 7:30pm and December 8 at 2:00pm at New York Live Arts, located at 219 W 19th Street in New York, NY.
Nai-Ni Chen has been making dances professionally for over thirty years since coming to the US. She has built a diverse repertoire of over 80 original works and toured to major venues in the US and international festivals in 12 countries around the world. A cross-cultural choreographer who aims to bring audience across the cultural boundaries, she has developed her unique movement and choreographic styles that reflect the grace and splendor of the Chinese cultural traditions she studied in Taiwan since youth and the dynamic spirit of modern dance that she acquired in New York from luminaries such as Mary Anthony, Bertram Ross, Doris Rudko and Patricia Rowe.
Nai-Ni Chen has received multiple Choreographer Fellowship from the National Endowment for the Arts and the New Jersey State Council on the Arts. She has been a principal affiliate of the New Jersey Performing Arts Center and was a resident artist of the Harlem School of the Arts. Her contribution to the immigrant cultural experience has been honored by OCA and the International Institute. Commissions have come from the Joyce Theater Foundation, the Lincoln Center Institute, the New Jersey Performing Arts Center, Towson University, Dancing in the Streets, New Jersey Ballet, Ballet Met, and the Cleveland Dancing Wheels. Nai-Ni is currently in residence in New Jersey City University creating a new dance program for the university in collaboration with the Joffrey Ballet School as well as pioneering a program with the University's Laboratory School for children with multiple disabilities.