originally published: 11/20/2019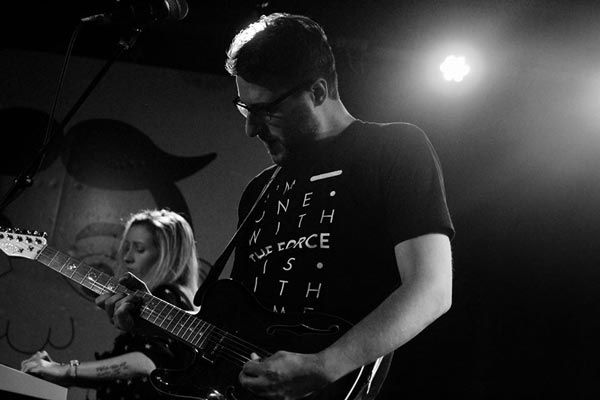 The Extensions will participate in the third annual What a Wonderful Year holiday celebration of the Asbury Park music scene, which will take place Dec. 26 and 27 at The Wonder. They also have contributed the Stevie Nicks classic "Stop Draggin' My Heart Around" to their label Mint 400 Records' Tom Petty tribute compilation "Don't Fade on Me," which drops Dec. 6. PHOTO BY KENNY BIEBER
Also featured are A Very Asbury Holiday, The Pop Break, Pino's Holiday Music Jamboree, San Tropez, The Weeklings, The Wag, The Wizards of Winter, Railroad Earth, Nefesh Mountain, Solid Bronze, Stephane Wrembel, Katie Henry, Black Light Medusa, Tallie Fest, Matt Cook, Chris Rockwell, The Band Called FUSE, Hub City Stompers, Dave & Tom, The Vaughns, Cold Weather Company, 18th & Addison, steve., Pamela Flores, Sof, Bad Blooms, Rory D'Lasnow, and Avenel PAC

Power-popsters The Extensions have a dropped a new single and video that covers the Stevie Nicks classic "Stop Draggin' My Heart" penned by the late Tom Petty. Sung by keyboardist Lisa LoVell, the tune is part of "Don't Fade on Me," a compilation in tribute to T.P. that will be released Dec. 6 by Mint 400 Records. The comp also will feature performances by Ruby Bones, This Bliss, The Limbos, The Good Silver, Son of the Velvet Rat, Young Legs, Jerry Lardieri of The Brixton Riot, Chris Churchill, Fuzzy Prochild, Mister Tom, The French Goodbye, Thoughts, Fairmont and Yawn Mower. 
Here is the premiere of The Extensions' take on "Stop Draggin' My Heart Around," which apparently won't be the last time Lisa sings lead, front man Brian Erickson said:
Having recently presented a blast of festival with Indie Binge on three stages at Pet Shop in Jersey City a few weeks back, the ever-busy Mint 400 also has on tap a special night of bands and beers on Nov. 30 at Gentle Giant Brewing Co. in Pearl River, N.Y. The show will feature Laterals, Impossible Colors, Guilty Giraffe, Blue Vervain, and The Components. On Dec. 6, Mint 400 will present The Milwaukees, Cyclone Static, Ruby Bones, World War IX, and Defecting Grey. 
As for The Extensions, they will play Dec. 12 at Barca City in New Brunswick at an Embrace DIY show that also will feature B3N and Bad Tiger. And Brian Erickson's Red Pants Productions will launch the Asbury Lanes' Holiday Toy Drive on Dec. 6 with FEENY, Jesse Elliot, Brianna Musco, New Narratives, and Elaine Rasnake. Guests are asked to bring a wrapped toy to help needy area children and to possibly win swag.

The Extensions also will participate in What a Wonderful Year, the third time for the charming Asbury Park holiday celebration on Dec. 26 and 27 at the Wonder Bar. While The Burns, the band that founded and organized the event, have broken up, its legacy continues with their label, Telegraph Hill Records, along with the promotional help of Asbury Park Music Foundation and sponsors, including Makin Waves and Live Music Loyalty. "It's a microcosm of the entire community with music from many genres and styles offering something for everyone," said Telegraph Hill head Joe Pomarico. "Packing so many acts each night keeps the energy high and lets performers enjoy the party too." 
Returning to perform WAWY are Lowlight, Bobby Mahoney and the Seventh Son, Mercury Brothers, Cranston Dean Band, Rachel Ana Dobken, Tara Dente and Brian Erickson, but this time with The Extensions. Among the festival's new faces will be Drew the Recluse, Blaise, Bulletproof Belv, The Foes of Fern, Jarod Clemons & the Late Nights, Natalie Farrell, Beautiful Scumbags, Katherine Quintana, 8Days, Ashley McKinley, Martin Howth and more to be announced soon. Donations from live art auctions and a portion of ticket sales will go to Asbury Park Music Foundation in support of local youth music education programs. A Spotify playlist of participating artists can be found at https://spoti.fi/32m9ABA.
Asbury Park Music Foundation also will be busy this holiday season with the second annual "A Very Asbury Holiday Show," which also will benefit The Boys & Girls Club of Monmouth County, The Mercy Center, Asbury Park Music Foundation's Youth Initiative, and Jewish Family & Children's Service of Monmouth County on Dec. 8 at the Paramount Theatre. Last year's sellout show raised thousands of dollars for each of the selected charities and hundreds of gifts were collected for the Asbury Park Toy Drive.  
The line-up includes Everett Bradley's Holidelic, Pat Roddy, deSoL, Gene Cornish (The Rascals), Carmine Appice, Lance Larson, Jaquita Mays, Jim Babjak (The Smithereens), Lisa Lowell, Williams Honor, Bobby Mahoney, Pat Guadagno, Deseree Spinks, Layonne Holmes, JT Bowen, Eddie Testa, Jillian Rhys McCoy, Billy Hector, Joel Krauss, Alexis Krauss (Sleigh Bells), Anthony Krizan (Spin Doctors), CC Coletti (Meatloaf) and more to be announced. Musical Director Tony Perruso will lead an all-star band featuring Greg Mayo, Graham Maby, Tony Shanahan, Rich Scanella, Arne Wendt, Tommy LaBella and Tom Meares with members of Kings of Suburbia, Shady Street Band and Moroccan Sheepherders.
The Pop Break's fourth annual Locals Christmas Party & Toy Drive returns Dec. 14 to Convention Hall's Grand Arcade in Asbury Park. The free show in front of a mammoth Christmas tree will feature Lowlight, Skull Motion, The Clydes, Lou Montesano of The Morgan Freemason and DJ Father Christmas, aka The Pop Break editor-publisher Bill Bodkin. The fun holiday show presents another opportunity to provide a gift to a child in need this season.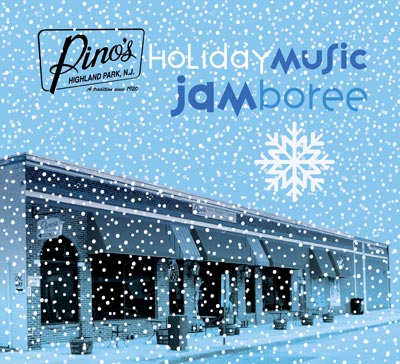 Pino's Holiday Music Jamboree will feature 22 tracks by local artists co-produced by Tommy Strazza, host of the nurturing Highland Park venue's weekly open mic on Wednesdays. Tommy contributes "This Christmas." A mix of originals and classics, the two-disc collection also includes "Christmas (Baby Please Come Home)" by Pino's co-owner Steve Weinstein with the Open Mic Night Choir, "Nutcracker Suite" by Mike Noordzy, "Little Drummer Boy" by Zero for Conduct, "Grandma Got Run Over by a Reindeer" by Rick Blount, "Just Like Christmas" by Phil Pirri and John Swayne, "Rock n Roll Santa" by- Hair Magic, "Dreidel Song" by  Laurie Goldman, also with the Open Mic Night Choir, "Sleigh Ride" by The Stuntcocks, "Blue Christmas" by Dave Bills, "Thanks for Christmas" by Pete Horvath, "O' Hanukkah" by Matt Hersh with Shimmy Schwartz and Kate Levine, "The World of Christmas" by Ray Andersen, aka Mr. Ray, "Run Run Rudolph" by Keith Kenny, "Jerusalem" by David Sherman, "Christmas at Pino's" by The Nowhere, "Santa Baby" by Wyrd Web Walker, "Silent Night" by RGD, "Christmas Time is Here" by Dark and Twisty, "Father Christmas" by Billy, "'Twas Night Before Christmas" by Jay Schwartz, and "Do They Know It's Christmas" by San Tropez. 
While there isn't event tied to the release, most of these bands will be playing Pino's in coming weeks and are sure to share their tracks live. San Tropez will celebrate the release of their EP, "Lila," on Nov. 22 with Lowlight, The Brixton Riot and Tom Barrett, formerly of Overlake. The edgy all-star quintet features vocalist-guitarist Ralph Nicastro (Wreaths, Aviso Hara), bassist Frank Bridges (Magic Mountain, Duochrome, kiaro skuro), guitarist Albie Connelly (Angular Brothers, Stuntcocks, Urchins), drummer Andy Fountas (Magic Mountain, Duochrome) and keyboarist Jamison Lauer (Wreaths). They recorded "Lila" at In the West in New Brunswick and Lakehouse Studios in Asbury Park.
The Weeklings have another new holiday song out, "Gonna Be Christmas." Zeke Weeking, aka Bob Burger, explains, "It's just a little song to try to evoke the spirit of Christmas with the message only being implied,  'Do you know what Jesus said?'  We don't really say what Jesus said or quote anything but rather just guess at what it is supposed to mean.  Production wise, we used pretty typical elements with vocal choruses and bells.  With a power-pop rock edge, of course." 
The video might be the only chance to hear "Gonna Be Christmas" because The Weeklings don't have any shows until Jan. 11 at City Winery, Philadelphia, for Light of Day; Jan. 24, Daryl's House Club, New York City, and Jan. 31, Haymarket Lounge, Boston.
The Wag's Christmas Spectacular will benefit Monmouth County SPCA on Nov. 30 at Middletown Arts Center. The veteran harmonic pop-rock band, of course, will play their local holiday classic "Feels Like Christmas," other holiday music, as well as original songs from throughout their 21-year career. Special guests will include dancer Jamie Marie Hannigan (Alicia Keys, Backstreet Boys), award-winning singer-songwriter Michael Breet, guitarist Alejandro Ataucusi of William Paterson University Latin Jazz Ensemble and Forbidden Tropics, Dennis Keefe as Santa Claus and much more. 
2019 has been a very big year for The Wag, including a sponsorship with InTune guitar picks, opening for The Motels at the Wonder Bar and Ben Folds and Violent Femmes at the Stone Pony, playing Fest for Beatles Fans, Abbey Road on the River, and the Rock and Roll Hall of Fame, screening the "Everybody Said' video at 12 film festivals and winning awards for it at Garden State and Bergen International fests. 
Having had that video success, the latest clip for "She's a Devil" also from the "We Carry On" LP will be submitted to film fests. 2020 also will see returns to Fest for Beatles Fans and Abbey Road on the River, as well as a tour of California, and an appearance on April 24 at Union County Performing Arts Center in Rahway at benefit for Inroads to Opportunities.
Holiday rock ensemble The Wizards of Winter have kicked off their latest tour in support of their third album, the 10-song "The Christmas Dream," featuring the single and video, "Handel's Torch," a patented prog-rock take on "The Hallelujah Chorus" and yuletide. Featuring former members of Trans-Siberian Orchestra, Rainbow, Blue Oyster Cult, Trixter, Def Leppard and more, the Jersey-originated band's tour will include area stops on Nov. 29, Patchogue Theatre, Patchogue; Nov. 30, Paramount Theatre, Asbury Park, and Dec. 1, Bergen Performing Arts Center, Englewood.
Railroad Earth, have two very special gigs coming up. Their annual Horn-o-Plenty charity show will return Nov. 29 and 30 to Sherman Theater in Stroudsburg, Pa. In partnership with VH1 Save the Music Foundation, the ninth annual event will fund an Intro to Music grant to Newark's 14th Avenue School that will donate instruments, instruction and resources to build a music program for students in need. Horn-o-Plenty is in honor of the late Andy Goessling, RRE's co-founding multi-instrumentalist and a longtime Jersey scenester who played more than 25 years in Blue Sparks from Hell with RRE mate Tim Carbone. A product of New Jersey school music programs, Andy was passionate about fostering music education and mentoring young musicians, the band said on social media. 
Tim and RRE mates Todd Schaeffer and John Skehan also will participate in a 50th anniversary tribute to the Grateful Dead's "American Beauty" on Dec. 6 at the Fillmore in San Francisco. The benefit for the Dead-initiated Rex Foundation, which supports the arts, environment and youth, also will feature frequent Phil Lesh and Bob Weir sidemen Dan Lebowitz, Jackie Greene, Scott Law, Robin Sylvester, and Jason Crosby, who got his start in a Jersey band called Solar Circus, as well as drummer Wally Ingram (Sheryl Crow, David Lindley) and Alex and Ben Morrison of the Bay Area band The Brothers Comatose. Other RRE tour dates include area stops on Nov. 21, Ardmore Music Hall, Ardmore, Pa., and Feb. 8, The Capitol Theatre, Port Chester, N.Y., where with new-grass great Peter Rowan, they'll recreate the Old & in the Way album also featuring Jerry Garcia, David Grisman and Vassar Clements. The tour coincides with the release of a single, "The Great Divide." The subtle, richly rootsy Garcia -sounding dig at the politico-economic forces that are dividing and conquering as a nation is from the upcoming album, "All for the Song," out in 2020.
Congrats to two hot Jersey bands recently featured on Relix samplers. Nefesh Mountain, a Montclair husband-and-wife-led mix of world roots, including klezmer, Celtic, bluegrass, jazz and old-time American and Jewish music, have contributed "The Narrow Bridge" to the latest sampler from "Beneath the Open Sky." Their magnificent 2018 sophomore LP features guest appearances by new-grass luminaries Jerry Douglas, Tony Trischka, David Grier and Sam Bush, who also appeared on their 2016 self-titled debut. See the band that inspired Relix to say, "This beautifully unexpected mix is staggering: complete string virtuosity, through composed arrangements and songs of the heart, celebrating diversity and oneness for our world today." Another national tour kicks off Nov. 22 in Jacksonville, but heads home Dec. 6 to 8 at Woodlands Community Temple in White Plains, N.Y., then continues Dec. 14 in Chicago and Dec. 25 at The Jewish Museum in New York City. After a month off, Nefesh Mountain will play Feb. 2 and 7 at Temple Shaaray Tefila in New York City sandwiched by dates in New Orleans and Denver and then Washington and Los Angeles.
Also featured on a recent Relix sampler are Lambertville-based Solid Bronze with "Papa's Bug" from "The Fruit Basket" on Schnitzel Records. The LP was recorded by Dean Ween and Chris Harford at the latter's Lambertville studio and mastered by Tom Ruff, who's worked with the likes of James Brown. Featured on "Papa's Bug" is Parliament-Funkadelic guitarist Michael Hampton, who often jams with Dean Ween at John & Peter's across the Delaware in New Hope, where Solid Bronze often can be heard live.
France-raised Maplewood-based guitarist Stephane Wrembel is readying his sixth Django Reinhardt tribute LP to follow his brand-new "Django L'Impressionniste," a 17-track collection of rare solo pieces by the gypsy-jazz master. Born in the same hometown of Django, Fountainebleau – also the birthplace of Impressionist art -- Stephane  will drop, "The Django Experiment V," just four months after "Django L'Impressionniste." Both records are on his own Water Is Life label, as were the four previous "Experiments" and "Live at Rochester." Look for a combo Makin Waves Record of the Week review of the newest records as soon as the second one drops. In the meantime, check out Stephane live Nov. 21 when he plays "Django L'Impressionniste" in its entirety at the French Institute Alliance Francaise's Florence Gould Hall in New York City. Other upcoming dates include and a January tour of his French homeland, as well as Dec. 5, Symphony Space and a 110th birthday party for Django on Jan. 23 at Joe's Pub. Both venues are in New York City, where Stephane also hosts a monthly Django Brunch at The Blue Note. Special brunch guests will be Mathias Berry on Nov. 24 and Sarah L'Abriola on Dec. 22. 
Best known for "Bistro Fada," a Django-influenced swinging waltz that was the theme song of Woody Allen's Oscar-winning 2011 film, "Midnight in Paris," Stephane also annual produces the Django a Gogo guitar camp and festival in early May in Maplewood. Students from all over North America will study at the week-long camp with the world's great Django masters, including his great grandson, Simba Baumgartner, whose debut LP Stephane produced. The star-studded festival finale will be May 9 at New York City's Town Hall.
Vernon blues-rocker Katie Henry has been makin alotta waves lately in support of her debut album, "High Road." The young multi-hyphenated talent toured nationally, headlined The Stanhope House and The Cutting Room, and played Crawfish Fest and the 12th annual Blues Blast Music Awards, for which she was nominated Best New Artist. She also received four Independent Blues Award nominations for Best Blues Contemporary CD, Female Blues Artist, New Artist and Independent Blues New Artist. But to know her is to see her live, which you can do Nov. 23, Triumph Brewery, Red Bank; Dec. 6, Bernie's, Chester; Dec. 13, Two Nineteen, Alexandria, Va.; Dec. 14, Triumph Brewery, New Hope, and Dec. 15, Waldorf School, Waldorf, Md. In late January, Katie will head out on another West Coast tour, but she'll be back home in mid-February to kick off an East Coast jaunt.
The new garage-rock girl group Black Light Medusa have dropped a three-song EP just in time to sell at Tallie Fest, a female-focused festival to which Medusa lead singer Jenny Cat has been added to the bill on Nov. 23 at The Saint in Asbury Park with Roulette, The Fuzz, Rhonette and Not Those Smiths, and The Well Wish. The three-song collection features the fuzzy feminist anthems "Don't Want to Be Your Baby" and "Brenda," plus the Pretenders-like nugget "Can't Shake It." Hear them live when Black Light Medusa play Dec. 20 at Tierney's Tavern, Montclair, and Jan. 4 at The Brighton Bar, Long Branch, in support of Candy Cavity's record release.
Candy Cavity also will play Tallie Fest on Nov. 24 at The Saint with The Angry Pirates, Foxanne, Running Backwards, and Space Jaim (Jaime Parker from Alpha Rabbit). At Langosta Lounge and Asbury Park Yacht, another dozen acts will play this weekend at Tallie Fest, which will benefit Food for Thought, the folks who feed the homeless and the hungry on Thanksgiving and Christmas, and Asbury Park Women's Convention.

Also playing Tallie Fest on Nov. 23 at Langosta will be Jersey Shore singer-songwriter Matt Cook as keyboardist in Deirdre Forrest's band, the Back Seams. Sharing that bill will be Jennifer Karma and New Narratives. On Nov. 30 at The Asbury hotel, Matt will celebrate the release of his third single, "Missteps," from his forthcoming fifth album. Matt also will play Dec. 4 and 11 at The Asbury and Nov. 29 and Dec. 7, 20 and 29 at Stay Gold Café & Lounge in Howell.
Few things are more stereotypically "Jersey" than diner culture. On his upcoming album, "Diner Kids," Jersey Shore rapper Chris Rockwell muses about growing up around these cultural hubs of food and conversation, coming of age in the 24-hour, neon laden backdrop so signature to the Garden State. His newest video, "Catch a Vibe", features Rockwell dancing alone in a diner, giving us a preview of what's to come. The video was co-directed, shot, and edited by award-nominated videographer and longtime Rockwell collaborator Brian Cutts. 
2019 proved to be a busy year for Rockwell. After his "New Sh*t New Year" challenge from earlier this year, during which he released one new track for every day of January, he was approached by collaborator and studio engineer Chill Smith about a diner concept album. In July, Rockwell took a few of the new songs, updated some older ones, and recorded "Live Unplugged." The "Diner Kids" follow up marks the first time ever the published poet combined both his songwriting and poetry on one album. 
Rockwell's co-producer, Josh Cabrera, will be joining him on stage for the first time at his Album Gala & Art show on Dec. 8 at the Downtown in Red Bank. Sharing the bill will be Switch Mob, S0ulFood, Pepperwine, and special guests Pantera Kind, Chill Smith, James Dalton, and New York spoken word artist Jesslyn Blue. Portions of all merchandise sales will benefit becausesheis.org.
Veteran New Brunswick rap-infused soul rockas The Band Called FUSE have launched a crowd-funding campaign to help release a bunch of recent and forthcoming music. Through its Patreon page, the band will follow a concert movie and live album produced by Grammy-winner Steve Remote with a monthly digital single, three of which will be made into videos, and all of which will be free to patrons. Depending on the level of support, incentives also include being able to participate in  the band's songwriting process and new band merch. 
Coming up on Nov. 23, FUSE will be at Blackthorn in New Brunswick, while front man Silent Knight will jam at the Sound in Color collective's two-year anniversary on Nov. 21 at Headroom Bar & Social in Jersey City with CC Roots, First Life and DJs Dre Mayes and Fully Phocused. He also will host his annual Silent Night Christmas Spectacular on on Christmas Eve at Blackthorn with DJ Manny Faces and several special guests.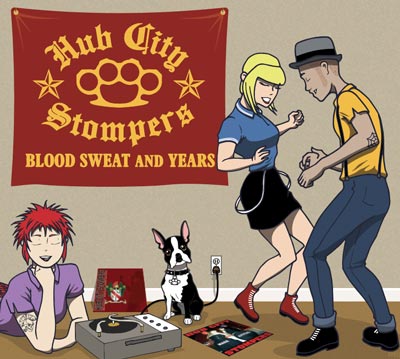 The veteran ska-punk band Hub City Stompers will celebrate the release of their seventh album, "Blood, Sweat, and Years," on Dec. 6 at the Brighton Bar with Damage Done, The Way of, Dusters and a reunion of Turnpike Wrecks, and Dec. 21 at Berlin Under A, New York City, also with Damage Done, as well as The Rudie Crew and 45 Adapters. The 15-track album is a 15th anniversary salute to their debut, "Blood, Sweat, and Beers," most of which was re-recorded, along with a new version of the entire 2005 EP, "Mass Appeal." Both records have been out of print and have been combined with new songs to be released by Altercation Records. In between, HCS will trek to Mexico to play the Ska Wars festival.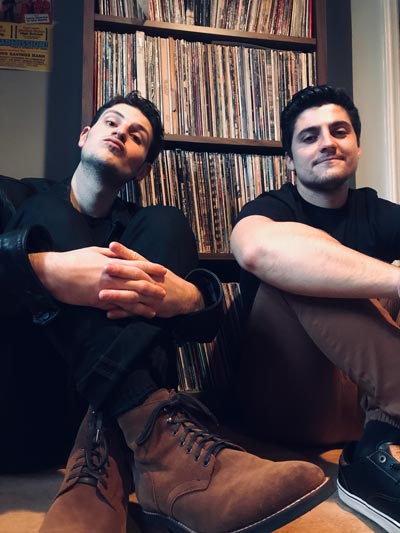 Tom Losito, left, and Dave Cacciatore, right, formerly of The Vaughns, have formed their own two-piece.

Guitarist Dave Cacciatore and bassist Tom Losito have left The Vaughns to form their own two-piece. Dave & Tom will perform Dec. 18 and Feb. 28 at The Asbury hotel and Jan. 2 at Crossroads, Garwood. Look for new music to be released by these talented gents soon.

Meanwhile, The Vaughns will continue by opening for Low Cut Connie on Dec. 21 at Union Transfer, having recently done a fall tour that took them to Canada in support of their debut full-length, "FOMO." The Vaughns also will play with DIMM Entertainment management mates The Stolen on Dec. 13 at the Brighton Bar.

New Brunswick faves Cold Weather Company have dropped a darling cover of the 1954 Penguins classic "Earth Angel" in celebration of the 25th anniversary of "Back to the Future," in which the beloved tune was played at the Enchantment Under the Sea Dance. "This was where I first really fell in love with the song," said guitarist Jeff Petescia, who sings lead on the track. "It is one of my favorite movies, and it really gives a wonderful glimpse of what the '50s really were like and what my parents experienced as kids. The '50s are easily my favorite decade to learn about, and for me, this tune, along with a few others, such as 'Mr. Sandman,' are theme songs for my personal schema of the decade. We began playing it live a few years ago since it worked well as an outro to an original song of ours that's in the same key. Eventually, we decided to record it and release it as our first published cover."
Hear CWC play the tune live on Nov. 22 at The Saint with Stereo League and Jan. 21 at Brooklyn Bowl with Drown Your Boots. The Saint show is part of a 25th anniversary concert series for the historic venue, the first CWC ever played six years ago. In between, the band will be in the studio readying their fourth LP following last year's acclaimed "Find Light." Earlier this month, the band successfully launched Cold Weather Cleanup, an international effort by the environmentally-minded band that made an impact as far away as New Zealand. The 2020 Cleanup already is in the planning stages, they said.
Eclectic two-piece 18th & Addison, featuring recently married Tom and Kait DiBenedetto Kunzman, will be playing New York City's Mercury Lounge on Dec. 1 with New York soul rocker Steff Reed. The duo have been touring in support of their new EP, "Old Blues / Modern Love," their debut for L.A.-based Wiretap Records. The four-song outing follows an LP and two EPs that they released on their own.
New Brunswick indie rockers steve. recently dropped "You Can Do This Too," their debut album on New York City-based I Surrender Records, home to I Am the Avalanche. The title of the LP is meant to promote the idea that marginalized individuals in a white-washed music industry can chase their artistic endeavors, and give a big ol' "fuck you" to anybody who tells you that you cannot. An East Coast tour finishes up Nov. 22 at The CalzoneZone, Forked River, and Nov. 23 at Kaleidoscope, Lancaster, Pa. Look for more dates soon from this continuously touring DIY band.
Asbury songstress Pamela Flores recently relocated to L.A. to take part in an artist's community, but before she left, she dropped a video for "Grace," the first single from a forthcoming LP. Produced by Howl Peak Productions, the clip delves into society's shrinking human rights, an issue Pam often brings to the fore. The track and the rest of the LP were recorded by Paul Ritchie of Parlor Mob and gods. Look for her return to AP soon.
Paul Ritchie also co-produced and co-wrote Sof's new single, "Inertia," a response to a stagnant period in the young East Brunswick pop-R&B songstress' now blossoming career. She also co-wrote the song with Mike Smith of That's How They Get Ya and Tyler Toomey, both of whom also co-produced it at New Future Studios in Belmar. Mixed by Tyler and mastered by Grammy-winner Alan Douches, "Inertia"also can be enjoyed in video form, while Sof readies an EP for release early next year. Mentored by Brenda K. Starr and former Warner Chappell exec Judy Stakee, Sof said she is influenced by Lorde, Frank Ocean and Tyler the Creator to create her own infectious brand of R&B. Look for a Makin Waves Record of the Week when her EP drops.
New Brunswick indie rockers Bad Blooms are workin' a new EP, simply entitled "No." They're next stop is Nov. 21 at Hub City hot spot Barca City for an Embrace DIY show with Sonoa and The Spins. A sophomore EP is in the works.
While his band, Black Rose Revival, is on a break, singer-songwriter Rory D'Lasnow has a slew of solo shows coming up in support of a forthcoming single, "Never Be Mine." They include Nov. 23, Pete's Candy Store, Brooklyn; Nov. 26, Cafe Artiste Showcase, Ocean Grove; Dec. 5, Spill the Tea Songwriter's Round, Shark River Hills; Dec. 6, Bowery Electric, New York City; Dec. 12, DIVE Bar, Washington, D.C.; Dec. 13, Hotel RL, Baltimore, and Feb. 8, Stamps the Bar, Buffalo, N.Y.
Avenel Performing Arts Center will present Grammy-nominated '70s soul star Freda Payne ("Band of Gold," "Bring the Boys Home") on Nov. 23 and 24. Other upcoming Avenel PAC shows include "My Big Gay Italian Funeral,"  Nov. 26 to Dec. 1l; Robin Spielberg's Holiday Sing-Along, Dec. 3 and 4; BariToned, Dec. 6 and 7; Celtic Angels, Dec. 10 and 11; "It's a Wonderful Life: Live from WVL Radio Theatre," Dec. 12 to 15; "Santa's Circus," Dec. 18 to 23; "One Man Star Wars Trilogy," Jan. 10 and 11; Big Band Broadway, Jan. 22 to 26; Feb. 15 to 16, : Erich Bergen; The New York Tenors, March 20 to 22; "My Big Gay Italian Midlife Crisis," April 17 to 26, and "My Mother's Italian, My Father's Jewish & I'm in Therapy," May 27 to June 7.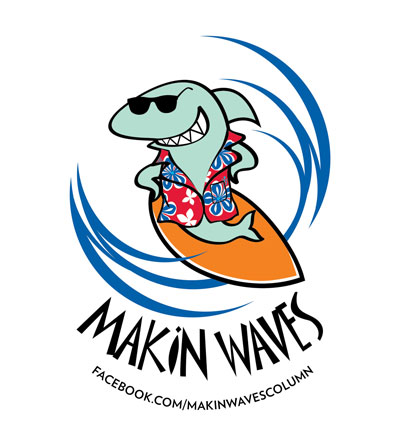 Bob Makin is the reporter for MyCentralJersey.com/entertainment and a former managing editor of The Aquarian Weekly, which launched this column in 1988. Contact him at makinwaves64@yahoo.com. And like Makin Waves at www.facebook.com/makinwavescolumn.