originally published: 11/13/2019
Evolving from a two-piece to a full-fledged band, New Narratives drop the in-between with "To Build a Universe," their six-song debut EP. The collection opens with the rousing "Uphill," which lives up to its name by starting out as jangly acoustic pop ala Suzanne Vega or Natalie Merchant and about halfway through, kicks into a more energetic indie rocker along the lines of fellow Asbury Park act Dentist.
The George Harrison-like "You Are Here" follows. The mystical lament about wasted time features richly layered vocals.
Next comes "Class of 2008," a tough-love approach to childhood memories and forgotten friendships also layered in its vocals, but this time a cappella. "Class of 2008" is the Makin Waves Song of the Week at AsburyMusic.com, its "Radio Jersey" show, and Makin Waves' Spotify and YouTube playlists.
"Paying Attention" is another exotic effort – this time a duet between co-founding songwriters Sara Aniano and Joseph Pellegrinelli – that offers a mesmerizing mix of techno and raga rock. A synthetic-sounding intro builds into a fuller South Asian vibe. A nice use of a vibraslap, which is a percussive instrument that always adds greatly to a track, expands the exotic element.
"I Could Have Done This Anywhere" takes a crunchy look at a relationship that has reached a point of sink or swim.  And "To Build a Universe" closes with "Redesign," an emotional examination of new beginnings in the wake of frustrating endings that features a sparse, somber intro. New Narratives turn it up about one-third of the way through, rolling along between a bright chorus and more somber verses with lead vocals by Joe, as well as rhythms by Parlor Mob/gods drummer Sam Bey reminiscent of early Beatles.  
Paul Ritchie, Sam's longtime band mate in both those acts, did a great job recording and producing the EP, especially the vocals. 
See New Narratives live when they play three hot shows in Asbury Park: Nov. 18 at the Wonder Bar with Cranston Dean Band, Swiss Guard and Dave & Tom, Nov. 23 at Tallie Fest at Langosta Lounge with Deirdre Forrest & the Back Seams and JAHK, and Dec. 6 at Asbury Lanes with Feeny, Jesse Elliot & the Falconaires and Brianna Musco.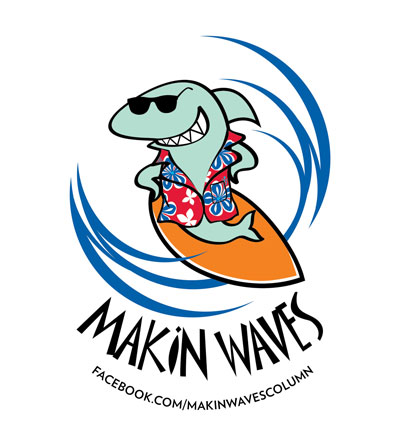 Bob Makin is the reporter for MyCentralJersey.com/entertainment and a former managing editor of The Aquarian Weekly, which launched this column in 1988. Contact him at makinwaves64@yahoo.com. And like Makin Waves at www.facebook.com/makinwavescolumn.