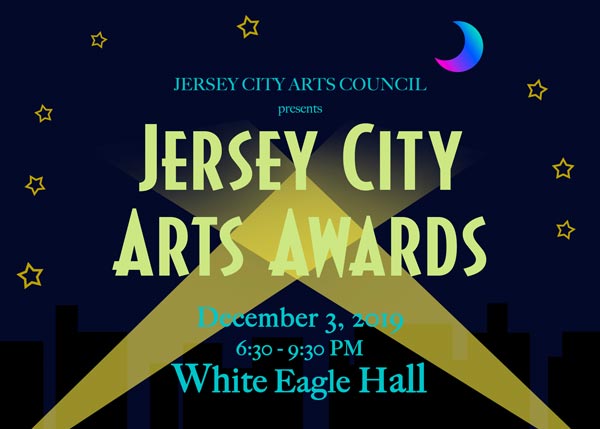 (JERSEY CITY, NJ) -- Jersey City Arts Council (JCAC) will be hosting the 2nd Annual Jersey City Arts Awards Celebration and Fundraiser, to be held on Tuesday, December 3, 2019 from 6:30pm to 9:30pm at the magnificent White Eagle Hall.  Recipients of the 2019 Arts Awards will be honored at the ceremony. Awardees will receive a unique statuette designed and created by local artist Bayard.
This year's Legacy Award will be presented to Grigory Gurevich for a lifetime of achievement, both locally and internationally, in visual and performing arts, and arts education. Jersey City native Nyugen Smith will receive the Visual Arts Award for his interdisciplinary work, which is rooted in his West Indian heritage. Awards categories include Public Art, Performing Arts, Young Artists, Literary Arts, Architecture & Design, and more. (Complete awardee list is below.) Sponsorship opportunities are available for anyone wishing to support the awards and to further the mission of the Jersey City Arts Council.
"The annual Jersey City Arts Awards are designed to formally recognize the contributions of artists and organizations that demonstrate excellence and positively impact our community," said Heather Warfel-Sandler, Jersey City Arts Council Board Chair. "The Council is proud to celebrate the dynamic and unique artistic landscape in Jersey City with this exciting event."
Tickets are $90 and available for purchase online. Light refreshments from a selection of area restaurants and an open bar with wine and beer will be served. Entertainment will include live music by Brian Beninghove Trio, pop-up performances by local artists, as well as live drawing. White Eagle Hall is located at 337 Newark Avenue in Jersey City, New Jersey.
Jersey City Arts Council is a registered 501(c)(3) nonprofit organization, whose mission is to support local artists and to serve as an advocate for the arts. 

 

Jersey City Arts Council presents 2019 Jersey City Arts Award Winners

Legacy – Grigory Gurevich, sculptor, painter, graphic artist, printmaker, and inventor

Leadership – Michael Endy, Pro Arts Co-President

Visual Arts – Nyugen Smith, Caribbean-American interdisciplinary artist and educator

Performing Arts – Lillian Bustle, Burlesque performer, singer, MC, and public speaker

Young Artist – PeteyxKraze, Jersey City rappers and musicians

Architecture and Design – FXCollaborative for the Statue of Liberty Museum

Film/TV – Jane Steuerwald, Professor of Media Arts at NJCU

Literary Arts – RADI, 2018 Nuyorican Poets Cafe Slam Champion

Arts Education – The School of Nimbus Dance Works

Public Art – Catherine Hart and Duda Penteado for the Jersey City Youth Mural Arts Program

Arts Organization – Jersey City Theater Center
---