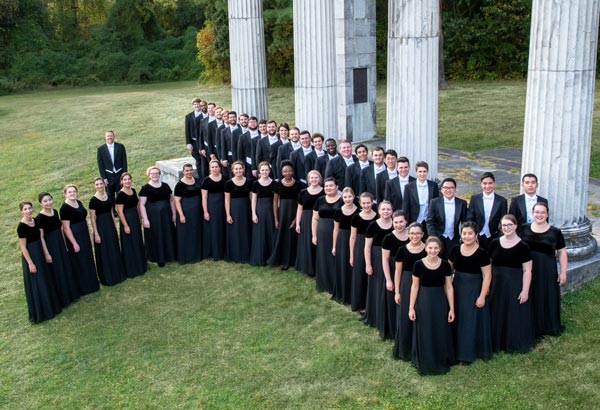 (PRINCETON, NJ) -- The Westminster Choir, hailed by American Record Guide, as the "gold standard" of American choral ensembles, will present a concert titled "Appear and Inspire – 100 Years of Singing" on Sunday, November 10 at 3:00pm in Bristol Chapel on the campus of Westminster Choir College of Rider University in Princeton.  The concert, led by conductor Joe Miller, will celebrate the 100th anniversary of the ensemble's founding in 1920, and it will feature repertoire rooted deep in the Westminster Choir's history. 
A highlight will be Benjamin Britten's Hymn to Saint Cecilia, reflecting Westminster Choir's spirit and mission as it has "appeared and inspired" thousands of choral musicians over the past century.  The program will also include the premiere of Psalm 96 "Sing to the Lord a New Song" composed by Westminster Professor Christian Carey to celebrate the ensemble's 100th anniversary.  Speaking about the new work, Carey said, "It seemed to be an especially appropriate text to celebrate the college's rich tradition of music-making and express hope for its continued vitality."
 The program also includes Daniel Elder's O Magnum Mysterium, Frederick Hall's arrangement of Steal Away, Jake Runestad's Let My Love Be Heard and Arnold Schönberg's Friede auf Erden, as well as works by O'Regan, Hession and more. 
Tickets are $20 for adults and $15 for students and seniors and are available by phone at 609-921-2663 or online at rider.edu/arts.
Composed of students at Westminster Choir College, a division of Rider University's Westminster College of the Arts, the Westminster Choir is also the chorus-in-residence for the prestigious Spoleto Festival USA, where it has performed in concert and as the opera chorus since 1977.
---
The article continues after this ad
---
---
In addition to this performance, the ensemble's 2019-2020 season includes a concert tour of the western United States; a performance of J.S. Bach's St. Matthew's Passion at Baldwin Wallace Conservatory of Music's Bach Festival 2020; a 100th Anniversary concert at Westminster Presbyterian Church in Dayton, Ohio, where the Westminster Choir was founded in 1920; concerts and broadcasts at its home in Princeton; and its annual residency at the Spoleto Festival U.S.A.
Recent seasons have included concert tours in Beijing, China, and Spain, as well as participation in the World Symposium on Choral Music in Barcelona and groundbreaking performances of Julia Wolfe's Pulitzer Prize winning Anthracite Fields at the historic Roebling WireWorks as part of Westminster's Transforming Space project.
The Westminster Choir and Joe Miller have been hailed by audiences and critics for their creative programing and ability to deeply engage listeners. D.C. Theatre Scene praised its staged performance of Joby Talbot's Path of Miracles at the 2019 Spoleto Festival USA, writing: "Joe Miller, and his famed Westminster Choir, has reimagined the art of a choir 'concert,' and, in the course of it, created before our eyes – for forty-one singers and an audience that filled the Galliard Auditorium – something of (their) own miracle."
The ensemble's performance of John Adams' El Niño, conducted by Maestro Miller, at the 2014 Festival was praised by The New York Times as "… superb. Meticulously prepared, the chorus was remarkable for its precision, unanimity and power."
The Westminster Choir has been recording choral masterworks for nine decades.  American Record Guide wrote about its newest recording, Frank Martin: Mass for Double Choir, "This is gorgeous singing…with perfect blend, intonation, diction, ensemble and musicality." The Heart's Reflection: Music of Daniel Elder, was described by Classics Today as "first rate" and "highly recommended." 
In addition to serving as conductor of the Westminster Choir, Joe Miller is conductor of the Westminster Symphonic Choir, which performs regularly with some of the world's leading orchestras. Dr. Miller is also artistic director for choral activities for the Spoleto Festival USA and director of the Philadelphia Symphonic Choir.
After viewing a staged performance of Joby Talbot's demanding Path of Miracles at the 2019 Spoleto Festival USA, D.C. Theatre Scene wrote, "Joe Miller a fearless artist. His bold leadership and trust in these young singers enabled his choristers to forego the 'stand and deliver,' score-bound habits of their genre and 'walk with him' on this special journey. Not only did the singers need to memorize their parts, no mean feat, but follow his baton's bid from any part of the auditorium and sing in any body position. Miller constantly challenged them in the process and inspired them to work confidently, well outside their comfort zone."
Westminster Choir College of Rider University is located at 101 Walnut Lane in Princeton, New Jersey.