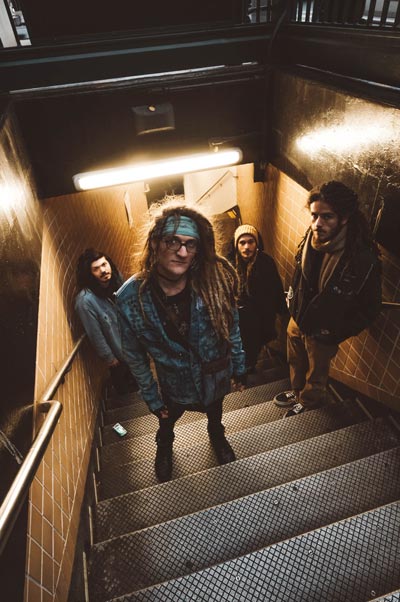 Like 1960s into the early '70s, the early '90s were one of the most artistic time periods for rock music with bands, such as Nirvana, Soundgarden, Pearl Jam, Mudhoney, Alice in Chains, Tool and Jane's Addiction. Were it 1993, Baron Praxis might represent New Jersey within that circle of modern-rock royalty with their edgy hysterics, progressive pummeling and Sabbathy sludge. Since it's crappy 2019 -- and what's left of the music industry wouldn't know good music if it bit it on its collective ass -- the Toms River-based band must bang it out in the local scene. 
And a mighty bang it is based on the strength of their forthcoming 13-song collection, "Precusor," which follows last year's first full-length, "Satanic Panic," and the 2017 debut EP, "Ghost Town." Much more artistic than they are commercial, Baron Praxis open with a near 10-minute track, which actually is the brief title soundscape into the epic "Aliens," a mini-rock opera onto itself or at the very least, a suite that kicks off an apocalyptical theme. 
Throughout "Precursor," Baron Praxis, who take their name from a video-game villain, seem to be saying that we're fucked by the irreversible plight caused by the political corruption that fuels war, pollution, poverty and plague. Several of the tracks explore this concept, such as "Demons Below," a moody tale about wasting one's time within a toxic world. The resulting anger expressed adds to the tune's moodiness, as do haunting guitar atmospherics.
"Nice to Meat You," the Makin Waves Song of the Week, sounds like Pink Floyd's "Welcome to the Machine" covered by Jane's Addiction, in a menacing lament about the lack of humanism within the post-industrial world. As the Song of the Week, "Nice to Meat You" can be heard four times daily at AsburyMusic.com, two more times on the station's "Radio Jersey" show, as well as at Makin Waves' Spotify and YouTube playlists.
A briefly mellow acoustic intermission to the insanity that is "Precursor" comes on the intro to "L'appel Du Vide" until fierce rhythms once again rumble within a thick wall of thunder as lightning sparks from squealing, squawking guitars. Midway through the album, a moody, atmospheric instrumental, "Syzygy," sounds like God casting judgment on the sins chronicled thus far.
The lull continues with "Haven City," a rhythmic track that's a plea for salvation and about as close to a power ballad as Baron Praxis can get. On "Aluminum Sunsets," which is as close to a love song as the band can get, more mellow rhythms, as well as a fantastic guitar solo, propel this pretty expression of the frustration and disappointment in a dead-end romantic relationship. I just wish they let the closing solo extend as an album track alongside a radio edit. The clipping of the blistering solo seems to be the only commercial move on this collection.
The tapping guitar work on "Little Skeletons" also is particularly impressive, as is the crunching conclusion with its splatter of rhythms that are the musical equivalent of SpinArt. The dynamic Tool-like track fluctuates between pretty, pummeling and punctuating, while a range of emotions are spilled along the way
Another standout is "Bushido," a high-octane grunge fest that fashionably wears MC5 and Black Sabbath on its sonic sleeve, while also giving a nod to mid-'80s hardcore and thrash, such as Agnostic Front and Slayer. As spooky as it is political, this is a great track to release right around Halloween and Election Day.
But the most political is the CD's bonus track, "9/11 Was an Inside Job," which recently was released as a digital single but won't appear on the digital version of the album. The dynamically dichotomous track is as fun and funny as it is well-meaning, exploring the theory that the U.S. government knew about 9/11 well before it happened, yet allowed it to come about so that the Bush family and their cronies within the Carlyle investment group could reap profits from subsequent weapons manufacturing and inflated oil prices. Fans of MC5, The Clash and Dead Kennedys definitely will appreciate this kick-ass track.
"Precursor" also features:



"Shishigami," an eerie soundtrack to the end of the world




"Spontaneous Human Combustion," a steaming punk-fueled slab of grunge that continues the album's apocalyptic tale




"Modern Warfare," another example of how Baron Praxis can combine mean, menacing rhythms with a pretty melody and vocals, creating a dichotomy that is fascinatingly unsettling, yet richly entertaining.



Throughout Baron Praxis show much maturation from their previous releases on all levels but especially as a cohesive unit as tight as the vice in Henry Rollins' father's well-stocked garage. I look forward to seeing them perform "Precursor" live on Nov. 7 at their album release party at Asbury Lanes in Asbury Park.  Judo Chop, Crust and Shot will share the bill. Baron Praxis also will play Dec. 13 at the Wonder Bar, also Asbury, and Dec. 14, Anchor Rock Club, Atlantic City.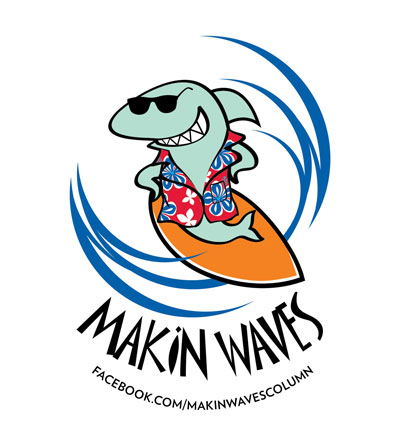 Bob Makin is the reporter for MyCentralJersey.com/entertainment and a former managing editor of The Aquarian Weekly, which launched this column in 1988. Contact him at makinwaves64@yahoo.com. And like Makin Waves at www.facebook.com/makinwavescolumn.