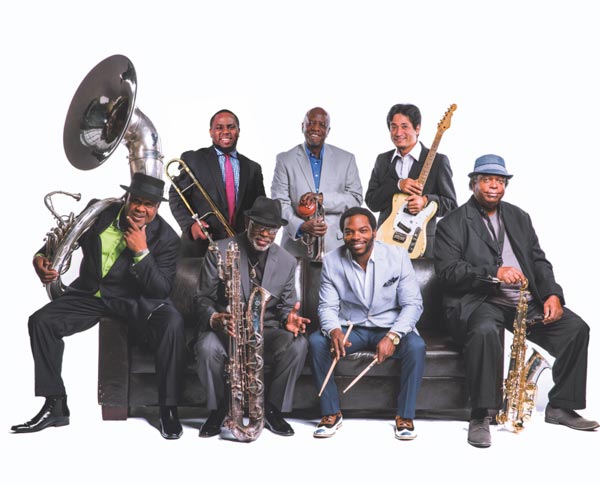 (MONTCLAIR, NJ) -- Outpost in the Burbs presents the Dirty Dozen Brass Band on November 8th.  The concert will take at 8 p.m. (7:30 doors) at the First Congregational Church in Montclair. Opening the show will be The Jazz House Organ Ambassadors directed by Radam Schwartz.
Celebrating over 40 years since their founding in 1977, New Orleans-based Dirty Dozen Brass Band has taken the traditional foundation of brass band music and incorporated it into a blend of genres including Bebop Jazz, Funk and R&B/Soul. This unique sound, described by the band as a 'musical gumbo,' has allowed the Dirty Dozen to tour across 5 continents and more than 30 countries, record 12 studio albums and collaborate with a range of artists from Modest Mouse to Widespread Panic to Norah Jones. Forty-plus years later, the Dirty Dozen Brass Band is a world famous music machine whose name is synonymous with genre-bending romps and high-octane performances.
The players: Roger Lewis - Baritone Sax/Vocals; Kevin Harris - Tenor Sax/Vocals; Gregory Davis - Trumpet/Vocals; Kirk Joseph - Sousaphone; TJ Norris - Trombone/Vocals; Julian Addison - Drums; and Takeshi Shimmura - Guitar.
In 1977, The Dirty Dozen Social and Pleasure Club in New Orleans began showcasing a traditional Crescent City brass band. It was a joining of two proud, but antiquated, traditions at the time: social and pleasure clubs dated back over a century to a time when black southerners could rarely afford life insurance, and the clubs would provide proper funeral arrangements. Brass bands, early predecessors of jazz as we know it, would often follow the funeral procession playing somber dirges, then once the family of the deceased was out of earshot, burst into jubilant dance tunes as casual onlookers danced in the streets. By the late '70s, few of either existed. The Dirty Dozen Social and Pleasure Club decided to assemble this group as a house band, and over the course of these early gigs, the seven-member ensemble adopted the venue's name: The Dirty Dozen Brass Band.
The Jazz House Kids Organ Ambassadors directed by Radam Schwartz, is a JAZZ HOUSE KiDS flagship combo and the only pre-collegiate ensemble in the country dedicated to the B3 organ tradition.  This high energy, swinging, and funky ensemble features the sound made popular in juke joints across the US, by artists such as Jimmy Smith, Jimmy McGriff, Groove Holmes, Charles Earland as well as may others.  The Jazz House Organ Ambassadors also highlight artists with a deep tie to Newark NJ which was a central city to the development of the B3 Organ sound. 
---
The article continues after this ad
---
---
JAZZ HOUSE KiDS has been swinging doors open for 17 years to emerging musicians of all ages soloing and singing their way to greatness. Its annual programs help over 1,500 young people from all backgrounds gain an artistic edge through music, mentoring, education and apprenticeship. Through pre-professional musical training, community engagement and education programs, the organization uses jazz as an effective teaching tool to enhance academic achievement, dedication, and teamwork and to cultivate tomorrow's global citizens. 
Tickets for shows can be purchased at Watchung Booksellers, 54 Fairfield Street, Montclair (973-744-7177), via a SASE sent to Outpost in the Burbs, 40 S. Fullerton Avenue, or online at TicketLeap.
The First Congregational Church is located at 40 S. Fullerton Avenue in Montclair, New Jersey.
Outpost in the Burbs is an all-volunteer nonprofit outreach organization in Montclair dedicated to building community through music, service, and cultural events.  For over 30 years, the Outpost has presented more than 450 concerts by internationally known artists such as Judy Collins, Roger McGuinn,, Jorma Kaukonen, Jimmy Webb, Richie Havens, J.D. Souther, The Jayhawks, Nick Lowe,  and Dar Williams.  In addition to promoting and staffing concerts, Outpost volunteers have donated many hours of their time through programs affiliated with Habitat for Humanity, Toys for Tots, the Human Needs Food Pantry of Montclair, the Community Food Bank of N.J., Dress for Success, MESH (Montclair Emergency Services for the Homeless), and a soup kitchen run by Outpost volunteers in Orange, NJ.