With the progressive passion of Woody Guthrie, flashes of the poetry of Bob Dylan, the Americana grit of Bruce Springsteen, the singer-songwriter-instrumentalist sensibility of Jackson Browne, and the Ray Charles-inspired blue-eyed soul of Van Morrison, Jersey Shore-based, Los Angeles-bred Arlan Feiles has established himself as a respected artist worldwide with the release of five independent albums. But his sixth, "What Kind of World?," is his best because he seems even more inspired with the recent birth of his first son to confront society's ills with an eclectic palate of roots music, including gospel, soul, blues, folk and country. His view of the world through not only a father's eyes, but also those of a child, is stunning in its beauty and might. 
The greatness of gospel permeates the beginning of the 10-tune "What Kind of World?," including the opening title track, the Makin Waves Song of the Week, which can be heard at 5 and 11 a.m., 5 p.m. and midnight through Oct. 16 at ThePenguinRocks.com, 6:45 p.m. on Oct. 11 and Oct. 14 on the station's "Radio Jersey" show, as well as at Makin Waves' YouTube playlist. The soul-stirring Staples Singers-like civil rights-styled anthem is dedicated to the overworked and underpaid American families who have been forgotten and forsaken by a greedy, apathetic politico-economic system whose margins of inequity are dividing the nation more intensely than any time since the Civil War. Accompanying himself on a powerful piano-driven melody, Arlan succinctly states those families' sentiments with a dignified desperation that calls for solidarity and action. Kudos also go to Asbury Park soul greats Layonne Holmes and J.T. Bowen, who form a backing gospel choir with Arlan's doubled vocal. Meanwhile, Shady Street Show Band organist Ryan Gregg adds another layer of soulfulness with a tasty Hammond B3-like sound.
The Randy Newman-like "Homeward" continues on the gospel tip with a hope that the world eventually will be a better place for many of the suffering within it, especially those who look homeward at family and community for connection. Musical gears then shift a bit with the Spaghetti Western-style intro of a pining country track, "Layla," which expresses thanksgiving for a love that continually exceeds expectations. Strings slightly mar the tune, which is at its best at its rootsiest, especially the lonesome pine of Glenn Spivack's pedal steel.
With the child-like New Orleans-flavored romp of "If I Were a Dinosaur," Arlan channels James Booker's blues-piano strut at its most G-rated. Also greatly inspired by a newborn, the tune can be enjoyed by children – with an expressed hope that they have bright futures –as well as adults in the hopes that we make it so.
Arlan's lyrics are strong throughout, but my favorite line is on the beautiful piano ballad "This Broken Heart," which shares: "I can't bear these woeful tears. I've got an old man's aches and a young boy's fears." I also love, love, love the spare closing duet between Arlan and co-writer Elias Elena. Their pairing recalls the pioneering country-rock of Gram Parsons and Emmylou Harris. 
Debuting at No. 15 on the Euro Americana chart, "What Kind of World?" also features:



"New Jersey Skies," a heartwarming ode to a lover, state and inner child




"I Know a Song," a mellow country-rock nugget that's a cross between Neil Young's "Harvest" and Elton John's "Tumbleweed Connection"




"You Can't Ban My Love," an exotic-sounding examination of the politics of hate in the face of liberating love, featuring a raw percussion performance by Arlan




"50 Years of Kavanaugh," a powerful, traditionally arranged original folk tune that forecasts the supreme horrors of a corrupt federal court system with a beautiful duet featuring acclaimed Asbury singer-songwriter Tara Dente.



You can hear the album live as soon as Arlan returns from a tour of Netherlands. The 10-day jaunt through Oct. 20 includes appearances Oct. 12 at a unique Civil Rights Movement event with pastor-author Harcourt Klinefelter, Martin Luther King Jr.'s press secretary, and the Ramblin Roots Festival with Dave Alvin, Jimmie Dale Gilmore, North Mississippi Allstars, Drivin N Cryin, Robert Ellis, Dustbowl Revival, Chance McCoy, Carter Sampson, Nathan Bell and more. Back in the States, a Nov. 9 record release party in Arlan's hometown of L.A. will be sandwiched by dates on Oct. 30 at Headroom Bar and Social in Jersey and Nov. 15 at The Strand Theater for the all-star "Feeling of Soul" concert featuring J.T. Bowen and the Mighty Kings of Soul, Jarod Clemons, Chuck Lambert, and The Bilsby Brothers.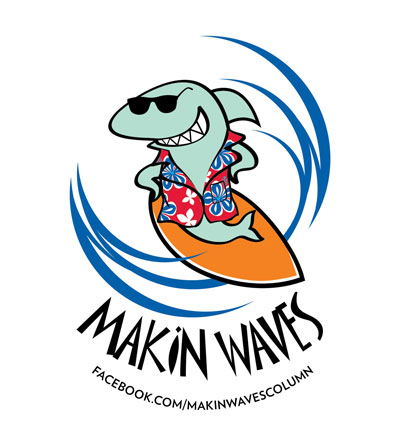 Bob Makin is the reporter for MyCentralJersey.com/entertainment and a former managing editor of The Aquarian Weekly, which launched this column in 1988. Contact him at makinwaves64@yahoo.com. And like Makin Waves at www.facebook.com/makinwavescolumn.