Jersey Shore rapper-singer Drew the Recluse will play Oct. 4 at Asbury Park Music Foundation in support of his latest EP, "Suburbia." PHOTO BY CHRISTIE CORSO
Jackson-raised rapper-singer Drew the Recluse is based in Asbury Park but lives in Freehold. The suburbs have influenced him more than the kind of urban setting that informs most rap, hip-hop and R&B, the blend of which he once again deftly mixes on his latest EP, "Suburbia," for his family-owned Black Suburbia Music Group.
The four-song collection opens with the title track, a sonically symbolic snippet that depicts both the serenity and sprawl of suburbia and segues into "Survive," a hip-hop anthem about remaining vital as an artist and alive as a human. Drew realizes there's no place like home even if it means you have to die in suburbia rather than be a creative and physical flash in the pan among the flashing lights of the big city. A beautiful chorus features an excellent high-pitched vocal sung by the rising local star.
"Everytime," the Makin Waves Song of the Week, is an ode to a stripper working her way through college that features awesome internal rhymes by Drew and a dreamy feature by Solo for Dolo. As the Song of the Week, the tune can be heard at 6:45 pm on Friday and Monday on "Radio Jersey," four more times daily at ThePenguinRocks.com, as well as at Makin Waves' Spotify and YouTube playlists. The lyrics were co-written by Jake, who also helmed the closing track, "The New Zealots Oath," a dynamic account of race, religion and righteousness in relation to the American Dream, the pursuit of which Drew says is his mission.
Check him out live Oct. 4 at Asbury Park Music Foundation, where he also may perform tunes from an EP due by year's end and an LP to be released early next year. Sharing the Suburbia Friday Night bill will be brother and Black Suburbia Music Group mate Momo Da Gawd?, as well as fellow Jersey Shore rapper Lance Ambrose.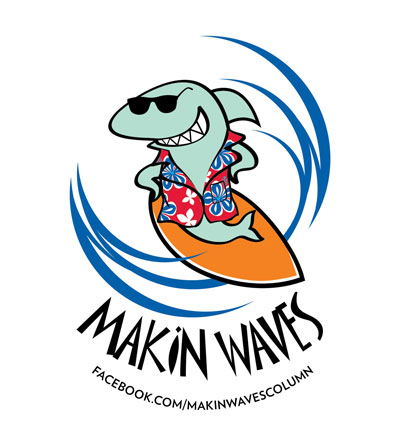 Bob Makin is the reporter for MyCentralJersey.com/entertainment and a former managing editor of The Aquarian Weekly, which launched this column in 1988. Contact him at makinwaves64@yahoo.com. And like Makin Waves at www.facebook.com/makinwavescolumn.