originally published: 09/19/2019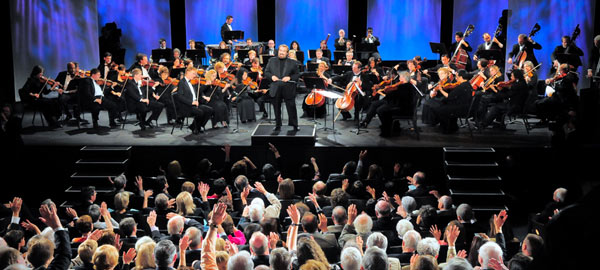 The Discovery Orchestra invites music-lovers ages eight and up to immerse themselves in a watershed achievement in music history. Its performance of Russian composer Igor Stravinsky's "The Firebird" on Sunday, September 22, from 2:45 PM to 4:30 PM at the Delbarton School in Morristown will be televised.
The Discovery Concert series, airing regularly on PBS stations across the country, is designed to change the way people hear classical music. We recently spoke with two of its creators: Maestro George Marriner Maull, Founder and Artistic Director of The Discover Orchestra, and Executive Director Virginia Johnston. "Discover the Firebird" is their fifth television concert, and will air nationally in Spring 2020.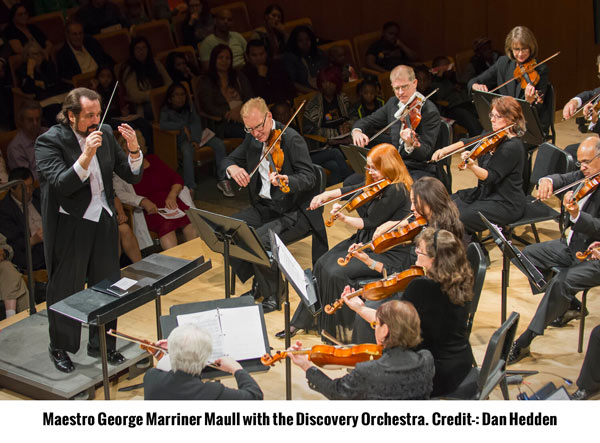 Jersey Arts: Let's talk about next Sunday's event. How is going to your "Discover the Firebird" program different from going to a typical classical music concert?

George Marriner Maull: It's a concert in which we play a selection of music for the audience straight through, and then we begin to have a series of interactions with the audience in which they're required to answer questions that can only be answered by listening carefully. It's about creating a space in which they can focus on the music. That's the whole point of these concerts. Whatever the piece might be, by the time we finish exploring it, the audience reaction is always something like, "Oh my gosh, it sounded like a completely different piece of music the second time you played it." It's a way in. The way the audience listens changes and that changes the music for them.

Virginia Johnston: We're so used to having music played in every environment we're in – the doctor's office, the supermarket, a restaurant, a hotel lobby. And most of the time, we're not really giving that music our attention. It's in the background. It might be a nice kind of ambient music to have around, but there's no real engagement with the music. So, at the concerts we teach the difference between merely hearing music and listening to music – actively engaging with music. I find that even one of our programs can help people. And people who have been coming to these programs for years find that all of their music-listening experiences have gradually changed over time.

 
JA: What is it that is the main barrier between people appreciating a piece like "The Firebird" that people in 1910, when it premiered, didn't have working against them? What prevents people in 2019 from experiencing "The Firebird" the way audiences did back then?

GMM: Well, I think the first thing is the prevalence of amateur music-making in 1910. Playing music at home with friends and family was almost universal. There was less of a divide between amateurs and professionals. Pretty much everybody did it in one way or another. They sang, they played the guitar, they played the ukulele, they played the piano, the clarinet or whatever at home and in their communities. They did this in church, and other communal places. And that kind of behavior was standard. But from what I call the Edison effect – the long-term effect of Edison inventing a machine that would record music and play it back – we've lost – and the National Endowment for the Arts has stats on this – but it's only a very small portion of the population that still plays an instrument on a daily basis. So, most people don't have that firsthand encounter with music anymore. That's the first strike they have against them. And the other thing is, of course, the 20 million other things out there in our media landscape that are clamoring for our attention.

VJ: Just the idea of music without words – people usually associate that with TV or film. Just listening to music on its own is a rather uncommon activity if it's not a song that has words.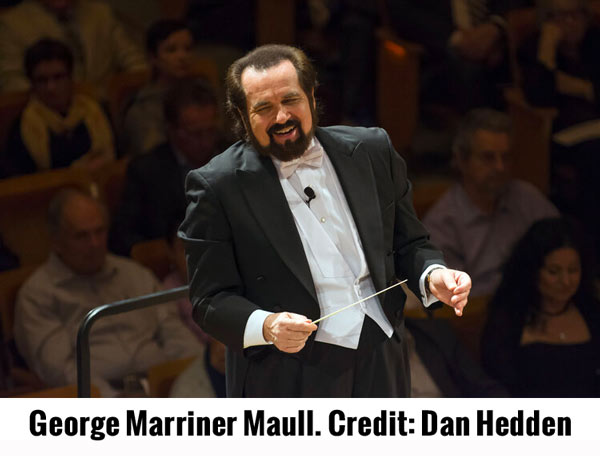 JA: Do you also think that, maybe, when it comes to music, and art in general, made before the era of television and the internet, which are basically the same thing in 2019, it's hard to put yourself back there and fully grasp the context? In 1910, there were movies, but nothing like what we watch and interact with on our screens today. It's kind of hard to put yourself back in that time and really get it.
VJ: Yeah, I think that's definitely true. Also, it's the way we do music in our schools. It's mostly centered around performance – chorus, band, sometimes orchestra. Not everyone participates in those things.

GMM: If they have an arts curriculum at all.

VJ: Right. I mean, New Jersey – I don't know if you saw this in the news last week, which was National Arts in Education Week – but New Jersey is now the first state in the country to provide arts education in all of our schools, which is pretty awesome. But even so, just talking about music, most of that revolves around performing, which not everybody does. So, if you're not in the chorus or the orchestra or the band, you're not really engaged with music in school. There aren't many opportunities to go listen to music outside of what you listen to on your own.

GMM: We know that everyone is musically involved at some level. Human beings don't seem to be able to live without it – whether it's streaming your favorite songs on a smartphone or going to a concert.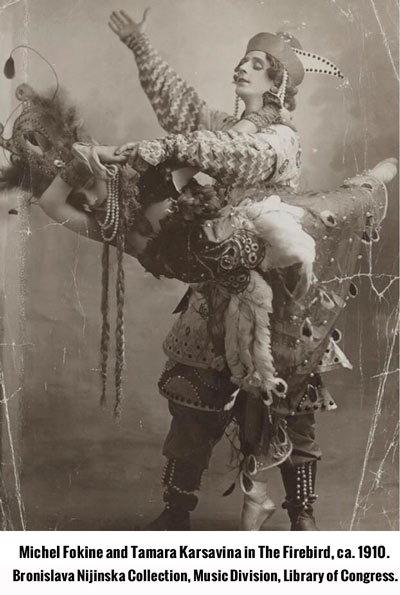 JA: Let's talk about the piece itself – "The Firebird." How was it created, and why is it such a significant work of 20th Century art?
GMM: Well, it certainly made Stravinsky's career. He was a fledgling composer, forced – like many children of upper and middle-class Russian families– to go to law school. He tried, so the story goes, but he ended up attending about 50 classes over four years. He was fascinated by music from early childhood, but his father just didn't want him to attempt to become a musician. However, when he got to St. Petersburg to go to law school, he happened to meet a classmate who was the son of perhaps the most famous composer in Russia at the time, Nikolai Rimsky-Korsakov. They became good friends and Stravinsky ended up staying with that whole family for the summer in Heidelberg, Germany, where they were vacationing. So, Stravinsky began studying composition with Rimsky-Korsakov, and that utterly changed his life.
We're going to play a little Rimsky-Korsakov in this coming Sunday's concert, just to emphasize the kinds of things that Stravinsky learned from his teacher. Long story short, when the Ballets Russes was looking for a composer to write the score for this ballet they were about to stage in Paris called "The Firebird," a lot of other Russian composers who had more of a reputation turned them down. And so they went to Rimsky-Korsakov and said, "Hey, who would you recommend to write this?" And he said, "My student, Igor Stravinsky." This was his big breakthrough moment. And from there, he went on to collaborate with Sergei Diaghilev a number of times. He wrote two more ballets right after that – "Petrushka" and "The Rite of Spring," which, famously, caused a riot when it premiered in Paris because it was so dissonant, and because the subject matter on stage seemed so bizarre.
But people loved the music of "The Firebird." They felt that it was very listenable and enjoyable and refreshing and new.

VJ: I think Stravinsky does stretch people's ears. One movement that George and the orchestra will be exploring is the "Infernal Dance." There are some pretty dissonant moments in that. In our previous television shows, we've done pieces by Bach and Beethoven and Vivaldi. So this is kind of pulling our audience into the 20th Century – some of the newer sounds that were happening.

GMM: It was actually the idea of one of our patrons!
JA: So, what is the story being told through the music of "The Firebird"?

GMM: The ballet script is essentially a combination of two different Russian folktales. There was a Russian folktale about this magical bird – the Firebird. They have lots of bird legends in Russian folklore. The other story is about an evil ogre named Koschei. So, you have a young Prince – Prince Ivan – who goes on a hunting trip, and he discovers the Firebird, this mythological creature. He wants it to take as a trophy, but the Firebird puts up a big fuss and says, "Please don't take me. If you don't, I will give you one of my feathers, which has magical powers. And if you ever get into a really tight spot, just wave the feather and I'll be there."
Next part of the story, he continues walking through the forest, and finds a castle where there are some strange things going on – statutes that look a little too much like real people, young women walking around in a trance. The prince finds out that there's this evil character Koschei who lives in this castle who has a team of fellow demons, and he's been turning people into stone and making women his slaves.
So, naturally, Ivan says, "This can't go on. We have to rescue all these people." And Koschei, of course, wants to do away with Ivan. So, a battle ensues. Ivan takes out the feather. The Firebird comes and says, "Okay, we're going to turn this battle into a dance in which Koschei and his demons are going to dance so hard that they're going to fall down from exhaustion."
After the demons dance themselves into a stupor, the bird tells Ivan that Koschei's soul resides in an egg that's kept in a little casket, and, if Ivan were to break that egg, Koschei's power would be completely destroyed. While Ivan sets out to destroy the egg, the bird wants to make sure that Koschei remains asleep. So, she dances this lullaby, which is one of the pieces we're playing at the end of the concert. It's the next to the last piece in the suite, and it's a beautiful, charming piece of music.

VJ: Also based on a Russian folk melody.

GMM: Yes – Russian folk music plays a large role throughout this. Rimsky-Korsakov, Igor Stravinsky's teacher, had made a compendium of Russian folk songs, which Stravinsky used in all of his compositions.

VJ: Much like Bartok did with Hungarian folk music. It was the beginning of what we now call ethnomusicology.

GMM: Exactly. Many composers of that time were thinking, "Our native folk songs are the best material we could choose for our melodies."
JA: That's really interesting. It's a little bit like Alan Lomax recording all of that folk music in the U.S. for the Library of Congress's Archive of American Folk Song, which had a real impact on 20th Century American music.
GMM: Absolutely. That's exactly parallel. Lomax did a tremendous service for our country in cataloging all of those folk songs. And then you have classical composers like Copeland taking a Shaker folk melody and turning it into the big moment in "Appalachian Spring," the ballet he wrote for Martha Graham.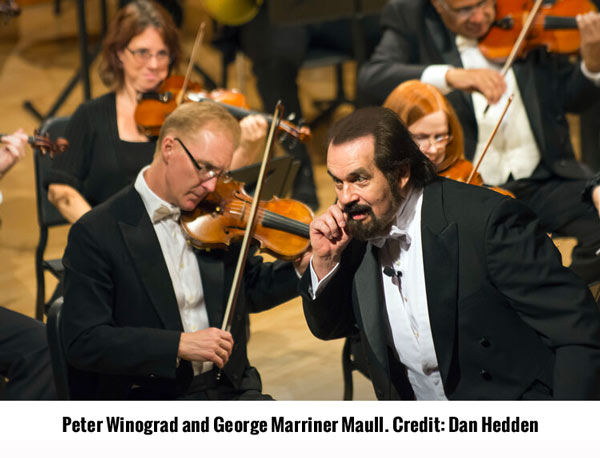 JA: How did The Discovery Orchestra make the turn toward producing these kinds of "learning to listen" concert programs?
GMM: Well, it was an evolution. We were originally called the Philharmonic Orchestra of New Jersey. The orchestra was founded as a freelance professional symphony orchestra in 1987, and we played regular symphonic concerts – an overture, a concerto followed by a symphony was often the format of our concerts. We began performing originally in Somerset County, then we started performing at Princeton University. And when the New Jersey Performing Art Center opened in Newark in 1997, we started doing concerts there as well. All the while, I always had this fascination with teaching people how to listen to music.
After some brainstorming within the organization, we did our first Discovery Concert, and it went over really well. So, we raised the money and recorded our first show for broadcast – "Bach to the Future." We didn't know if anybody would like it, but we sent copies of it to the programmers at WNET, what used to be called New Jersey Network – NJN, now NJTV – WLIW on Long Island, and WHYY in Philadelphia. And they all agreed to show it, which encouraged our producer to send it to American Public Television. They loved it, and we started airing nationally. And that's what led us to adopt a new mission of teaching the listening skills that help people really connect with classical music. We want people to have strong emotional reactions. And the only way that we think they can do that is if they really listen and notice details.

VJ: We realized that we could reach so many more people with these programs. We have a radio show now, too. Everything we do now has some type of media component. We're partnering with WWFM, which is the classical station in Mercer County, and airing a live concert from Princeton Theological Seminary in May.

GMM: We create as much media as we can – because it's proven to be a great model for reaching more listeners. We're also producing content for YouTube and Amazon.

 
JA: So, this coming Sunday, you're inviting your audience to come, dressed in their Sunday best, and be a part of this national broadcast. What should they expect?

VJ: We're going to play the music and then explore it with them. The audience engagement is fun. They'll be asked to not only do things like raise their hand when they notice something happening in the music, but also to sing a little bit! We just want it to be fun and light and enjoyable. During a section of the music later in the program, as the music gets louder and faster, we're going to ask that they stand up to kind of viscerally feel what's happening in the music. They'll feel the music in their bodies. And so they'll really be part of this concert that will be airing on PBS stations throughout the country next spring!