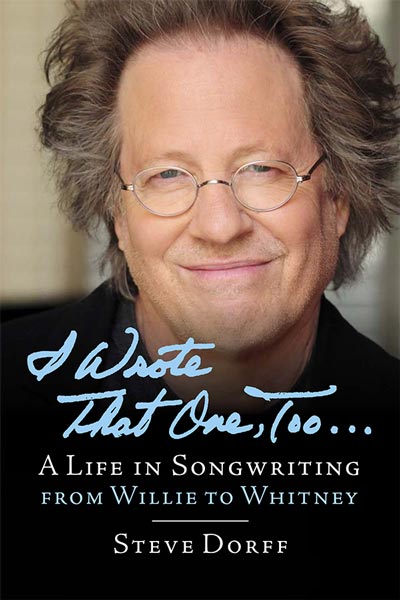 (WEST LONG BRANCH, NJ) -- The Center for the Arts at Monmouth University will present Songwriter's Hall of Fame inductee Steve Dorff on October 11 at 8:00pm.  Dorff will be performing many of his best loved songs and share the fascinating stories behind them on the Pollak Stage as part of the 2019-20 Performing Arts Series.
Steve Dorff is the master songwriter behind over 400 legendary and iconic songs, and has provided one of the most significant bodies of work in the history of American music. His career as a songwriter spans five decades and includes more than 40 BMI awards, 20 Top 10 hits, 12 No. 1 hits, and an American Music Award. He has had No. 1 records across four decades. Some of the hits he penned include Clay Walker's Hypnotize the Moon, George Strait's I Cross My Heart, Eddie Rabbit's Every Which Way but Loose, Kenny Rogers' Through the Years, Barbra Streisand's Higher Ground, and Celine Dion's Miracle.
Dorff is a gifted composer in every musical field and has over 28 placements in TV series such as Murphy Brown, Growing Pains, Murder She Wrote, Columbo, Reba, Spenser: For Hire, Just the Ten of Us, and feature films such as Every Which Way But Loose, Pure Country, Rocky IV, Tin Cup, and Honkytonk Man. He is the musical director for the new Murphy Brown series and has a cut on the new Barbra Streisand album, set to be released in November of 2019. Dorff was inducted into the Songwriters Hall of Fame in 2018.
If you're a fan of music from the last forty years, there's a chance Dorff has written some of your favorite songs. So, come to the Pollak Theatre to not just hear these beloved tunes, but also learn the beautiful and powerful stories behind them.
Tickets for the October 11 presentation of An Evening with Steve Dorff: The Hit Songs and the Stories Behind Them range from $35-50 and can be reserved through the Monmouth University Performing Arts Box Office at 732-263-6889, or online at www.monmouth.edu/MCA.  
---
The article continues after this ad
---
---
Monmouth University is a leading private institution that offers a comprehensive array of undergraduate and graduate degree programs. The University provides students with a highly personalized education that builds the knowledge and confidence of tomorrow's leaders. Located in West Long Branch, New Jersey, Monmouth University's magnificent and historic campus is approximately one hour from both New York City and Philadelphia and is within walking distance of the beaches of the Atlantic Ocean. Monmouth University is listed in U.S. News & World Report's "Best Colleges" and the Princeton Review's Best 377 Colleges.