originally published: 09/11/2019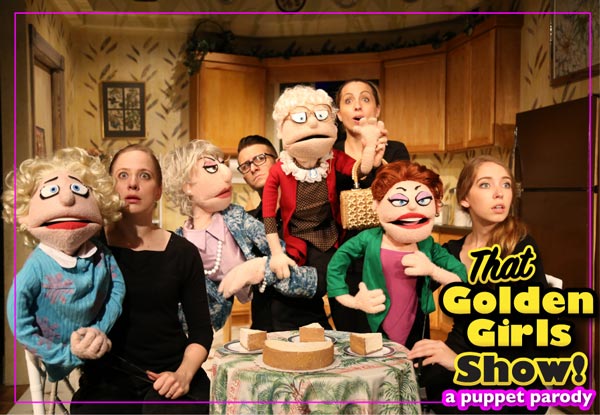 (AVENEL, NJ) -- The Avenel Performing Arts Center (APAC), a new multi-disciplinary performing arts center located in Woodbridge Township, presents "That Golden Girls Show!- A Puppet Parody!" Wednesday, September 25 through Sunday, October 6, 2019. This is a brand-new show that parodies classic Golden Girls moments - with puppets!
Get set for an evening of cheesecake, laughter, jazzercise, shoulder pads, sex, and the elegant art of the quick-witted put down. From Sophia's get-rich-quick schemes, to Rose's tales from St Olaf, Blanche's insatiable hunt for men and the Fountain of Youth, and Dorothy's daily struggle to make sense of her life. Devoted fans will fondly remember our four girls from Miami, and for the first-timers, this will be a joyful introduction to the brilliance of that television series.
The cast includes Meggie Doyle as Rose, Erin Ulman as Blanche, Casey Andrews as Dorothy and Ashley Brooke as Sophia.
Co-created by Thomas Duncan-Watt, Co-created and produced by Jonathan Rockefeller. Direction by Michael Hull, Written by Doug Kmiotek, Puppets by Rockefeller Productions, David Goldstein (Set & Lighting Design), David Ferdinand (Sound Design), Jessica Haff (Puppet Supervisor), PRF Productions/Peter Feuchtwanger (Production Supervisor), Mason Hughes (Production Stage Manager), Peter Brown (Assistant Stage Manager), ABM Agency/Amanda Bohan (Marketing Director), Krista Robbins (Company Manager), General Management by Theater Mogul/Jill Bowman, Exclusive Tour Direction by Broadway & Beyond Theatricals/Victoria Lang, Ryan Bogner and Tracey McFarland.
The performance schedule for "That Golden Girls Show" is as follows: Wednesday-Friday at 8:00pm, Saturday at 2:00pm and 8:00pm and Sunday at 3:00pm. Please note there are no performances Monday, September 30 or Tuesday, October 1, 2019.
---
The article continues after this ad
---
---
The Avenel Performing Art Center is located at 150 Avenel Street in Avenel, New Jersey (located within Woodbridge Township). To purchase tickets, visit www.avenelarts.com or contact the Box Office Tuesday-Saturday from 12:00pm-5:00pm at (732)314-0500.
The Avenel Performing Arts Center opened April 10, 2019. The Avenel Performing Arts Center promises to energize Avenel and surrounding communities by programming exceptional, professional theatre, music, comedy, dance and more. The Avenel Performing Arts Center will also be the home of Curtains Bar and Restaurant, which will be serving an expansive menu featuring bar apps, salads, burgers, pasta and steaks alongside a full-service bar with a seasonal cocktail menu and weekly specials. Live entertainment will be in our dining area with a wide variety of talented singers and musicians who will enhance your dining experience.
Funded by the Woodbridge Arts Alliance (WAA), the organization's goal is to inform and help build capacities needed to organize and distinguish Woodbridge as an arts destination to help advance the economic position of artists, creative entrepreneurs and associated entities. Woodbridge Arts Alliance will build and expand on these existing arts activities to further activate the Township of Woodbridge as a regional hub for the arts.