By Spotlight Central
originally published: 09/06/2019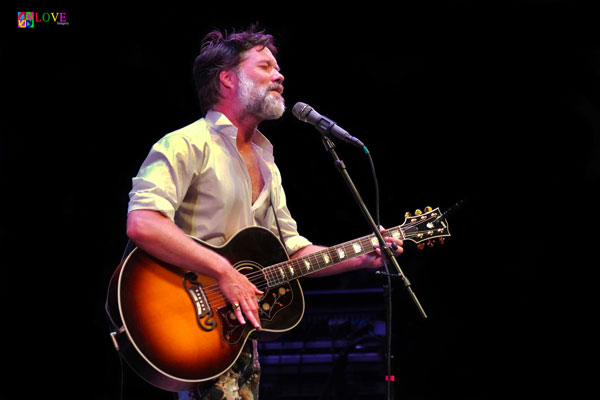 It's starting to feel a bit like fall on this August 23, 2019 evening outside Toms River, NJ's Grunin Center for the Arts as we ready ourselves for a late-summer concert appearance by the talented singer/songwriter Rufus Wainwright.
Inside the cozy Grunin Center auditorium, we chat with two Wainwright fans — Madeline and her mom, Megan, from Manchester.
Says Madeline, 15, "I like Rufus Wainwright's style — he has a beautiful voice and he can sing different styles of music."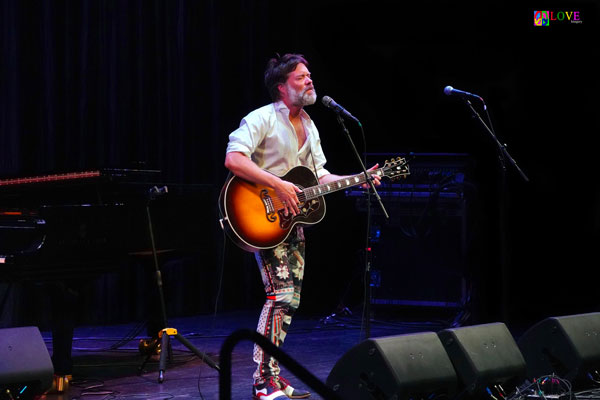 "I listen to his songs on the radio and on YouTube," notes Madeline before revealing, "I even named my German shepherd, Rufus, after him."
Notes mom, Megan, "I really like him, too — he's very handsome — but I'm here tonight for my daughter," recalling, "The first time Madeline heard Rufus Wainwright was when he performed Leonard Cohen's 'Hallelujah' in the movie, Shrek. She just loved him, and although she was very young, she started researching his music and has been following him every since."
---
The article continues after this ad
---
---
The lights dim and tonight's warm-up act, The Rails, takes the stage. The group is comprised of Kami Thompson — the daughter of well-known British musicians Richard Thompson and Linda Thompson — and James Walbourne — former guitarist for Chrissy Hynde in The Pretenders. The husband and wife duo from London opens their acoustic set with a number from their new album, Cancel the Sun.
Launching into "Mossy Well," Thompson and Walbourne play acoustic guitars and sing in harmony, "And if my mind has so dissolved/The problem now cannot be solved/So buy a round and wish me well/Then drown me at the mossy well."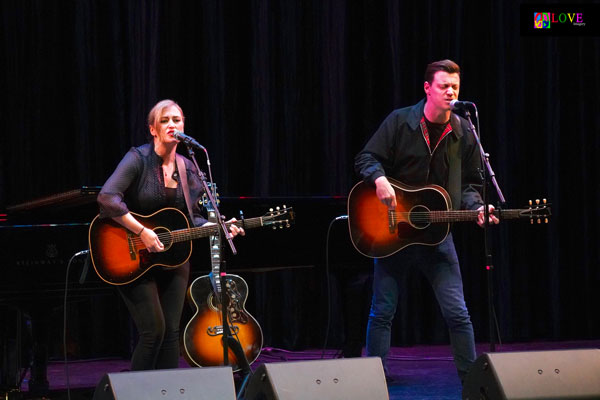 Following avid applause, the pair performs "William Taylor," a British folk song which tells an ill-fated love story, blending their voices together with nuance and intuition.
After announcing, "We are The Rails from England, and the next three songs are from our new album, Cancel the Sun," Thompson and Walbourne perform "Call Me When It All Goes Wrong," an upbeat number in which they sing, "Don't give me that love that hurts/You won't be my last/And you weren't my first/We're all in a race against time/And you're getting in the way of mine."
Following, "Something Is Slipping My Mind," a haunting ballad which features the duo's sweet harmony vocals, Walbourne announces, "This is for my wife — my beautiful wife," at which point Thompson reveals, "We've been married seven years and suddenly he's started introducing me as his wife — it's creepy!"
Here, the two perform "Ball and Chain," a story song on which they sing, "I'm in prison, bored and poisoned/Spend all my money on the ball and chain/She's my weakness, it's no secret/I'm just a slave to the ball and chain."
The crowd applauds and The Rails introduce their next number stating, "It can be about anyone you want — really crazy people, or money-grabbers," before performing "There are Other People in this World Not Just You." The audience enjoys this folk-rocker which features the couple's spot-on vocal harmonies.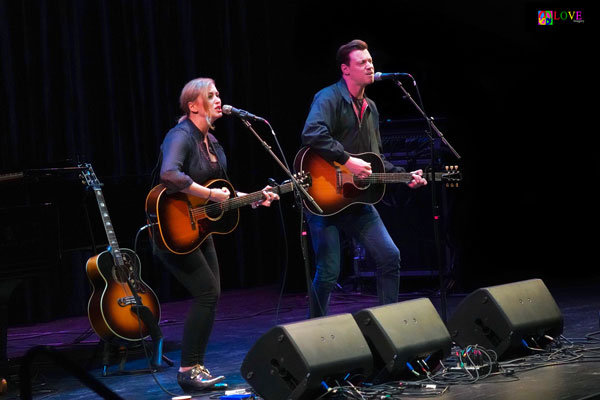 Thompson publicly thanks Rufus Wainwright for the opportunity to open tonight's show for him revealing, "We've been friends for a really long time," and the pair concludes their set with the title track from Cancel the Sun.
On this slow emotional interpretation, The Rails sing, "Cancel the sun/Hello Armageddon/Banished to blue/A long way from heaven," as Walbourne bends the strings of his acoustic while he solos and Thompson accompanies him strumming her guitar.
The crowd responds with a standing ovation.
During a short intermission, we chat with Valerie from Middletown — a long-time fan of Rufus Wainwright — who declares, "I loved The Rails!"
When asked what in particular brings her here tonight, Valerie responds, "Rufus — he's a beautiful, unique artist," disclosing, "We've waited seven years to see him."
Explaining, "We'd moved out of the area and Rufus didn't play anywhere near where we lived," Valerie recalls, "We've seen him a number of times — he has a beautiful voice," before acknowledging, "And I just love it when he forgets the words — he'll just stop and joke and then start again."
David from Middletown agrees adding, "Rufus is one of a kind. He comes from a musical family" — his father is folk musician Loudon Wainwright and his mother is the late folksinger Kate McGarrigle — "and he's just one complete singer/songwriter."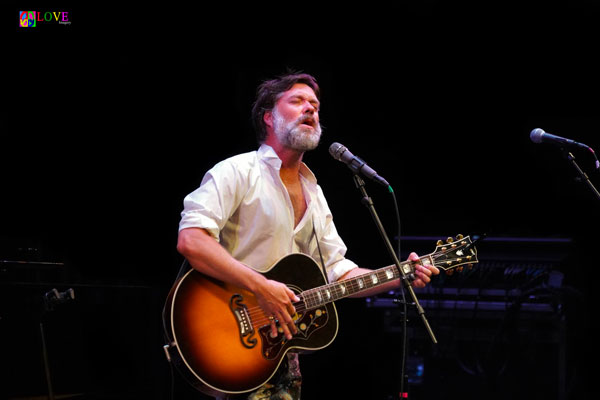 Adding, "This is a great venue — the performance space is so personal here," David concludes by noting, "Rufus appreciates playing in small wholesome theaters like this one."
The auditorium lights dim and the crowd stands and cheers as Rufus Wainwright enters, bows, and waves to his fans before sitting down at the grand piano.
Singing from his soul, he opens with "Agnus Dei," his voice exposed and dramatic showing depth and range as he wails "Agnus dei/Agnus dei/Qui tollis peccata mundi" while expertly playing a low rolling accompaniment on the grand piano.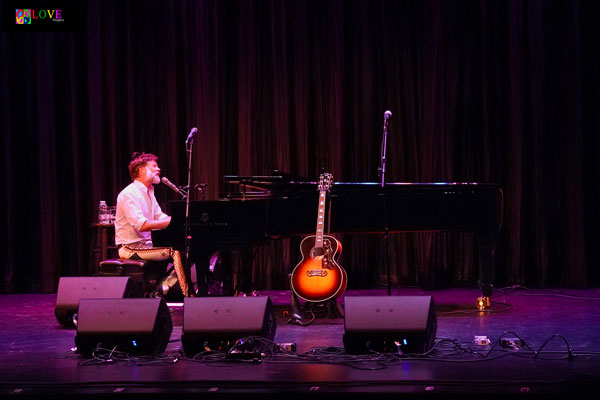 The audience responds with avid applause as Wainwright segues into a piano interlude which morphs into his lovely piece, "Grey Gardens." On this opera-inspired pop tune, Wainwright inspires the crowd with his impressive vocal, instrumental, and compositional skills.
The audience applauds and Wainwright addresses the crowd announcing, "It's so great to be in this amazing place — with pianos!"
After a fan in the crowd yells out, "Happy anniversary!" Wainwright acknowledges, "It's my seven year wedding anniversary."
Then, singing with his eyes closed, he launches into "This Love Affair."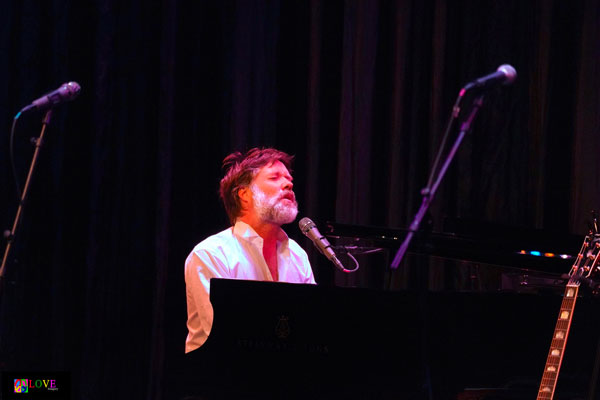 Wainwright's slow, Chopin-esque piano accompaniment supports his legato vocal which is full, expressive, and filled with emotion — his voice hanging in the air for all to drink in.
Leaving the piano, Wainwright picks up his acoustic guitar and shares a story about FaceTiming a friend of his earlier today who happens to be in Spain and staying at Irish musician Bono's house.
"When she asked where I was," Wainwright sighs and explains in his deadpan style, "I said, I'm in Toms River, New Jersey," before acknowledging, "but tomorrow I'll be in East Orange, New Jersey."
Strumming as he sings "Out of the Game," a pop tune with an easy going groove, Wainwright knocks on his guitar at times to provide rhythm while he bounces to the beat.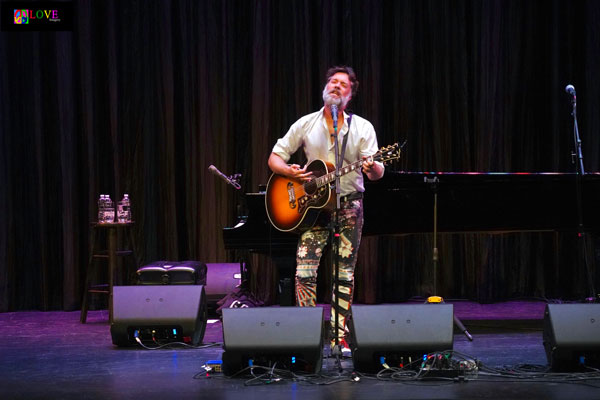 His voice smooth and resonant, he performs "Jericho." Singing, "I keep thinking that you are going to change/I keep thinking that you are going to rearrange/But I'm a fool to think something so impossible/You ain't ever gonna change," Wainwright elicits cheers from the crowd on this country-rocker.
Thanking the audience, Wainwright says, "Today is my seventh wedding anniversary, but Jörn and I have been together 14 years. Ever since 'Tiergarten' from Release the Stars, there has to be one song about him on every record," before acknowledging, "and the new album will come out next April."
Here, Wainwright performs "Peaceful Afternoon," a charming love song on which he sings, "And I pray that your face is the last I see on a peaceful afternoon in the living room," to rapid guitar strumming.
Going back to the piano, the audience cheers as he plays the keyboard introduction to another story song, "The Art Teacher."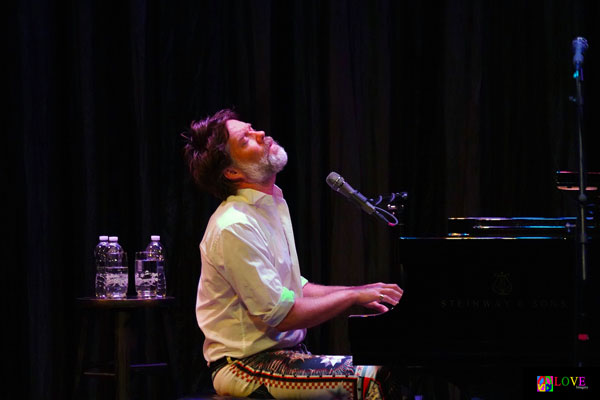 On this number, Wainwright's Mozartian piano part moves in contrast to his legato vocal line. At times shaking his head side to side as he sings, he ends with quickly arpeggiated chords which are followed by appreciative cheers, hoots, and hollers from the crowd.
Launching into another song from his upcoming album, Wainwright performs "Early Morning Madness." Slow minor chords underscore Wainwright's longing vocal. The legato line of the melody and his arpeggiated piano playing invite the listener into the song's tale as it builds in dynamics and mood. Crescendoing like a symphony before returning to a droning melancholy melody of emotion, the crowd responds with enthusiastic applause at the conclusion.
The clapping continues when the audience recognizes the piano introduction to "Poses." As he sings, "The green autumnal parks conducting/All the city streets a wondrous chorus singing/All these poses oh how can you blame me/Life is a game and true love is a trophy," Wainwright's piano accompaniment builds and his clear voice fills the theater on this slow and lush musical performance.
The crowd cheers, and Wainwright responds by picking up his guitar and performing "Gay Messiah," a folk song in 6/8 time, before announcing, "This is a new song — it's a song for everybody," joking, "except for one person."
Slow guitar strumming accompanies "Only the People That Love," a slow ballad with a legato vocal line which mesmerizes the audience.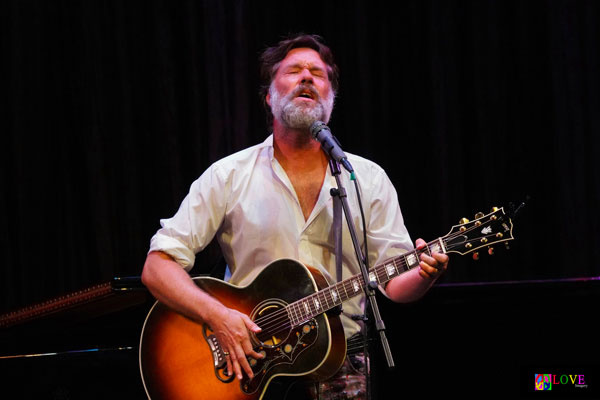 It's followed by "So Long Marianne," a Leonard Cohen cover on which he sings, "Now so long, Marianne/It's time that we began to laugh/And cry and cry and laugh about it all again."
After stopping mid-song because he skipped a verse, Wainwright smiles and works his way back to the correct lyrics as the crowd whistles and cheers.
A highlight of tonight's program is Wainwright's performance of "Montauk." With his intricate arpeggiated piano accompaniment which contrasts with the composition's legato melody, Wainwright sings, "One day you will come to Montauk/And you will see your dad wearing a kimono/And see your other dad pruning roses/Hope you won't turn around and go."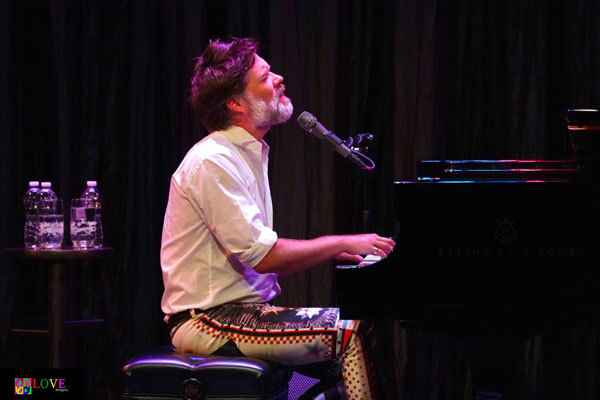 As the crowd cheers and applauds, Wainwright announces, "That song is addressing my daughter, Viva," before acknowledging, "I've been having a great time with my dad. I've been to Montauk," joking, "As the world is ending, everything is becoming really great."
Here, he performs "Dinner at Eight." Laying everything out there, Wainwright's singing is expressive and he performs with his eyes closed as he intensely communicates the excruciating pain he once experienced with his famous father — Loudon Wainwright — as he wails, "But 'til then no, Daddy, don't be surprised/If I wanna see the tears in your eyes/Then I know it had to be long ago/Actually in the drifting white snow/You loved me."
The crowd cheers and Wainwright thanks the audience before announcing "Thanks to The Rails" and adding, "I love this place — it's great!"
To conclude his show, Wainwright performs "Cigarettes and Chocolate Milk." Singing "Cigarettes and chocolate milk/These are just a couple of my cravings/Everything it seems I like's a little bit stronger/A little bit thicker, a little bit harmful for me," Wainwright follows up by demonstrating his considerable piano chops on this Broadway-like ditty as he plays two-handed Rachmaninoff-like runs and chords on the interlude.
Bowing graciously to a standing ovation, Wainwright exits the stage as the audience continues to cheer for his return.
Retaking his place at the piano, Wainwright performs an encore of his 2007 composition, "Going to a Town." The song's haunting piano part and lyrics build to a crescendo on the coda of this pessimistic number about America in which he sings, "I'm going to a town that has already been burnt down/I'm going to a place that has already been disgraced/I'm gonna see some folks who have already been let down."
Following responsive applause, Wainwright invites The Rails to join him onstage declaring, "We're going to leave on a positive note!"
The trio — consisting of Wainwright on vocals and piano, Walbourne on vocals and acoustic guitar, and Thompson on vocals — performs Leonard Cohen's masterpiece, "Hallelujah."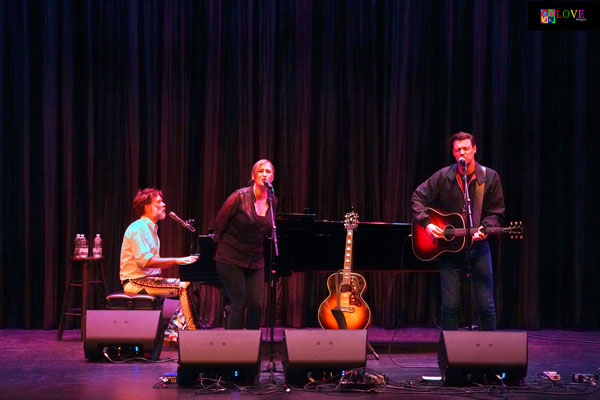 Wainwright sings the first verse of the exquisite melody as the piano and acoustic guitar ring out with three-part harmony on the chorus. Thompson handles the lead on the second verse and Walbourne joins her for verse three before Wainwright retakes the lead on the final verse with The Rails providing harmony vocals. The fluid arrangement brings the members of the audience to their feet as The Rails and, then, Wainwright wave and take leave of the stage.
As audience members filter out of the Grunin Center auditorium, we chat with several music lovers who share their opinions of tonight's concert.
Comments Barbara from Spruce Head, ME, "Excellent! Superb! Rufus was terrific! I've seen him before — this is my 49th concert in three years. He's such an exceptional musician. He has such integrity."
Susan from Little Silver concurs acknowledging, "This is my first time seeing him and I loved it!"
Nicole from Philadelphia recounts, "We drove in summer shore traffic just to see this concert. I've seen Rufus Wainwright eight or nine times, but it was such an intimate evening here in the Grunin Center theater."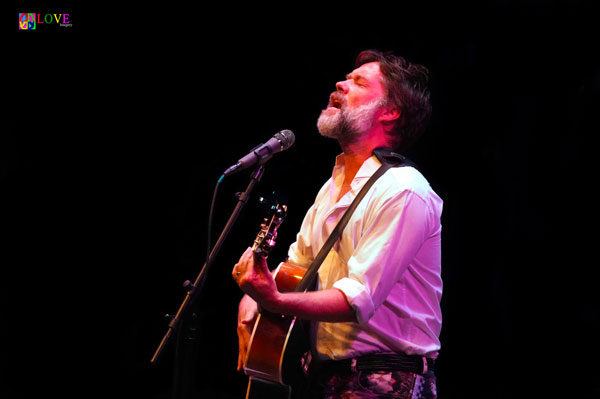 Adding, "His voice is so resonant with very pure tones," Nicole explains, "It's amazing how it blends with the piano," before concluding, "And hearing 'Hallelujah' with those vocal harmonies was like going to church!"
Liz from Naples, FL remarks, "This is my 74th Rufus Wainwright concert in three years," explaining, "I follow him as my hobby. I've seen him all over — I've even traveled to Europe to see him. He has a big voice and lots of great arrangements," before noting, "And The Rails were really terrific too."
Mona from Dumont exclaims, "This show was fantastic! With Rufus, it's just his voice and a single instrument — piano or guitar. The control and resonance of his voice is just amazing," adding, "And it makes it real when he forgets the lyrics!"
Lastly, we catch up with Madeline, 15, from Manchester, and her mom, whom we interviewed before the show. When asked how she enjoyed tonight's performance, Madeline has no words, but smiles an enormous grin from ear to ear.
Replies Madeline's mom, Megan, however, "Holy smokes —it was just incredible!"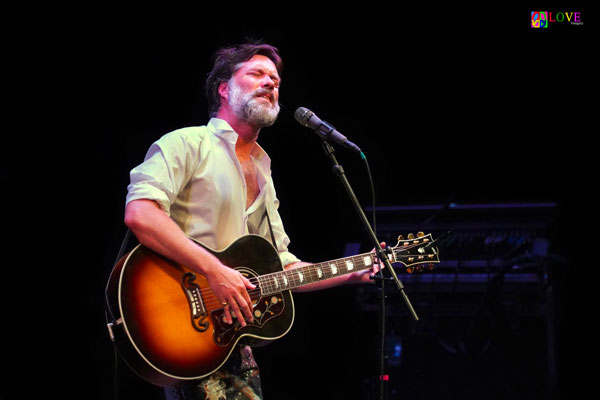 To learn more about Rufus Wainwright, please click on rufuswainwright.com. For further information on The Rails, go to therailsofficial.com. For more on upcoming shows at the Grunin Center for the Arts — including Savion Glover and The Ideal Ensemble on October 4, Graham Nash on October 13, and The Cowboy Junkies on November 7 — please go to grunincenter.org.
Photos by Love Imagery
Spotlight Central. Your source for Jersey entertainment news and reviews
Love Imagery Fine Art Photography. all you need. peace/love/flower/power