By Spotlight Central
originally published: 09/03/2019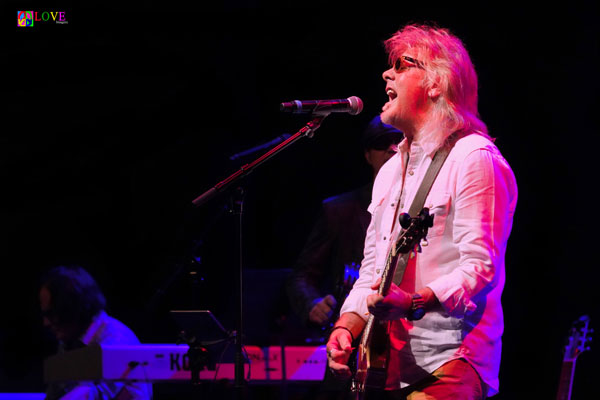 Ahoy matey!
As we enter the elegant lobby of MPAC in Morristown, NJ, this Tuesday, August 20, 2019 evening, we notice several ushers wearing captain's hats and bartenders offering a special concoction known as a "yacht rock breeze" — an appetizing drink consisting of coconut rum, pineapple juice, and cranberry juice.
On the port side of the lobby, there's a table filled with merchandise — T-shirts, CDs, books, sheet music, and more — of various yacht rock music artists, and on the starboard side, there's an assortment of sunglasses and yacht captain's hats set up in front of an MPAC backdrop where patrons are invited to have their photos taken.
For those landlubbers who are not familiar with the term, yacht rock is the tongue-in-cheek name of a highly-polished form of soft rock produced between the mid-'70s to the early-'80s which early yuppies likely enjoyed while sipping drinks on their yachts. Its name — coined in 2005 by the makers of an online video series entitled Yacht Rock — was created to describe a genre of adult-oriented rock which drew on sources including smooth soul, smooth jazz, R&B, funk, and disco with an emphasis on catchy melodies, high-quality production, and clean vocals.
Artists commonly considered part of the yacht rock scene include Michael McDonald, Christopher Cross, Boz Scaggs, Hall and Oates, Kenny Loggins, and Ambrosia, and can be heard via such media outlets as Sirius XM's Yacht Rock Radio, Pandora's Yacht Rock channel, and Spotify's Yacht Rock digital music streaming service.
---
The article continues after this ad
---
---
The music can also be heard by an outgrowth of yacht rock cover bands and in live shows which feature original artists of the yacht rock genre. One such example is tonight's concert at MPAC entitled Rock the Yacht which features artists including Ambrosia, John Ford Coley, Looking Glass's Elliot Lurie, The Moody Blues' and Wings' Denny Laine, and Player's Peter Beckett.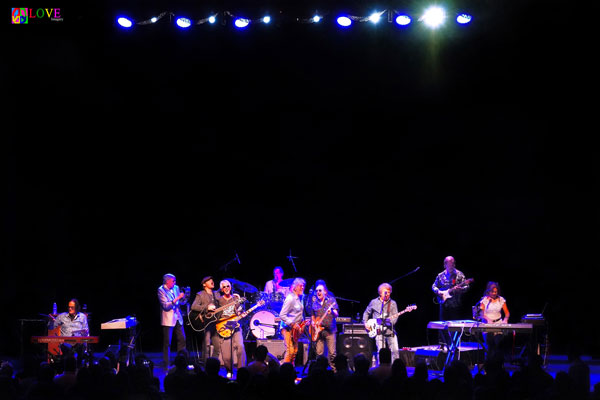 As we wait for tonight's show to begin, we chat with Jennifer from Verona who proudly sports an "I Love Yacht Rock" shirt.
Explains Jennifer, "I've gone to yacht rock concerts where a lot of audience members dress in nautical themes, and there are cover bands who play the music. This concert is different because the bands are the original artists, and I'm excited to see the real artists do what I usually see the cover bands do."
When asked what it is about this type of music that appeals to her, Jennifer replies, "I like that I can sing along to it." Acknowledging, "I recently bought an 18-CD set from TimeLife which has 180 yacht rock songs on it," Jennifer reveals, "My favorite yacht rock song is 'Brandy (You're a Fine Girl)' which I'm looking forward to hearing Elliot Lurie from Looking Glass play live tonight."
We take our seats in the exquisite MPAC auditorium as the lights dim and tonight's first artist takes the stage — Ambrosia, featuring bassist/vocalist Joe Puerta, singer Ken Stacey, keyboardists Mary Harris and Christopher North, guitarist Doug Jackson, and drummer Burleigh Drummond.
The group opens with "Nice, Nice, Very Nice" and gets the audience clapping right away to this soft rock number which features mellow vocals, rhythmic guitar, and swirling organ.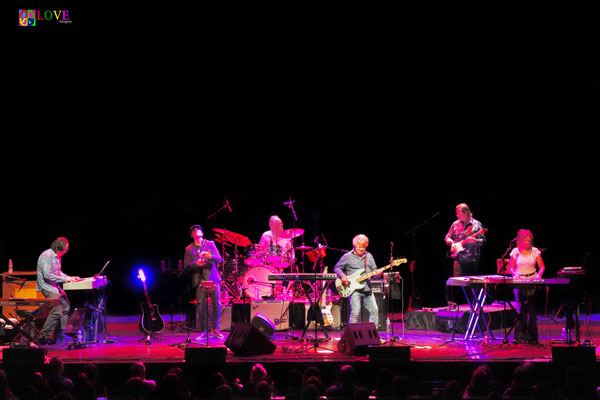 Joe Puerta welcomes the crowd stating, "Aloha from Ambrosia!" before the band segues into their 1980 Top 20 hit, "You're the Only Woman."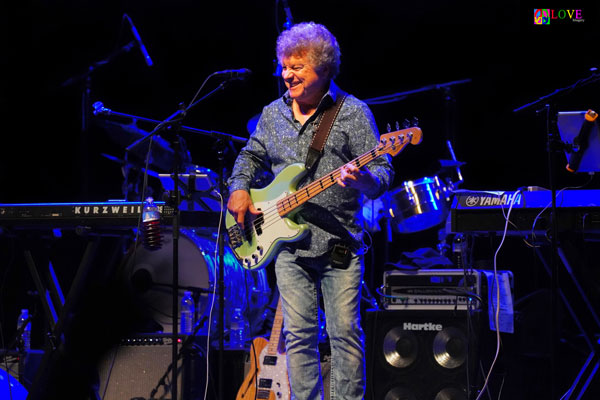 Puerta sings, "You and I've been in love too long/To worry about tomorrow." Audience members happily join in singing along on the "You're the only woman that I'm dreaming of" refrain of this soft rock classic which features solid rhythm section playing by Burleigh Drummond on drums and Doug Jackson on guitar.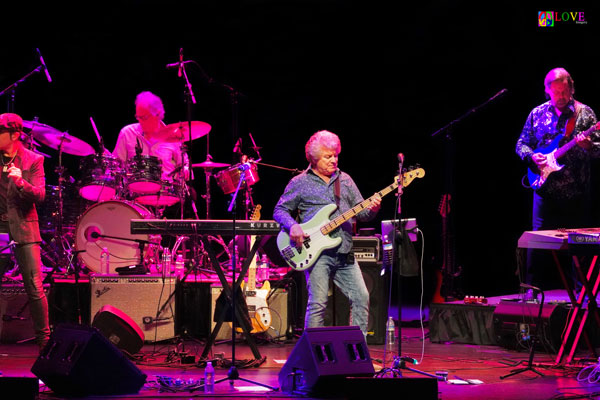 Following cheers from the crowd, Puerta exclaims, "Thank you!" before announcing, "Mr. Elliot Lurie from Brooklyn!"
There's an audible sigh from the audience as they recognize the iconic keyboard intro to King Harvest's 1972 Top 20 hit, "Dancing in the Moonlight." Lurie takes the stage in his cool shades singing and playing guitar as the Ambrosia musicians deftly accompany him.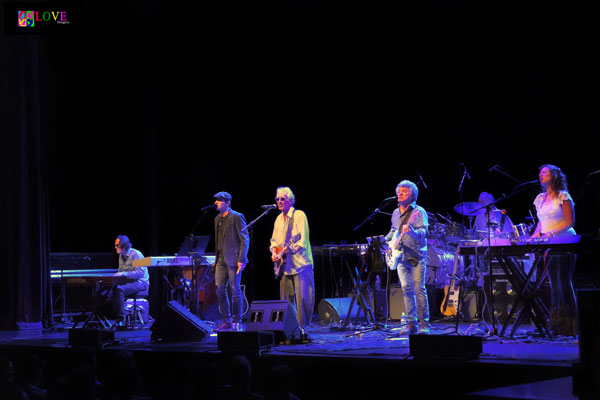 The audience sings and claps along on the catchy "Dancin' in the moonlight/Everybody's feelin' warm and bright" chorus.
The crowd hoots and hollers, and Lurie introduces Jeff Grob — his original drummer from Looking Glass — saying, "We used to play in New Brunswick, NJ," joking, "We were a one hit wonder — but there was one more tune."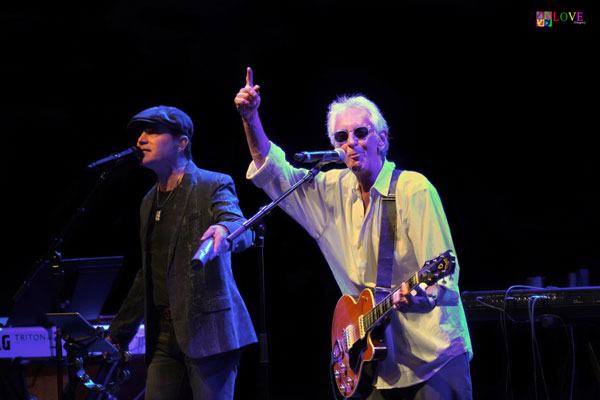 Here, Lurie — accompanied by Ambrosia with Grob on percussion — performs Looking Glass' 1973 Top 40 single, "Jimmy Loves Mary-Anne." With his cool vocal style, Lurie tells an inner-city love story as the melody rings out on this pop-rock number.
Following avid applause, Lurie announces, "This is a song I wrote a long time ago — it seems to hang in there pretty good."
Here, he and the band launch into Looking Glass' 1972 #1 hit, "Brandy (You're a Fine Girl)."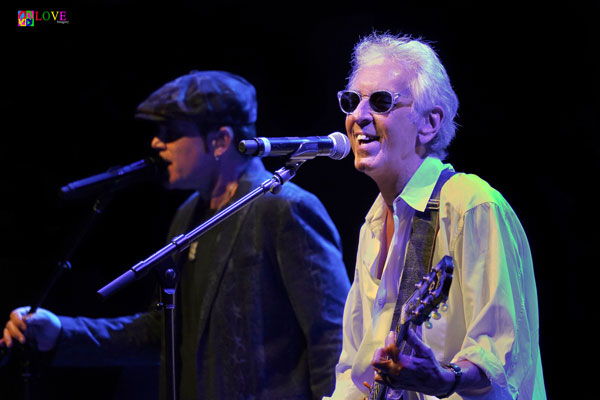 Audience members dance at their seats as they sing along with Lurie on the bouncy "Brandy, you're a fine girl" (You're a fine girl)/What a good wife you would be (Such a fine girl)/Yeah, your eyes could steal a sailor from the sea" chorus.
The crowd rewards Lurie with a standing ovation. He leaves the stage and Ambrosia performs their 1978 Top 5 hit, "How Much I Feel." Four-part harmonies support Joe Puerta's lead vocal as the group sings, "(That's how much I feel) Feel for you, baby/(How much I need) Well, I need your touch/(How much I live) I live for your lovin'/That's how much (That's how much)."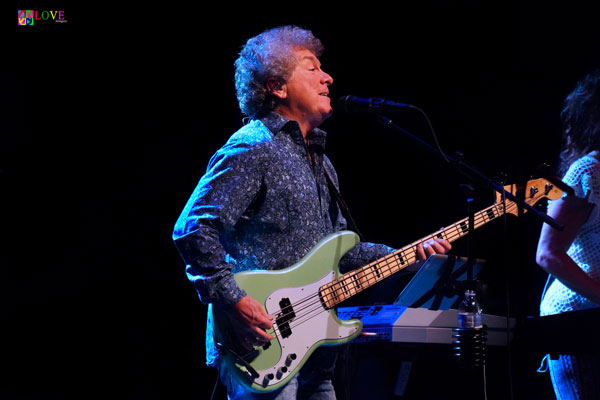 The audience cheers, and drummer Burleigh Drummond announces, "When we got started in the '70s we got to tour with this next artist, John Ford Coley."
Coley takes the stage stating, "We're going to take a walk down memory lane." He opens his set with "Nights Are Forever Without You," a Top 10 song from 1976 for England Dan and John Ford Coley. As Ambrosia guitarist Doug Jackson leads the way, Coley performs this soft rock love song with lots of rhythmic guitar strumming to large applause and a fan who yells out, "We love you, John!"
Coley responds by stating, "Thank you! Here's a song you might remember."
England Dan and John Ford Coley's Top 10 song from 1978, "We'll Never Have to Say Goodbye Again" is up next. Coley plays keyboard center stage as the crowd joins in singing on the catchy "We'll never have to say goodbye again" refrain.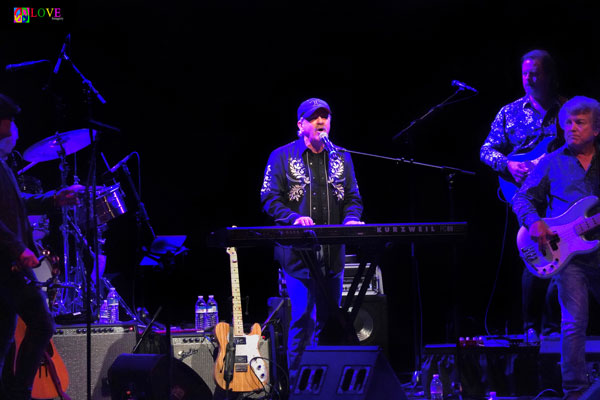 Following avid applause, Coley jokes "No one really knows the lyrics to this next song."
That notwithstanding, everyone sings along to his 1975 Top 5 smash, "I'd Really Love to See You Tonight," joining in on the catchy, "I'm not talking about moving in/And I don't want to change your life/But there's a warm wind blowing, the stars are out/And I'd really love to see you tonight" chorus.
The audience reacts with a standing ovation and Coley responds by saying, "In 1979, this was the only song in the Top 10 that was not disco — it was written by Todd Rundgren."
His voice soft and compelling, he performs the England Dan and John Ford Coley hit, "Love Is the Answer." Audience members clap along to the swirling organ sound and the groove of the ringing harmonies as Coley and Co. serenade, "Light of the world, shine on me/Love is the answer/Shine on us all, set us free/Love is the answer."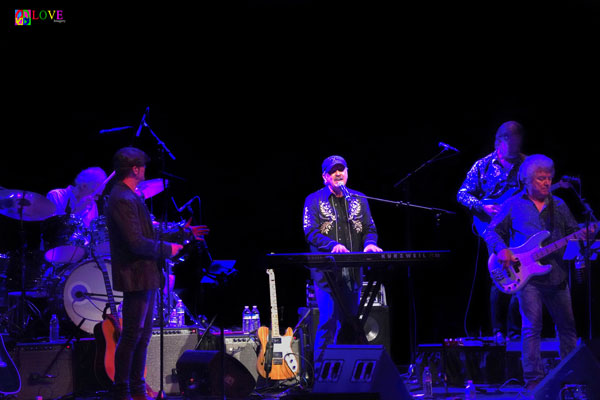 The audience cheers for Coley, and Ambrosia closes out Act I of Rock the Yacht with a rendition of Bruce Hornsby and The Range's "The Way It Is." Thanks to impressive bass playing by Joe Puerta and top-notch piano playing by keyboardist Mary Harris, the group inspires a standing ovation from the crowd.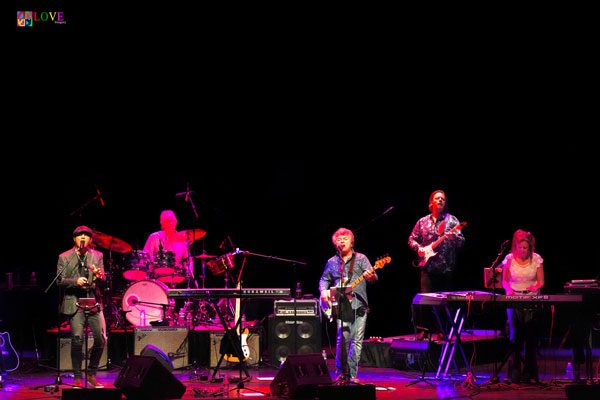 Following a short intermission, Act II begins with Ambrosia's interpretation of The Beatles' "Magical Mystery Tour," which is followed by the introduction of Rock and Roll Hall of Famer Denny Laine, who was both a member of The Moody Blues and of Paul McCartney and Wings.
Laine takes the stage with his electric guitar to perform Wings' "Time to Hide." His voice sounding rough and gravelly on this soulful rocker with a driving beat, Laine sings, "Baby, won't you let me have a little time to hide."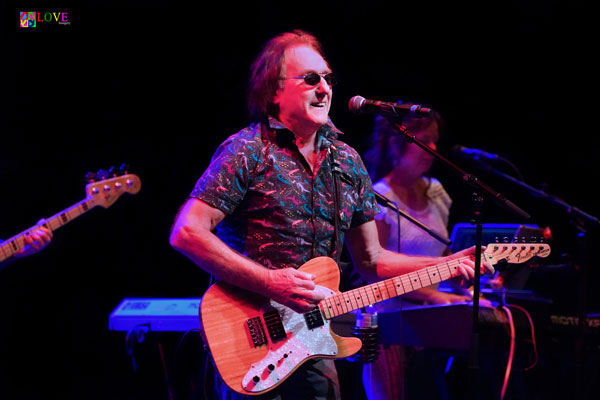 Heads bop to the beat as Laine takes out a harmonica and solos on it to great applause.
Laine welcomes the crowd saying, "Here's one — it's a '60s song and a '70s celebration," as he launches into a song on which he originally sang lead in 1964 with The Moody Blues and later rerecorded in 1976 with Paul McCartney and Wings for the the group's Wings Over America album.
His voice crying out as he performs "Go Now," the crowd cheers for this memorable pop confection in waltz time.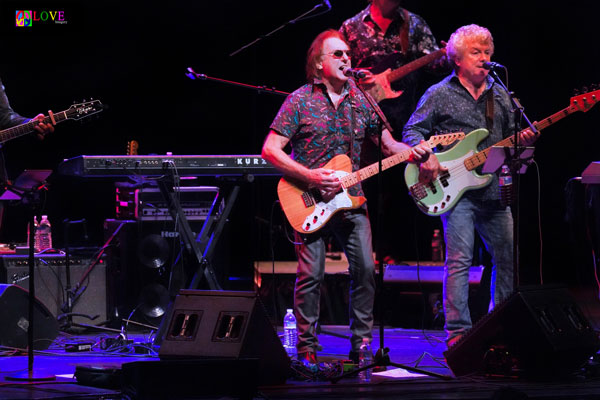 A highlight of tonight's concert is Laine's interpretation of Paul McCartney and Wings' 1974 chart-topper, "Band on the Run." Hearing Laine's authentic guitar licks played live is a thrill for music fans in the crowd. The audience sings along on all of the major parts of this masterful McCartney composition, notably the "Stuck inside these four walls" intro, the funky "If we ever get out of here" segment, and the folk-rocking "Well, the rain exploded with a mighty crash" pre-chorus before clapping and fist-pumping on the ubiquitous "Band on the run/Band on the run" chorus.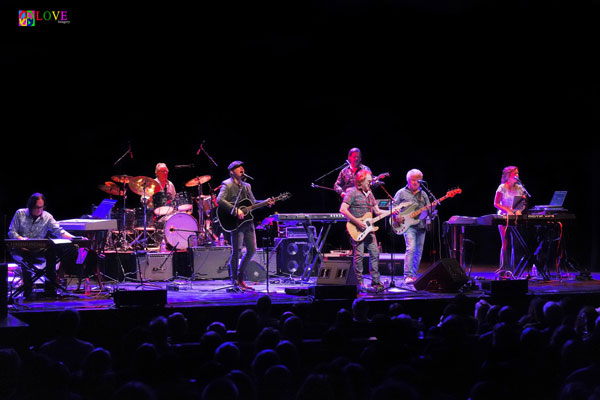 "You having a good time out there?" asks Laine as audience members dance at their seats before rewarding him with a standing ovation.
Ambrosia follows up with a performance of the rock ballad, "Holdin' On to Yesterday," before Puerta introduces someone whom he calls "one of our favorites," joking, "He's been giving us 'rock star lessons' on hair, and how to stand — Peter Beckett from Player."
Jesting, "It's been a nice evening so far — so we're going to mess that up," Beckett performs Player's 1977 Top 10 hit, "This Time I'm In It For Love," backed by Ambrosia.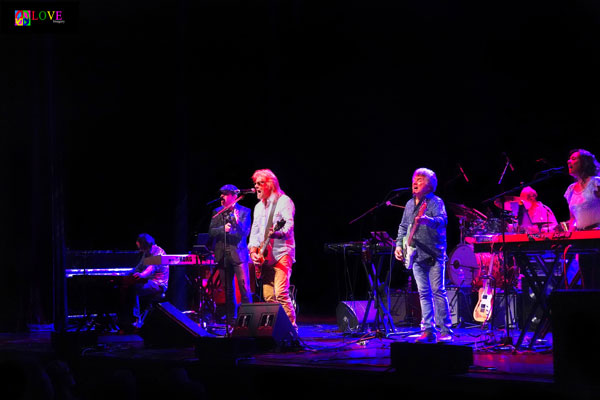 With its catchy beat, the audience can't help but move to the groove of this '70s pop-rocker which inspires cheers from the crowd.
Inviting the audience to dance, Beckett performs his version of Ace's "How Long Has This Been Going On." Many comply and begin to get down while others sing along and clap their hands over their heads as guitarist Doug Jackson steps out front to solo with Beckett and the two musicians rock out on the tune's musical interlude.
Beckett wraps up his segment of the show with the #1 hit he composed for Player, "Baby Come Back." Audience members sway in time to the song's easy beat and sing along on the "Baby come back/Any kind of fool could see/There was something in everything about you" chorus.
The audience cheers enthusiastically as Beckett perfectly hits the high falsetto notes at the end of the "Ain't there nothing left for me" bridge. The funky groove of Beckett and the band fills the theater with blue-eyed soul and audience members stand and cheer as Beckett exclaims, "Thanks very much!"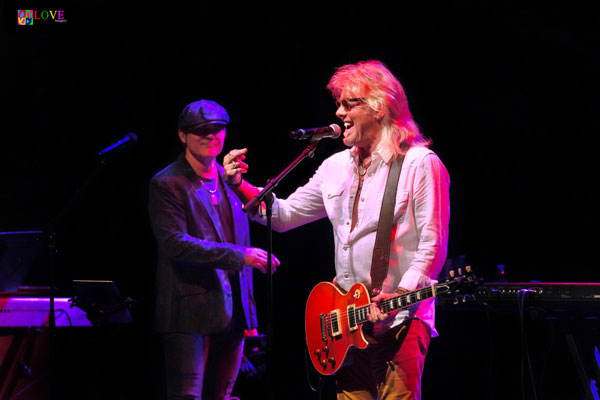 Joe Puerta takes a moment to thank Sirius XM radio for playing his group's next song on the media outlet's Yacht Rock channel stating, "This song connects with people."
The entire audience gets on its feet, standing and singing along while they dance to Ambrosia's 1980 chart-topper, "Biggest Part of Me." A disco ball spins rays of light over the audience as everyone sings "(Sunrise) There's a new sun a-risin'/(In your eyes) I can see a new horizon/(Realize) That will keep me realizin'/You're the biggest part of me." Audience members clap overhead for a Doug Jackson guitar solo and cheer wildly on their feet for Ambrosia following the coda.
Bringing the entire Rock the Yacht cast back for an encore, the musicians perform their rendition of The Animals' "I'm Crying." The audience sings the "Ah" refrain on this minor blues rocker and keyboardist Christopher North turns his Hammond keyboard sideways so the audience can see the keys as he plays a swingin' organ solo.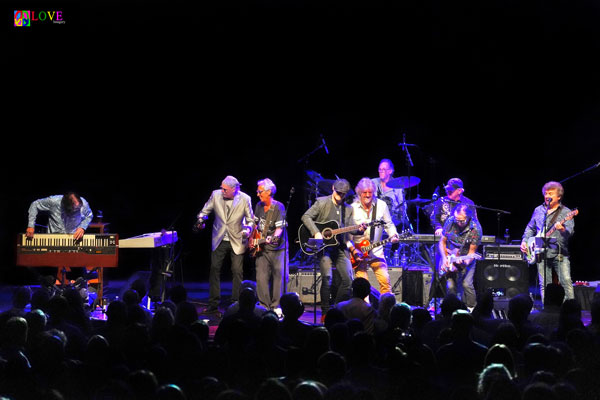 The group segues into a raucous rendition of Led Zeppelin's "Rock and Roll," the band enjoying playing both with and for one another. The crowd loves this rollicking conclusion and they cheer on their feet as the Rock the Yacht cast takes a bow and exits the stage.
While audience members make their way out of the auditorium, we chat with performer John Ford Coley who is already meeting and greeting his fans in the MPAC lobby.
When asked how he enjoyed performing in the Garden State tonight, Coley happily declares, "We love the crowds in Jersey — we always have a good time when we're here!"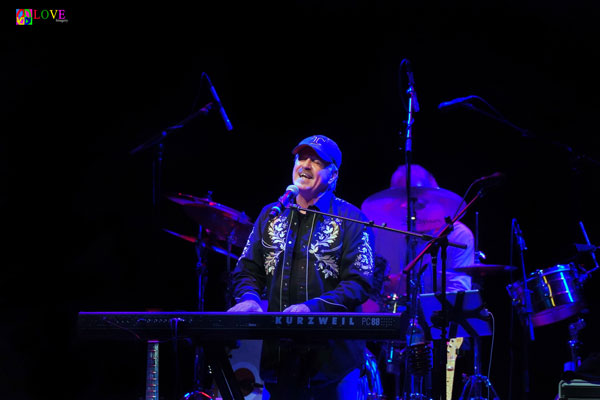 We also chat with several audience members who share their opinions of tonight's Rock the Yacht performance.
States Erwin from Bloomingberg, NY, "This was a great show! Ambrosia was great as the house band — I've seen them before, and they are always top notch."
Continuing, "I'm a yacht rock guy complete with the hat," Erwin explains, "This is my era. The show brought back great memories of the late '70s and early '80s. I was thrilled to see Denny Laine and Elliot Lurie here tonight" before noting, "and 'Band On the Run' had everyone standing and cheering — it was my favorite song of the night."
Comments Rick from Hardyston, "This was a really great show — awesome! John Ford Coley was terrific — he has such personality."
Adding, "We play these yacht rock songs on Pandora at home. We love it, and even our dog loves it," Rick's wife, Erika, jokes, "Well, I love it more, but I'm sure our dog is sorry he missed tonight's show."
Marlena from North Middletown remarks, "I'm a fan of all of the performers this evening. This was a real stroll down memory lane for me. I was singing and clapping along, and I knew all the words," before adding, "The line-up was right up my alley. Ambrosia was my favorite band in the late '70s/early '80s — I'd seen them a few times, and they are still sounding great — and I've always liked Player, so it was wonderful getting to hear Peter Beckett perform live tonight."
Chris from South Plainfield agrees, calling this evening's show, "Fantastic," and asserting, "They played all the songs we love so much!"
Lastly, we chat with a family from West Orange, here to enjoy the Rock the Yacht concert experience together.
Says son Josh, 15, "I was singing along all night!" explaining, "I play guitar, so I like to watch musicians perform so I can learn from them. These musicians have longevity — they are popular with parents and with kids like me — and it's impressive they've been performing for 40 to 50 years and are still so popular."
Whereas Josh's younger brother Sammy, 11, agrees stating, "This kind of music just never gets old," Sammy's twin, Zach, 11, declares, "It's the kind of music that makes you want to sing it back."
The boys' mom, Stacey, concurs commenting, "I love that I can play the yacht rock station in the car with my three sons and they all like it. It just keeps going and going," before concluding, "It's great that this music continues to stand the test of time!"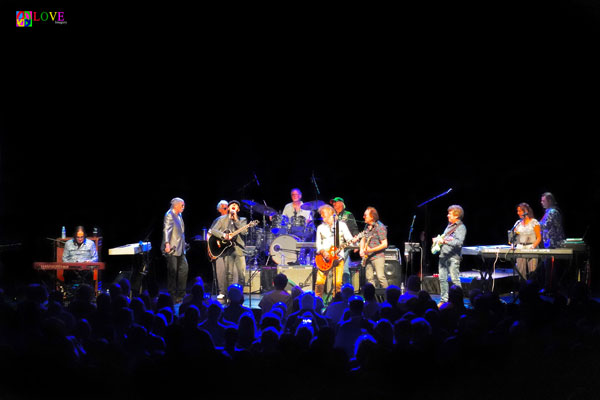 To learn more about Ambrosia, please click on ambrosialive.net/the-band. For info on Looking Glass's Elliot Laurie go to facebook.com/elliot.lurie.brandy. To find out about John Ford Coley, click on johnfordcoley.com. For more on Denny Laine, go to facebook.com/DBFLaine. To learn about Player's Peter Beckett click on peterbeckett-player.com.
To find out about upcoming concerts at MPAC — including Kathrine McPhee on September 13, Graham Nash on September 20, America on October 10, and Kenny G on October 12 — please go to mayoarts.org.
Photos by Love Imagery
Spotlight Central. Your source for Jersey entertainment news and reviews
Love Imagery Fine Art Photography. all you need. peace/love/flower/power