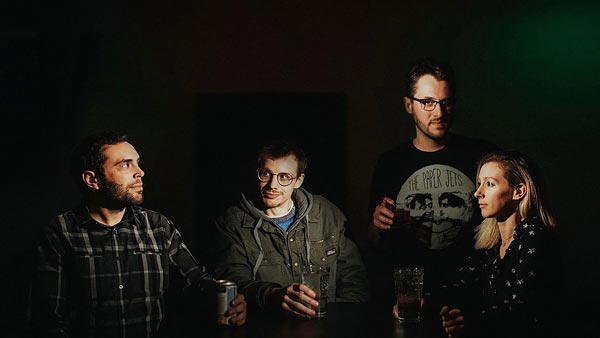 The Extensions are from left to right drummer Pete Stern, bassist Kevin Newcomb, vocalist-guitarist Brian Erickson and keyboardist-vocalist Lisa LoVell. They'll celebrate the release of their Mint 400 Records debut EP, 'Bellicose,' on Sept. 20 at Asbury Lanes. PHOTO BY ALY PAULETTE
Brian Erickson is a busy boy.
The former front man of The Paper Jets and former co-host of "The Great Albums" podcast has picked right up where those projects left off with the new band, The Extensions, and "OneMore with Brian Erickson," a weekly live YouTube talk show. I spoke with Brian about all four efforts, as well as a 50th anniversary tribute to The Beatles' "Abbey Road" album for which he is serving as music director of The Asbury All Star Abbey Road Band featuring members of Levy & the Oaks, Des & the Swagmatics, The Foes of Fern, The Vaughns, and, of course, The Extensions and The Paper Jets. They will reproduce the album in its entirety on Sept. 28 at Asbury Lanes as a co-production and promotion of Makin Waves and Brian's Red Pants Productions, which hosts a monthly show at John & Peter's in New Hope.
The all-star Extensions also feature drummer Pete Stern of Rose Boulevard, bassist Kevin Newcomb of Fun While You Wait, and keyboardist-vocalist Lisa LoVell of Dave Mooney & Viewers Like You. Their other upcoming events include Sept. 6 at Jersey City's FM Bar in a showcase co-presented by the band's label, Mint 400 Records, which will release their debut EP, "Bellicose," on Sept. 20, also at Asbury Lanes. That will coincide with a release party celebrating a compilation of fellow artists represented by Jersey Shore-based 3143 Artist Management. 
And then there's the weekly production of "OneMore" 7 p.m. Mondays at Asbury Park Music Foundation. 
Whew! Busy! Here's a look at how and why.
Like The Paper Jets, The Extensions are power pop. But how do The Extensions sound different than The Paper Jets?
By the end of The Paper Jets' run as a band, our sound became more purposely refined. Aside from slightly different instrumentation in The Extensions, we're still in our 'four-people-in-the-room' phase; a little closer to how the Jets sounded when we first started. Things are a little grittier; the songs are much better than some of that early Jets material. But that's just because I'm a decade ahead of where I was when the Jets started. If I didn't think the songs were any better, I'd quit.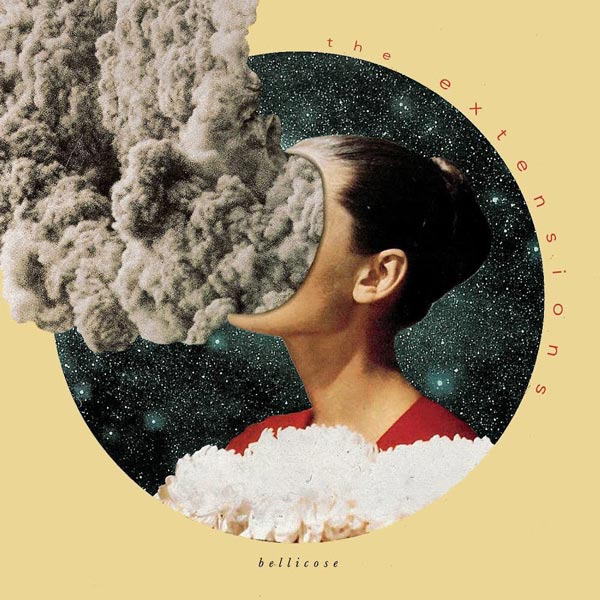 IMAGE BY EHSAN JAWED
You will be releasing the debut EP, 'Bellicose,' on Sept. 20 on Mint 400 Records. Why is the EP entitled 'Bellicose,' and how do any of the songs relate to that?
It's called 'Bellicose' first and foremost because we thought it was an eye-catching word (I thought of Brian Rothenbeck's unusually-titled 'Basilisk'). We could have called it something on-the-nose, like 'The Path to Moving On' or something like that. But 'Bellicose' means aggressive. And each band member is late of another project (Pete from Rose Boulevard, Kevin from Fun While You Wait, myself from The Paper Jets, and Lisa from Dave Mooney's band), so we thought 'let's learn from our pasts, look forward, and really go hard with this one.' Ergo, 'Bellicose.'
Which tune will be the first single and/or video, and what details can you share about the production and release of each?
We're thinking 'Hollowed Out' as the first single just because it's pretty immediate-sounding. And the first words are 'Never got the message,' which feels like a mission statement of willful ignorance. We're all getting older, but we can't be counted out if we don't know that we're supposed to be aging out soon. We left more prominent bands, but we feel very together in this. And 'Hollowed Out' with its verses about running a race and glad-handing is also a little bit of a scene commentary too. So it feels appropriate. And it's an upbeat song that plays nicely into whatever ad airs next on your streaming platform of choice.
Who produced the EP and where?
We kind of all offered up our input and wrote our own parts so we just credited the band as having produced the record. Matt Dubrow recorded it for us at his Firehouse Studio. And we brought in some Paper Jets to help finish things off: Frank Lettieri Jr mixed it, Mike Virok did the artwork, and Kevin Nix, who mastered the Jets' 'Strange Friends' album, mastered the EP. So it proved to be a really nice bridge from the old project to the new one. 
Does Lisa still play with Dave Mooney?
For the remainder of 2019, yes she does. After that, I don't believe so. But that doesn't have much to do with us. Dave has been a personal friend for years. Lisa and I met while I was subbing in for his bassist on a couple of occasions. If those two do part ways, it's got more to do with creative directions than anything at all personal. We all remain close. 
How did you hook up with Mint 400 and 3143 Artist Management?
As far as Mint 400 goes, Adam Bird introduced me to Neil, who then appeared as a guest on 'The Great Albums' podcast -- talking about 'Forever Changes' by Love. I played a couple shows for him at one of his venues in northern NJ and booked shows for a couple of Mint 400 bands down my way. We had been circling one another for a while. I knew The Paper Jets were ending so I didn't ask him about that record. But he saw an early Extensions show and was interested right away. He said my voice sounded like Josh Caterer from the Smoking Popes, which is a pretty high compliment.
I met KL Martin from 3143 at a party, and we took a shine to one another as friends. There are pros and cons to working with him. The pros are that he offered to help try and license The Paper Jets album out to a few places and stepped in with a crucial assist on our release show; just as things started getting a bit overwhelming. So it felt only natural to continue with him when The Extensions got started. The cons are that I'm no longer the tallest person in the music scene; he's pretty close to 7'0".
But it's very much felt like a partnership with both KL as well as Neil and Mint 400. I do a lot of booking, both around Asbury and in other places in NJ and PA. And I tend not to go to people unless I know I've got something valuable to offer beyond just being in a band. Anyone can play guitar. Most who do can also drum up a song or two, or at least learn some covers and entertain a bar crowd. So I feel like I need to be more valuable than someone with a kickass band or a soloist who can cover a three-hour bar gig. I don't know; maybe it's the Irish Catholic in me, but there's a degree of guilt if I feel like I'm getting something for nothing. Those two make me work for it and it keeps me feeling honest. I feel better when I can return favors.
What do they each bring to the table that you wouldn't be able to do yourself?
For Mint, you can't be everywhere at the same time so it's nice to know that you can take a day here and there and know you're not losing any ground. And they've got a pretty wide reach. If we're looking for shows out of town or radio campaigns or hoping to expand our network at all, Mint is there, and Neil will help with that in a way that only someone with a couple decades experience knows how. 
And for 3143, KL is a cheerleader and helps ease some of the back office stuff. We can defer to him for shows or contacts or when our plate starts to get full. On a practical level, 3143 also runs PR and press outreach, which is a significant load off our shoulders. These are things most bands can do and probably at some point should do. But once you get to a certain point, you're allowed to try and make your life easier when it comes to that stuff. And KL has been essential in helping us with that.
What do you like most about Mint 400 and 3143?
I can call KL pretty much anytime and we can launch into a conversation about anything. I really enjoy planning and getting hyped when things start getting laid out and executed. So we'll chat about that stuff, and I'll ask about some of the other 3143 bands and how they're doing. I've already gotten to hear some of Deirdre's stuff, and it's going to blow your hair straight fucking back!
Neil is a husband and a father to two young daughters, so his time is a little more limited. I can't always call him just to BS about stuff, so I try to go to him with direction and purpose; I feel like I'd be wasting his time otherwise. He's extremely communicative and always very honest, real, and upfront about what he can and can't do. And in an insular music community where just a few hold the keys to even fewer doors, Neil is a gem. Honesty is hard to come by, but Neil has it in spades.
What song are you contributing to the 3143 compilation?
The first single, 'Hollowed Out,' will also be on the 3143 Compilation.
What are you looking forward to most about the joint 'Bellicose'/3143 comp release party, and are there any other 3143 acts releasing records that night?
I'm looking forward to people sliding into my DMs for discounted tickets (@brianitcantbedone on Instagram, guys). I'm also looking forward to a packed Asbury Lanes and a good showing from the community of artists who come out to support one another for big event like this. It continues to mean a lot and it's not lost on any of us. We are all big fans of one another's work. I believe we are the only 3143-managed band with a proper record coming out that evening. Everyone else is just contributing a song to the EP.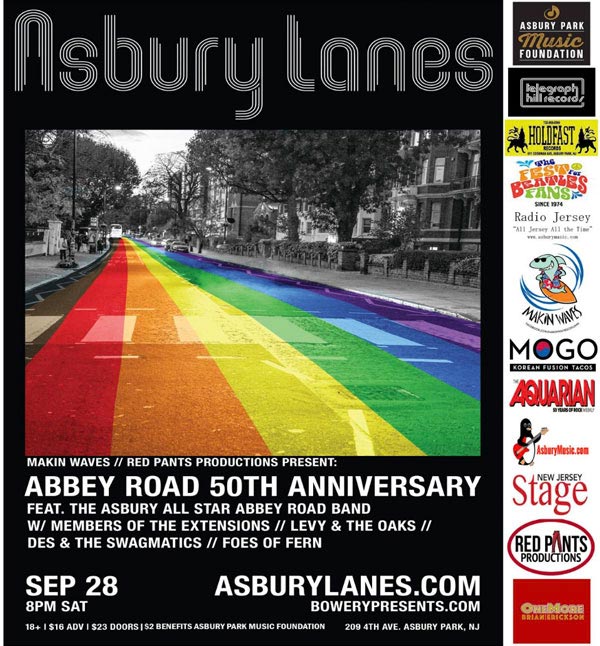 What are you looking forward to most about the 50th anniversary 'Abbey Road' tribute?
I'm looking forward to seeing Chris Colon and Lou Panico jump around in unison. I'm also looking forward to the logistics of getting an anvil up on stage for 'Maxwell's Silver Hammer.'
Both the Sept. 20 and 28 shows are at Asbury Lanes, as was The Paper Jets' last waltz in December. What is special about that venue to you and why?
Despite all the fuss, when they reopened, they're generous with local artists and that takes a lot of trust. Some places really crawl up your ass with ticket sales and keep on you week-after-week. Lanes is like a college course. Here's your assignment: sell these tickets. You won't hear another word out of us until the end of the "semester." But you'll know if you've failed.
I think musicians who are ballsy enough to ask for a show in a 700-cap room also understand what they're getting themselves into. So trust is my answer. That's what special about the Lanes. You don't have to be in the Asbury Mafia. You just have to do right by a place and a group of people that treat their acts with respect, no matter if you're Dinosaur Jr or Rachel Ana Dobken.
Why did you want to pay tribute to 'Abbey Road'?
Because you asked me to, Bob!
And because of my dad, who, if he were still around, would probably flip his fucking wig to see his son up there being a part of something so cool!
To what extent did the success of the Sgt. Pepper tribute we did together in 2017 factor into you wanting to take on 'Abbey Road'?
Around the end of the third song during that 'Pepper' set, we all turned in for a huddle, looked at each other and said, 'Holy shit, we're gonna do this!' And we just rode that out until the end. There's definitely a degree of desire to recapture that knife's-edge excitement. And also I'm happy to collaborate with a group of people I don't normally get to play with. So that's what motivates me to do it.
Who is in the Asbury All Star Abbey Road Band and what roles are they playing?
That's a long-ish list. The holdover from the Pepper band is Kristen Leu on keyboards. She's a dear friend and a former Paper Jet, and she helped out considerably with the last show. We've got Lou Panico and Chris Colon from Levy & the Oaks. Ray Saada from Des & the Swagmatics, Matt Fernicola and Owen Flanagan from every single band in Asbury Park. We've got Tom Losito from The Vaughns, and we'll also have some guest appearances from Matt Cook, Devon Alana, Jack Linden, and probably more as the show gets closer!
What have 'Abbey Road' rehearsals been like, and based on them, why should people not miss this show?
It's The Beatles, why would anyone want to miss that?!
Partial proceeds from the 'Abbey Road' tribute will go to Asbury Park Music Foundation, which is hosting the rehearsals for the All Star Band and hosts the weekly production of 'OneMore with Brian Erickson,' among the many other community-minded and history-oriented things APMF does to promote AP music and music education. From both a personal and scene standpoint, why is APMF important, and why should people support it?
Places like APMF are essential to the growth of the community because they are all-inclusive. You don't have to have a ton of money to partake in anything they do. They host a lot of events on the West End, which used to really be the hub of Asbury's music scene many, many decades ago. They donate instruments, they host camps, and they do it all on a shoestring budget; it's really remarkable. Jim Lenskold and the board of directors are generous people that understand what it means to be inclusive.
And that inclusivity extends to 'OneMore.' Jim approached us with the offer to be the host venue for it. We were coming to the end of our tenure at Monmouth Music in Red Bank, we were able to camp out at the old Outpost before that closed up, and APMF has been our permanent home ever since. They see us engaging with artists of all stripes every week, all year long. If I'm looking to be a hub of the community, why wouldn't I want to have my name attached to something like that?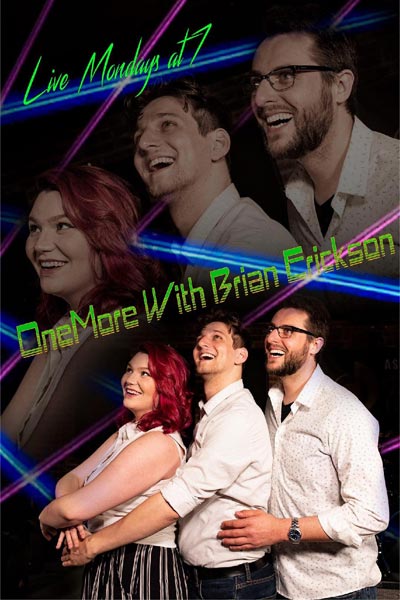 The cast of "OneMore with Brian Erickson" is from left to right Jessie McCormick, Chris Dubrow and Brian Erickson. The YouTube talk show is produced live 7 p.m. Mondays at Asbury Park Music Foundation. PHOTO BY MATT SMITH
Besides the venue, what recent changes to 'OneMore' have made it a better show?
Our producer Matt Smith works very hard to keep the show running. Sometimes it's just him back there running the sound, the live stream, and three cameras. And he's got the scars to prove it. He gets there hours before the rest of us, sets up the room, and runs the operation. I can't say enough about how integral he is and has been. Matt Smith is my answer. He's the brains of the operation. And we were lucky to have someone like the original host, Danny Coleman, to provide a good template to work from. The changes we've made -- going from one guest to two -- is just to help increase our level of engagement. But Matt and Danny paved the way, and we appreciate that.
What do you like most about working with your co-hosts Chris Dubrow and Jessie McCormick and why?
I didn't know either of them particularly well before this started; we all knew each other and we were friendly but we didn't all get close until we started working together on the show. Now they're two of my dearest friends. I'd say something sentimental like, 'I enjoy the laughs,' but I prefer the bits and the roasts. They let me get away with nothing!
Who are behind the scenes of 'OneMore' and what do they do?
The aforementioned Matt Smith runs the show. And our only other consistent crew members for the entirety of the program has been Matt Nash, a floor director, camera op, and resident plaidboi. But we've had others join us too. Spencer Peles, Liam Burdett, and Bart Lentini have all been helpful throughout the course of the program. But each season, we seem to flip the crew over. And since our new season just started up, we're working on getting a new group together.
What guests will you have on 'OneMore' in coming weeks?
We'll have some of the people from the Abbey Road Band, as well as the other bands playing on Sept. 28, like Des & the Swagmatics. We'll also have Jeff Linden, Afraid Brigade, Elyse from Stars & Scars, Dust of Days, Jim from APMF, and the poet Lindsey Marie. So we've got a good and eclectic slate of guests coming.
Besides the Sept. 20 and 28 shows and 'OneMore,' what are you up to through to the end of the year?
Maybe trying to get some sleep at some point. I thought putting The Paper Jets and The Great Albums on ice would afford me some more free time, but I'm as busy as ever. Once The Extensions release our EP, we're going to support it as much as possible with live shows throughout the fall and early winter. We'll probably mostly shut it down between Thanksgiving and New Year's. But I'm still hosting Third Saturdays at John & Peter's in New Hope; and The Extensions are already writing our next record. So that's probably what the end of my year looks like. 
What do you miss most about The Paper Jets?
I don't miss much of it, to be honest. It was an amiable break. You hold onto the positive things - the wonderful accomplishments, the good shows, the Makin Waves Awards. But you keep a realist's perspective, too. A band that doesn't much like performing probably needs to do other things. Scott is a writer. Virok runs his instrument repair shop, The Bordentown Guitar Rescue, and Frank is full steam ahead with his new studio space. We all retreated to our corners but we all still enjoy one another's company and help each other out whenever we can. We almost popped in for a surprise Saint show over the Summer, but it didn't work out so I think we're just gonna take that as a sign to leave things alone.
What do you miss most about 'The Great Albums Podcast'?
Like The Paper Jets, it was an amiable split, and Bill and I still may make new episodes whenever the mood strikes. It's just a big commitment of time. I'd get there between noon and 1 p.m., we record from 1 until around 4:30. The guest leaves, then Bill and I record the intro/outro sections and discuss whatever new business we have. Next thing I know, we've been there for six hours, and basically put in almost a whole work day on a Sunday. So it's good to have those days back again. I don't miss that.
What was frustrating was that we were never really able to turn an international audience, a couple million downloads, and a No. 1 spot on the charts into anything that felt terribly personal. It always felt a little distant. I know it was real; you see the numbers and you kind of scratch your head a bit. But as a musician, your feedback is right in front of you so you really feel closer to whatever it is you're doing. And our feedback would come by email or by tweet or something like that. And that was cool, most of it was extremely friendly and kind, and I've actually made a few friends out of some of our listeners (special shout out to Amanda and Josh). But playing to a few hundred people at the Lanes still somehow felt more rewarding than talking about 'Pet Sounds' and having it downloaded a few hundred thousand times over. Maybe that's my own short-sightedness. But that's my honest answer. 
I like working with Bill, and that probably won't stop. But the podcast is his baby; he came up with the name, he took care of around 99.4 percent of the production. Interview Fake Pockets and ask him what he thinks. I know he misses the discussions and I do too, but I don't think he misses the work either. And he put in a lot more than I did. So I guess the short version if you want to edit this down is I'm not sure what I miss most about it yet.
Is there anything I didn't ask on which you would like to comment?
I have a lot of love and thanks to give to my family, my friends, and this band. I've learned a lot about myself since becoming involved with the scene a few years ago. I'm better now than I was when I got here; better because of the people I've got around me. You can tackle anything when you've got good people in your life, and I'm really grateful for that. Thank you all, especially you, Birbie!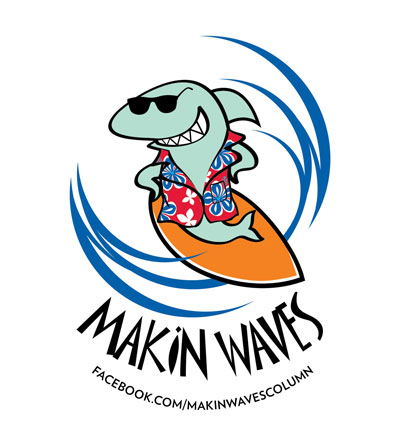 Bob Makin is the reporter for MyCentralJersey.com/entertainment and a former managing editor of The Aquarian Weekly, which launched this column in 1988. Contact him at makinwaves64@yahoo.com. And like Makin Waves at www.facebook.com/makinwavescolumn.