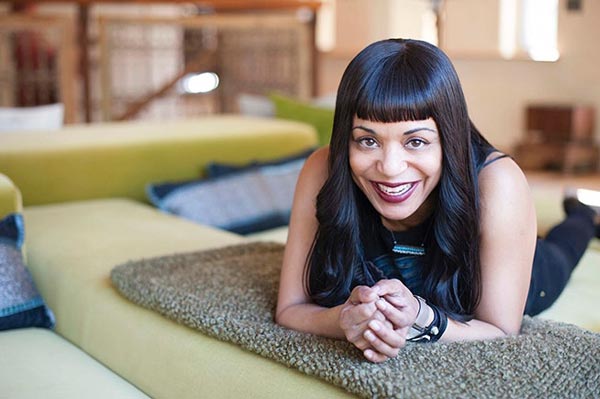 (HOPEWELL, NJ) -- Hopewell Theater continues to feature selectively eclectic performances that encompass a wide variety of genres and styles. This Fall, the lineup highlights the return of local favorites: Hopewell's Danielia Cotton, and Band of Changes, led by Princeton native Chris Harford. Hopewell Theater is also excited to welcome another Princeton native, Americana singer/songwriter Jonah Tolchin in October. Trenton's own June Ballingerperforms her moving true story of her mother, a WWII British code breaker, in November. The venue is also thrilled to welcome a talented mix of musicians (Toshi Reagon, Johnny Irion, Cindy Cashdollar) and comedians (Adam Oliensis, Carole Montgomery, Ross Bennett) from New York.
Upcoming performances at Hopewell Theater include:
Danielia Cotton, Saturday, September 7, 2019 at 8:00pm. Tickets: http://ow.ly/8ccE30p1e2s Danielia Cotton returns to her hometown of Hopewell, NJ to bring her "soulful voice and searing telecaster" (Time Out NY) back to the Hopewell Theater stage.
Cotton's natural gift-- raw, searing vocal chops combined with a deep, buttery tone-- draws from the two different rich traditions that she absorbed in her youth: she couldn't get enough of the AC/DC, Zeppelin, and the Stones that her friends and neighbors were listening to but she was also her mother's girl: the daughter of a jazz singer and member of the church gospel choir, grooving to Mavis Staples, Etta James, Billie and Ella.
It's telling that after so many years, the Hopewell, N.J. native—who first picked up a guitar at age 12, released her debut album in 2005 and has opened for the likes of Buddy Guy, Derek Trucks and Bon Jovi—is still looking for fresh ways to say hello to audiences. Cotton's latest album, 'The Mystery of Me', features an eclectic mix of rock and soul, from the soaring "Set Me Free" to the deeply personal "Drink" and the upbeat "4 Ur Life," which pulls inspiration from classic Motown as well as Sly and the Family Stone. A special VIP Meet and Greet ticket upgrade is available for $20! Package includes VIP access to soundcheck and a photo op after soundcheck and before doors. Upgrade your ticket at check out. 
---
The article continues after this ad
---
---
XPN Welcomes Darren Jessee of Ben Folds Five & Johnny Irion, Friday, September 20, 2019 at 8:00pm. Tickets: http://ow.ly/otUY30p1e7i  Johnny Irion is a rocker in and out of time. There's something kind of timeless in the way he wrings out the sweetest melodies and deeper passions of both '60s Californian rock and Guthrie-era folk, and something so timely about the way he does it – there's a reason Bernie Sanders asked him to sing at a rally in his sometimes-home of Santa Barbara. Best known for his folk explorations with his wife Sarah Lee Guthrie, including their recent Wassaic Way produced by Jeff Tweedy, and his latest rock venture with US ELEVATOR, which Will Hermes of Rolling Stone Magazine praised for its "songs that are hand crafted as lovingly as the jeans on the back of After the Goldrush," Irion has earned a reputation as one of the most exciting artists across the folk-rock spectrum, from his uncannily Young-Nilsson-esque voice to his melodic and lyrical mettle.
For someone as soft-spoken as North Carolina-based songwriter Darren Jessee, it might come as a surprise to learn that he has a gold record (in storage somewhere), a platinum record ("I never called them to get it"), and was part of a recent Grammy win ("someone told me they would mail me a certificate if I wanted…"). For years, though, he's managed that almost impossible feat of remaining both ubiquitous and out of the spotlight at once. Since 2006, he's released four records under the name Hotel Lights, all while working as a drummer for a series of wildly acclaimed acts. He played drums for Sharon Van Etten, and since 2016, he's been a member of the Durham-based band Hiss Golden Messenger. In 2017 he contributed to The War on Drugs' A Deeper Understanding, which won the 2017 Grammy Award for Best Rock Album. Before any of that, Jessee made his name as a member of the band Ben Folds Five, for which he co-wrote their biggest hit, "Brick."
"I always felt like I needed to have a band," Jessee says. "There's something about being with a group of people that gives you confidence. But secretly I wanted to have the courage to be a solo troubadour." With his new record, The Jane, Room 217 – Jessee's first as a solo artist – he's finally seen that through. Quietly devastating, The Jane, Room 217 is a personal exploration of heartbreak and romance – made all the more powerful by its clear-eyed restraint.
Comedy Night: Ross Bennett: Comedy For The Rest Of Us, Saturday, September 28, 2019 at 8:00pm. Tickets: http://ow.ly/wZLn30p8Arv  MacArthur attended West Point and became a National hero. Eisenhower attended West Point and became the President of the United States. Ross Bennett attended West Point, dropped out and became a comedian. In 1977, 2 years into the academy, Ross had decided that he wanted to take aim and fire jokes at nightclub audiences. So he undertook a giant career change, dropped out of West Point, and landed right square in the middle of the comedy explosion that was taking America by storm. For 30 years, Ross has led a comedy attack, armed with expressive delivery and real life topics. Growing up with a father who was a Marine Colonel (a nice mellow guy!), grade school snow days, disastrous golf games, catastrophic water skiing outings and middle age medical procedures. Bennett is a high-powered performer who takes his act to the audience and comes back with a victory every-time! 
Aged Whine: Stand-Up for Grown-Ups with Adam Oliensis, Kyle Ocasio, and Brett Druck, Friday, October 11, 2019 at 8:00pm. Tickets: http://ow.ly/SURF30p1ezM   Get a baby-sitter. Leave the kids at home. This is Stand-Up for Grown-Ups.
In his stand-up, Adam Oliensis explores the lessons in humility he's learning from his wife and children, along with the adjustments being forced on him by being a grown-up. Having lived as a child in East Africa, studied martial arts in India, and languished spiritually in New Jersey, Adam is attuned to the absurdities that arise in the everyday, mining the ironies and silliness found in the most humbling situations (with which he continues to gain vast experience). Adam's debut comedy album, "Aged Whine" was released earlier this year and can be purchased at www.adamoliensis.com. 
Brett Druck is best known for the viral success of his chivalry joke. He was a cast member and guest host on Laughs TV Show seasons 2 & 3 on FOX and HULU and you may have seen him on America's Got Talent, in NBC SeeSo's "SCHTICK OR TREAT: HALLOWEEN STAND UP SPECIAL" , mentioned in Rolling Stone, or heard him on Pandora Comedy Radio. He frequently appears on the front page of Reddit and has had his jokes shared millions of times. He has also been featured in numerous comedy festivals including TBS's Just for Laughs Chicago, The Charleston Comedy Festival, The Andy Kaufman Award(Finalist), San Francisco Sketchfest, and Hoboken Comedy Festival (2015 Winner). He can be seen now performing in select cities across the U.S. and Canada on the Brewery and Winery Comedy Tour.
Comedian Kyle Ocasio has been performing stand up all over the country for well over a decade. She brought laughter to the US troops in eight different countries while performing with Armed Forces Entertainment in Europe and The Middle East. Before heading to the Edinburgh Fringe festival where she debuted her stand up for an international audience, she was the face of Optimum TV's Soccer Mom Goals, a show with a comedic twist on "momentating" on the 2018 World Cup. Rooftop Comedy released her debut album "Tell Mommy Your Name Again" which is in regular rotation on Sirius XM and in 2018 she recorded her second album with Rooftop, this time a collaborative piece entitled "Three's Comedy" with two other comedians. It was number two comedy album of the summer, just behind Jim Gaffigan.
Jonah Tolchin, Saturday, October 12, 2019 at 8:00pm. Tickets: http://ow.ly/hKsN30p1eah  At the age of 15 Jonah Tolchin met and jammed with blues legend Ronnie Earl in a music shop in Keene, New Hampshire, and he had the first big thrill of his musical life when Earl invited him to sit in at Tupelo Music Hall. After graduating from high school, Jonah hit the road and started a solo performance and recording career. 
NPR called Tolchin "a promising new artist who artfully occupies the gulf between old-school tradition and contemporary appropriation," and Mojo praised him for "adding raw, punk brio to a folk-blues template." Tolchin's 2016 album, Thousand Mile Night, charts the young songwriter's remarkable growth, both personally and artistically, as he digs deep into the roots of American music with a distinctly modern perspective, tackling everything from love and marriage to life on the road to loneliness and depression with a deft lyrical touch.  
In 2017 Tolchin and drummer/singer/songwriter Kevin Clifford formed the power-duo Dharmasoul. Jedd Beaudoin writes in Pop Matters, "The duo mixes a variety of American idioms, starting with New Orleans-style blues, funk and soul and stretching into a variety of dusty, dirty, gritty subgenres that come together under one giant mosaic tent. These influences are woven together seamlessly, handled with an authenticity and ease that sometimes recalls the eclecticism of the almighty Little Feat."
Toshi Reagon Trio, Friday, October 18, 2019 at 8:00pm. Tickets: http://ow.ly/Clms30p1eaA   Described by Vibe magazine as "one helluva rock'n'roller-coaster ride" and by Pop Matters as "a treasure waiting to be found," Toshi Reagon is a one-woman celebration of all that's dynamic, progressive and uplifting in American music. Since first taking to the stage at age 17, this versatile singer-songwriter-guitarist has moved audiences of all kinds with her big hearted, hold-nothing back approach to rock, blues, R&B, country, folk, spirituals and funk. The New York Times described her blend as "…a love of mixing things up…[her] vocal style ranges from a dirty blues moan to a gospel shout to an ethereal croon." Leading her renowned band–BIGLovely, launched in 1996–she instantly connects, inspires and empowers.
Recent works include the Bessie Award-winning The Blues Project with tap dancer Michelle Dorrance and Dorrance Dance, Meshell Ndegeocello's Can I Get A Witness: The Gospel of James Baldwin (Harlem Stage 2016), and a duet project with world renowned drummer and composer Allison Miller- Holler and Bam. In 2018, Toshi was named a United Artists Fellow.
Funny Women of a Certain Age: #FunnyNeverGetsOld, Saturday, November 9, 2019 at 8:00pm. Tickets: http://ow.ly/XJ3w30pddVp Creator Carole Montgomery and her cast of some of the most respected names in comedy return to Hopewell Theater for a night of laughs! Funny Women of a Certain Age is a show straight from the unfettered mouths and uninhibited minds of the funniest, most daring, most experienced people in comedy: the women that have seen it all. They've raised children both on and off the road, having club bouncers watch their babies while onstage. These women have stayed in comedy condos where you don't want to use a blacklight on anything. They've been told women aren't funny and asked to trade sexual favors for work. Trust us, they have A LOT to say and they say it hysterically.
A live taping of Funny Women of a Certain Age premiered on Showtime in March of 2019. The comedy special features Fran Drescher and other ace comedians including Montgomery, Luenell, Lynne Koplitz, Kerri Louise and Vanessa Hollingshead. 
Sonny Landreth with Cindy Cashdollar, Thursday, November 14, 2019 at 7:30pm. Tickets: http://ow.ly/1D2E30p1esm Virtuoso slide guitarist and bandleader Sonny Landreth has collaborated with the very top names in guitar over the years: Eric Clapton, Mark Knopfler, Eric Johnson, Derek Trucks, the list goes on. The noted slideman cut his musical teeth in The Red Hot Louisiana Band of zydeco king Clifton Chenier, and Landreth has since recorded and toured with artists ranging from John Mayall to John Hiatt. 
Dobro, steel guitar and lap steel player Cindy Cashdollar's career has taken some surprising twists and turns that have led her to work with many leading artists in various genres; including Ryan Adams, Bob Dylan, Van Morrison, Dave Alvin, Rod Stewart, Marcia Ball, Leon Redbone, BeauSoleil, Redd Volkaert, & Peter Rowan. Cindy's unerring ability to perfectly complement a song or step out with a tasteful, imaginative, and exciting solo – and to do it in so many musical genres – has made her one of the most in-demand musicians on the American roots music scene. And, in answer to her most frequently asked question, yes, Cashdollar is a real name.
Remembrance Day: One Woman Show Written and Performed by June Ballinger, Friday, November 15, 2019 at 8:00pm. Tickets: http://ow.ly/ZR9230pddWf  What is the cost of keeping a secret for 50 years? An 80-year-old former British code breaker at Bletchley Park attends a Remembrance Day service in England. She looks back on her life and the secrets about her work and identity that she has held onto for 50 years. Will she ever be truly known by her children? How will she be remembered? Written and performed by June Ballinger and inspired by her mother's work at Bletchley Park during WWII, this profoundly moving story is created through memories, letters, and a diary discovered after her mother's death in 2013.
Ballinger was born in New Jersey, raised in Connecticut, and currently lives in Trenton. She has worked on Broadway, off-Broadway, regional theater and in television and film. She is a member of the Ensemble Studio Theatre in NYC since 1993, a company member of NYC's The Actors Center, and Artistic Director Emeritus of Trenton's Passage Theatre Company. As a writer she has co-created with David Lee White, the interview based plays Trenton Lights and Profiles (Passage Theatre) as well as numerous plays for teens developed from writing workshops (Word for Word). She works privately as an acting coach with young adults, and teaches mixed groups of teens, adults, and seniors in the Greater Trenton area, currently in collaboration with Bucks County Playhouse.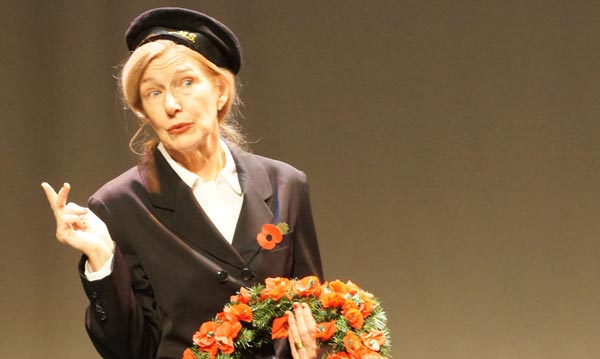 Band of Changes, Saturday, November 30, 2019 at 8:00pm. Tickets: http://ow.ly/vNop30piZHW  Chris Harford brings his Band of Changes back to Hopewell Theater on Saturday, November 30th for a night of exciting rock and roll/folk music. A constantly evolving, consistently changing series of musical performances by a band that never plays the same songs in the same way twice. Chris Harford has been playing music now for decades. He has surrounded himself with musicians his whole life, playing with some of the best out there. In the spirit of Bill Monroe and his Bluegrass Boys, Chris invites musicians he meets to be in his band whenever he hears or sees something special. This has resulted in a legacy of players, many of whom have moved on to form or be part of enormously successful bands, but who are always happy to come home and play Chris' music for the sake of playing Chris' music." 
It might be an acoustic guitar duo, with some other guitar slinger in the area or with an upright or electric bass player. He may decide to add a drummer, or a percussionist to the mix on a given night. Or perhaps assemble a full rock band. You might see keyboards, or three guitars, or two drummers, or all of the above. His music has compelled tapers that live in his area to try to capture and archive every performance he plays due to the magic that invariably appears in his sets. Like many bands that have had people tape their music live, every note is not perfect, and every string is not always in tune, but at some point during every performance, something special happens. It could be a different time signature, a ballad played as a blues, or a forgotten passage that forces spontaneous creativity out of the band. No one knows what will happen next. Not even Chis, it would seem. And that's the way he wants it. Everyone on their toes….ready to innovate when necessary…at the drop of a hat. What kind of music do they play? All kinds: Folk music, rock music, happy music, sad music, loud music, quiet music. All music. See them. Then see them again. And again. For this performance, Chris Harford will be joined by Dave Dreiwitz (Ween, Joe Russo's Almost Dead), Scott Metzger (Joe Russo's Almost Dead, WOLF!), & Joe Russo (Joe Russo's Almost Dead).
Hopewell Theater is located at 5 South Greenwood Avenue in Hopewell, New Jersey and tickets can be purchased online at www.HopewellTheater.com. 
Hopewell Theater offers a range of unique cultural experiences, from independent film and live music to guest speakers, artists and performances. Patrons can dine-in on small plates from local restaurants or just come for the show. Film buffs will particularly enjoy a state-of-the-art movie theater in Hopewell, NJ with a dine-in menu. A landing spot, a launch pad, and an incubator, Hopewell Theater is also a place where artists can play, practice, perform or show their passion project on the big screen. The theater is available to rent, at both hourly and day-rates.