originally published: 08/04/2019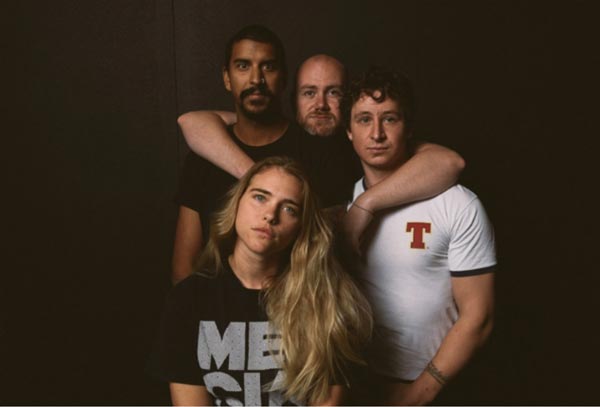 (MELBOURNE, AUSTRALIA) -- Australian punk band, Press Club, have released the official music video for their single "Thinking About You".  Guitarist Greg Rietwyk says the idea for the video came to him as they touched down from a 20 plus hour transit home from our first European tour in May this year. 
"I pictured a surreal retelling of the story of a stalking stranger that is told within the song lyrics, with Nat being tormented by masked freaks," continued Rietwyk. "We enlisted the help of our good friend and filmmaker Gina Somfleth from Popcandi productions. We are all massive fans of Gina's keen eye for cinematography. It was shot on location at Nat's parents farm outside of Ballarat in North Western, Victoria," he continues. "We particularly enjoyed being able to feed our inner pyromaniacs in what was to become the climax of the film. We've thrown a few DIY festivals at the farm where it was shot so the location holds a special place in our collective hearts"
Vocalist Natalie Foster adds, "I was getting deep into stranger things around the time of this video. Standing by the fire, channeling Eleven."
The song is taken from Press Club's upcoming album Wasted Energy, which will be released on August 16.  The track has been met with critical praise and grabbed add's on some of Spotify's biggest rock charts - New Noise, Fierce Femmes and All-New Rock.
Marked out as a band to keep an eye out for very early on, their music was singled out for its honesty and integrity, and the band praised for their powerhouse live performances. 
---
The article continues after this ad
---
---
Wasted Energy is the follow up to the band's wildly successful debut, Late Teens. Press Club's sonic calling cards are all present on the new album; the fuzz-addled, kicked-in speaker bass of Iain MacRae, the thick guitar tones of Greg Rietwyk, the merciless drumming of Frank Lees, and the emotionally charged vocal deliverance of Natalie Foster. The new album is now available for pre-order here.
The band will embark on their biggest UK headline tour to date, including performances at Reading & Leeds Festivals after an overwhelmingly successful tour earlier this year that included sold out shows in London, Zurich and Edinburgh as well as festivals like Manchester Punk Festival, Liverpool Sounds City, The Great Escape and Belgium's Groezrock. 
Press Club // Upcoming Tour Dates
Aug 22 - The Parish, Huddersfield UK

Aug 23 - Reading Festival, Reading UK

Aug 24 - Leeds Festival, Leeds UK

Aug 25 - Greenbelt Festival, Northamptonshire UK

Aug 27 - Redrum, Stafford UK

Aug 28 - Bodega, Nottingham UK

Aug 29 - Surf Cafe, Newcastle UK

Aug 30 - Broadcast, Glasgow UK

Aug 31 - Night People, Manchester UK

Sep 3 - Annie's, Worcester UK

Sep 4 - Bermuda Bob's Hi-Fi, Norwich UK

Sep 5 - New Cross Inn, London UK 

Sep 6 - Prince Albert, Brighton UK

Sep 8 - Cinetol, Amsterdam NL

Sep 10 - Haldern Pop Bar, Haldern DE

Sep 11 - Sonic Ballroom, Cologne DE

Sep 12 - Alte Hackerei, Karlsruhe DE

Sep 13 - Dynamo, Zurich CH

Sep 14 - Strom, Munich DE

Sep 15 - Cross Club, Prague CZ

Sep 18 - Stengade - Copenhagen DK

Sep 19 & Friday Sep 20 - Reeperbahn, Hamburg DE

Sep 21 - Vera, Groningen NL