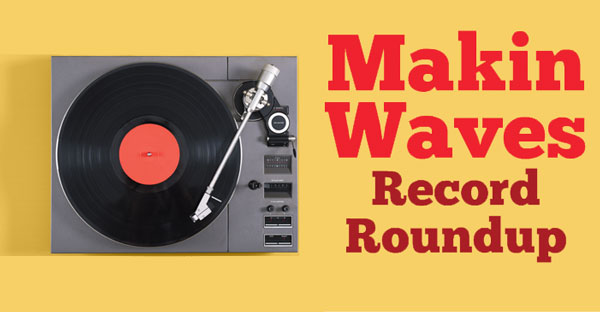 For 10 years, childhood friends Brian King (drums), Antonio Valenti (bass) and Joe Padula (guitars) have been slugging it out in the local music scene as the three founding members of the North Haledon-based Reality Suite. Their hard work and fierce determination have paid off. With Kimmii Heart, the melodic hard-rock band's adored lead vocalist since 2013, Reality Suite have released their international debut for the Denmark label Lions Pride Music.
The 12-track "Awaken (Deluxe)" features four great new songs added to the heralded self-released five-song 2018 EP, "Awaken." There are also three bonus tracks, including an unplugged version of the EP track "Grave," as well as radio edits of two new songs. 
They are the LP's first single and video, "Kiss the Ring," a fun but furious refusal to conform within an abusive relationship, and the likely next single, "Wrong with Me," a self-examining survival saga of a fool in toxic love featuring great gang backing vocals.
The sassy "Kiss the Ring" is the Makin Waves Song of the Week, which can be heard four times daily at AsburyMusic.com, 6:45 p.m. on Friday and Monday on the station's "Radio Jersey" show, and at Makin Waves' Spotify & YouTube playlists. "Kiss the Ring" also can be enjoyed as one of the year's best videos by a Jersey band with Kimmii stepping into the ring at Savage Boxing & Fitness in Hackensack for a fun mix of beauty and beast infectiously lensed by Alex Kouvatsos of Blackwolf Imaging.
Co-produced with the band by hard-rock helmsman Mike Ferretti (Sevendust, Saliva) and pop/R&B producer Earl Cohen (Lady Gaga, Jessica Simpson, Pink), the LP version of "Awaken" also features the new tunes:
• "Blame It on Angels," a tale of redemption that's as beautiful as it is exciting, especially Kimmii's soaring vocal and Joe's squawking guitar
• "Bury Me Alive," poppy hard rock along the lines of Bon Jovi and Def Leppard but with better vocals and a particularly strong drum performance by Brian, all of which has been captured in the band's latest fun video.
Their first full-length since the internationally acclaimed 2015 self-produced effort, "Skinn," Reality Suite's latest collection of power chords and power vocals also features the "Awaken" EP tracks:
• "Live Now Forever," a Randy Rhodes-like guitar scorcher balanced out by strong vocal harmonies. 
• "Cut, Burn, Bruise," a spirited salute to Brian's late mother within a tug-of-war of love
• "Dead to Me," a rockin' stomp in which Kimmii takes on the role of Mafia Princess, while another fun gang backing vocal adds to the punch to the vengeful tale
• "Lust," one of the strongest vocal turns on a tune about obsession. 
Throughout the album, I like the way Kimmii's vox goes from angelically sweet to witchy snarl within a verse; Joe's guitars solos soar and explode, and the machine-gun rhythms of Antonio and Brian make it sound as if there's a double-bass drum on some tracks. Check it out live when Reality Suite play Aug. 24 at The Chubby Pickle in Highlands; Aug. 30, Crossroads, Garwood with Centennials and Circle of Grief, and Oct. 11, Revolution Music Hall in Long Island. 
---
Christine Mitchell makes folk and roots music that recalls '60s songstresses Joan Baez and Judy Collins. A beautiful voice tells easily relatable tales about relationships and dreams also within a setting of country gospel, jazz and good ol' rock 'n' roll.
Christine's five-song debut EP, "Table for Two," opens with the title track, a sweet, sunny Colbie Caillat-like country-rockin' slice-of-life that explores the mystery, anticipation and hopefulness of love. "Table for Two" is the Makin Waves Song of the Week, which you can enjoy four times daily at AsburyMusic.com, as well on Makin Waves' Spotify and YouTube playlists. 
I also love, love, love, "Not Lookin' Back," a country gospel-flavored look at a woman who refuses to be duped by a player. Fans of Collins and Baez, as well as Joni Mitchell, may most appreciate the pretty pleading of "White Paint," which structurally recalls such folk songs as "If I Had a Hammer" and "Where Have All the Flowers Gone," and lyrically resembles Kris Kristofferson's "Help Me Make It through the Night." 
The lovely, spirited vocal turn of "All We Can Do" offers hope in an age when it's vanishing rapidly. While it's not as soulful as Curtis Mayfield's "Keep on Pushin'" or Al Green's "Keep on Pushing Love," this great track has a similar sentiment, plus a gorgeous lap steel contribution from Chris Colon of Levy and the Oaks. 
The closing jazzy sass of "What's in It for Me?" offers the tale of a lass who comes to her senses and exits a dead-end relationship with a two-timer who can't settle down. "What's in It for Me?" sports one of my favorite verses on the EP: "But it's time to admit that there's nothing in it for me, baby. There's nothing in it for me because I need a man who won't waste my time, and when I'm with him, I can call him mine. It's been nice. It's been real fun, but a girl needs to know when it's time to run."
"Table for Two" was produced by brothers Matt and Chris Dubrow at Matt's Oceanport-based Firehouse Studio, where he also recorded, mixed and mastered. Christine has a dynamite all-star band backing her on the record. In addition to Colon and Chris Dubrow of The Burns on  bass/guitar/mandolin, there are Sophisticated Gentleman Owen Flanagan, drums/percussion; Gabe Sanderson, Matt Dubrow & the Captives, keyboards/guitar; Riley Schiro, Cranston Dean Band, guitar; Avery Mandeville, backing vocals, and a horn section of trumpeter David Myles Long and trombonist Andrew Ludwig. Some of them also will back her on a tour to be announced soon. In the meantime, they'll play July 27 at The Chubby Pickle, Highlands. 
---
After an almost two-year hiatus, Newark punk-rap foursome Sunny Gang is back with a new five-song EP, "American Carnage," their first release since the 2016 debut full-length, "Party Animal." Produced by former Hidden in Plain View guitarist Rob Freeman at Audio Pilot Studio in Boonton, the EP was written and recorded over the course of the break while the band's members transitioned from college life into the corporate world. The frustration that comes with joining the ranks of the working dead, putting their passions on hold in favor of sitting in cubicles and staring at the clock, has served as the main source of inspiration for the EP. 
The theme of the five-track middle finger to corporate life and the status quo kicks right off with the opening "Push to Start," the Makin Waves Song of the Week at AsburyMusic.com, as well on Makin Waves' Spotify and YouTube playlists. The second verse of "Push to Start" are some of the strongest lyrics I've heard so far this year from a Jersey band: "They said I need me a career, put a Bluetooth in my ear, cut my hair, buy a suit and be Employee of the Year. Happy hour with the bros, gotta go and crack a beer. Feelin' like I'm Patrick Bateman, make 'em all just disappear. They don't care about your dreams, and they hope that you ain't woke. Yeah, they praise if you're rich and abuse you if you're broke. It's a joke! Write your resume and fax it to the boss. Human capital, expandable, a factor of the cost. Operating at a loss, something they cannot accept. Either you live your life in debt or you work until your death. This is music for the deaf. Tie a noose around your neck. Hold onto what you got cuz you can lose it in a sec."
Wow!
Now, boys and girls, this is why Uncle Bobby always says, "Network, network, network" and "Brand, brand, brand," so that you make the American Dream come true with your music rather than have to live this American Nightmare. Eventually, this nightmare will lead us to a real-life Hunger Games if we don't stand up and do something about it! And that's just how I feel about the first track on "American Carnage."
Then there's the title track, which, like much of the EP, sounds like Rage against the Machine with a menacing message delivered on a bed of fat, tight rhythms via scorching guitars. Yet, while guitarist Chris Bacchus continues to demonstrate killer chops and bassist Joe Sap and drummer Marshal provide the musical wave on which he can surf, the centerpiece of "American Carnage," both the song and the entire EP, are the lyrics of rapper Nate Hitchock. With the title track, Nate shares how money doesn't provide happiness, especially if you have to work yourself to death to maintain a lifestyle you can't afford, not only financially, but emotionally and spiritually. Nate has some great lines on this tune too: "I got a $1 million home. It was worth $2 million when I bought it. I got a black card in my wallet burning holes in all my pockets … I got a race horse in my barn. I pay some guy to clean his shit. I hate my fucking job, but I can't afford to quit!"
"Das Kapital" is critical of the failing capitalist system in light of the happiness that can be found in socialist countries, such as Denmark, Norway, Australia and Canada. "Turbo Pecker or the Wreck of The S.S. McNasty" examines loyalty: "I see clouds on the horizon. I can feel the storm approaching. If I catch you jumpin' ship, I might leave you in the ocean," while also making a statement about increasing wage discrepancy: "It's lonely at the top and claustrophobic at the bottom." Closing this impressive assault on the senses, soul and mind is the Black Sabbath-like "Death Wish," a morbid affair with a fat bottom that would make Tony Iommi proud.
You also can catch the fierce foursome this summer at Mad Liberation Festival in the Pine Barrens of Hammonton for their third year running. Mad Lib will take place the first weekend in August with nonstop music, arts and camping, including a headlining set by New Brunswick indie rockers Screaming Females.
Hopefully, Sunny Gang will be able to stay out of those cubicles long enough to announce more shows for the fall. In the meantime, check out "American Carnage." It's well worth your time.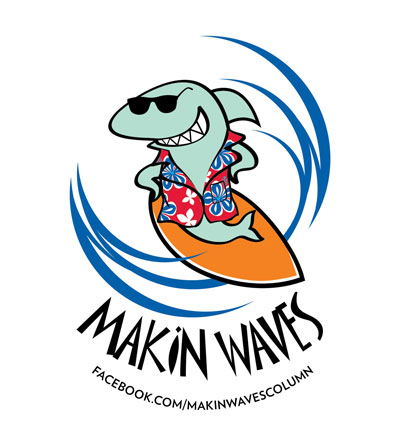 Bob Makin is the reporter for MyCentralJersey.com/entertainment and a former managing editor of The Aquarian Weekly, which launched this column in 1988. Contact him at makinwaves64@yahoo.com. And like Makin Waves at www.facebook.com/makinwavescolumn.