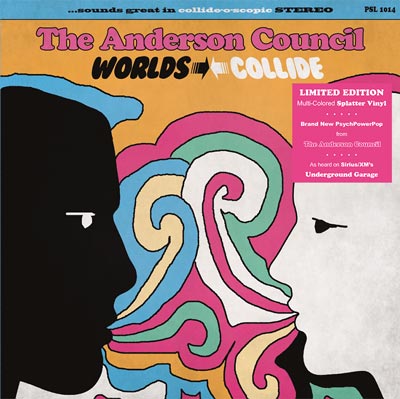 If you are a fan of British Invasion power pop and psychedelia and subsequently inspired acts, such as XTC, The Jam, Redd Kross, The Smithereens, The Pursuit of Happiness, The Posies and Jellyfish, you're going to love the new Anderson Council album. Released on Jersey-based JEM Records – home to similar Garden State acts The Weeklings and The Grip Weeds – the 14-song "Worlds Collide" may be the best thing the New Brunswick psyche-pop four-piece ever have done following four previous LPs and an anthology.  
I've been writing about them since their formation in 1999, and it does my heart good to see a band remain so vital after so many years. Led by singer-songwriter-guitarist Peter Horvath, The Anderson Council have been making their sundae of '60s-inspired psyche pop so long, they've developed their own sound and style of drums crashing into guitars with exquisite harmonies, like a cherry on top, balancing out their smash 'n' bash and cut 'n' stomp.
Typically, I listen to an album once through before I start to write about it, but with "Worlds Collide," it took 17 seconds to jump right in the pool of whip cream of their Brit psyche-pop sundae. My favorite track is "Amazing," which lives up to its title with the LP's strongest and most earnest lyrics that seem to be about the tightrope walk of a musician parent.
I especially like the second verse: "To see through the eyes of children, night time, happy time outlook. Spending days out on the playground, nighttime buried in a book. Absorb all your brain can handle. New thoughts wrinkle up and fold. Every bit of your grey matter, you know what the future holds." The amazing tune also features an infectious, yet beautiful melody, great harmonies and a soaring closing solo by lead guitarist David Whitehead that sounds like a sunburst if we could hear one. 
As the Makin Waves Song of the Week, "Amazing" can be heard four times daily at AsburyMusic.com, two more times on the station's "Radio Jersey" show, as well as at Makin Waves' Spotify and YouTube playlists. Several of the tracks just as easily could have been the Song of the Week, including "Mrs. Kirkby's Refrigerator," a perfect sequel to the early Who-like nugget "Pinkerton's Assorted Colours" from the 2006 sophomore outing, "The Fall Parade," as well as the 2016 JEM debut anthology, "Assorted Colours." Two CD bonus tracks include a version of "Mrs. Kirkby's Refrigerator" sung by British Invasion legend Peter Noone of Herman's Hermits, which makes for a great battle between the power-poppin' Peters.
Other "Worlds Collide" standouts include the fun Lennonesque rhymes and rhythms of "When I Fall," a mash-up of the stomp of "Come Together" and the trip of "Lucy in the Sky with Diamonds," and "Camden Town," a delicious folk-rooted nugget with a tasty tambourine shake at the close. Drummer Christopher Ryan's psychedelic epic "Into the Clouds" about a flirtatious but fleeing female is a treat that sounds like a cross between Lennon and early Floyd with a great ending that cuts off like the former's "I Want You (She's so Heavy)" into the next track with a four-count in a Liverpudlian accent reminiscent of Ringo. Beatles fans will have so much fun with "Into the Clouds," which features fantastic washes of psychedelic guitar by Whitehead and a great bass performance by newest Anderson Council member Simon Burke, the only one who actually is British. That four-count opens the streaming closer, "Wrong Way Out," a psychedelic skiffle that recalls every era of The Beatles from the Mersey Beat of their early days to the Beatlemania of their first EMI releases to the psychedelics of "Rubber Soul" and "Revolver" to the end of their career together when they became studio auteurs. 
The quasi-opening quasi-title cut, "Our Worlds Collide," which is preceded by a "Collision" sound effect, is a love song but in the form delicious power pop instead of a sappy ballad. A great line in the bridge – "Dizzy from a lack of oxygen. I'm giddy from the adrenaline" -- describes the excitement and breathlessness of a new relationship. 
It's interesting that the album cover depicts a black face and a white face but other than the color of the skin and hair, their features are the same. While the lyrics of "Our Worlds Collide" doesn't reflect the album cover, the Dylanesque "How Much How Long" makes a slight reference to New Brunswick's economic disparity, which for the most part, is an issue of race. As an album cover, however, "Worlds Collide" does seem related to race and perhaps is a statement about the way parts of the nation are reverting to ugly ways from barbaric times rather than realizing we're all brothers and sisters regardless of our cultural differences.  
The Anderson Council will celebrate the splatter-colored vinyl release of "Worlds Collide" on July 26 outside Pino's as part of Main Street Highland Park's summer-long Music on the Corner outdoor concert series. They'll also play Aug. 2, The Paseo, Rahway; Aug. 10, Smokeout 2019, Scotch Plains; Aug. 31, John & Peter's, New Hope; Sept. 6, WRSU-FM's Overnight Sensations 100th Show, New Brunswick; Sept. 13, Asbury Park Brewery; Sept. 22, Main Street Highland Park, and Oct. 12 at Franklin Schoolhouse in Metuchen.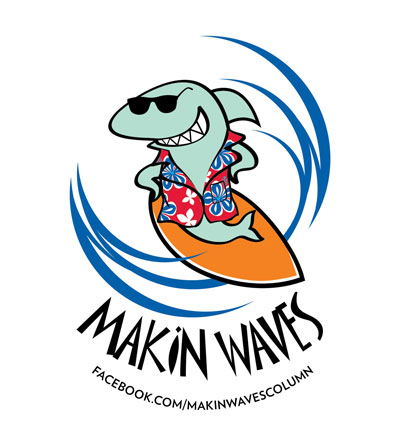 Bob Makin is the reporter for MyCentralJersey.com/entertainment and a former managing editor of The Aquarian Weekly, which launched this column in 1988. Contact him at makinwaves64@yahoo.com. And like Makin Waves at www.facebook.com/makinwavescolumn.