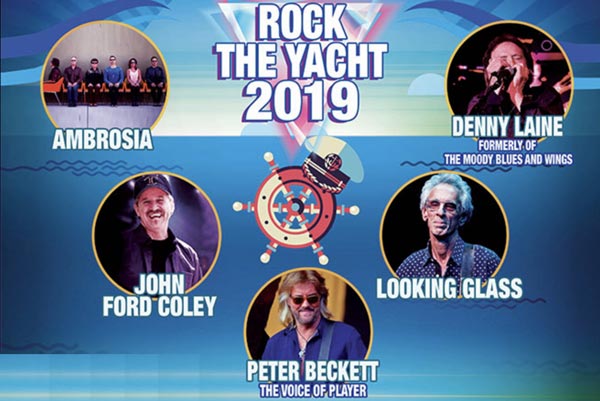 (MORRISTOWN, NJ) -- Set sail for a night of classic smooth rock hits from the 70s by the original artists as Rock the Yacht docks in Morristown, Tuesday, August 20 at 7:30pm.  The lineup includes Ambrosia, Denny Laine, John Ford Coley, Looking Glass, and Peter Beckett. Tickets range from $39 to $89.
AMBROSIA Band members: Joe Puerta, Burleigh Drummond, Chris North, Doug Jackson, Mary Harris, and Ken Stacey.
In the year 1970, four young musicians from the South Bay of Los Angeles, came together to create a new invigorating style of music. 
Exploring the possibilities of progressive, classical and world influences, yet rooted with the soul of the blues and R&B, Joseph Puerta, Christopher North, David Pack and Burleigh Drummond created a new sound that was defined and recognized as "Ambrosia". Originally labeled as America's answer to the progressive invasion of such English acts as "Yes" and "King Crimson", the group quickly proved it was all that and much more as it's albums painted aural landscapes covering the gamut of musical styles and attracting the collaboration of such cultural icons as, Leonard Bernstein, Kurt Vonnegut Jr. and Alan Parsons.
In it's brief recording history, Ambrosia garnered 5 Grammy Nominations, 5 Hit Singles, Heavy FM Airplay and the admiration and respect of the musical community.  All this was in addition to Sold Out concerts around the world. Today, the band is more alive and compelling than ever.  With three of the original members in tact plus the addition of guitar ace Doug Jackson on electric guitar and backing vocals, Mary Harris contributing amazing keyboards and vocals, and the powerful and contemporary lead vocals and acoustic guitar of Ken Stacey…Ambrosia is exploring new musical territory and continuing to wow life-long fans and new converts alike!
---
The article continues after this ad
---
---
JOHN FORD COLEY is most revered as half of the Grammy nominated duo England Dan and John Ford Coley. He continues with an active roster performing the platinum and gold record hits for audiences around the world. Classically trained on piano and an avid guitarist, John loves the craft and enjoys every audience he encounters.
With double platinum and gold records behind him, John has also produced other artists. Most recently, he co-produced several sides on Eddie Money. Country musician, Vince Gill added vocals along with John to give the sessions a country feel. Additionally, John has produced CD's on Country Artist Tom Wurth and another talent, Lynn Bryant. Of late, John recorded a live album while he was on tour in the Philippines with many of the hits while also recording a CD entitled "The Best of John Ford Coley." In 2016, John released a brand new CD entitled "Eclectic" with all new material for an acoustic/Americana album.
Some of John Ford Coley's hit songs are as follows: "Love Is The Answer," "Gone Too Far," "I'd Really Love To See You Tonight," "We'll Never Have To Say Goodbye Again," "Nights Are Forever Without You,"  "Soldier In The Rain," "Come Back To Me," "Sad To Belong," "Simone," "Westward Wind," and "Part of Me, Part of You."  Some of John's songs have appeared in feature films such as "Nights are Forever Without You" and "Dickie Roberts Former Child Star." Another hit "I'd Really Love To See You Tonight" appeared in the film "Long Kiss Goodnight" with Geena Davis and Samuel L. Jackson and most recently his and England Dan Seals' song "Simone" was featured in the new HBO Series "Vinyl" where two actors portray John and Dan.
Over the years John has shared the stage with many of the music industry's famous hit makers.  Some of those include: Elton John, Heart, Fleetwood Mac, Chicago, Carole King, Bread, Loggins and Messina, Led Zepplin, Carly Simon, Steve Miller Band, Randy Bachman, Jesse Colin Young, Air Supply, Ambrosia, Poco, Terry Sylvester (formerly of the Hollies), Orleans, Lou Gramm and Gordon Lightfoot, Dan Hill and Stephen Bishop, to name a few.
John also did teen films and a few TV roles in the 1980s, has written songs for films, and continues to produce other artists! Some of John's Television and Movie Theme Songs written or performed include: "Just Tell Me You Love Me", "Dr. Pepper", "Major League, Back To The Minors", "James At 16", "Joe Panther", "The Spy Within"  "Cold Case" and "Maxwell House Coffee" with Paul Newman in Japan.
ELLIOT LURIE is a singer and songwriter best known for the hit "Brandy (You're A Fine Girl)".  Recorded by Looking Glass, featuring Lurie on vocals and guitar, "Brandy" was released in the summer of 1972.  It quickly rose to the top of the charts, selling over a million copies and becoming one of the most played radio records of the year. Over time the song has endured, recorded by such disparate artists as Kenny Chesney and Red Hot Chili Peppers and  featured in numerous films and TV productions including Charlie's Angels and The Simpsons. It was prominently featured in the blockbuster Guardians of the Galaxy Volume 2 in which Kurt Russell's character describes it as "possibly Earth's greatest composition!"
Looking Glass charted one more time, with "Jimmy Loves Maryanne" in 1973. Reaching #33, the record has become something of a cause célèbre among some '70's music fans. Featuring Lurie's distinctive vocals and produced by the legendary Arif Mardin, some feel it's a more distinguished recording than "Brandy." The song was later covered by New Wave icon Josie Cotton. Looking Glass disbanded in 1974 and Lurie recorded a solo album. Accompanied by some of L.A.'s finest musicians, including members of The Crusaders and Toto, the album was well reviewed but found little commercial traction.
In 1984 Lurie moved to Los Angeles and began a second career supervising music for film and television.  He achieved considerable success both as an independent supervisor and as executive in charge of music for Twentieth Century Fox. Lurie has recently returned to his first loves – singing, writing and playing guitar.  He says, "I started playing out again, beginning with occasional oldies shows, sitting in as a 'special guest'.  Although I've constantly remained involved with music over the years, I was reminded that the most direct connection is still performing live to an audience."
To that end he has continued performing in group settings as well as developing a show that features just his vocals and guitar. "I play my songs sort of 'as written' and I sing a few songs that were in the air when I was growing up, that influenced me.  It all feels very personal and intimate."
PETER BECKETT was born on August 10, 1948 in the Aigburth section of Liverpool, England. As a youth he would sneak into The Cavern lunchtime sessions to listen to the local bands. One day a young band called the Beatles performed and Peter was hooked. He got a cheap guitar and taught himself to play, and by the time he was 17 he was touring Britain and Europe with his first professional band, The Thoughts.
He moved to London, and after some success with the British progressive band Paladin, he was invited to come to the United States to form a group called Skyband. That band was short-lived, but during a Hollywood party he met J.C. Crowley. They began writing songs together. A short time later they were joined by Ronn Moss and John Friesen, and Player was born.
In January 1978, the band had an international number one hit with their first single "Baby Come Back", which was co-written and sung by Beckett. The self-titled album went platinum and the band toured extensively. These classic outings included Boz Scagg's Down Two Then Left Tour, Eric Clapton's Slowhand Tour, Heart's Dog & Butterfly Tour and Kenny Loggin's Nightwatch Tour, playing always to sold out arena audiences. Four albums followed rendering four more top forty singles, including "This Time I'm In It For Love" which reached number ten on Billboard's top 100 chart.
Peter Beckett has written hit songs for many artists including: Heart, Olivia Newton-John, Kenny Rodgers, The Temptations, Poco, Janet Jackson, The Commodores, Cliff Richards, Survivor, Grace Slick, and more recently Vanessa Hudgens of "High School Musical" fame. Between the years 1989-1997, Peter was a featured member of the Little River Band and has written several singles for them, also being featured every show singing his Player #1 hit "Baby Come Back". He has also garnered many movie credits as artist, producer and/or writer. These include: The Karate Kid, Two of a Kind, Bill & Ted's Excellent Adventure, Major League, St Elmo's Fire (Grammy Nomination), Frankie and Johnny, Rock Star, Terminator 3, Basic, Beyond Borders, Life or Something Like It, Dirty Dancing 2 and Transformers to name a few.
Peter started performing again with his band Player in 1998, always featuring an all star line-up, which has included at various times members of The Cars, REO Speed Wagon, Foreigner and Little River Band. Written and produced by Peter, Player's last CD "Too Many Reasons" was released on Frontiers Records in 2013. In mid 2017, Peter and Ronn Moss parted ways and Peter is now in the process of writing and recording songs for his next CD under Peter Beckett's Player.
WALTER EGAN is a musician, singer, composer, writer, artist, sculptor and general Renaissance man who is most widely known for his 1978 million-selling single record, "Magnet and Steel," featured on his album Not Shy (Columbia).
Almost three decades later, Walter's signature song is a staple on the radio, and can also be heard in feature films and on television. Meanwhile, he has continued to make original music as both a prolific individual artist, with a total of eight solo CDs to his credit, and as a member of performing and recording bands including the Malibooz and the Brooklyn Cowboys.
2002 was a year of noteworthy accomplishments for this enduring talent with the release of three new CDs: Apocalypso Now (Gaff Music), which showcases some of Walter's latest songs; Beach Access with the Malibooz (Pier Group Records), a classic surf music band that helped to pioneer the genre; and Dodging Bullets with the Brooklyn Cowboys (Leaps Recordings). The Meaning of Live, a compilation of Walter's live performances from 1978, has just been released, along with a CD that features all of the songs from Walter's first two Columbia LPs, Fundamental Roll and Not Shy. For information on how to obtain copies of the new CDs, please see below.
Today, Walter Egan continues to write, produce, and record new music (check out his two new songs in the MP3 downloads section below) and perform live around Nashville and nationally.
DENNY LAINE is an English songwriter and multi-instrumentalist, best known for his roles as former guitarist and lead singer of The Moody Blues and, later, co-founder with Paul McCartney of Wings. Laine was one of three constants in Wings, along with Paul and Linda McCartney. Denny was also the lead singer on the Moody Blues' "Go Now," which was a worldwide multi-million seller.
Wings' "Band on the Run" hit #1 in the U.S. three different times and eventually the album went triple platinum. In the UK, it spent seven weeks at #1 and went on to be the top selling British album of 1974. In 1975, Wings won the Grammy award for "Band on the Run," the title track from the 1974 album.
With the 1976 release of Wings at the Speed of Sound, Wings had become one of the most successful groups of the decade with a top-grossing tour to follow. Denny performed solos during their concerts on their 'Wings Over America' tour and showcased his talents on many songs, most notably "Go Now." Denny still tours today, performing classic Wings and Moody Blues hits as well as his new material.
Mayo Performing Arts Center is located at 100 South Street in Morristown, New Jersey.