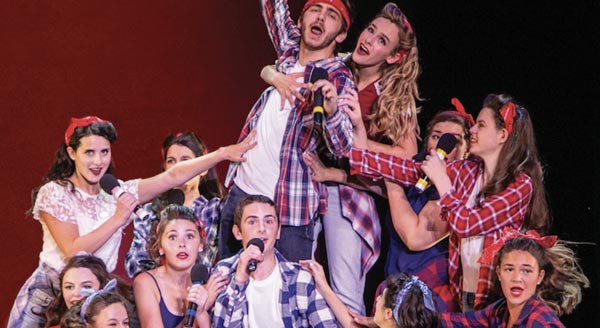 (MILLBURN, NJ) -- Paper Mill Playhouse has selected 121 students to be a part of the theater's prestigious Summer Musical Theatre Conservatory for 2019. Members of the competitive Conservatory who earned coveted spots in the Senior (ages 15-18), Junior Plus (ages 13-14), and Junior companies (ages 10-12) are directed and choreographed by Paper Mill Playhouse's professional artistic staff in a fully produced, original concert titled, New Voices of 2019: Learn Your Lessons Well. The concert is a culmination of the five-week conservatory program. Also appearing are numerous nominees of the 2019 Paper Mill Playhouse Rising Star Awards presented by the Investors Foundation, who won scholarships to attend the Conservatory. 
Performances of New Voices of 2019: Learn Your Lessons Well will be held on August 2 at 7:30pm and August 3 at 1:30pm & 7:30pm at Paper Mill Playhouse, 22 Brookside Drive, Millburn, NJ. Tickets range in price from $25 to $45. Tickets may be purchased by calling 973-376-4343, online at www.papermill.org, or by visiting the Paper Mill Playhouse Box Office.
"From the first day of class all the way through opening night of New Voices, we require our students to rise to the demands of this rigorous program," stated Lisa Cooney, Paper Mill Playhouse Director of Education.  "We ask them to work harder than they ever have before as young performers, and we strive to build an incredible ensemble company, while each student hones their own individual performance skills.  Our faculty pushes the students to believe in themselves as professional artists and treats them as such.  We find summer after summer that our students meet our expectations and more.  When they move on to college or the professional world, they are ready for the challenges they'll face, and time and again they thrive and ultimately live their dream of being a professional performer.  It's gratifying when they make a name or themselves on Broadway or in Hollywood, but even if they do not, the skills they learn and the work ethic they develop will serve them in any field."
The Paper Mill Playhouse Summer Musical Theater Conservatory is a program of rigorous study allowing students to enhance their individual performance potential while developing a broad base of theater experience and knowledge. Students participate in intensive classes including musical theater performance, acting, dance, private voice lessons, and improvisation, while also attending guest workshops led by professional actors, directors, and casting agents.  The final weeks are devoted to rehearsals for the annual New Voices Concert. The Conservatory offers the unique opportunity for gifted and talented young performers to work at their own level and challenge themselves to achieve new goals and learn new skills. Key to the curriculum is the development of self-discipline, respect, and a commitment to excellence that will serve these young artists throughout their lives. The New Voices Concert is the culmination of the five-week program.
"New Voices is an amazing opportunity to see the stars of tomorrow," stated Mark S. Hoebee, Paper Mill's Producing Artistic Director. "This fully produced, original concert features over 120 incredible performers. It is amazing to see these young performers grow into professional artists and grace the stage with an inspiring, heartfelt performance."
---
The article continues after this ad
---
---
Many of the students from Paper Mill Playhouse's Conservatory have gone on to appear on Broadway, in regional theater productions, in film and on television. Anne Hathaway, Ali Stroker, Laura Benanti, Matthew Scott, Matt Ban, and Neil McCaffrey are just some of the Conservatory Alumni.
Conservatory alumna Julia Knitel, who played the role of Carole King on the national tour of Beautiful: The Carole King Musical, states, "Growing up, I was always in the ensemble. That was where I'd feel comfortable because I love being a team player. That's one of the things that was so great about being at Paper Mill Playhouse, because in their Conservatory you had an equal amount of dancing, singing and acting training every day. I got a great foundation in being a team player and ensemble member, and serving a production. The producers and creatives of Beautiful saw in me something they couldn't find elsewhere." 
Noted Broadway talent agents and casting directors flock to New Voices every summer.  Victoria Kress, Abrams Artists Youth Theatrical Agent states, "(I'm always) super excited to head to Paper Mill Playhouse for their New Voices show! Having trained some amazing performers, I know this night will prove to be no different! It's one of my best scouting field trips of every summer."  Nora Brennan, casting director for Matilda, Billy Elliot, and The Radio City Christmas Spectacular,  agrees, "The kids were great, the show was fun and entertaining, and the material was tailored so that each child shone. Well done!"  Paper Mill's professional casting partner, Telsey + Company, attends annually and often offers workshops to our advanced students.
2019 CONSERVATORY STUDENTS BY TOWN

Kayla   Oh    Allendale

Jack   Sisk    Atlantic Highlands

Eileen   Brady    Basking Ridge

Chance   Friedman    Basking Ridge

Samantha   Rascio    Basking Ridge/Far Hills

Libby    Schmitt    Basking Ridge

Carly    Holda    Bernardsville

Deirdre    Tobin    Bernardsville

Katie    Kallay    Bloomfield

Elise    Bednar    Boone, NC

Jenny    Brady    Bound Brook

Sophie    Belkin    Branchburg

Lainey    Cooper    Bridgewater

Emma    Christmann    Canadensis, PA

Francesca    Catrone    Cedar Grove

Alyssa    Tanti    Cedar Grove

Ava    Chrusciel    Chatham

Liam    Driscoll    Chatham

Ronan    Green    Chatham

Caroline    Kiernan    Chatham

Andrew    Palmieri    Chatham

Grace    Petersen    Chatham

Kate    Bove    Cherry Hill

Jessica    King    Clark

Ana Rose    Monteiro    Denville

Nereo    Rossi    Edison

Zayna    Darres    Erie, PA

Lauren    Onufryk    Flanders

Julia    Santiago    Freehold

Maeve    Touhey    Gladstone

Leina    Staudinger    Green Brook

Gracie    Nagle    Hackettstown

Lexie    Miller    Hampton

Soren    Schwerner    Hewitt

Wasif    Sami    Hillsborough

Jason    Spinrad    Hillsborough

Sarah    Coleman    Holmdel

Jacob    Canderozzi    Jackson

Lillyana    Boland    Kearny

Melody    Stubbs    Kenilworth

Evan    Gray    Kinnelon

Katie    Nieto    Kinnelon

Kendall    Thorner    Little Silver

Jayden    Declet    Livingston

Brooke    Lelia    Livingston

Madison    Lysek    Livingston

Jonah    Ruderman    Livingston

Janie    Hornstein    Manalapan

Ben    Halperin    Maplewood

Charlotte    Post-Lipnick    Maplewood

Avery    Sinclair    Maplewood

Joseph    de Grandpre    Mendham

Amanda    Heckmann    Millburn

Halle    Just    Millburn

Alexandra    Witek    Monmouth Beach

Elizabeth    Witek    Monmouth Beach

Bobby    Axelrod    Montclair

Mareau    Hall    Montclair

Orly    Kinsella    Montclair

Story    Walker    Montclair

Jeffrey    Gallup    Montville

Alexa    Torres    Mountainside

Alexandra    Hermans    North Caldwell

Samantha    Alper    Nutley

Valeria    Flores    Nutley

Eric    Sebek    Nutley

Luke    Surretsky    Nutley

Mark    Surretsky    Nutley

Gianna    DePreta    Oakland

Mikayla    White    Old Bridge

Jadon    Lopez    Paramus

Michael    Magielnicki    Parlin

Nicole    Streger    Peapack

Luke    Byman    Pearl River, NY

Katherine    Ryan    Pearl River, NY

Caroline    Herbert    Pennington

William    Pearce    Pittstown

James    Carroll    Pocono Pines, PA

Elizabeth    LeClerc    Pottersville

Brandon    Grajales    Rahway

Jason    Myers    Rahway

Nasiyah    Richardson    Rahway

Ryan    Domaleski    Randolph

Raymond    Ocasio    Ridgewood

Lexi    Ciardella    Roseland

James    Ignacio    Roseland

Eva    Zazzali    Saddle River

Valentina    Zazzali    Saddle River

Abigail    Bera    Sayreville

Elizabeth    Bera    Sayreville

Juliana    Domiciano    Scotch Plains

Nicholas    Matos    Secaucus

Spenser    Brenton    Short Hills

Judith    Diminni    Short Hills

Uma    Menon    Short Hills

Olivia    Shannon    Short Hills

Hannah    Kelley    South Orange

Rowan    Wechsler    South Orange

Gabriel    Oliveira    Staten Island, NY

Rosie    Gaeta    Summit

Donald    Grennon    Summit

Emily    Huffman    Summit

Grace    Capeless    Teaneck

Elyana    Barroqueiro    Union

Pranav    Chawla    Union

Jason    Concepcion    Union City

Jenna    Clover    Upper Saddle River

Nathaniel    Algor    Waldwick

Valentina    Reale    Warren

Anthony    Savino    Warwick, NY

Gerald    Certrulo    Wayne

Lillian    Kopacz    Wayne

Sophia    Lellos    Wayne

Deanna    Thomas    Wayne

Jason    Tobias    Wayne

Madeline    Hoarle    West Caldwell

Alex    Vacchiano    West Caldwell

Riley    Hahn    West Orange

Olivia    Ruhnke    Westfield

Antonio    Porciello    Whippany

Bryan    Fortunato    Wyckoff

 

PAPER MILL PLAYHOUSE, a not-for-profit arts organization under the direction Mark S. Hoebee-Producing Artistic Director, Michael Stotts- Managing Director and recipient of the Regional Theatre Tony Award, is one of the country's leading regional theaters. Paper Mill Playhouse programs are made possible, in part, by funds from the New Jersey State Council on the Arts. Paper Mill Playhouse is a member of the National Alliance for Musical Theatre, the Council of Stock Theatres, and the New Jersey Theatre Alliance.
The Summer Musical Theater Conservatory and New Voices are supported by Investors Foundation. Paper Mill Playhouse Education & Outreach are proudly sponsored by The Goren Family & Harmony Helper.