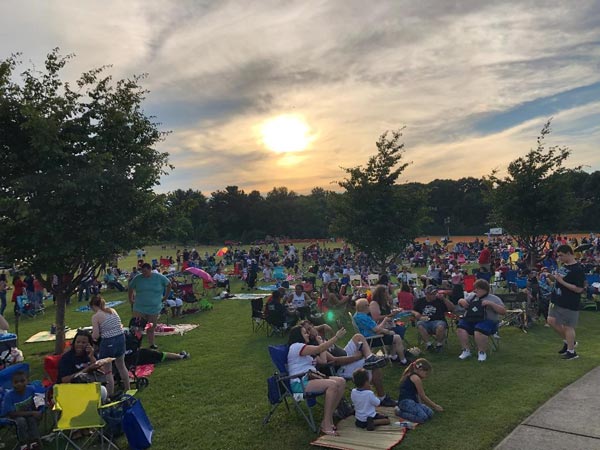 (EAST BRUNSWICK, NJ) -- The newly formed East Brunswick Arts Coalition (EBAC), in partnership with Playhouse 22, will celebrate the launch of its inaugural "Summer Stage Under the Stars" series in the outdoor amphitheater at the Community Arts Center with a ribbon cutting and a performance from the cast of upcoming musical, Footloose on July 11 from 7:00pm to 9:00pm. 
The event will feature refreshments from local sponsors such as: Zinna's Bistro, Le Affair Bakery, and others. Footloose willl be the town's first-ever outdoor musical theater event.
Performances of Footloose, the Musical will take place July 25-27 and August 1-3.  The production is directed by Christian Carrara with choreography by Raven Dunbar and musical direction by Marty Angstreich.  The box office and gates will open at 5:30pm with performances beginning at 8:30pm. Tickets are $7 per person, available online at FootlooseEB.com or the Playhouse 22 box office at (732) 254-3939. Each guest will need to check-in at the box office table to receive a wristband before being permitted to enter the grounds.
Each guest should bring a low-back lawn chair no more than 40 inches in height.  High back lawn chairs, beach chairs, chaise lounges and blankets will not be permitted. There is no assigned seating; however, guests will be required to place their along painted lines on the lawn. ​As an outdoor performance, they will be keeping a close eye on the weather forecasts and post information on their social media sites and their voicemail if a show is cancelled due to the weather.  
​The Community Arts Center Amphitheater is located at 721 Cranbury Road in East Brunswick, New Jersey.
---
The article continues after this ad
---
---
Other important things of note: There is no smoking or consumption of alcoholic beverages on the grounds. Parking is limited and we encourage guests to car-pool as much as possible.  Guests wearing wristbands will be permitted to leave the grounds.  
The East Brunswick Arts Coalition seeks out impactful sponsorships and grants to provide funds for East Brunswick based events, classes, workshops, exhibitions, and other activities in the visual, performing, and media arts.  The members of the coalition also help to raise funds for new and emerging arts, cultural, and heritage organizations while promoting quality programming.  
2019-20 Sponsors of the East Brunswick Arts Coalition and  "Summer Stage Under the Stars" series include: (PLATINUM SPONSOR) Jane Mueller, Realtor; Landis Developers; and Raritan Pharmaceuticals (SILVER SPONSORS) East Brunswick Regional Chamber of Commerce, Brunswick Square Mall.
Playhouse 22 is East Brunswick's community theater troupe.  With a history of more than 60 years in East Brunswick, Playhouse 22 has been long recognized by the New Jersey Association of Community Theaters (NJACT) for excellence in theater.  The theater encourages and nurtures participation in the theatre arts, promote the educational and communal values of live theatre and provide a cultural haven in the community for all the performing arts.