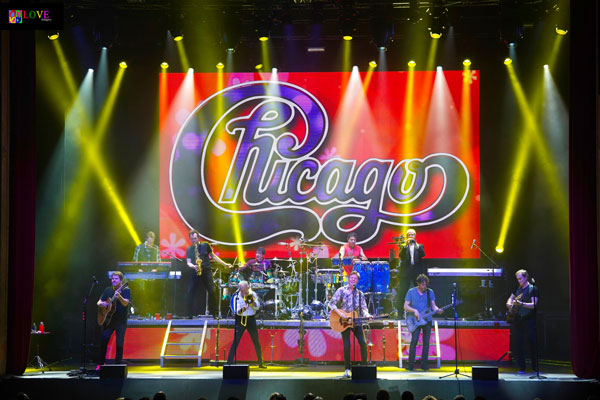 The fans at Englewood, NJ's Bergen Performing Arts Center this Wednesday, June 19, 2019 evening anxiously await tonight's sold-out performance by the legendary horn band, Chicago.
Over the course of the past half century, the group has managed to assemble one of the greatest fan bases in the world. As such, at BergenPAC, we take the time to meet and chat with fans — new and old — who share some of their personal stories with us.
Out in the BergenPAC lobby, we chat with a family which consists of three generations of Chicago fans.
Says grandmother Alice, from Oak Ridge, "I'm a true original fan of Chicago. I remember when I was in my 20s, going to the Garden State Arts Center to see them perform, sitting in the lawn seats and listening to them play under the stars."
Continuing, "What initially attracted me to Chicago was the horns — nobody else had horn players like that! I used to play my Chicago LPs at home and my Chicago cassettes in the car, and that's where my daughter, Carrie, first started listening to them."
---
The article continues after this ad
---
---
Chimes in Carrie, from Flemington, "Like Mom said, I grew up listening to this music — with her. Then, when I was in my 20s, Chicago's '80s music was popular. I played it in the car for my 13-year-old son, Ethan, when he was little, and last summer we went to a Chicago concert with Ethan's father and his sister, who is nine — and even she sings along with all of the songs in the car."
Acknowledging, "It's been a great family experience," Carrie explains, "Tonight's concert is actually Ethan's 13th birthday present — he wanted to be here so badly! I told him the show was sold out, but then surprised him with tickets for his birthday."
Comments Ethan, who plays the trumpet, "I really love the horn section — it gives the group such a grand sound! I've been listening to the band for about three or four years now, and I really like the trumpet player, Lee Loughnane."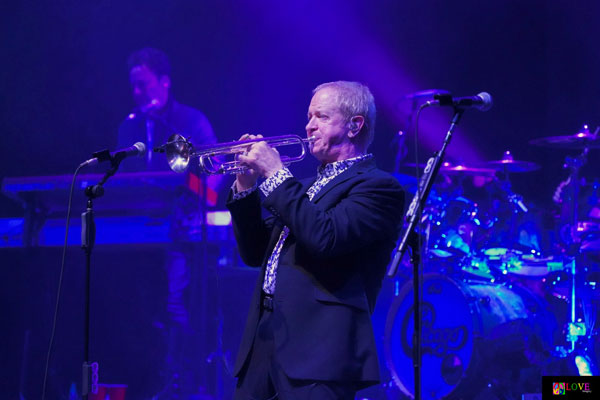 "My favorite songs are 'Does Anybody Really Know What Time It Is' and 'Saturday in the Park,'" reveals Ethan, noting, "I keep buying their CDs — and I also spent $45 getting all their songs on my iPad, too," before disclosing, "I even wrote to the band on their website about two years ago and told them I was their biggest youngest fan. I really love their music — some songs are relaxing and some are exciting — but I really can't explain it in words; you just have to hear the music for yourself to know what I mean."
Inside the BergenPAC auditorium, we chat with Gina and Pepe — a pair of professional musicians from Hasbrook Heights — who had a chance to mingle with the members of Chicago at a pre-concert meet and greet held just before tonight's show.
Exclaims Gina, "Chicago is just awesome! We just saw them in April when they performed in Newark, and now were here seeing them again tonight — I guess you could say we're 'doing the Jersey tour' with them."
"I was born in the '70s and I've been a fan ever since I was a kid," says Gina, who also notes she was with them as a teen for their "resurgence in the '80s."
Acknowledging that her favorite songs are "Beginnings," "Hard Habit to Break," and "You're the Inspiration," Gina reveals, "I'm transported back in time when I hear their music," before confessing, "I was just grinning from ear to ear at the meet and greet — it was so much fun getting to talk to them."
Adds Gina's husband, Pepe, "I've been a Chicago fan even longer than Gina. I'm an electric bass player and Gina's a singer, and we have our own band. We've played a lot of Chicago songs, which are great, and their arrangements are unbelievable," before noting, "And I really like the group's new bass player, Brett Simons."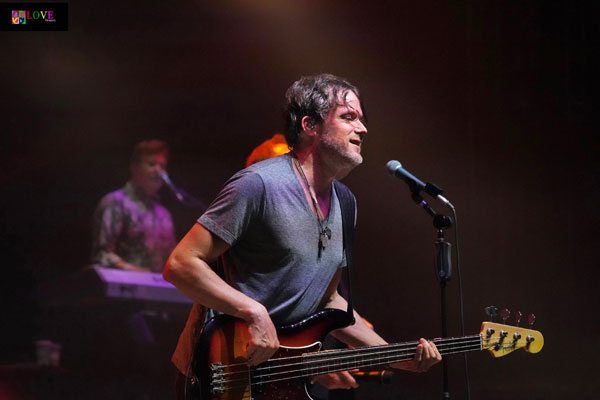 Acknowledging, "I came to the United States from Cuba in 1962, and I started following Chicago in the '70s," Pepe recalls, "Growing up, I would hear their songs on the radio and play them on my instrument, as well."
Exclaiming, "They have five decades of music!" Pepe notes, "It was great getting to meet them tonight," revealing, "At home, we have our own musical 'Hall of Fame' — and, after tonight, Chicago's picture will go in it along with a photo of Connie Francis, and one of Tommy James, and a few others," before joking, "including pictures of our own band."
Down front near the stage, we catch up with Barbara and Mercedes — two fans who tell us they became friends thanks to the music of Chicago.
Explains Barbara from Howard Beach, "I would never have met Mercedes if it hadn't been for Chicago and their fan club — they have a very strong fan base!
Adding, "We've seen hundreds of shows — we've seen the group all over," Barbara recalls, "My first concert was back in 1974 at Madison Square Garden," before acknowledging, "and they still have several original members. In fact, last night, Robert Lamm came over and thanked us personally for coming to the show."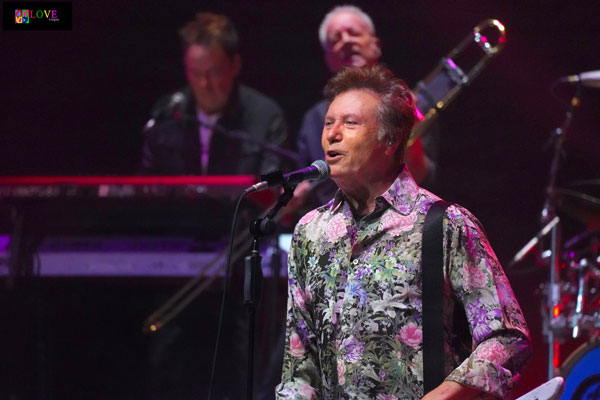 Notes Mercedes from Woodside, Queens, "This is our third show in three days! We travel to see them — wherever they are, we are. We went to Vegas in February. We've seen them at Red Rocks in Colorado. And when we went to Aruba, the band flew back on the same plane with us, and they couldn't stop thanking us for coming to their show."
Notes Barbara, "They are really amazing! Each night, as the show goes on, you would think they would tire, but no! They get even more energy! Every band member gives the group its different spin, and even after all these years, they still sound great!"
Next, we chat with long-time fan, Dennis from Berkeley Heights, who says, "I've known Chicago for nearly 50 years. Back in 1969 when they were the warm-up act for Iron Butterfly, I brought them over to play at my high school in Scotch Plains, and I've been following the group ever since."
Revealing, "On August 2, 2019, it will be my 50th anniversary attending Chicago concerts," Dennis notes, "Altogether, I've seen them about 150 times — I just love their shows! They were awesome live in the '70s, but I really like the new blood, too; for instance, their new tenor, Neil Donell, is really great."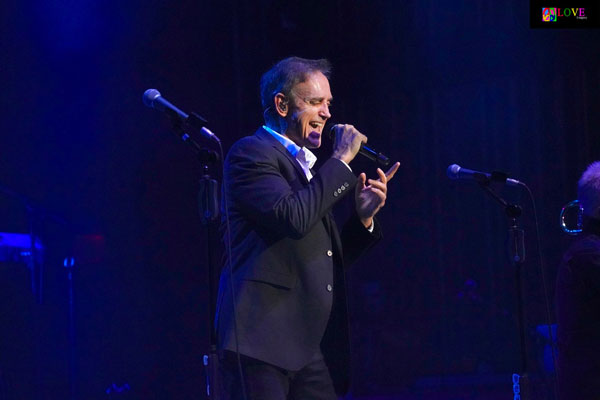 Acknowledging, "I have ten kids and whenever I see Chicago, I bring some of them," Dennis notes that, tonight, he is here with his children, John, Becky and Peter. When asked what it's like to have two generations of Chicago fans in the family, Dennis replies, "If the band hangs around long enough, someday, we'll be bringing the third generation to their concerts!"
We also chat with first-time Chicago concert attendee, Paul from Cresskill, who says, "I go to a lot of concerts, but I've never seen Chicago before. As a young musician, this band was on my radar in the late '60s and '70s," before exclaiming, "and when I first heard 'I'm a Man,' it made my blood boil! To me, Chicago was different from other bands — they always had a sense of class. The music was very melodic, yet the lead guitar could stand tall against any of the other players. As a result, I'm really looking forward to hearing them perform live tonight."
Lastly, we chat with long-time fan, Eileen from Wood-Ridge, who recalls, "I've been a fan of Chicago's since I was in high school in the 1970s. All the members are wonderful entertainers — their energy is fabulous, and I don't think any of them have aged at all."
Acknowledging, "There happens to be a venue in Garfield which is called the Venetian, so about a year ago, I said to my husband, 'I'd like to go see Chicago at the Venetian,' and he said 'Absolutely!' After that, I told him, 'I meant the Venetian in Las Vegas,' and guess what? We went!"
Acknowledging that her favorite band member is trombonist James Pankow, Eileen says, "If I could meet any member of the band, I would want to talk to James Pankow and say to him, 'I'm standing next to my favorite trombone player!" before pointing out, "He never stops! He's like Mick Jagger or Keith Richards — James Pankow just never ever stops!"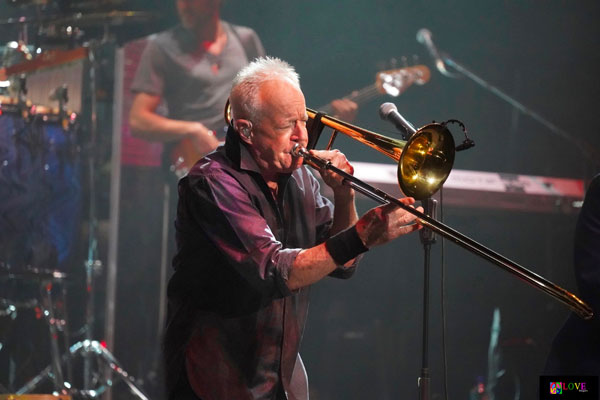 The lights dim inside the BergenPAC auditorium and the crowd cheers as the ten current members of Chicago take their places on the stage —Lou Pardini on keyboards, Wally Reyes, Jr. on drums, Ray Yslas on percusion, Keith Howland on guitar, Brett Simons on bass, Ray Herrmann on sax, Neil Donell on vocals, and founding members Robert Lamm on keyboards, Lee Loughnane on trumpet, and James Pankow on trombone.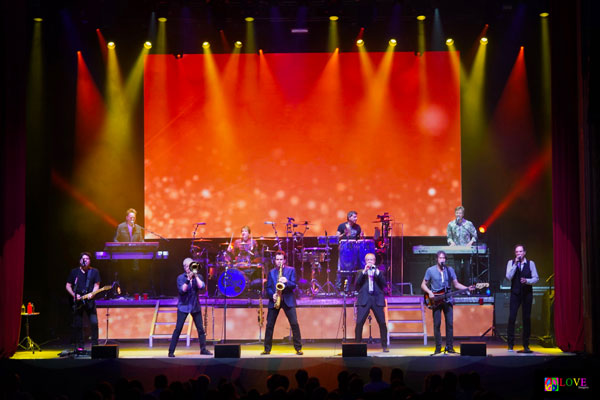 Opening with "Introduction," a funky horn-inspired number from their debut album, Chicago Transit Authority, Robert Lamm takes a spot center stage playing the keytar as the music morphs and carousels and audience members smile and bop to the music.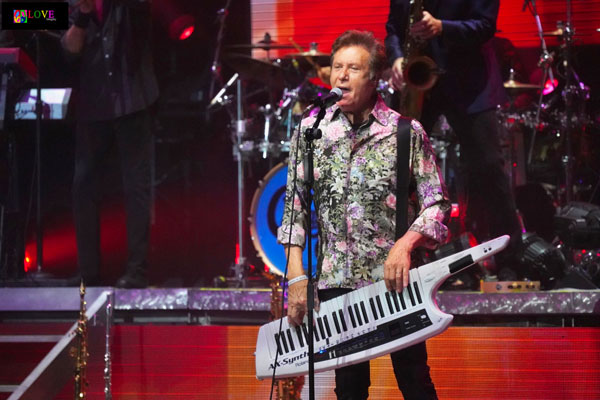 Moving on to their first single, "Questions 67 and 68," Neil Donell sounds strong and clear on the lead as he sings the "Can this feeling that we have together/Ooh, suddenly exist between" lyric. The world-class Chicago horn section is featured downstage as the number shifts into a samba-like beat, shakers keeping time as the horns shimmer.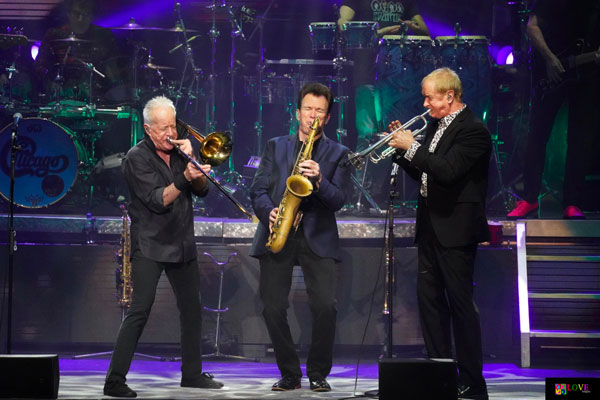 Announcing, "Hello, New Jersey! Put your hands together!" Neil Donell and Lou Pardini share lead vocals on "Dialogue (Part I and II)." Clapping along to Keith Howland's wah-wah guitar sound, fans in the sold-out crowd join in singing on the "We can make it happen/We can change the world now" coda.
Robert Lamm welcomes the crowd saying, "Good evening, New Jersey! We have a rather large repertoire, most of which we're going to play tonight." Here, Lamm's breezy lead vocal on "Wake Up Sunshine" warms the crowd before James Pankow's electrifying trombone solo elicits excited cheers.
Moving on to the group's 1974 Top Ten hit, "Call On Me," harmony vocals ring out on the famous, "I love you/You know I do/You love me, too" refrain before the audience bops their heads to the song's infectious "You can count on me, oh/You can count on me" samba ending.
The Chicago horns play slowly and sweetly as they fill the space between the "I've been searchin' so long to find an answer/Now I know my life has meaning" lyric on the group's 1974 hit, "(I've Been) Searching So Long." The fans sing along on the "Good things in life/Take a long time" coda before responding with heartfelt cheers and applause.
Hands clap overhead on "Mongonucleosis," a Latin-influenced arrangement which features Ray Herrmann on sax and Lee Loughnane on trumpet. Performing together in the center of the stage, the rhythm section deftly supports the duo on this high-energy instrumental.
The mood changes, however, with an unplugged rendition of "If You Leave Me Now." Neil Donell and Keith Howland strum acoustic guitars to accompany the song's well-known "If you leave me now/You'll take away the biggest part of me" lyric. The sound envelopes the audience in a warm embrace, and the audience responds by standing while cheering and whistling.
A member of the crowd shouts out, "That's Lou!" as Lou Pardini takes a seat at a keyboard set up in the center of the stage.
Opening with a slow and jazzy keyboard intro, Pardini performs a solo rendition of "Look Away," before the entire band joins in singing and playing along on the mighty "If you see me walkin' by/And the tears are in my eyes/Look away, baby, look away" chorus.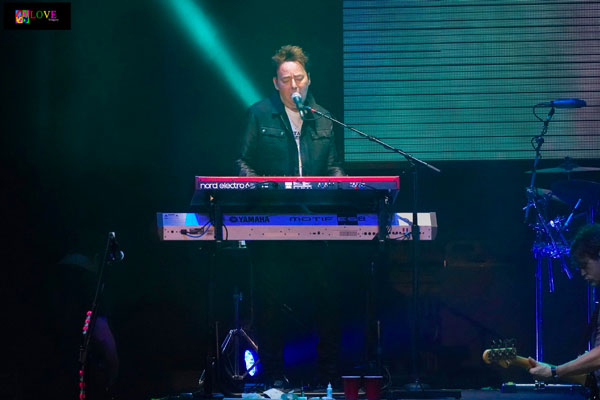 To conclude Act I, Chicago performs a live rendition of James Pankow's "Ballet for a Girl in Buchannon," a song cycle written for the group's album Chicago II.Opening with their 1970 top ten hit, "Make Me Smile" — a number which features five-part vocal harmonies — the song cycle also features the band's ever-popular ballad, "Colour My World," which is beautifully performed by trumpeter Lee Loughnane.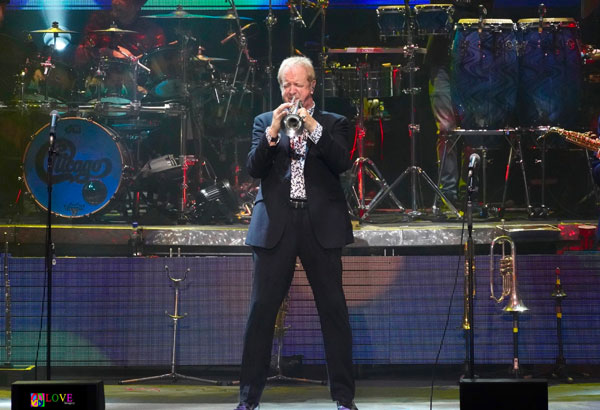 At the conclusion of this spectacular medley, the crowd erupts into whistles and cheers as they stand for Chicago's fantastic display of musicianship.
Following a short intermission, Act II opens with Chicago launching into "Alive Again," a rhythmic rocker which features the world-famous horn section playing short and sweet. Segueing into a true crowd-pleaser — the group's 1970 Top Ten hit, "Does Anybody Really Know What Time It Is — the audience sings along as Robert Lamm's fabulous voice is featured on the lead.
Audience members sing and sway to the "Old days, good times I remember/Gold days, days I'll always treasure" lyric of "Old Days" before James Pankow asks, "Are you having a good time?" When the crowd responds in the affirmative, Pankow declares, "We are delighted to be back in your neighborhood," exclaiming, "None of this means a damn thing without you! We love you for that!"
Here, the group launches into its 1984's Top Five hit, "Hard Habit to Break." Neil Donell trades vocals with Lou Pardini on this compelling number, the music building in intensity before the horns enter on the bridge and transform this slow dance number into an electrifying power ballad.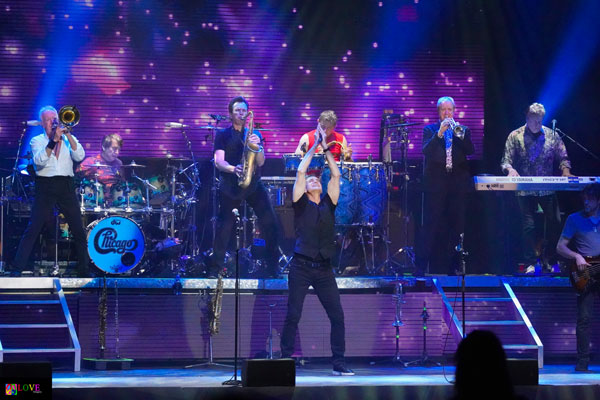 The crowd happily sings along to the iconic "You're the meaning in my life/You're my inspiration" chorus on the band's 1984 Top 5 hit, "You're The Inspiration," as well as on the rhythmic "When you love someone" coda. The song builds in triumphant glory before Keith Howland follows up with an electrifying guitar solo to audience hoots, hollers, and cheers.
After introducing the members of the group, Chicago performs their 1971 Top Ten smash, "Beginnings." Robert Lamm's superbly handles the lead vocals while playing 12-string acoustic guitar accompanied by Keith Howland on 12-string, Neil Donell on 6-string acoustic, and Bret Simons on bass and backup vocals.
After the "Only the beginning/Only just the start" interlude, the three founding members of the group — Robert Lamm, Lee Loughnane, and James Pankow — take their rightful places together in the center of the stage on this nostalgic Chicago classic.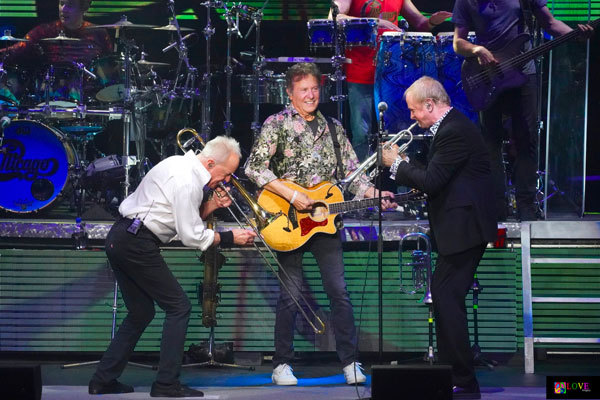 Segueing into a smokin' rendition of The Spencer Davis Group's "I'm a Man," the Chicago musicians impress as they sing in six-part harmony, "I'm a man/Yes I am/And I can't help but love you so," before Ray Herrmann rocks out on an instrumental solo.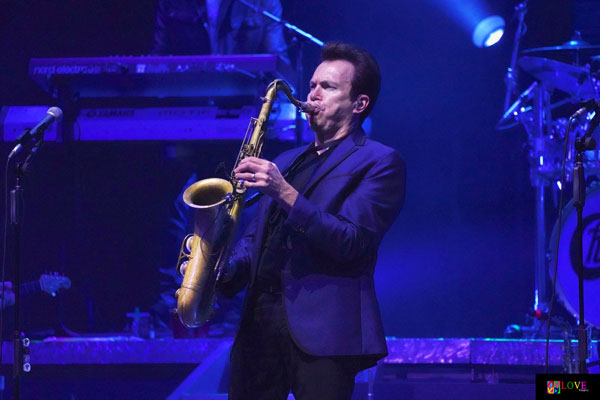 On this selection, all of the Chicago musicians leave the stage except for drummer Wally Reyes, Jr. and percussionist Ray Yslas who dazzle the crowd with an extended percussion duet. As fire smolders on the screen behind them, the duo goes back and forth in an energetic musical conversation which features complex polyrhythms.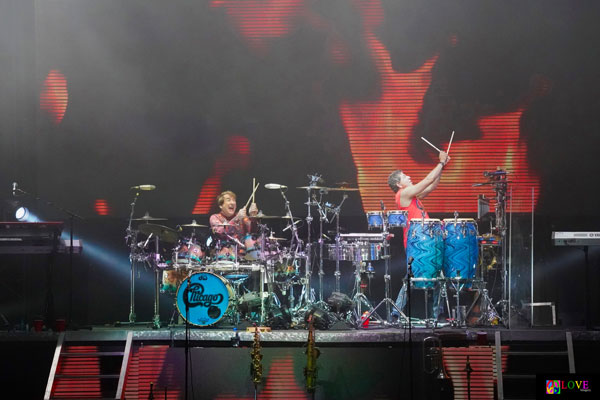 The audience claps as Reyes yells, "Let me hear you!" before speeding up.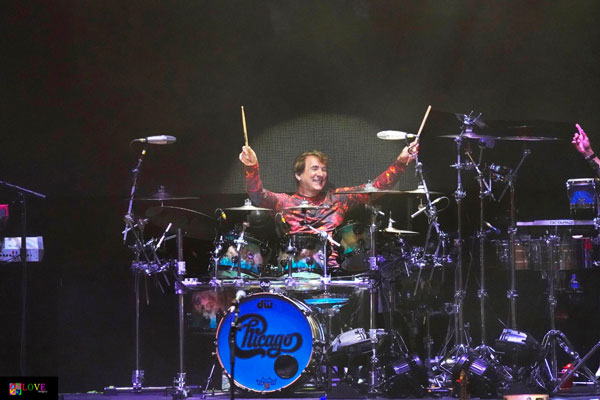 The pair continues by singing, scatting, and then trading places — with Yslas moving to the drum set and Reyes moving to the percussion station — energetically and creatively playing to the audience's delight.
Before the rest of the band retakes the stage for the dramatic finish, the audience is on its feet with yet another standing ovation.
After Lee Loughnane asks, "Are you having fun? You want to hear some more?" Chicago performs their 1979 disco-influenced "Street Player," the horn section strutting in rhythm to the music. Segueing into another audience favorite — the group's 1974 Top 5 Billboard hit, "Just You 'n' Me" — the crowd enjoys Neil Donell's breezy "Just you and me/Simple and free" lyric, before Ray Herrmann is featured on a mystical soprano saxophone solo during the song's instrumental interlude.
Ray Yslas encourages people to take out their cellphone flashlights as the band launches into their 1982 #1 hit, "Hard to Say I'm Sorry."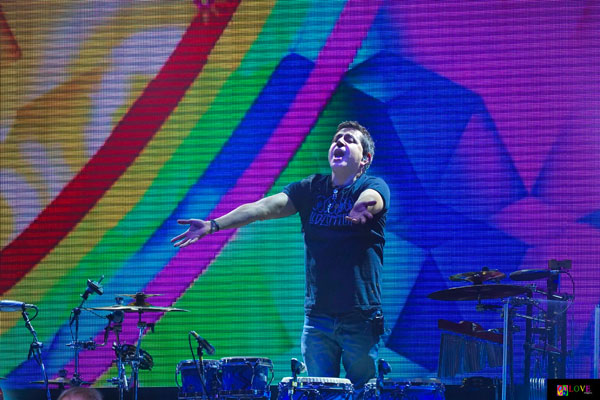 Audience members hold up their phones, shining lights in the darkness as they sing along to the famous "After all that we've been through/I will make it up to you" chorus.
Fans clap along to the electrifying sounds of "Get Away," where Yslas spins around while playing percussion and the brass section wails.
Cheers ensue the moment members of the crowd recognize the opening strains of the band's 1972 million-seller, "Saturday in the Park." As the fans stand on their feet and sing along, Lamm handles the lead on the famous "Saturday in the park/I think it was the Fourth of July" lyric while scenes of New York's Central Park fill the screen.
The audience continues to remain standing as Chicago concludes its powerful line-up of hits with their 1973 Top Ten smash, "Feelin' Stronger Every Day," the music energizing the crowd which joyfully sings and dances along to the music.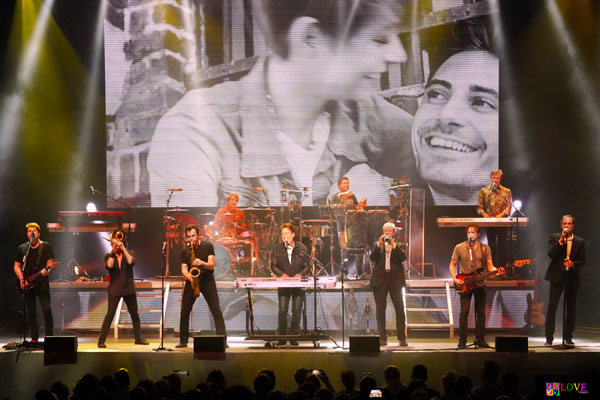 With the fans still cheering on their feet, Chicago leaves the stage, but the musicians soon return for an encore of their 1971 Top 20 hit, "Free." As keyboardist Lou Pardini and the group sing, "I just wanna be free," the horn section plays their hearts out on this stirring rock and roll anthem.
The concert concludes with a knock-your-socks-off rendition of Chicago's 1970 Top 5 hit, "25 or 6 to 4," which leaves the leaves the fans rocking, cheering, and standing tall in appreciation for a dynamic and powerful performance.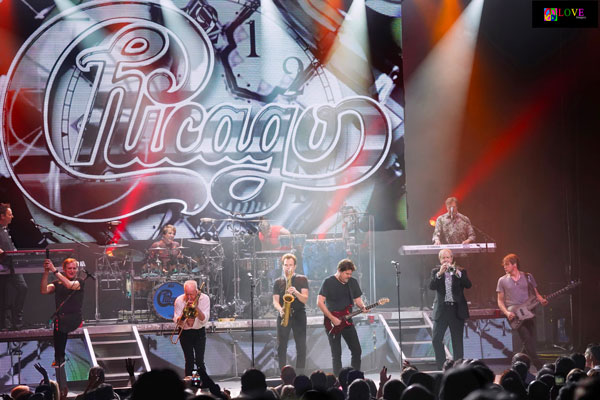 After taking bows and shaking hands, drummer Wally Reyes, Jr. hands a pair of drumsticks to a young boy at the foot of the stage as Pankow says, "Wow, Jersey! You guys are an amazing audience. We love you!" and the group exits the stage.
As audience members make their way out of the BergenPAC auditorium, we take a moment to chat with several Chicago fans who share their thoughts about tonight's performance with us.
First, we chat with Paul from Creskill, the Chicago first-time concert goer with whom we spoke earlier, who exclaims, "Chicago was fantastic! The show just kept getting better and better."
Declaring, "I would absolutely see them again," Paul notes, "And the sound in this theater was so crisp. Whoever did the sound here, did it just right — it was lively, not booming — and I loved it."
Next we meet JJ from Northvale, another first-time Chicago concert goer who tells us, "Back in 1978, I lived in California where Chicago's percussionist at the time — Laudir de Oliveira — was my neighbor," adding, "I used to do yard work for him."
Acknowledging, "Even though I've known their music for so long, this was my first time seeing the group," JJ laments, "I'm sorry I waited so long — they're so awesome! Knowing that several of the original members are still in the band, I knew I just had to see them — for me, it was kind of a bucket list thing to do."
Recalling, "My dad was a studio musician, so I'm well aware of the talent that was on stage tonight," JJ concludes by asserting, "All I can say is, I am extremely impressed."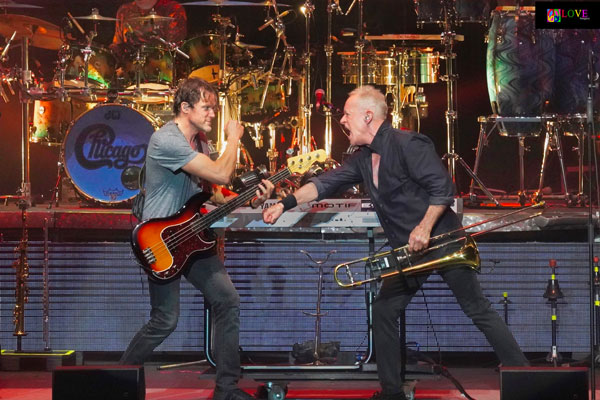 We also chat with 9-year-old Logan and his dad, Larry, from Tenafly, who are currently on line for a post-concert meet and greet with the group following the show.
Says Logan, who plays the drums, "I never saw Chicago before, but I know a lot of their songs from my dad. They're really good! I especially liked '25 or 6 to 4.'"
Revealing, "Tonight, I got a set list, a guitar pick, a bass pick, and a pair of drumsticks," Logan explains, "The drummer handed me his sticks at the end of the night," before noting, " I'm going to thank all of them very much for all the great stuff they just gave me."
Comments Logan's dad, Larry, "I fell in love with this group way back in 1973 or '74, and now my son is going to get to meet the band," before exclaiming, "I guess there's just nothing better than that!"
Before the night is over, we also catch up with two members of Chicago, who have some words for their fans both here in New Jersey and elsewhere around the world.
Remarks founding member, Robert Lamm, "The band guys — both recent and vintage — have always commented on the affection we feel during the shows, for sure," before acknowledging, "And once we began doing the 'pre' and 'aftershow' meet and greets, we've found the face-to-face, eye-to-eye connection fun and quite moving!"
Comments newer member, guitarist Keith Howland, "Chicago fans are some of the most loyal, supportive folks you could ask for. It's always a kick to see familiar faces at the shows and at the meet and greets," before declaring, "Many I now consider friends!"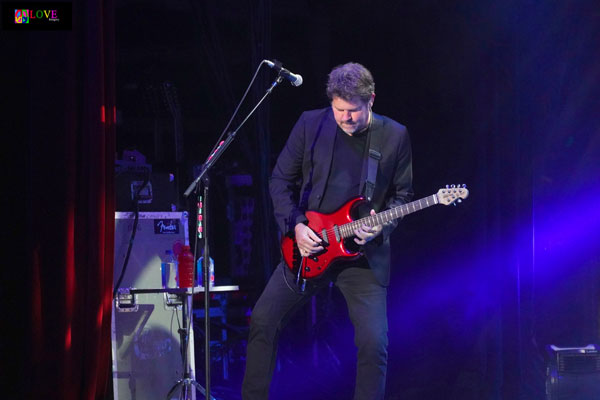 As we make our way out of the BergenPAC theater, we also happen to catch up with two more fans — Julie from Ohio and her friend, Renee, from Wanaque.
Exclaims Julie, "Chicago was phenomenal! Even though they all work together so well as a team, their individual musicianship shines through," before asserting, "I thought the entire show was great!"
Declares Renee, "I loved them! This was an excellent show — they changed it up tonight — and Chicago's new singer, Neil Donnell, brought new life to the songs."
Continuing, "'You're the Inspiration' has a lot of meaning for me," Renee reveals, "I dedicated that song to my husband at our wedding, and tonight I sang it to him," at which point Julie chimes in adding, "It was so touching hearing her singing it to him."
Recalling, "I've been a fan of Chicago since the 1980s — I've seen them at large venues like the PNC Bank Arts Center in Holmdel, in Atlantic City, and in Las Vegas," Renee declares, "This was the best show I've ever seen. It was excellent! The group is just amazing — their chemistry is strong — and it shows just how much they care about each other, their music, and their fans."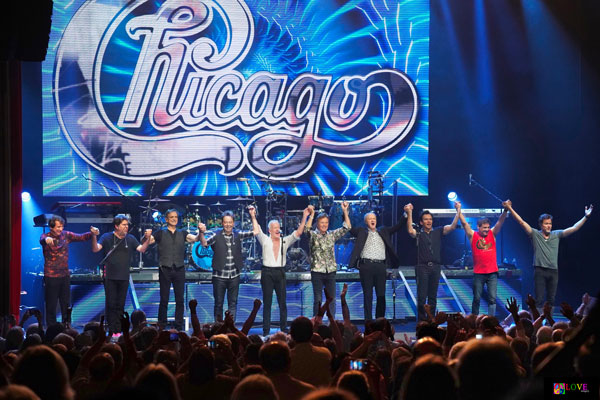 To learn more about Chicago, please go to chicagotheband.com. For information on upcoming concerts at BergenPAC — including The Righteous Brothers on July 11, Rob Thomas on July 17, Joan Jett and the Blackhearts on September 22, and Toto on October 16 — please click on bergenpac.org.
Photos by Love Imagery
Spotlight Central. Your source for Jersey entertainment news and reviews
Love Imagery Fine Art Photography. all you need. peace/love/flower/power