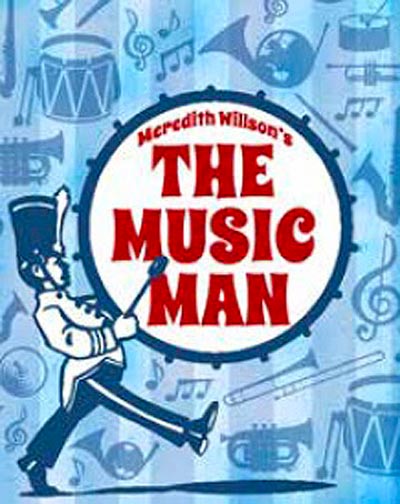 (HADDON TOWNSHIP, NJ) -- The Ritz Theatre Co. presents The Music Man from July 11 to August 4th. This classic musical favorite follows fast-talking traveling salesman, Harold Hill, as he cons the people of River City, Iowa, into buying instruments and uniforms for a boys' band that he vows to organize – despite the fact that he doesn't know a trombone from a treble clef. His plans to skip town with the cash are foiled when he falls for Marian, the librarian. 
This charming musical, with favorite songs like "'Til There Was You" and "Seventy-Six Trombones," will be sure to delight audiences of all ages. The original Broadway production starred Robert Preston, who IMDb describes as an "American leading man of vast charisma." Known for many fine film, theatre, and television productions, two of his outstanding, charismatic and memorable film performances were as Dr. Irving Finegarden in Blake Edwards' SOB, and as Carol Todd, in Victor/Victoria, also directed by Blake Edwards.
The Music Man is a musical with book, music, and lyrics by Meredith Willson, based on a story by Willson and Franklin Lacey. The plot concerns con man Harold Hill, who poses as a boys' band organizer and leader and sells band instruments and uniforms to naive Midwestern townsfolk, promising to train the members of the new band. Harold is no musician, however, and plans to skip town without giving any music lessons. Prim librarian and piano teacher Marian sees through him, but when Harold helps her younger brother overcome his lisp and social awkwardness, Marian begins to fall in love. Harold risks being caught to win her.
In 1957, the show became a hit on Broadway, winning five TONY Awards, including Best Musical, and running for 1,375 performances. The cast album won the first Grammy Award for Best Musical Theater Album and spent an astounding 245 weeks on the Billboard charts. The show's success led to several revivals, including a long-running 2000 Broadway revival, a popular 1962 film adaptation and a 2003 television adaptation.
Performances take place Thursday July 11 @ 7:30pm; Friday July 12 @ 8:00pm; Saturday July 13 @ 8:00pm; Sunday July 14 @ 2:00pm; Friday July 19 @ 8:00pm; Saturday July 20 @ 8:00pm; Sunday July 21 @ 2:00pm; Wednesday July 24 @ 7:30pm; Friday July 26 @ 8:00pm; Saturday July 27 @ 8:00pm; Sunday July 28 @ 2:00pm; Wednesday July 31 @ 7:30pm; Friday August 2 @ 8:00pm; Saturday August 3 @ 8:00pm; and Sunday August 4 @ 2:00pm.
---
The article continues after this ad
---
---
Directed by Ritz Theatre Co. veteran performer Katie Knoblock (most recently portraying the lead in Romeo and Juliet) "Our version of The Music Man will, in many ways, be familiar to long time lovers of the musical, filled with exciting choreography, wonderful voices, and memorable characters. In addition to the charm the classic tale provides, our production puts a little more emphasis on the women in the town, particularly Marian, who is equally as responsible for the change in the stubborn, chip on the shoulder Iowaians of the town, as well as Professor Harold Hill. We believe it is a perfect summer classic for the Ritz Theatre Co. audiences of today!"
The cast includes Matt Weil (Harold Hill); Jessica Ball (Marian Paroo); Katy Gentry Hutchings (Mrs. Paroo); Nicky Intrieri (Winthrop Paroo); Alan Krier (Mayor George Shinn); Patricia Kelly (Eulalie M. Shinn); Lexie Chiasson (Zaneeta Shinn); Quinn Wood (Gracie Shinn); Aren Duffy (Tommy Djilas); Joe Kinnon (Marcellus); David Epstein (Jacey Squires); Brianna Borouchoff (Mrs. Squires); Guy Kirk (Ewart Dunlop); Kathleen Corvino (Maude Dunlop); Marty Israel (Oliver Hix); Bonnie Leigh Renner (Alma Hix); Steven Zeller (Olin Britt); Mary McCabe (Mrs. Britt); Casey Clark (Ethel Toffelmeir); Robert Repici (Charlie Cowell); Emma Scherz (Amaryllis); David A. Schwartz (Constable Locke); Darrin Murphy (Dance Ensemble); Mabelle Davison (Dance Ensemble); Kyle Ronkin (Dance Ensemble); Lindsey Krier (Dance Ensemble); Zachary Moore (Dance Ensemble); Isabella Negrete (Dance Ensemble); and Kendall DeVecchis (Intern/Ensemble).
The Ritz Production Team includes Bruce A. Curless Producing Artistic Director; Katie Knoblock Director; Anthony Vitolo Vocal Director; Erica Paolucci Choreographer; Sadie McKenna Stage Manager; Briana Bailey Costumer; Will Bryant Set Director; Chris Miller Lighting Designer; and Gabe Slimm Prop Designer.  
The Ritz Theatre is located at 915 White Horse Pike in Haddon Township, New Jersey.