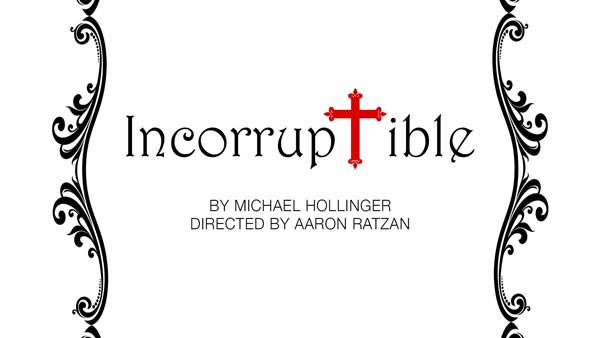 (HOLMDEL, NJ) -- The Holmdel Theatre Company presents a reading of Incorruptible: A Dark Comedy about the Dark Ages by Michael Hollinger on Monday, July 1st at 7:00pm.  The play takes place in Priseaux, France, c. 1250 A.D.: The river flooded again last week. The chandler's shop just burned to the ground. Nobody's heard of the wheelbarrow yet. And Ste. Foy, the patron of the local monastery, hasn't worked a miracle in thirteen years. In other words, the Dark Ages still look pretty dark. 
All eyes turn to the Pope, whose promised visit will surely encourage other pilgrims to make the trek and restore the abbey to its former glory. That is, until a rival church claims to possess the relics of Ste. Foy—and "their" bones are working miracles. All seems lost until the destitute monks take a lesson from a larcenous one-eyed minstral, who teaches them an outrageous new way to pay old debts.
The reading is directed by Aaron Ratzan and stars Laurie Devino as Peasant Woman; Faith Dowgin as Agatha; John Dowgin as Martin; Ed Faver as Olf; Di Shawn Gandy as Charles; Jesse Luciani as Jack; Felicia Russell as Marie; Alex Scoloveno as Felix; and Aaron Ratzan (reading some important stage directions).
Admission is free, but there is a $5 suggested donation at the door. The reading takes place at the Duncan Smith Theater, 36 Crawfords Corner Road, Holmdel, New Jersey. (The white barn in front of the Holmdel High School)
"Everything fits snugly in this funny, endearing black comedy. Hollinger understands how to balance verbal and physical humor, how to sketch personality in a few deft strokes, how to pause here and there to allow his audience to catch its breath, how to bring on a new character at just the right time, and how to write dialogue that's an artful blend of the mock-formal and the anachronistically breezy. A piece of remarkably dexterous craftsmanship." —Philadelphia Inquirer. 
---