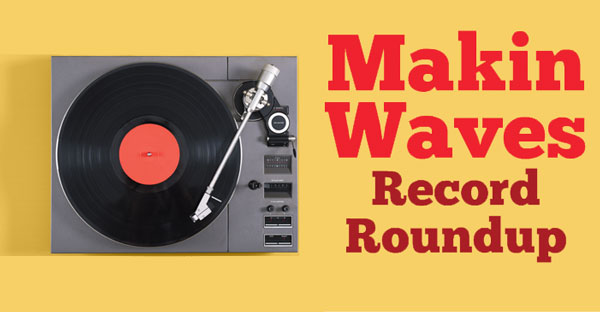 Like Nirvana, The Vaughns are exceptional at mixing gnarly grunge and delicious indie pop. In the wake of two EPs, they've never done it better than on their debut full-length, "FOMO," which they wisely left into the crafty hands of The Front Bottoms bassist Erik Kase Romero, who's also produced Deal Casino, Well Wisher, Sonic Blume and many others. 
The 11-song collection opens with the surf-adelic instrumental "Learning to Surf" and then continues a surf theme with "Kowabunga," a funny dis of Baltimore, which is compared to hell (I guess The Vaughns don't care if they play there again). Fueled by '60s-style psychedelic guitar a la The Yardbirds and early The Who, the entertaining tune alternates between lilting and romping before delivering a strong indie punch.
Five singles and three videos were released from this album, all of which got lots of attention from press, listeners and YouTube viewers. One of the newer singles is "50%," a horn-tinged ditty that taps into The Vaughns' funky side, as does "TV," a struggle with morning and finances that features a sweltering solo by David Cacciatore. 
Another track that utilizes horns is "Coffee Sundae," which was released as a single last year. The surprising flirtation with jazz also sports an impressive solo by Cacciatore that recalls the fine slide playing of second Stones guitarist Mick Taylor. 
Another one of the latest singles and also the latest video is "Shout," the Makin Waves Song of the Week, which can be heard four times daily at AsburyMusic.com, as well as the Song of Week Spotify and YouTube playlists. The emotional rocker features vocals that squeal and guitars that squawk in a tug-of-war for the heart. 
A previous video, the hysterical "Bring Your Kids to Work Day," is as much fun to watch as it seems to have been to make. I love the way this song starts out sweet and innocent, like a cute kid, and then snarls into a nasty, grungy, blistering wash of guitar and accompanying feedback, as if that brat has grown into a teen and is driving his parents is nuts. 
Out since 2017 as both a single and a video, "Santa Cruz" is an in-your-face blast of indie rock that reminds me of Courtney Love and Hole. 
 "FOMO," a word that apparently relates to social media-driven anxiety, also features three other outstanding tracks that I actually would have preferred as promotional releases and is one of the best 1-2-3 punches released by a Jersey band so far this year:
• "Bby Save Me," a delicious and dynamic indie pop nugget that's as artistic in its delivery as it is commercial in its construction while offering a look at the trials and errors of a relationship
• "Stiff," a '90s-inspired nugget that recalls Nirvana, School of Fish, The Church and Soundgarden
• "July 4th," a genre-bending closing epic that features a melancholy, bird-like intro, a haunting guitar solo, a gang vocal over a march rhythm that turns into a punk rock cacophony, and then slows to a fragile false ending into an actual close that's a joyful romp.
Fantastic! 
The Vaughns will play June 22 at New York City's Irving Plaza opening for Brian Fallon of The Gaslight Anthem; July 4, White Chapel Projects, Long Branch; July 10, The Bowery Electric, New York City; July 14, Mac's Bar, Lansing, Mich.; July 15, Buzzbin Art & Music Shop, Canton, Ohio; July 16, The Ballet Haus, Erie, Pa.; July 18, Mohawk Palace, Buffalo, N.Y.; July 19, The Joint, Toronto; July 20, La Vitrola, Montreal, and WXPN's XPoNential Music Festival in Camden this summer with Elvis Costello, Blondie, The Wood Brothers, Low Cut Connie, Sister Sparrow & the Dirty Birds and many more.
If there still was such a thing as a New Dylan, Asbury Park folk-rocker Frank Lombardi definitely would be one because he sounds like so many of the tunesmiths who were labeled that. They include Harry Chapin, Gordon Lightfoot, Jackson Browne, Jerry Jeff Walker, and Lou Reed. On his passionately philosophical and painfully psychological third LP and label debut for Pete Mantas' long-dormant AirPlay Records, "Predawn," Lombardi also sounds at times like Dylan himself, as well as folk legend Pete Seeger and minimalist surf-rocker Jack Johnson.
"Predawn" expresses many emotions and thoughts of a restless heart and busy mind struggling to fall back asleep. I'm sure much of the album came pouring out in the wee wee hours that another Jersey Frank sang about. Besides conveying a great deal of emotion, like Browne, and chronicling and contemplating life in story songs, like Chapin and Lightfoot, Lombardi also is exceptionally good at drawing listeners in from the get-go with extremely strong opening verses. The album wonderfully opens this way with "Moral of the Story," a Chapin-like story-song about the love and importance of family and friends with some fine pickin' beneath it. He had me at: "Well this life has had its highs and lowest lows, and as the years, they start to show … Like a record that you played 'till it was toast, we all destroy what we love most." 
It can be glorious when a good song gets stuck in your head, which is pretty much how I determine the Makin Waves Song of the Week. That is the case with "Moral of the Story," as well as the second "Predawn" track, "Colors Awoke." The heartbreaking folk-rocker recalls the minimalism of Jack Johnson with the earnest passion of Lightfoot as it examines the negative impact placing too much priority on work can have on a romantic relationship. Sweet 'n' cool vocals by beloved Asbury songstress Emily Grove add exceptional harmony to Lombardi's plentiful arsenal of artistry.
It's really fun when it's really hard to choose between two or more tunes for Song of the Week. And the winner is "Moral of the Story," the more strongly written song, whereas "Colors Awoke" is more strongly performed. You can enjoy "Moral of the Story" four times daily at AsburyMusic.com, as well on Makin Waves' Spotify and YouTube playlists.
The largely acoustic 10-song "Predawn" also features "Feelin' the Gettin'," a beautifully and brilliantly executed exercise in futility that boasts another great opening verse: "Well, I've been getting' the feelin' that all of my feelings can't feel anything anymore. All that remains are these places I've been, and the soon to be places no more." The well-crafted tune goes on to make a statement about a lack of freedom and love throughout the world and how easy it is to make both actually happen. 
A gorgeous cello by Jennifer Fantaccione (River City Extension) glides into the rhymerrific second verse – "I've been feelin' the gettin' of all that's worth getting is bought, and I can never afford. And all I am seeing are these things with no meaning, with meaning on shelves and in stores." 
Tara Dente adds to the album's harmony on both "Feelin' the Gettin'" and "One Quick Move," a full-band effort that also features tasty playing from Black Flamingos/Plato Zorba guitarist Robbie Butkowski. "One Quick Move" looks at both the beauty and cruelty of life and suggests its meaning is to love in between being born and dying. Lombardi actually says it way better than me in the opening verse and chorus: "Never content with just an ordinary life. I must believe that there is more to this thing, than just getting by. Like a bird that always has its back turned toward the sky, the stars must be a hard thing to define. One quick move. One quick move. Or I am gone, gone, gone. Well this world can be most beautiful or vicious in the subtlest of tones." 
The countryesque "Gracefully" is a like a cross between an early Eagles song and Reed's "Sweet Jane."  "The Gatsby Hotel" is a haunting tune that recalls the passion of Lightfoot, the vocals of Pete Seeger, the melancholy chord structure of early Jackson Browne, especially "Opening Farewell," and the melody of Dylan's "Buckets of Rain." Also reminiscent of Seeger is the traditional-sounding original folk tune "If I Could." 
"Maybe I'm Gone" is fun fusion of folk and trad jazz, featuring a charming piano turn by Arlan Feiles. The tongue-in-cheek indictment of the country's political direction also skewers the news media's questionable coverage of it. "Carrying Me Away" is the sparse, cathartic confession of a broken soul that fans of Jerry Jeff Walker greatly will enjoy. And the closing "Come Home to Me" is a beautiful, poignant breakup song that contains one of the album's best written and sung lines: "When we first met, we drove to SoHo. I took you places you would never, ever go."  
Well, you should go to hear Lombardi play "Predawn," as well as selections from his first two albums – 2014's "Whiskey and the Mourning After" and 2015's "Francis Lombardi" – every Wednesday in June 26 at Asbury Park Yacht as part of the Rolling Ocean Revue. The residency features alone-and-together sets with Cranston Dean Band with Rachel Ana Dobken on drums.  Frank Lombardi is also playing July 5 opening for The Cold Seas at Langosta Lounge in Asbury Park. 
It does my old rock 'n' roll heart good to see young people like Stella Mrowicki writing real songs for real instruments. The young multi-instrumentalist was only 19 when she produced, recorded and mixed her amazing self-titled debut album and performed all its instruments and vocals as a project as an audio tech major at Rowan University, and younger still when she wrote the record's nine tracks. Stella much more easily could be a pop dance diva with backing tracks, but instead she's opted for the hard road not only musically and artistically but businesswise because it's tough to make it in the music industry these days with meaningful, largely acoustic songs. 
Most of the music industry wouldn't know a good record if it collectively was cut by the jagged shards of a CD, but one thing I know, "Stella Mrowicki" amazes me because there are so many layers to the album musically and lyrically. It boggles my mind that someone so young made the entire thing themselves. Throughout, Stella plays all the instruments, mainly piano, but also guitar, banjo, mandolin, harmonica, keyboards, percussion, drum and bass parts and more. 
While at times the mix is a bit muffled, making it difficult to discern otherwise strong lyrics, the ragged Liz Phair-like lo-fi production quality matches the melancholy, off-kilter characters who populate Stella's songs. Her rootsy, offbeat approach to lyricism will appeal to fans of the fellow Asbury Park-based act Lowlight, while her haunting, ethereal arrangements will please those who enjoy Cowboy Junkies and Mazzy Star.
Arranging and layering is where Stella's greatest potential lies. The album's layers of instrumentation and the way they work in and out of the songs at various levels of intensity are as fascinating as her emotionally raw, abrupt endings that recall an approach John Lennon used throughout his early solo career. He would just cut off a song in the midst of rousing emotion to stab your heart and tickle your mind to care and think even more about what you just heard. Stella takes a similar approach, such as on the emotional Dylanesque Americana epic, "Cake and Black Tea," about the loneliness, homesickness, financial struggles and other challenges a young adult faces on their own for the first time. I am particularly knocked out by the internal rhymes and harmonica solo. 
Whereas most producers would have ended this track with a second harmonica solo, Stella instead ends on a sad but sweet note with a breathless vocal. As the Makin Waves Song of the Week, you can enjoy "Cake and Black Tea" four times daily at AsburyMusic.com, as well on Makin Waves' Spotify and YouTube playlists.
"Lights," a rousing, rollicking Lennonesque exercise in regret and relief, is another example of a Stella song with an interesting, abrupt ending because of how intense the track is leading up to the close. Stella uses his lights as a metaphor of hope and understanding throughout the album, particularly on this track. I love the lines: "I am sick with nostalgia of the life I never had" and "I fall in and out of love with myself and my own life, and I see my future differently every single night."
The album opens with "Forgive Me," a rollicking, Suzanne Vega-like melody and rhyme scheme that chronicles a young woman's fantasy about growing old as a couple with her crush in the countryside where they can enjoy each other's company and solitude. "Back on B Street Blues" is a country-soul nugget with a gorgeous vocal turn that hits a high note on which Stella proves she can sing as well as she can do all the other talents it took to make this record. 
While "Carousel" is a bit too melodramatic, the look at broken dreams in the face of artistic struggle does boast a great line: "The sun is nowhere to be seen, but I still believe it exists." The rousing heartbreaker "Baby Boy," details a relationship with a selfish, spoiled lad, realizing "my eyes are full of traffic lights and things that I can't change."
On "Slow Dance to Me and Mrs. Jones," how the hope and glory of youth can turn into cynicism and despair is treated with a pretty melody and powerful statements, such as "We put all our faith into what we don't believe." And the beautifully spare piano-driven closer, "On the Surface," features some of the album's most stunning vocals.
Another of my favorite tracks is the Townes Van Zandt-like, ragged country-rocker "War Song." About broken hearts and dreams related to the military warfare of young soldiers too young to buy a whiskey but old enough to die, as well as the class warfare involving cash-strapped families whose only financial hope is to win the lottery, "War Song" is wise beyond Stella's years. I had to double check she wrote the beautiful, strong lyrics and the melody that recalls Van Zandt's "Pancho & Lefty," as well as a myriad of similar preceding traditional folk songs.
I love the chorus: "Oh, the lights are shining, disappointed angels crying, saving up for what we're trying desperately to sell. And oh, it sounds so clever. Come on boys, it's now or never. Don't you know there's only more to come?" Too bad Van Zandt isn't around to love "War Song," but maybe he will hear it in Rock 'n' Roll Heaven. 
Hopefully, John Prine will hear Stella's spot-on country-waltz cover of his "Christmas in Prison" when she opens for him on June 23 at Rockland Bergen Music Festival at German Masonic Park in Tappan, N.Y. The festival, which also will take place June 22, also will feature Steve Earle, Willie Nile Band, Guy Davis, Jeffrey Gaines, Christine Martucci, Joe D'Urso & Stone Caravan, Donna the Buffalo, Joe Purdy, Williams Honor, Joe D'Urso's Acoustic Excursion, The Roues Brothers and more. 
Stella also will play July 27 at Soulsational Music and Wellness Festival in Bayville, which is where she was raised. In regards to her album, I am very happy not only for her, but her proud pop, Asbury's legendary DJ Lee, one of my oldest friends in the New Jersey music scene. Lee's had a huge influence on the scene, but Stella is his crowning achievement.