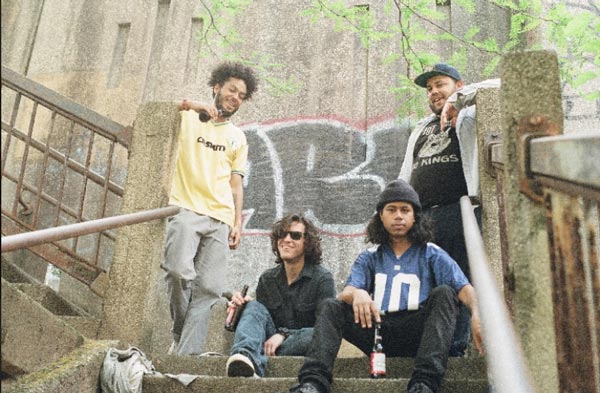 Newark-based punk-rap band Sunny Gang will celebrate the release of their long-awaited EP, "American Carnage," on June 21 at Asbury Park Brewery with Nervous Triggers, Offtopkills and OhWon.
After an almost two-year hiatus, Newark punk-rap foursome Sunny Gang is back with a new five-song EP, "American Carnage," their first release since the 2016 debut full-length, "Party Animal." Produced by former Hidden in Plain View guitarist Rob Freeman at Audio Pilot Studio in Boonton, the EP was written and recorded over the course of the break while the band's members transitioned from college life into the corporate world. The frustration that comes with joining the ranks of the working dead, putting their passions on hold in favor of sitting in cubicles and staring at the clock, has served as the main source of inspiration for the EP. 
The theme of the five-track middle finger to corporate life and the status quo kicks right off with the opening "Push to Start," the Makin Waves Song of the Week at AsburyMusic.com, as well on Makin Waves' Spotify and YouTube playlists. The second verse of "Push to Start" are some of the strongest lyrics I've heard so far this year from a Jersey band: "They said I need me a career, put a Bluetooth in my ear, cut my hair, buy a suit and be Employee of the Year. Happy hour with the bros, gotta go and crack a beer. Feelin' like I'm Patrick Bateman, make 'em all just disappear. They don't care about your dreams, and they hope that you ain't woke. Yeah, they praise if you're rich and abuse you if you're broke. It's a joke! Write your resume and fax it to the boss. Human capital, expandable, a factor of the cost. Operating at a loss, something they cannot accept. Either you live your life in debt or you work until your death. This is music for the deaf. Tie a noose around your neck. Hold onto what you got cuz you can lose it in a sec."
Wow!
Now, boys and girls, this is why Uncle Bobby always says, "Network, network, network" and "Brand, brand, brand," so that you make the American Dream come true with your music rather than have to live this American Nightmare. Eventually, this nightmare will lead us to a real-life Hunger Games if we don't stand up and do something about it! And that's just how I feel about the first track on "American Carnage."
Then there's the title track, which, like much of the EP, sounds like Rage against the Machine with a menacing message delivered on a bed of fat, tight rhythms via scorching guitars. Yet, while guitarist Chris Bacchus continues to demonstrate killer chops and bassist Joe Sap and drummer Marshal provide the musical wave on which he can surf, the centerpiece of "American Carnage," both the song and the entire EP, are the lyrics of rapper Nate Hitchock. With the title track, Nate shares how money doesn't provide happiness, especially if you have to work yourself to death to maintain a lifestyle you can't afford, not only financially, but emotionally and spiritually. Nate has some great lines on this tune too: "I got a $1 million home. It was worth $2 million when I bought it. I got a black card in my wallet burning holes in all my pockets … I got a race horse in my barn. I pay some guy to clean his shit. I hate my fucking job, but I can't afford to quit!"
"Das Kapital" is critical of the failing capitalist system in light of the happiness that can be found in socialist countries, such as Denmark, Norway, Australia and Canada. "Turbo Pecker or the Wreck of The S.S. McNasty" examines loyalty: "I see clouds on the horizon. I can feel the storm approaching. If I catch you jumpin' ship, I might leave you in the ocean," while also making a statement about increasing wage discrepancy: "It's lonely at the top and claustrophobic at the bottom." Closing this impressive assault on the senses, soul and mind is the Black Sabbath-like "Death Wish," a morbid affair with a fat bottom that would make Tony Iommi proud.
Help Sunny Gang celebrate "American Carnage" on June 21 at Asbury Park Brewery alongside Asbury punksters Nervous Triggers, Jersey Shore rap group OFFTOPKILLS and long-time Sunny Gang friend and collaborator, Newark-based rapper OhWon. You also can catch the fierce foursome this summer at Mad Liberation Festival in the Pine Barrens of Hammonton for their third year running. Mad Lib will take place the first weekend in August with nonstop music, arts and camping, including a headlining set by New Brunswick indie rockers Screaming Females.
Hopefully, Sunny Gang will be able to stay out of those cubicles long enough to announce more shows for the fall. In the meantime, check out "American Carnage." It's well worth your time.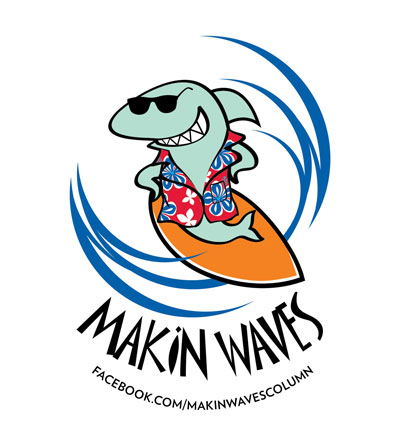 Bob Makin is the reporter for MyCentralJersey.com/entertainment and a former managing editor of The Aquarian Weekly, which launched this column in 1988. Contact him at makinwaves64@yahoo.com. And like Makin Waves at www.facebook.com/makinwavescolumn.