In support of her new five-song EP, Christine Mitchell will play July 27 at the Chubby Pickle in Highlands. PHOTO BY JOEY AFFATATO
Christine Mitchell makes folk and roots music that recalls '60s songstresses Joan Baez and Judy Collins. A beautiful voice tells easily relatable tales about relationships and dreams also within a setting of country gospel, jazz and good ol' rock 'n' roll.
Christine's five-song debut EP, "Table for Two," opens with the title track, a sweet, sunny Colbie Caillat-like country-rockin' slice-of-life that explores the mystery, anticipation and hopefulness of love. "Table for Two" is the Makin Waves Song of the Week, which you can enjoy four times daily at AsburyMusic.com, as well on Makin Waves' Spotify and YouTube playlists. 
I also love, love, love, "Not Lookin' Back," a country gospel-flavored look at a woman who refuses to be duped by a player. Fans of Collins and Baez, as well as Joni Mitchell, may most appreciate the pretty pleading of "White Paint," which structurally recalls such folk songs as "If I Had a Hammer" and "Where Have All the Flowers Gone," and lyrically resembles Kris Kristofferson's "Help Me Make It through the Night." 
The lovely, spirited vocal turn of "All We Can Do" offers hope in an age when it's vanishing rapidly. While it's not as soulful as Curtis Mayfield's "Keep on Pushin'" or Al Green's "Keep on Pushing Love," this great track has a similar sentiment, plus a gorgeous lap steel contribution from Chris Colon of Levy and the Oaks. 
The closing jazzy sass of "What's in It for Me?" offers the tale of a lass who comes to her senses and exits a dead-end relationship with a two-timer who can't settle down. "What's in It for Me?" sports one of my favorite verses on the EP: "But it's time to admit that there's nothing in it for me, baby. There's nothing in it for me because I need a man who won't waste my time, and when I'm with him, I can call him mine. It's been nice. It's been real fun, but a girl needs to know when it's time to run."
"Table for Two" was produced by brothers Matt and Chris Dubrow at Matt's Oceanport-based Firehouse Studio, where he also recorded, mixed and mastered. Christine has a dynamite all-star band backing her on the record. In addition to Colon and Chris Dubrow of The Burns on  bass/guitar/mandolin, there are Sophisticated Gentleman Owen Flanagan, drums/percussion; Gabe Sanderson, Matt Dubrow & the Captives, keyboards/guitar; Riley Schiro, Cranston Dean Band, guitar; Avery Mandeville, backing vocals, and a horn section of trumpeter David Myles Long and trombonist Andrew Ludwig. Some of them also will back her on a tour to be announced soon. In the meantime, they'll play July 27 at The Chubby Pickle, Highlands.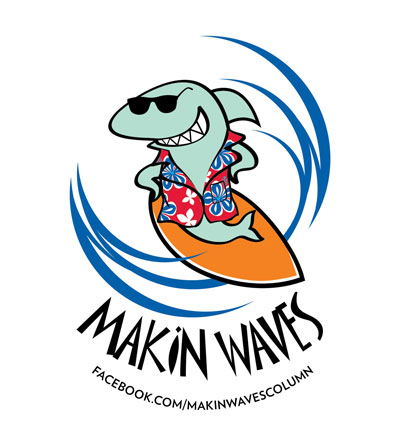 Bob Makin is the reporter for MyCentralJersey.com/entertainment and a former managing editor of The Aquarian Weekly, which launched this column in 1988. Contact him at makinwaves64@yahoo.com. And like Makin Waves at www.facebook.com/makinwavescolumn.