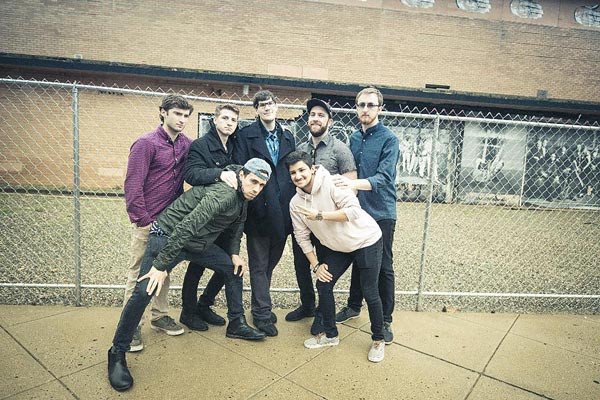 Never say die is a motto few bands live up to as intensely and successfully as New Brunswick-based Green Knuckle Material.  The band has been touring non-stop and will play four shows on the upcoming Garden State Hip Hop and Makin Waves Summer Rap 'n' Rock Tour. PHOTO COURTESY OF GKM
After nearly 40 years of covering the New Jersey music scene, I am convinced that determination is the greatest factor in a band's success. Determination to write the best songs and perform them to their best ability. Determination to place as much priority on networking and branding as songcraft and gigs. Determination to tour and continue touring even though doing so seems pointless for the first few years. Determination to make the band the greatest priority even though family, friends, day jobs and school may try to get in the way.
Green Knuckle Material are one of the best examples in today's scene of that kind of determination. 
The band started around 2016 in bassist, sole original member and manager Daniel "D-String" Ravenda's Bergen County basement with two friends, Chris and Ryan. With a drummer intact, Green Knuckle Material recorded and released their first album. And just as the gig meter started to get hot, Ravenda's band mates bailed. 
But rather than give up, the determined musician reassembled an even better lineup as evidenced by the edge they bring to recent re-recordings of three tracks from the debut release, Back to Your Roots. This coincides with a companion comic book D-String dreamed up to tell the band's story and follows the well-received 2017 EP, Renaissance and the new single, "Queen of Dragons," in honor of the Game of Thrones heroine-turned-villain Daenerys Targaryen. Brothers bound by a funky groove, a hip-hop vibe, an occasional jazzy jam and a strong foundation of acoustic rock, vocal harmonies and pop songwriting, rapper Scatterbrain PG, acoustic guitarist-lead vocalist YDK, drummer Tony Baja (the Hawaiian), saxophonist Sax Dan and guitarists Mudd Dog and The Cuban Missile are equally determined to succeed. Part of that success stems from the fact that they have strong followings and bases in North, Central and South Jersey. 
With that gig meter now scorching in the midst of their second of four tours planned for this year, GKM will continue on the Back to the Roots jaunt June 13 at Bumpin' Uglies' Weekend at Wolfie's festival in Bedford, Pa.; June 14, Willie McBride's, Hoboken, and June 15 at their own Bayville V Music Festival, their fifth annual bay-front fest. This year will feature Experiment 34, A Boy Named John, Sonoa, Boy Blue, MAPS, SPITSHINE, Good Luck Brother, Jared Knapik, and 81 Rich, which features GKM members.
Green Knuckle then will open for Tropidelic June 19 at Stanhope House, for Good Charlotte June 27 at Starland Ballroom in Sayreville, and for Badfish July 2 at Jenks in Point Pleasant Beach. Then they will partake in parts of a seven-date Mid-Atlantic summer tour organized by Makin Waves and Garden State Hip Hop with contributions on July 12 at Asbury Park Music Foundation; July 14, FM Bar, Jersey City; July 20, Sunnyvale, Brooklyn, and July 21, Blackthorn, New Brunswick. The rotating rap 'n' rock tour also will feature Dane the Beautiful Monster, The Band Called FUSE, Chalk & the Beige Americans, Black Suburbia Music Group, Chris Rockwell Collective, Apollo Ali, K-Prez, Mista Encore and DJ Ronny Rayz. 
In August, the band will embark on their fourth tour this year behind a new single that, like "Queen of Dragons," will be released on an LP next summer. In the fall, they expect to return as headliners to Asbury Park's fabled Stone Pony, where on March 2, they won the latest Rock the Top finals. They'll also kick off their August tour there opening for Rebelution on Aug. 4. 
I spoke with D-String about many things GKM, and throughout the chat, he expressed his dogged determination to lead this band to glory. But he also expressed how important the networking and relationship-building has been not only in makin' waves but also makin' many new friends. Enjoy!
Are you the only original member of Green Knuckle Material?
Technically you could say yes and technically you could say no.  The original idea of GKM was formed by two guys, Chris and Ryan, who both ended up leaving the band, but it was literally just two guys jamming in their basement. I pioneered the idea of GKM being an actual band with those two, as well as the original drummer, and I guess you could say that we were the founding four members, except we never actually did anything with that lineup except jam a few times in my basement. We started tracking the first LP and Ryan, as he's known to do, just disappeared. So we brought on Mike as the guitarist, and I look over lead vocals. That was the lineup we put the first LP out with and played our first six months of shows. So you could say that Mike (Mudd Dog) and I are the only two founding members left, you could say that I am the only founding member left, or you could say that there are no founding members left. I always looked at GKM as an idea that is bigger than any one person.
Side note: Ryan (the original singer) has since been found and is now living in New Paltz, N.Y., starting up his own organic farm. We stay in touch and talk all the time.
Had you been in previous bands?
My first-ever band was at Bergen Community College, where I was a part of the pop, rock and jazz ensembles. With a few buddies from that program, I started a band for my sister, Jenna, but that fizzled out rather quickly. We didn't even play any actual shows. My sister decided to go a different route with her musical career, and I went away to college at Rowan. While at Rowan, I played in small group jazz ensembles for my first two years before setting music aside to focus on my studies. By studies, I mean partying more.
What was the greatest inspiration to form Green Knuckle Material and why?
For me, Ryan (the progenitor) has been a huge inspiration in terms of how I approach songwriting. I never wrote lyrics, melodies or even sang before I met him. He was such a genuine person and really gave me the confidence to start writing and singing. Everything he ever did was very freestyle and improv, and so I adopted that style of writing as my own.
My father was another big influence, as he has a hand in producing all of our music and is a great help when it comes to really building complete parts. He always says that every part of a song is like building a house. You need to lay down a foundation and then go from there. This applies to a song as a whole, all the way down to the bass lines and drum patterns.  
YDK (current lead singer) has also brought a solid songwriting foundation and inspirations of his own to the team as well. He taught me a lot about writing catchier hooks, always capping them off, and making something that people could easily sing along too. We have very different but complimentary songwriting styles that work well together. YDK takes a very narrative, poppy approach to writing, while I take much more of a metaphorical and poetic route with my lyrics. But that makes sense when you think about his greatest influence, Ed Sheeren, and my greatest influence, Anthony Green. 
Then there's Scatterbrain who has influences all his own that he brings to the table as a lyricist and rapper. He's really amazing at adapting and writing to whatever topic we put in front of him. Plus, the energy he brings is outstanding!
Who else is in the band, what role do they have, and when and how did they join?
From the top down you have Mudd Dog (Mike): electric guitar. He was a friend of my cousin who just happened to be by my house one day while we were looking for a guitar player. Never really had much of choice.
Scatterbrain PG (Nick): rapper. So back when I knew that the original rapper was likely going to be leaving the band, I had contacted Nick, who I went to high school with, about joining the band. He at first told me that he was no longer playing music and not interested. But weeks later, he ended up having a change of heart and came over to check out the tunes and idea. The rest is history!
YDK (Young Dan): vocals/acoustic guitar. Dan and I were fraternity brothers at Rowan, but he joined after I had graduated. As part of the process, they take them hiking up at the Ramapo Reservation, and his class had spent the night in my apartment. He had mentioned to me that he played guitar, and my first thought was, 'Sure you do kid.' Flash forward a year later, GKM the original lineup had basically disbanded just after the release of the LP. Mike told me he would still play but wasn't going to look for new members. Matt the drummer quit (then later came back, then quit again), and Nick had not agreed to join yet. So I randomly hit up this kid from Rowan to come jam with me. I was having a show at my house that night so I told him come early and jam. He wasn't bad at guitar, played rather technically, and then he tells me, 'Hey, I can sing a bit too.' So in my mind I'm thinking, 'Sure you do kid,' and he starts playing 'Don't' by Ed Sheeren, and my jaw literally dropped. That night, we ended up playing a set at my house, and I asked him to join the band. He said, 'Yeah, I'd love to. Check with the guys and see what they think.' I responded, 'I am the guys. You're in!'  
Sax Dan: sax. Literally, we were not looking for a sax player at all. It was in the middle of recording 'Renaissance,' and I saw him post on Facebook that he was looking for a band. I just messaged him, and he came over and literally was putting down tracks the next day. Originally, he was just gonna be featured on the EP. I gave him our schedule and said, 'If you can make any of the shows, feel free to come out and play.' He just kept showing up. We never actually officially asked him to join the band, but for the record he is in!
Tony Baja (Anthony): drums. Early 2018, our drummer had just quit for the second time, and we were in a bind. We had been auditioning some guys but nothing panned out yet. We had a show booked at Rutgers, a battle of the bands hosted by the Musicians Guild that we ended up playing with backing drum tracks. In a couple of the bands, there was this kid in a Peru shirt, so Nick, who's Peruvian, was already advocating for the kid. During the break in between rounds, YDK was playing a solo set, and this kid jumps in on drums, so I jump in on bass. Like all good GKM stories, this one started with an Ed Sheeren song ('Shape of You'). After jamming, he came up to me and said, 'I wish your drummer was here, he's so good,' and I replied, 'Do you want to be him?'
The Cuban Missile (Brandon): electric guitar. Last August, we took to the road for almost a month, but Mike was unable to join us. So we asked Brandon, who plays in in 81 Rich with Anthony (another Rutgers band). He was pretty fantastic, and we fell in love with him … and bam! Every song got a lot better.
Comment on how the current lineup brings more edge to the band, particularly on the recent remakes of the three Back to Your Roots tracks.
Scatterbrain is really what makes the EP, as he is featured on a total of eight verses throughout the three songs. Original GKM was way heavier on the rap verses, so this EP is really showcasing him. His energy has really transformed these tunes into something with a lot more bite than the originals.
YDK brings a ton of punch when it comes to the vocal parts he took over, especially on 'Go That Way,' and adding in the horn section on that tune really brought it to a new level as well. 
How and why did you come up with the companion Back to the Roots comic book, and who designed it?
So I was always coming up with crazy back stories for the band and joking that I was going to make it into a comic book, and then I did it. I found a great artist, Brook Waterwriter, and wrote out a script. She illustrated the entire thing for me and bam!  
It started as a joke, but YDK, who was a marketing major, really reinforced to me that it was a good idea. People have been into it so far. I can't wait to write the next one.
You also recently released a single, 'Queen of Dragons,' before Daenerys Targaryen was turned from a heroine into a villain in Game of Thrones and was killed by her lover, who she finds out also is her nephew. What a great show! Why did you want to pay tribute to Dany and how did you feel when the single release was followed by her completely running amok and then her assassination in the last two episodes?
So that song idea originates back to when YDK first joined the band. We went bowling, and he was telling me of this song he wrote for GKM. Over time, we'd always go back to it, and we figured out a hook. Then as the show got closer, Scatterbrain and my father were really pressuring us to write and release this song with the show's final season. We sat down with my father and really arranged the whole thing. The song was written and recorded in just over a month. We didn't even play it together till after the song was released and already had 100K streams on Spotify.
The song is a metaphor for always looking for that perfect person and thinking, 'Maybe they're nowhere near me.' We thought we were writing a song about one of the most beloved characters in all of TV history, but then HBO turns around and turns her into a mass-murderer fascist dictator. Since then, streams for the song have gone done a bit. Not sure if there's a correlation or not. Thanks HBO. You win this round.
What is the status and expected release date of the EP or LP on which 'Queen of Dragons' will appear?
Hoping for summer 2020. We are going to start recording the first half of the album this month, and plan on releasing four to six of the songs as singles throughout the year leading up to the album release. This is pretty standard in today's music culture as every time you release a single it gives Spotify a chance to consider that song for a playlist and such. It also helps to drop an album that has songs, like 'Queen of Dragons,' that people are already into. So expect a bunch of singles this year and a full length in the summer, when we can release and book a tour around it.
In addition to being the bassist, you also are one of the songwriters and the manager of GKM. Which role do you enjoy most and why?
That's a tough choice.  In my heart of hearts, I am a bass player and songwriter. When I sit down with YDK, and we're writing music, it's like another-worldly feeling. But I do enjoy all the administrative stuff as well. 
Marketing is a big passion for Dan and I, as well as music. We literally talk on the phone for hours every day -- we call them fireside chats -- about marketing ideas and ways to build our brand on social media. I've taken a couple online courses on it as well that have helped a bunch.  
I also have found great joy as a promoter in doing almost all of the booking. The best, and I mean BEST part of being in a band is becoming part of these wonderful music communities and making really fantastic friends. To me community is everything. That's what makes it worthwhile!
As manager, you have helped the band's following grow exponentially on Spotify and Instagram. I watch you on social media nearly every day promote your band like few others Jersey acts do with great gigs and other interesting announcements, such as the comic book companion to the Back to Your Roots remake. How does it feel manage the band so successfully?
It feels pretty natural to be honest. Everything that happens, in my mind at least, is what is supposed to happen according to the plan. When YDK joined the band, he said something to me that really stuck with me: 'Make a plan and follow through with the plan. That is how you find success.'  Every big show, every release, every social media post, it's all planned. We put a lot of thought into the little things. For example, our performance. We were not always the energetic bunch you see now. Scatterbrain and I sat down and talked about what we could do better to make the show more entertaining and engaging, and then we brought that to the band. It's all about having a plan and executing!
Should a full-time career as a musician not manifest itself, do you think you eventually will pursue a career in the musician industry representing acts other than your own?
Nah, currently I have a very fulfilling career in education. I teach first grade in Paterson, so if GKM ever fizzled out, I already have a career that I am equally passionate about and that is equally fun and enjoyable. 
I always said that I don't really want to be in a band, I want to be in GKM. Our sound engineer, Doug Gallo from AGL Sounds, actually asked me a while ago if I was interested in managing bands, but it's just not something I'm looking to do. There's only one band for me, and that's GKM!
Green Knuckle Material had many great gigs and other accomplishments in the past two years. Which do you think is your greatest and why?
Despite all the big gigs and big numbers on Spotify, the real accomplishment I'm proud of is becoming part of the wonderful music scene here in NJ. The support has been second to none, and the friendships we've made are really special. I'm more honored to be a part of the NJ DIY scene than anything else!
How did it feel to win the Stone Pony's Rock to the Top, and how and why has that helped the band?
It was pretty nice, particularly since we've lost every other battle of the bands we'd been a part of before that one. With every loss though, we tried to take something from it and improve upon our performance. 
The win definitely helps with notoriety and prestige, as well as the prize money and merch. We're most excited for the headline show at the Pony. I want to really put a ton of effort in promoting the show and get three to four other bands that will do the same. I'd like to get as close as possible to selling that one out. I was there the night that Deal Casino sold it out last summer, and it was just awe inspiring. 
When will you cash in the Pony's prize of headlining the legendary club and will that coincide with a release?
I'd like to do a Halloween show Oct 26, but nothing is set in stone yet. If not that, maybe a Thanksgiving Eve or Black Friday show, something big that we can promote around. More than likely, we will have a single release to coincide with the show.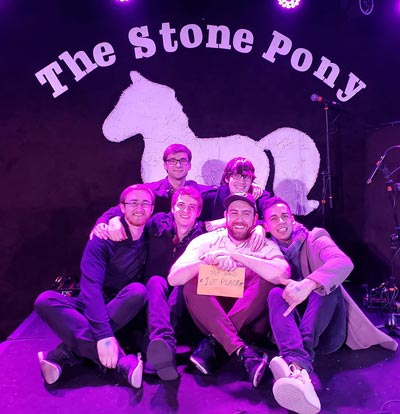 Green Knuckle Material winning the Stone Pony Rock to the Top Contest on March 4. They will return their Aug. 2 opening for Rebelution on the Stone Pony Summerstage and in the fall to headline the fabled Asbury Park venue. PHOTO COURTESY OF GREEN KNUCKLE MATERIAL
You have your fifth annual music festival coming up in Bayville. Comment on what you're looking forward to most about it and why?
Bayville is always a good time. The best part is all of the bands that we have become really good friends with coming through and having a good time. I look at Bayville as a giant party for all our friends, and so, far that is what it has been.
The festival always reminds me that your base of operation is nearly as diverse as your music and lineup. Comment on how growing up in Bergen County in North Jersey, members attending Rutgers University in Central Jersey and having a family summer home in Bayville in South Jersey has impacted the breadth of the band's following.
Since day one, our goal has always been to be based out of New Brunswick. It took us quite some time to set up a base of operations there, but It has worked out wonderfully. That legendary battle of the bands where we met Anthony really helped to change the scene in NB. It brought in a new wave of diverse acts that just wanted to play music and have a good time. Before that, different genres were not as prevalent in NB, but now you can go to a show and see a rap-rock band, a blues band, and an indie-rock band all at once. They're all good, they're all friends, and they're all fun.  
What do you think of the concept of the Garden State Hip Hop & Makin Waves Rap 'n' Rock Tour, presenting musically and racially mixed bills throughout the Mid-Atlantic in July?
Love the idea. It's something that scene really needs. Hip hop for some reason gets a bad reputation, but honestly, some of the most fun shows I've ever been a part of have been hip-hop shows.
In August, the band plan to embark on their third tour in as many months. What details about that can you share?
Right now not much as we are still solidifying dates. I know we have a couple shows in Asbury on Aug. 4 at the Pony with Rebelution and Aug. 9 at the Saint to kick it off, but everything else is currently being worked out.
Is there anything I didn't ask on which you would like to comment?
Thank you for your time as always Bob. You were one of the first people to acknowledge and support us as a band, and that is something I'll never forget!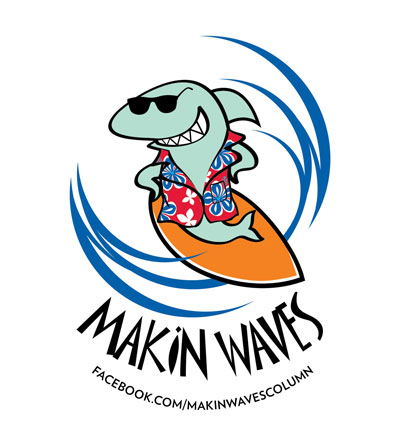 Bob Makin is the reporter for MyCentralJersey.com/entertainment and a former managing editor of The Aquarian Weekly, which launched this column in 1988. Contact him at makinwaves64@yahoo.com. And like Makin Waves at www.facebook.com/makinwavescolumn.