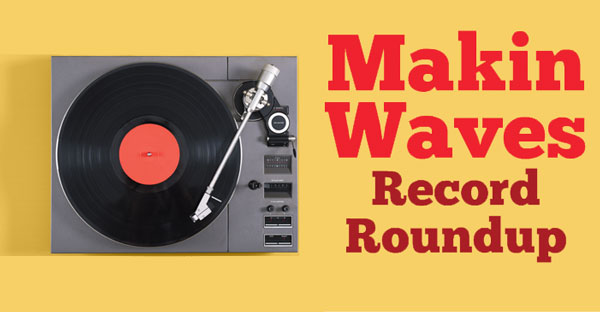 The cover of Little Vicious' forthcoming LP, "Dark Country," depicts a woman with a serpent tattoo handing a skeleton key over to another woman. Perhaps this symbolizes main creative force Marguerite King selling her rock 'n' roll soul to the devil. Granted, when she first returned home around 2017 to the Asbury Park area after a few years of success in the Boulder music scene, Little Vicious was good, initially a two-piece with Marguerite on guitar and a rotating seat of drummers. Now a trio featuring bass to pick up a fat, wicked-sounding bottom, LV have become face-meltingly awesome because Marguerite can devote herself to her music fulltime rather than a pesky day job. Yet, the devil lurks in the shadows, waiting, wanting one more dance with her wildly radiant spirit.    
"Dark Country" is Marguerite's 12-song dance down the imposing mountains of Boulder across a whiskey-rattled cigarette-chain highway to the citified seaside of Asbury Park. Overcoming adversity and disappointment, she keeps on keepin' on, becoming a local legend in a city filled with them, their faces blasted onto public buildings like a musical Mount Rushmore. 
If it was the early 1990s, the album's smokin', gnarly mix of stoner rock, blues, punk and pop would be described as grunge. While that description may seem dated, the spine-rattling results are similar. 
Three things are certain: 
• "Dark Country" is the kind of loud, noisy, ballsy record that's great to blast down the highway speeding in a convertible or on a motorcycle
• Little Vicious prove that there's hope for rock 'n' roll in an age when the genre either has been driven underground or forced into corporate facsimile
• Marguerite, who also handles studio bass duties, drummer Eric Pierce and co-producer Pete Steinkopf of The Bouncing Souls have made the best NJ indie album released so far this year. 
Among the many things I love about "Dark Country" are the false endings or pregnant pauses on "Hit You Right," a spooky inversion of Stevie Wonder's "Superstition," the soul-snarled "… To Be Honest," "Soul Collector," a grunge tornado that examines the shame of being vain with a dual guitar solo overlain between Marguerite and herself, and the standout "Voodoo." The Makin Waves Song of the Week at AsburyMusic.com, Spotify and YouTube, "Voodoo" is a trippy lust fest that sounds like the soundtrack to an orgy in an opium den, which should make Monster Magnet fans clamor for Little Vicious as an opening act. 
The Song of the Week is whichever tune most sticks in my head while listening to and writing about the Record of the Week. "Voodoo" had some stiff competition with the infectious thunder of the opening "Make Me Wait," which dichotomously might appeal to the fans of the punk-fueled emotion of Screaming Females and the gritty, grimy blues of Nashville Pussy. Equally great is "Hold Ya'," the spawn of a '60s girl group if they had a rock 'n' roll baby with MC5. The tale of a forlorn lass in love with a deadbeat," "Hold Ya'" features the great refraining bridge: "Another whiskey, another smoke. Won't you come home baby before you're broke?" 
"Dark Country" also features a couple of cool Nirvana guitar references, such as the tuned-down guitar squawk on the eerie "Reign Electric" and the "Smells like Teen Spirit"-like shuffle on the bluesy "Fade." Also, a Nirvanaesque pop sheen shellacs most of the songs' verses, but then Marguerite spits out a punk-metal venom and shreds bewitching riffs in the choruses that are even darker, heavier and harder than Nirvana, more like Monster Magnet in some cases and Danzig in others. 
The album also includes the blasting punk-rap of "Surf Dance (Strip Beats)," the empowering outlaw strut of "Blood Spitter," the bitter breakup of "Sweet Sorrow," and the fiery closer, "Spotlights," which sums up all the passion that went into "Dark Country."  
As good as this album is, Little Vicious are even better live and feature Tom Morrison on drumsand Greg Black on bass. After they rock Orlando's Standard Music Co. again on June 10, they'll take a bit of a break from the road before playing New York, Philly and Asbury in late July and then the Southeast in mid-August. 
Do you love the Sounds of Asbury Park, early Southside Johnny & the Asbury Jukes, as well as such Bruce Springsteen songs as "Kitty's Back," "10th Avenue Freeze-Out" and "Thundercrack"? Then you are going to love Little Steven's new album, "Summer of Sorcery," his first collection of new material in 20 years. While the 12 tracks are extremely derivative, they're so good and such great fun, I don't think anyone who loves '60s and '70s soul, R&B and rock is going to care. The album is a joyful return to the greatness of those magically musical days when the Sounds of Asbury Park were the soundtrack to many a hot summer night. 
The fun kicks off with the James  Brown-inspired "Communion," which features great backing vocals by the Disciples of Souls' Jessie Wagner, Sara Devine and Tania Jones, and delightful Motown-like handclaps and bass vox in the bridge, which returns as a closing vamp but with a nod to the Age of Aquarius on the eve of the 50th anniversary of Woodstock. Back then, Steven was slugging it out with Bruce at the Upstage, but now he's a commander of soul, and on this track, tells the Disciples, "Take it to the bridge," just like JB did.
"Party Mambo" is a festive but meaningful Latin-driven track that owes as much to New Orleans great Professor Longhair — a huge influence on the Sounds of Asbury Park — as it does the Hispanic Caribbean. The '60s-style soul nugget "Love Again" is reminiscent of the many songs Steven has written for Southside, Gary "U.S." Bonds, Darlene Love and Ronnie Spector. Fortunately, he saved this one for himself in a showcase of the sweet sunniness of the Disciples of Soul.
One of my favorite tracks, "Vortex," is the kind of '70s-style funk 'n' soul found on the Blaxploitation soundtracks of "Superfly" by Curtis Mayfield and "Shaft" by Isaac Hayes.  The mesmerizing tune features splendid horn and string arrangements, a fantastic flute performance by longtime Juke Stan Harrison and a great tribal rhythm from percussionist Anthony Almonte that recalls Earth Wind & Fire. 
Another standout is "A World of Our Own," a Phil Spector-like mid-'60s girl-group song through the off-kilter filter of Elvis Costello that fondly recalls the innocence of the era before sex 'n' drugs became a predominate expression of rock 'n' roll. The soul-jazz of "Gravity" features tasty horn lines and more delicious chick backing vox. With "Soul Power Twist," Steven gives us a good dose of Chubby Checker and Sam Cooke but with a shot of B3 à la Hammond greats Jimmy Smith and Jimmy McGriff. 
Among the best of the dozen is "Superfly Terraplane," the title of which made me expect more Curtis Mayfield. I was surprised to find a very Springsteen-like track filled with the energetic roots foundation upon which the Boss typically builds his iconic heartland rock. 
According to my friend of 35 years, Lee Mrowicki, a DJ and manager of the Stone Pony, the tune was inspired by Steven's red Cadillac convertible that he had when he lived in 1976 near the then new club. Lee said, "It had Miami Steve license plates that Obie had to replace when they were stolen by fans. It was also pictured on the Asbury Jukes Christmas card that year." 
Fun stuff! Almost as fun are the songs great lines: "Mr. Babyboom answer one thing before I fly. Which one of you assholes blew a hole in the sky? … My generation ain't pussies. We don't need guns to have a blast. Take that second amendment and stick it up your ass!" I also love the mariachi horn line in the break of this song in which Steven relives his youth as a modern-day Millennial lamenting the damage his actual generation has done politically and environmentally. 
A longtime supporter of education, particularly with his TeachRock curriculum that aims to preserve American music history, Steven gives a nod to good teachers who do their best within an increasingly shitty system via the Indian-spiced raga-rock of "Education." The exotic tune features great use of sitar and tabla. Also exotic-sounding is "Suddenly You," a sultry love song with great trumpet parts by Ron Tooley and Ravi Best.  
On "I Visit the Blues," Steven does that just by enthusiastically recalling his early days in the pre-Jukes outfit Blackberry Booze Band. He boldly sings, "I ain't looking for no trouble baby, but if you need some, I'm your man. I do my drinkin' with Mr. Lucifer. Canceled my ticket to the Promised Land."
And that brings us to what in my opinion is the best new Steven song: "Summer of Sorcery"  the percussive, largely acoustic Springsteen-like closing title track that builds into an epic Spectoresque pop-chestra, kind of like an innocent prequel to that which was lost in "Jungleland." 
A good chunk of this rhythm & bluesy, rock 'n' soul collection also can be heard live. Upcoming area dates of are July 16 at College Street Music Hall in New Haven; July 18 at The Paramount in Huntington, NY; July 20 at Keswick Theatre in Glenside, Pa., and July 26 at the State Theatre in Easton.
Wanna put a smile on your face? Listen to "Slack," the opening track of Mike Daly & the Planets' sophomore LP, "All It Takes Is One."
For more than for 30 years, Daly has written fun songs with clever wordplay, but "Slack" may have topped them all with a Beatles-meets-Redd Kross sense of power -pop complete with entertainingly endearing backing harmonies by guitarist John Reynolds, bassist Jim Van Sickle and drummer Jim Smith. Daly hysterically explains how he once had ambition but hopes he never gets it back. Instead, he'd rather "slack." The fun rhymes on this song fill me with joy and that, in large part, is what music should be all about.
I also really love the cut-out ending, which, of course, Nirvana used effectively throughout their all-too-brief recording career. "Slack" is the Makin Waves Song of the Week at Asburymusic.com, as well as on Spotify and YouTube playlists. The album also contains:
• "Come Along," a journey down the rabbit hole into the madness of a relationship, featuring a guitar-rippin' intro akin to The Beatles' "Revolution"
• "Any Given Night," a Tom Petty-like, Springsteenesque  narrative about a wild friend who dies that reminds me of a cross between "Mary Jane's Last Dance" and "Bobby Jean," while Reynolds rings true with a couple of Mike Campbell-like solos riddled with attitude,  yet also filled with chops
• "Find the Pleasure," pretty, passionate jangle that will please fans of Thy Byrds and R.E.M. as  it aims to advise a young person as they come of age about the various avenues of life, such as pleasure, pain, passion, wisdom, hate and fear
• "Nonsense," an oddly rollicking lament about the nonsense of life that combines the lyrical folk-rock and salt-and-vinegar vocal approach of Bob Dylan with the power-poppin' roots-rock of Traveling Wilburys
• "Stupid Me," a deeply meaningful epic that cleverly rhymes for seven minutes about hanging onto hope until an inspiring gang-vocal that recalls "1,000 Keys" by The Cryptkeeper Five" comes to close with another great use of a cut-out ending on what should have been the closing track
• "Here She Comes Again," a chunky, crunchy take on heartache at the hands of a fickle female
• "Weary," a passionate pop exercise in self-loathing
• "Star," an energetic love song, featuring a great harmonica solo by guest James Higgins, dedicated to a woman who lacks confidence but is the star in the eyes of her lover, according to some of the most fetching rhymes on the album, such as the second verse: "It's not just lust. It's not even about us. Know that you've always had my undying admiration. It's about you and that voodoo that you do --the sparkle in your eyes, the mischief in your smile. If I could give anything to you, I'd give you the confidence to be the star you are." I just wish this otherwise strong song had an ending as dynamic as Higgins' harmonica solo because it kind of just fizzles out and deserves a better finish.
• "The Hardest Drug," harmonic love song that compares dependence on a relationship to addiction 
• "She Walks Among Us," a '50s-style punk-tinged ditty that's a throwaway as the closer within this sequence, but would have worked great on the "Abbey Road" tip coming after "Stupid Me" if that were the second-to-last track. 
No doubt Daly is one of New Jersey's best and most unsung singer-songwriters with a rich baritone croon and a knack for clever wordplay, like our own Elvis Costello. And the Planets' roots-rockin' power-pop is a great live. Check them out June 23, FM Bar, Jersey City; July 6, Crossroads, Garwood; Sept. 13, Roxy & Dukes, Dunellen, and Sept. 20, Tierney's Tavern, Montclair.