originally published: 05/17/2019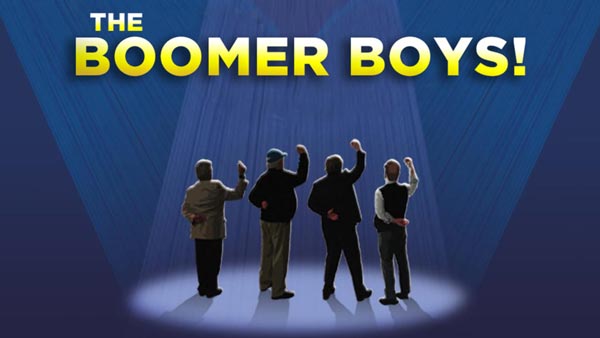 (TOMS RIVER, NJ) -- Meet The Boomer Boys! In this hilarious musical revue, a fun-loving "fat pack" of middle age men realize that the best way to deal with getting older is to laugh about it with your friends. That's exactly what these guys do as they navigate everything from the depths of expanding waistlines to the heights of Viagra. Don't miss this show, at the Jay and Linda Grunin Center for the Arts on Saturday, June 22 at 5:00pm. 
The Journal called The Boomer Boys' performance "wincingly FUNNY! A laugh from start to finish!" Liz Jeressi, from "Lou and Liz in the Morning" on 94.3 The Point (WJLK FM), said, "It was like someone threw me on the floor and started tickling me. My laughter could not be contained!" And Front Row Center exclaimed:  "SHEER JOY! Enjoy the goofy, good-natured, youthful spirit of The Boomer Boys if it ever comes your way!" 
Ladies, now is your chance to find out what men are really thinking as this hilarious evening of songs covers everything from snoring and hair loss to weight gain and lost car keys. If a hysterical night of songs, jokes and stories is on your to-do list, spend a night with The Boomer Boys!
The Boomer Boys creative team includes Book and Lyrics: Billy Van Zandt and Jane Milmore; Music: Wayland Pickard; Director: Billy Van Zandt; Musical Director: Beth Moore; Choreography: Michele Mossay; Stage Manager: Carrie Pennington; Produced by: Joe Corcoran and Gary Shaffer.
Tickets are $22-$27 and are available for purchase online or by contacting the Grunin Center at 732-255-0500. The Grunin Center is located on the Ocean County College Main Campus, on College Drive in Toms River.
---