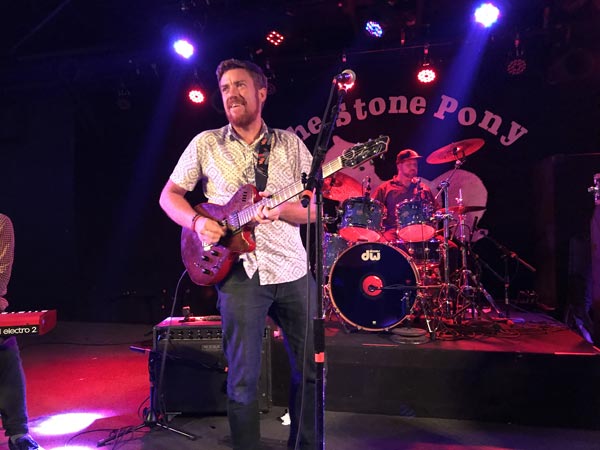 Secret Sound are pictured at Asbury Park's fabled Stone Pony, where they've played about 65 times throughout their near 20-year history. Upcoming shows include the Third Annual Makin Waves Jam 'n' Groove Fest on May 19 at the Brighton Bar in Long Branch. PHOTO BY BOB MAKIN

This fall, Secret Sound will celebrate their 20th anniversary, but beforehand, they'll help the Jersey Shore jam scene celebrate the 50th anniversaries of The Allman Brothers Band, The Meters and Little Feat at the Third Annual Makin Waves Jam 'n' Groove Fest on May 19 at the Brighton Bar in Long Branch.
With a fusion of rock, funk and jazz, Secret Sound are one of Jersey's top original jam outfits. Guitarist Kevin Hill formed the band in 1999 while a jazz and classical music student at Rutgers University's Mason Gross School of the Arts in New Brunswick. Eventually gravitating to the Jersey Shore jam scene, Hill, drummer Adam Alexander, bassist Dave Ferraro and keyboardist Andy Feldman, as well as their fans, have become a family. Make that a jamily.  
Their home away from home is the Stone Pony, where the band have played more than 65 times. Most memorably there, they recreated the Allman Brothers Band's 1971 masterpiece "Live at the Fillmore" and shared the stage Dark Star Orchestra and Umphrey's McGee. Other headlining spots have included a David Bowie tribute concert and the release party for last year's self-titled EP. Gestating for 19 years as live music, the EP has gained an audience as far away as Africa.
I personally can attest to the Secret Sound Jamily. On March 23, I was one of five friends who rode in a van from Olde Village Pub in Middletown to the Cutting Room in New York City. The van was scaled down from a bus because not enough people bought in. We all feared Secret Sound would bomb in their debut at this big city venue. But like the closing scene of "It's a Wonderful Life," friends came from all over to honor Secret Sound and packed the room, impressing the owner, who plans to have them back. 
In the meantime, a very full summer concert schedule will call upon Secret Sound to pay tribute to the Allmans once again on May 19 at the Brighton Bar as the headliner of the Third Annual Makin Waves Jam 'n' Groove Fest. The event will be in 50th anniversary tribute to the Allmans, as well as The Meters and Little Feat, all big influences on Hill and his band mates. Interspersed with their own jam 'n' groove repertoire, Secret Sound will play The Meters' "Just Kissed My Baby" and the Allmans' "Hot'lanta" and "Whipping Post," which will close a seven-hour show that also will feature Dogs in a Pile, Dark City Strings, The Inflatable Head, Fungkshui, Ten Foot Tall, Mike Montrey Band and The Green Planet Band, paying tribute and playing their own.
Secret Sound's summer concert season also will include May 17, Donovan's Reef, Sea Bright; May 17; May 18, Spring Lake Tap House; June 8, DROM, New York City; June 28, Pattenburg House, Asbury (Hunterdon County); Aug. 22 Jams on the Sand, Anchor's Bend, Asbury Park, with Mystic Bowie's Talking Dreads, as well as Sundays throughout the summer at Reef & Barrel in Manasquan, and, of course, the hot weekly open jam they do Thursdays at Headroom Bar & Social in Jersey City. The Jams on the Sand show will coincide with the release of the follow-up to the debut EP. 
I recently chatted with Hill about his beloved band, as well as his experience as a solo jazz player and the influence the Allmans, The Meters and Little Feat have had. Enjoy! 
Before and during Secret Sound, you have been a jazz guitarist. Do you still play solo jazz?

I feel like I'm always playing jazz! I've had a regular Sunday gig in Red Bank at Siam Garden playing solo guitar where I play standards and original jazz music I've written. That gig has maintained a close connection for me to the music of Ellington, Monk, Coltrane, Miles and Wayne Shorter, who is from Newark originally.
Secret Sound was the first real band I was in actually! Before releasing my jazz album, 'Tolerance,' I worked with organist Radam Schwartz and was a member of the house band at the Tuesday Jazz Jam at Crossroads in Garwood. I learned more playing every week with much older musicians, especially drummer Don Williams, who played with every major jazz organist from Jimmy Smith to Jimmy McGriff. He and Radam passively and actively taught me the feeling of the music and the swing groove became just a part of my psyche.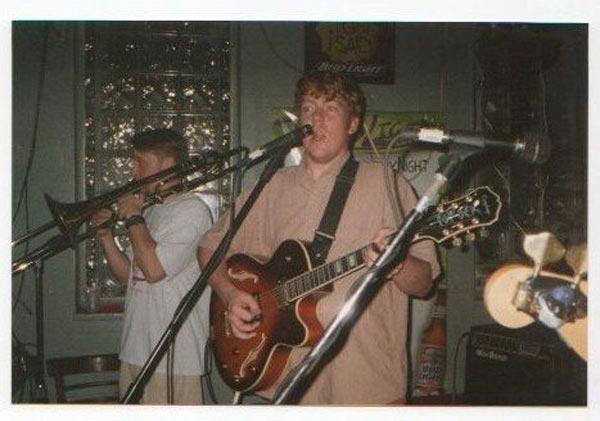 Secret Sound circa 2000 at Plum Street Pub in New Brunwick. PHOTO COURTESY OF KEVIN HILL
When and why did you form Secret Sound? Why did you want to augment playing jazz with playing in a jam band?
Secret Sound formed in the fall of 1999 when I was a wee lad at school at Rutgers University. We had the opportunity to play every Wednesday at the Plum Street Pub, which was a classic New Brunswick dive, only divier. Secret Sound came out of that regular gig. I was in school for jazz, but already loved the Grateful Dead and Phish. All of my non music major friends were into that music, the hippy lifestyle and I was no different.  We played Dead, Allman and Dylan covers but also threw in tunes by Weather Report, Horace Silver and some original instrumental tunes that veered toward a jazz sound, thereby forging Secret Sound's identity. The fact that people were dancing and having a really, really good time at our shows was a far different experience than playing jazz, where most of the time the audience is seated and for the most part trying to figure out what is going on musically.  There was no wall between band and audience when I saw the Grateful Dead with Jerry Garcia in 1995 and the numerous times I saw Phish. The fact that there were gorgeous hippy girls at those shows and not at jazz events also very much informed my direction as a young man - I have to admit!
What I love about the way you play in Secret Sound is that you play like a jazz guy, especially the way you hold the guitar up high on your waist almost at your chest. Comment on how your jazz chops lay a foundation for the jams in Secret Sound.
I hold the guitar up that high because I ended up with a degree in classical guitar, and it's literally the best way to hold a guitar to reach chords and avoid hurting yourself if you play too much.  I couldn't hold the guitar the way Krist Novoselic from Nirvana held the bass and play the way I'd like.  I'd have carpal tunnel syndrome in two weeks, and I couldn't play strange unnamable chords either!  I think my jazz chops -- but more importantly the jazz approach to improvisation and to composition -- really lays the foundation for what goes on in Secret Sound.  Our keyboard player, Andy Feldman, also has ridiculous jazz chops, a fantastic ear for unconventional harmony and is a super sensitive group improviser with almost instantaneous reaction time inside the musical moment.  He blows my mind every time we play.
Comment on how you literally make the guitar talk and what effect enables you to do that.
The literal piece of equipment is the Electro Harmonix Iron Lung Vocoder pedal.  It's like a talk box but uses a vocal microphone that is part of my guitar effects chain. I've tried more recently to make my phrasing more speech-like and less like Coltrane sheets of sound, which I accomplish with varying degrees of success, but the Vocoder is really entertaining to people and also give our sound some legit electronic moments that really only recently became part of the fabric of jam music.
What's your favorite guitar effect and why?
My favorite guitar effect is a tie between delay and the pitch shifter. I stole several techniques of using delay from Carlos Santana, and it's a big part of my sound at times.  The pitch shifter is another example of the electronic element that pervades music today. It also can make my guitar sound sort of like an electronic flute or penny whistle, which always perks up the ears like a surprised German shepherd dog.
The band originated in what once was a great New Brunswick jam 'n' groove scene. How did that scene inspire, fuel and employ Secret Sound?
I was initially inspired to really get into that scene by a band called Fatty Lumpkin. As a freshman jazz weirdo at Mason Gross who also knew a bunch of Dead tunes, I was invited to sit in with them a bunch of times, and it really got me acquainted with that scene. I was not of legal age to be going to most shows, but my guitar got me in the door of places like Plum Street, the Budapest, Tumulty's and Harvest Moon. Musicians like Antar Goodwin and Melvin McKnight really embraced me and encouraged me. I sounded good but was really, really geeky. It took years to figure that out! We had regular gigs at Plum Street as I mentioned, Harvest Moon and Doll's Place, and some really awesome bartenders, like "Brother" Bob Richards and Anthony DiLeo -- an amazing songwriter and vocalist of the Fighting Amish -- helped give us the work we needed to get it together.
How does the Jersey Shore jam band scene you now are a big part of compare to that old Hub City scene and what made you want to gravitate to it?
We gravitated to the Shore and The Stone Pony in particular because when we were coming up, legends like Johnny Winter, Levon Helm and Dickey Betts were playing Asbury Park, and we wanted to get heard by them. We ended up opening for all of those guys and a bunch more.
The Jersey Shore jam band scene right now is hyper-focused on tribute music. It is a very nice thing that the music is being played but creates problems for original acts. The Jersey Shore sound has always been a throwback to soul music and Motown. It makes sense. The bands in the bars during summertime had to entertain the tourists and party folks. The same phenomenon is happening inside the jam scene as well. Talent buyers want to keep their job, which is totally understandable, and the safest thing to do is to book cover bands that put butts in the seats and rings on the register. I don't blame them at all, but it creates a backlash against new local music and prevents new awesome original bands from even gaining traction.
Jerry Garcia said the Dead were like licorice, you either loved it or hated it. Unfortunately, some people live on a licorice-only diet and are hesitant to give new music a try. I'd frankly like Secret Sound to be considered more than a jam band -- although we do usually play a Dead or Phish tune or three on a given night in smaller venues because the songs are so much fun and the lyrics of Grateful Dead songs give me chills to sing.
The New Brunswick jam scene was all about experimentation and new music.  Nowadays, that scene has been driven underground because the nightlife establishments in New Brunswick are so far into the dark vibes of objectification and super-drunk DJ parties.
Are you the sole original member of Secret Sound?
Our drummer, Adam Alexander, and (bassist) Dave Ferraro go back to our earliest shows in Asbury and New Brunswick in 2000-2001 or so.
When did you hook up with them, and with what other bands did and/or do they play?
Alexander, Ferraro and Feldman are the band mates. Adam played with Barefeet and Co., a jam band from West Virginia when he was in school at WVU. Ferraro played with Days Awake during his time with Secret Sound. We grabbed Andy from Turtle Soup, and Jeff "Mudd" Mahajan lets me know on a regular basis of our crimes.
Do you teach guitar?
Yes, I do. I get to do music full time. I went to school for it so I'm also able to teach some other instruments. I have a piano student that is playing Franz Liszt right now and a young jazz saxophone student that is going to definitely pursue music. I can play sax pretty well, but I defer to YouTube when it comes to checking out the Franz Liszt music. I help in matters of learning how to practice and figuring out dense notation and fingerings on the keyboard. I'm basically a charlatan. Guitar is my main instrument though, and I have a method book on improvisation and learning how to practice efficiently in the works.
How many students do you have and where?
I have roughly 30 students, primarily at Absolute Music in Hazlet. I also have a few private students with whom I work on more advanced playing. I have one student who is yet to perform publicly, and I feel like Dr. Frankenstein waiting to turn him loose on an unsuspecting village!
Have any of your students gone on to form bands or get gigs of note?
One of my students, Emily Case, is the guitarist with Switch Mob, who is a young band that fuses funk, rock and hip hop. They are playing a ton and doing some regional shows. Several of my students have opened recording studios and one is involved with a major label currently.


Kevin Hill Trio, featuring Radam Schwartz, left, one of his jazz professors at Rutgers University's Mason Gross School of the Arts, and drummer Mike Heay. PHOTO COURTESY OF KEVIN HILL
Switch Mob are on a summer tour that Garden State Hip Hop and Makin Waves are putting together. How many records have you released as a solo jazz act, when and on what labels?
Only one: I released 'Tolerance' on Summit Records in 2013. It is an organ trio record featuring Radam Schwartz and the incredible drummer Alvester Garnett.
Have you played as a session man on any records you want to mention?
I played as a session man on a great Irish/English/Medieval folk record called 'Coeur de Lion.' I played mandolin, guitar and some other bizarre string instruments. It was a lot of fun. I've played on several jazz records, most notably with Radam Schwartz. I've been fortunate to have such wide experience in music.
How many records have Secret Sound released and when?
Only the 2018 EP; we were primarily a gigging band for so long.
What are you most proud about your 2018 EP?
The fact that we finally immortalized some of our music. I'm especially proud of how perfect the tune 'Largemouth Bass' came out as a rock/swampy country radio-friendly song. 'Metatron' sounds so epic and huge that it really does capture the live feeling of us in fifth gear on a big stage. The single 'I'll Be Your Jungle Lover' has been added to numerous worldwide funk playlists and is in heavy rotation on an African radio station that apparently has a huge signal. We've been getting followers and Facebook likes from South Africa, Namibia and as far north as Kenya and Ethiopia.
What is the status of releasing a follow-up record?
We will be dropping the next one in conjunction with our appearance at Jams on the Sand in Asbury Park in August!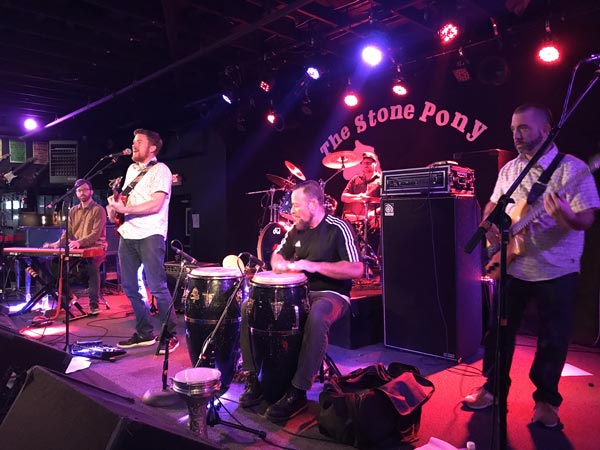 Secret Sound at their EP release party in 2018 at the Stone Pony.
PHOTO BY BOB MAKIN
Secret Sound frequently are called upon to play great gigs, especially in Asbury Park. What has the band's greatest accomplishment been, why and to what else did it lead?
Two shows. Performing the Allman Brothers' 'Live at the Fillmore' at the Pony and playing after Dark Star Orchestra in 2017 at the Pony were the two most important shows we've done because it really woke people up to us and a lot of people embraced us after that. It's funny for a band with such a long history to have made a break 16 or so years into its existence, but that is life. We were already well known at that point, but I feel like it put us solidly at the top of the heap when it comes to local jam acts that play original music. We've outlasted everyone, and our music, family feeling and spiritual connection to each other and the audience is more powerful and beautiful than ever. 
It led to us playing with Umphrey's McGee and allowed us to headline the Pony with a project called Ziggy Stardust. I got the chance to re-orchestrate David Bowie music and got to shred with my buddy Mike Montrey on 'The Man Who Sold The World.'
What do you think of the Makin Waves Jam 'n' Groove Fest in 50th Anniversary tribute to the Allmans, The Meters and Little Feat?
I literally can't wait to be in the venue with everyone on Sunday. It is a special feeling to be able to be part of a community and make music alongside people you know for 10, 15 years. Jimmy Law, a newer friend and a brilliant young guitarist, has got be running some extra scales and giving the Coltrane and Vernon Reid riffs a few extra repetitions.
How and why did each of those bands influence and inspire you and/or your band mates?
The Allmans were the first band I heard playing blues music and it literally changed my life. I got into them so hard before the Grateful Dead even and played along with 'In Memory of Elizabeth Reed' while I was figuring out modal improvisation as a younger jazz musician and the two approaches seemed the exact same to me -- as they were.
I found out about The Meters later on, and their music inspired me to create grooves and honor the funk like never before. They made it OK to play less notes and let each instrument play its part in the group sound, as opposed to letting the guitar be so dominant. That is easy. Grooving is harder to learn and get good at.  
I love Little Feat's music, but I've learned more what not to do from the unfortunate career of Lowell George. Letting the party become more important than the music, your band, your friends and family is something that did rear its ugly head in my life. Luckily, I got out before I suffered the same fate as Lowell George.
What other artists inspired and influenced you, how and why?
I'm also working on another book. My experience in learning about the historical course of Western music and its interaction with African and Asian music and the contemporary music we hear today as a result. I was fortunate enough to have some amazing teachers: Ted Dunbar, Matthew Halper, Dave Stryker, Kenny Barron, William Fielder, Radam Schwartz, Bob Rietzke, Linda King. They inspired me to pursue music at the highest level.  I later found out that Trey Anastasio from Phish was also a student of Ted Dunbar. Trey had been subtly influencing me for years. 
Initially, it was Stevie Ray Vaughn for guitar. Then it was Miles Davis in terms of uncompromising artistry and the ability to lead a band by letting his band be themselves. Carlos Santana also inspired me to unite spirituality with music and to give each note and phrase a purpose and a very deep intention. To literally send the music out into the universe and let it do its good works.  
I'm influenced by classical composers, like Ravel, Debussy, Satie and Prokofiev, for their sense of harmony and way of creating compositions that exist in a more ambient space and a more abstract environment. Underneath everything for me is the blues: Muddy Waters, Hound Dog Taylor, Etta James, Robert Johnson, Big Joe Turner. These musicians let me know its OK to feel the way I do, good or bad, and to express it through music.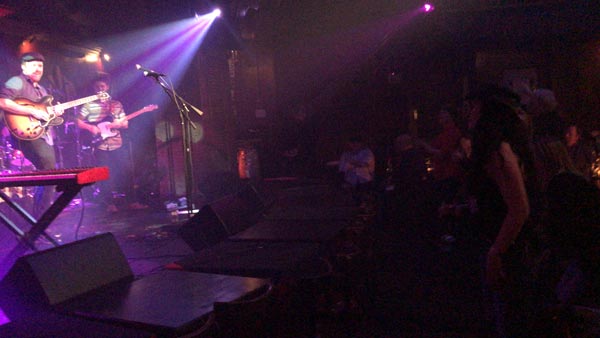 Secret Sound on March 23 at The Cutting Room in New York City.
PHOTO BY BOB MAKIN
So what does your busy concert schedule look like through fall?
Our next major show is June 8 in NYC at Drom. We'll be running another bus trip to the city for that one as well! Aug. 22 we are part of Jams on the Sand in Asbury Park. We will be playing at Reef and Barrel in Manasquan every Sunday and our regular Thursday night jam session at Headroom in Jersey will continue to roll on as it has become a very special thing. We'll be making the rounds of the better NJ bars and venues in between: Jamian's, Donovan's Reef, Pattenburg House.
Is there anything I didn't ask on which you would like to comment?
Secret Sound is a family. Our kids are beautiful, happy and healthy. Our fans are our friends -- old and new. We seek to destroy the wall that exists between performer and audience and are genuinely interested in the lives and well-being of the people that take time out of our lives to experience our shows or listen to our recordings. We are eternally grateful to be able to do this at the level we do and for the wonderful people we play for. We'll see everyone May 19 at the Brighton Bar for the Makin Waves Jam n' Groove Fest!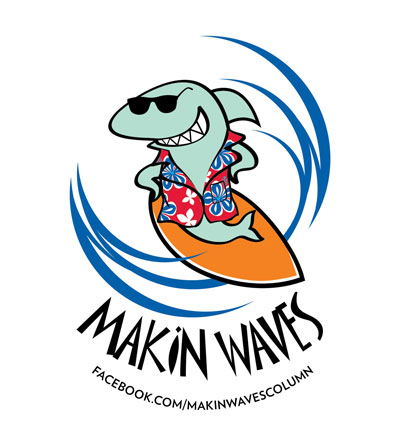 Bob Makin is the reporter for MyCentralJersey.com/entertainment and a former managing editor of The Aquarian Weekly, which launched this column in 1988. Contact him at makinwaves64@yahoo.com. And like Makin Waves at www.facebook.com/makinwavescolumn.