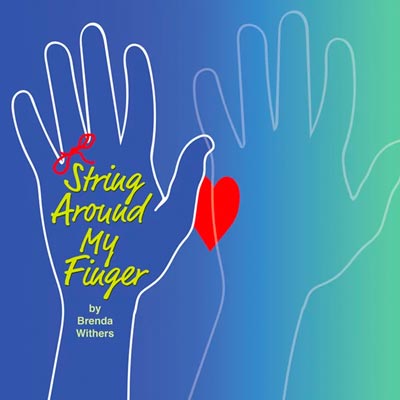 After watching this one act for an hour and 45 minutes at the Dreamcatcher Repertory Theatre in Summit – at least 15 minutes longer than a typical one act – I have no idea why "string" or "finger" is in the title.  The play opens with a slow monologue from Emma (played by Brianna Kalisch), a young woman in a hospital bed reading from a letter.  After several minutes of silent nodding from Kip (Dave Maulbeck), her bedside fiancé, the letter reveals that Emily had a miscarriage.
There are then, in order, appearances by: Lisa (Harriet Trangucci), Kip's eccentric sister obviously trying to undermine Kip and Emma's forthcoming marriage; Dave (Scott McGowan), an equally eccentric physicians assistant strangely bonding with Emma; and, much later, a cameo by Mrs. Rizzo, an elderly patient singing Frank Sinatra songs to cheer everyone up.  (Before the play opens, the audience is greeted with a medley of Sinatra songs.  The theme of the evening, sung near play end by Dave in the hospital chapel is:
   Strangers in the night / Exchanging glances/ Wondering in the night/ What were the chances
  We'd be sharing love / Before the night was through?
The sets are  attractive, the staging is effective, the scenes flow smoothly, the ensemble acting and direction Clark Scott Carmichael are very competent, Lisa and Dave have some very funny moments and lines, but there is too much meandering dialogue and the play doesn't go anywhere.  It takes over an hour for the semblance of a plot line to emerge dealing with Emma's inability to pay her hospital bill because Dave's insurance policy won't cover her.  This leads to tension between the two lovers and, in the final scene, an incomplete resolution to their relationship.  Brenda Withers, the playwright, says the ending is deliberately ambiguous because life is that way.
---
The article continues after this ad
---
---
Though the actors' and director's professional efforts clearly shine through, regretfully I cannot recommend String Around My Finger. 
The play runs until May 12 at Dreamcatcher Repertory Theatre.  For more information visit www.dreamcatcherrep.org
---
Charles Gruber has an M.A. in Journalism from Columbia University. He is a member of the Dramatists Guild of America. His first play,
Hanky Panky
, a comedy with music, had a production several years ago in Montclair, NJ. His latest play,
My Night With Marlon Brando
, was produced last year by the Grange Playhouse in Howell, NJ. He can be contacted at
cgcharlesgruber@gmail.com
.
---