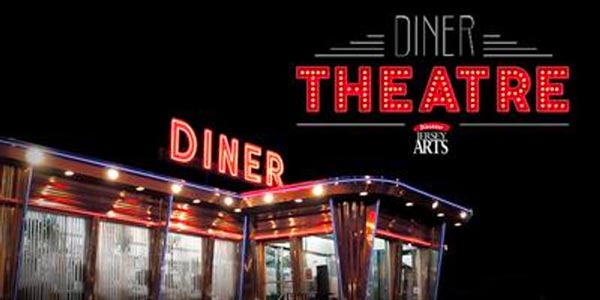 What's more Jersey than a diner? A few years ago the New Jersey Theatre Alliance came up with a unique plan to promote theatres in the Garden State by bringing actors and actresses directly to the people.  The actors were disguised as regular patrons while they performed works in a diner.  The setup was so much fun and received so well that Jersey Arts is helping to produce a week of Jersey Diner theater this year.  From May 20-22, Pegasus Theatre Company, Dreamcatcher Repertory Theatre, and Eagle Theatre will each offer diner theatre performances in different parts of the state. The performances are a cosponsored project of the New Jersey State Council on the Arts and the ArtPride New Jersey Foundation.
Pegasus Theatre Company will kick off the week with a performances at Mastoris Diner on Monday, May 20 from 7:00pm – 9:00pm. Mastoris is located at 144 U.S. 130, Bordentown, NJ. Pegasus Theatre will perform: Entree by David Lee White - A fun look into the perils of online dating; Crisp Sky by Tyler Cramer - A young couple debates getting married after attending a friend's wedding; Mild Mild Life by Peter Bisgaier - A married couple considers divorce until the husband introduced a wild plan to keep the marriage alive; and Our Dinner with Sandy by Peter Bisgaier - A couple talks about having another child while their first kid is totally ignoring them while she's on her phone, or is she?
Dreamcatcher Repertory Theatre is up next with a performance at The Broadway Diner on Tuesay, May 21 from 7:00pm – 9:00pm. The Broadway Diner is located at 55 River Road in Summit, NJ. The company will perform: What I Wouldn't Tell Anyone by Pandora Scooter - A first date conversation surprises a young couple; Window of Opportunity by John Augustine - A conversation between friends reveals a breakthrough for one of them; and Poof by Chip Bolchik - A young artist who questions her life choices, makes a wish for a change, and her Fairy Godmother appears, apparently in worse shape than she is.
Closing out the week is The Eagle Theatre performs at The Alley Bar & Grille on Wednesday, May 22 from 7:00pm – 9:00pm. The Alley Bar & Grille (inside DiDonato's Family Fun Center) is located at 1151 S White Horse Pike in Hammonton, NJ. Eagle Theatre will perform: The Ask by David Lee White - A miscommunication at dinner reveals who's really asking who...for what; Nicole and Jane by John Augustine - Jane is having dinner with human selfie, Nicole;  Entree by David Lee White - A fun look into the perils of online dating; and Good Comedy by Greg Nanni - Tony's a hitman....or is he?
Seating is extremely limited and going quickly. Large parties may be split up at the discretion of the event staff. Simply register online for free. There is no additional fee to attend. You only pay the cost of your check.  
---
The article continues after this ad
---
---
Discover Jersey Arts (DJA) is a cosponsored project of the ArtPride New Jersey Foundation and New Jersey State Council on the Arts dedicated to increasing the awareness of and participation in the arts in New Jersey. JerseyArts.com supports that mission by providing a central clearinghouse of information on the Garden State's cultural scene. Whether browsing the site's comprehensive event calendar, searching its directory of cultural organizations, discovering works by local artists in its virtual gallery, or catching up on what's new this season in our Culture Vultures Arts Weekly and Jersey Arts Podcast, JerseyArts.com is the hub for what's going on in NJ's arts scene.
New Jersey Theatre Alliance unites, promotes, strengthens, and cultivates New Jersey's professional theatres. We advance the theatre community by developing innovative, collaborative, and engaging programs and services for member theatres and their diverse audiences.