Before he heads out on a world tour in support of "Summer of Sorcery," his first LP of new material in 20 years, Little Steven will rock his old stomping grounds of Asbury Park with a May 8 show at Paramount Theatre. PHOTO BY BJORN OLSSON
With the 12-song 'Summer of Sorcery,' Little Steven offers his patient fans a long-awaited batch of bewitching rock 'n' soul.

Do you love the Sounds of Asbury Park, early Southside Johnny & the Asbury Jukes, as well as such Bruce Springsteen songs as "Kitty's Back," "10th Avenue Freeze-Out" and "Thundercrack"? Then you are going to love Little Steven's new album, "Summer of Sorcery," his first collection of new material in 20 years. While the 12 tracks are extremely derivative, they're so good and such great fun, I don't think anyone who loves '60s and '70s soul, R&B and rock is going to care. The album is a joyful return to the greatness of those magically musical days when the Sounds of Asbury Park were the soundtrack to many a hot summer night. 
The fun kicks off with the James  Brown-inspired "Communion," which features great backing vocals by the Disciples of Souls' Jessie Wagner, Sara Devine and Tania Jones, and delightful Motown-like handclaps and bass vox in the bridge, which returns as a closing vamp but with a nod to the Age of Aquarius on the eve of the 50th anniversary of Woodstock. Back then, Steven was slugging it out with Bruce at the Upstage, but now he's a commander of soul, and on this track, tells the Disciples, "Take it to the bridge," just like JB did.
"Party Mambo" is a festive but meaningful Latin-driven track that owes as much to New Orleans great Professor Longhair — a huge influence on the Sounds of Asbury Park — as it does the Hispanic Caribbean. The '60s-style soul nugget "Love Again" is reminiscent of the many songs Steven has written for Southside, Gary "U.S." Bonds, Darlene Love and Ronnie Spector. Fortunately, he saved this one for himself in a showcase of the sweet sunniness of the Disciples of Soul.
One of my favorite tracks, "Vortex," is the kind of '70s-style funk 'n' soul found on the Blaxploitation soundtracks of "Superfly" by Curtis Mayfield and "Shaft" by Isaac Hayes.  The mesmerizing tune features splendid horn and string arrangements, a fantastic flute performance by longtime Juke Stan Harrison and a great tribal rhythm from percussionist Anthony Almonte that recalls Earth Wind & Fire. 
Another standout is "World of Our Own," a Phil Spector-like mid-'60s girl-group song through the off-kilter filter of Elvis Costello that fondly recalls the innocence of the era before sex 'n' drugs became a predominate expression of rock 'n' roll. The soul-jazz of "Gravity" features tasty horn lines and more delicious chick backing vox. With "Soul Power Twist," Steven gives us a good dose of Chubby Checker and Sam Cooke but with a shot of B3 à la Hammond greats Jimmy Smith and Jimmy McGriff. 
Among the best of the dozen is "Superfly Terraplane," the title of which made me expect more Curtis Mayfield. I was surprised to find a very Springsteen-like track filled with the energetic roots foundation upon which the Boss typically builds his iconic heartland rock. 
According to my friend of 35 years, Lee Mrowicki, a DJ and manager of the Stone Pony, the tune was inspired by Steven's red Cadillac convertible that he had when he lived in 1976 near the then new club. Lee said, "It had Miami Steve license plates that Obie had to replace when they were stolen by fans. It was also pictured on the Asbury Jukes Christmas card that year."
Fun stuff! Almost as fun are the songs great lines: "Mr. Babyboom answer one thing before I fly. Which one of you assholes blew a hole in the sky? … My generation ain't pussies. We don't need guns to have a blast. Take that second amendment and stick it up your ass!" I also love the mariachi horn line in the break of this song in which Steven relives his youth as a modern-day Millennial lamenting the damage his actual generation has done politically and environmentally. ​​​​​​​
A longtime supporter of education, particularly with his TeachRock curriculum that aims to preserve American music history, Steven gives a nod to good teachers who do their best within an increasingly shitty system via the Indian-spiced raga-rock of "Education." The exotic tune features great use of sitar and tabla. Also exotic-sounding is "Suddenly You," a sultry love song with great trumpet parts by Ron Tooley and Ravi Best.  
On "I Visit the Blues," Steven does that just by enthusiastically recalling his early days in the pre-Jukes outfit Blackberry Booze Band. He boldly sings, "I ain't looking for no trouble baby, but if you need some, I'm your man. I do my drinkin' with Mr. Lucifer. Canceled my ticket to the Promised Land."
And that brings us to what in my opinion is the best new Steven song: the percussive, largely acoustic Springsteen-like closing title track that builds into an epic Spectoresque pop-chestra, kind of like an innocent prequel to that which was lost in "Jungleland." "Summer of Sorcery" is the Makin Waves Song of the Week, which you can hear four times  at AsburyMusic.com, as well on Makin Waves' Spotify & YouTube playlists. 
A good chunk of this rhythm & bluesy, rock 'n' soul collection also can be heard live on May 8 when Steven and his mammoth Disciples of Soul rock the Paramount Theatre in his old stomping grounds of Asbury Park. The show will be followed by a world tour, the area dates of which are July 16 at College Street Music Hall in New Haven; July 18 at The Paramount in Huntington, NY; July 20 at Keswick Theatre in Glenside, Pa., and July 26 at the State Theatre in Easton.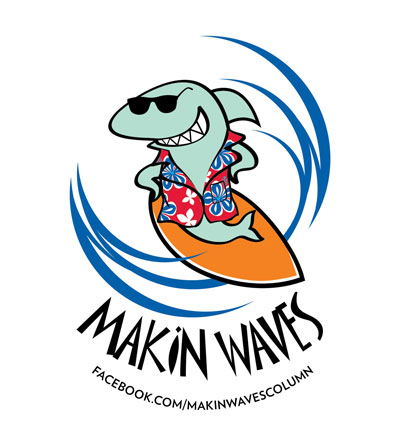 Bob Makin is the reporter for MyCentralJersey.com/entertainment and a former managing editor of The Aquarian Weekly, which launched this column in 1988. Contact him at makinwaves64@yahoo.com. And like Makin Waves at www.facebook.com/makinwavescolumn.