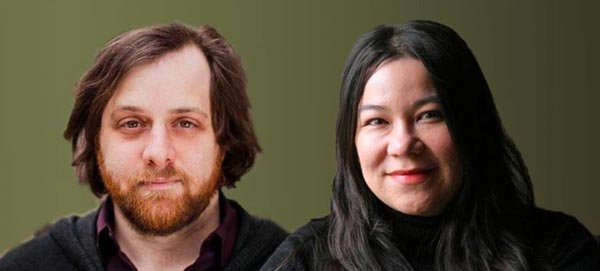 (SOUTH ORANGE, NJ) -- The South Orange Arts Advisory Council and Watershed Literary Events present a reading with award-winning poets Brenda Shaughnessy and Craig Teicher on Friday, May 17 at 7:00pm at the Skate House in South Orange, NJ (on the Duck Pond, near corner of Mead St. and Meadowbrook Lane).
Shaughnessy is the author of The Octopus Museum, just released in March by Knopf. Her 2012 collection Our Andromeda was a New York Times 100 Notable Book, and a finalist for the Griffin International Prize and the Kingsley Tufts Prize. She's the recipient of a 2018 Literature Award from the American Academy of Arts and Letters and a 2013 Guggenheim Foundation Fellowship. Shaughnessy's poems have appeared widely in national journals and anthologies. She is Associate Professor of English and Creative Writing at Rutgers University-Newark.
Teicher is the author of The Trembling Answers, which won the 2018 Lenore Marshall Poetry Prize from the Academy of American Poets; To Keep Love Blurry; and Brenda Is in the Room and Other Poems, winner of the Colorado Prize for Poetry. His first collection of essays, We Begin in Gladness, was published by Graywolf in 2018. Teicher serves as a poetry editor for The Literary Review. He writes about books for many publications, including The New York Times Book Review, The LA Times, and NPR.
Both poets live with their children in Verona.
---