By Taryn Venner Ashe
originally published: 04/22/2019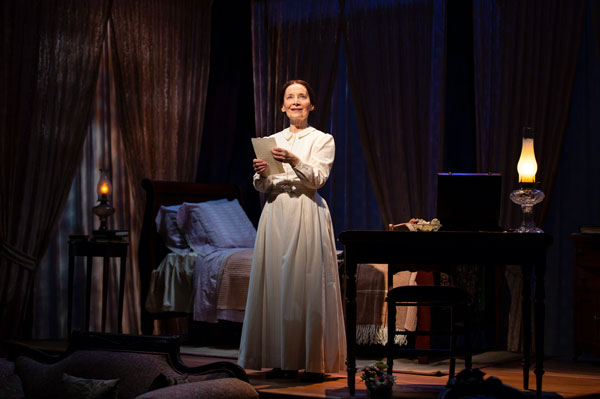 Robert and Joan Rechnitz founded Two River Theater, which is celebrating its 25th anniversary this year. Their vision was "to produce exceptional professional theater, and to inspire young people and life-long learners as a center for education," according to Managing Director Michael Hurst. The opening night performance of The Belle of Amherst was a fine example of their success. William Luce's 1976 Two-Act play about beloved American poet Emily Dickinson was a two-hour glimpse of more than just poetry. And under the direction of Robert Rechnitz, actress Maureen Silliman carried this one-woman show with grace and liveliness.
The design elements of this production achieved an intimate setting. The curtain was up revealing Emily Dickinson's household, 1845-1886.  Scenic designer Harry Feiner and Lighting Designer Andrew F. Griffin furnished a parlor and a bedroom: each station in these rooms -- a bed, a writing desk, a bench, a piano, a tea table -- was lit by a gas lamp and served as a scene spot later. Beyond the curtained windows was the outside world, a backdrop of trees behind the Amherst homestead, a front door and a garden patch to the left. The sound of birds chirping evoked the nature that inspired Dickinson's poetry. As people were seated, I felt everyone was just waiting for the guest of honor to show up to tea. And that was the premise of the play -- we were her guests. We were part of the show. Whereas many think of the poet as a shy recluse who could not interact with people, this play purports that Emily Dickinson has been misunderstood. Rechnitz's production emphasized the life of an individual who made choices, in her poetry as well as in her life, even when they might not have been popular.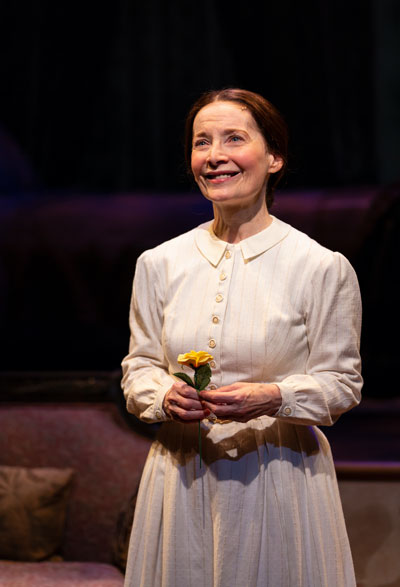 The marvel of the show was Ms. Silliman's performance. There was a light in her eyes as she spoke. She beckoned to the audience with her arms wide open, inviting everyone to consider Emily's words, her reasons for writing poetry, and her reasons for thinking and living as she did. Silliman's Emily was funny, casual, and inviting from the moment she walked on stage. She gave the recipe for the black cake she serves at tea and reeled in the audience, many laughing aloud in the first few minutes. Her facial expressions, sometimes a wince other times a smile, achieved the realness of Emily. Silliman was honest and even irreverant at times, just like the speaker in Dickinson's poems: "I'm Nobody! Who are you?/ Are you – Nobody – too?/ Then there's a pair of us!" Some of the poet's nearly 1800 poems are strewn throughout the play, framing major and minor events in her life. Dickinson's letters drive the plot as well.
Silliman flitted between playing Emily and playing the people in Emily's life. She was amazing to watch. Through flashbacks and scenes where she addressed an imagined figure on stage, she revealed the depth of the poet. There were the people she knew and loved: a brother Austin, a sister Lavinia "Vinnie," a critical editor Thomas Wentworth Higginson, some suitors, and an austere father. As Silliman sashayed across the stage, I was left anticipating where she would sit and whom she would address next. Because this was a one-woman show, the set design was key in each of her interactions. Props like a pen, a shawl, a garden tool, and a photograph connected her to the memories. They were simple yet defining and powerful.
The lighting set the pace of the show, traveling along with Silliman from the tea table to the sofa, from the bed to the writing desk. Whether she was gardening, opening her box of poems, or writing letters, Silliman translated beautifully what it was like to be this woman in this space. Sometimes the rest of the stage went dark and a spotlight shone on her. Then she did not merely recite poems; she elicted nods and murmurs as if the truth had just been delivered on stage. The passion Silliman demonstrated during events in the second act was particularly powerful. The empathy she drew from the audience at that point was apparent in the hushed state. Ultimately this production encouraged everyone to step out of Two River Theater and seek a spiritual connection through poetry, with nature, with loved ones, or both.
The Belle of Amherst by William Luce, directed by Robert Rechnitz, runs at Two River Theater (21 Bridge Avenue) in Red Bank, NJ until May 5, 2019.  For more information or to purchase tickets visit www.tworivertheater.org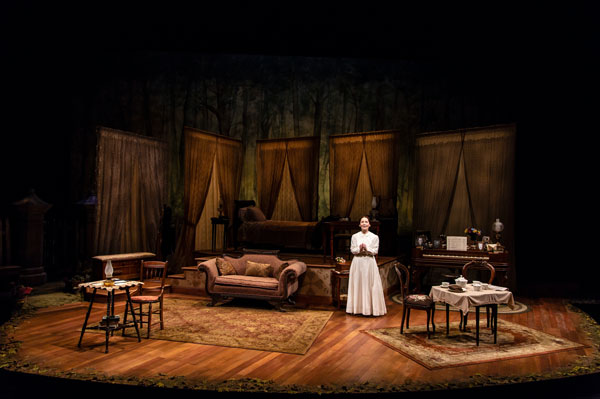 Photos of Maureen Silliman as Emily Dickinson by T. Charles Erickson 
---
Taryn teaches World Literature and Creative Writing at County Prep High School, Hudson County Schools of Technology in Jersey City, NJ. She has an M.A. in Literature and Creative Writing from Fairleigh Dickinson University. She has been published in School Library Journal in
School Library Journal
. She can be contacted at
tarynashe@gmail.com.
---
---