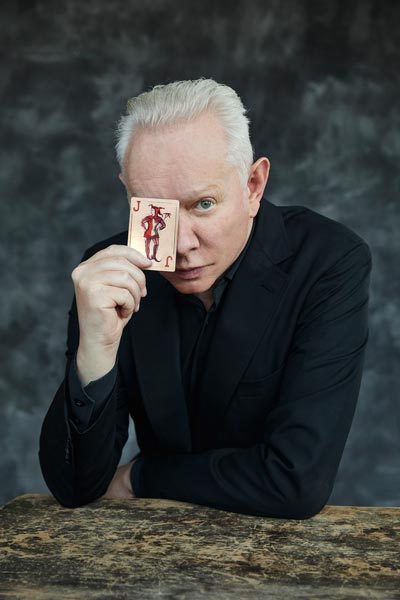 (NEW BRUNSWICK, NJ) -- State Theatre New Jersey and SLP Concerts present Joe Jackson in his Four Decade Tour on Saturday, May 18, 2019 at 8:00pm. Joe Jackson will be celebrating the last four decades of his music, including songs from his debut album, Look Sharp to his most recent album, Fool, that was released earlier this year. Tickets range between $45.50-$95.50.
The songs featured in Jackson's set include songs from five of his albums including Look Sharp (1979), Night and Day (1982), Laughter and Lust (1991), Rain (2008), and Fool (2019), plus songs from other albums and some new covers. Highlights include "Is She Really Going Out with Him?," "Steppin' Out," "Breaking Us in Two," "Stranger Than Fiction," "Sunday Papers," and more.
In his own words: "So, here comes a big tour. We want to celebrate the fact that this is happening after 40 years—anything else, would be like sulking in a room by yourself on your own birthday party. Looking for some way to organize a show out of 40 years' worth of material, I decided to draw on five albums, each representing a decade: Look Sharp (1979), Night And Day (1982), Laughter And Lust (1991), Rain (2008), and Fool (2019). We'll also throw in a couple of songs from other albums and some new covers. I can't wait. Let's party."
On the heels of an electrifying performance of his latest single "Fabulously Absolute" on The Late Show Starring Jimmy Fallon, legendary songwriter Joe Jacksonannounced an additional run of 18 concerts in May and June 2019 following his highly anticipated soon to be sold-out North American album release tour in February 2019. Jackson tours in support of his critically acclaimed new studio album, Fool, which was released by earMUSIC on January 18, 2019. The record, which is the 20th studio album of Jackson's career, was the fulfilment of a career-long dream: to finish a tour and head straight into the studio with the band firing on all cylinders. So, on July 29th, Jackson wrapped up his 2018 summer tour at The Egyptian Theater in Boise, Idaho—and the following day set up shop at Tonic Room Studios in town.
The album was co-produced by Jackson and producer Pat Dillett (David Byrne, Sufjan Stevens, Glen Hansard, etc.) The band in question was the same group that Jackson has played live with ever since the release of Fast Forward: Teddy Kumpel on guitar, Doug Yowell on drums, and long-time collaborator Graham Maby on bass (Maby was on that first recording session 40 years ago as well). The Fast Forward Tour took on a life of its own and enjoyed several encores over the last three years—with the band ultimately playing 103 shows together during that time span.
---
The article continues after this ad
---
---
For tickets, more information, or group discounts, call State Theatre Guest Services at 732–246–SHOW (7469), or visit STNJ.org. State Theatre is located at 15 Livingston Ave in New Brunswick, New Jersey.