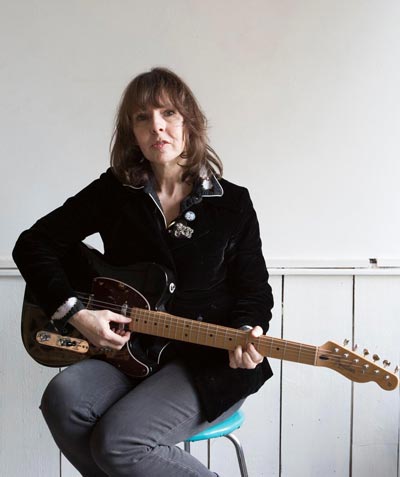 (MONTCLAIR, NJ) --  Outpost in the Burbs presents Amy Rigby on Saturday, June 8th, 2019 at at 4:30pm in partnership with the Van Vleck House & Gardens (Montclair Foundation). The show will take place at the Van Vleck House & Gardens, 21 Van Vleck Street in Montclair. Opening the show will be Montclair-based artists Ed Seifert and Matthew Davis of The Campfire Flies. Door are at 4:00pm.
Amy Rigby's first solo album in a dozen years, The Old Guys has received ecstatic reviews in the US and UK.  NPR's Fresh Air critic Ken Tucker called it one of the top ten albums of 2018. The Old Guys measures the weight of heroes, home; family, friends and time. Philip Roth and Bob Dylan, CD/cassette players, touring, the wisdom of age and Walter White, groupies, Robert Altman, egg creams, fellow musicians and mentors are paid tribute. Twelve songs written unmistakably by Amy and recorded by Wreckless Eric in Catskill New York, The Old Guys is the sound of a good girl grown up, never giving up.
Since touring the US and UK with The Old Guys, Amy released new single and video Tom Petty Karaoke and a studio version of live favorite "The President Can't Read" that Big Takeover magazine calls "scathing…a potent and relevant protest song."
Amy Rigby has made a life out of writing and singing about life. With bands Last Roundup and the Shams in eighties NYC East Village to her solo debut Diary Of A Mod Housewife out of nineties Williamsburg; through a songwriting career in 2000s Nashville and during the past decade with duo partner Wreckless Eric, she's released records on visionary independent labels Rounder, Matador, Signature Sounds and reborn Stiff Records as well as her and Eric's own Southern Domestic Recordings.  Her songs have been covered by Laura Cantrell, Ronnie Spector and They Might Be Giants' John Flansburgh. For the last twenty-three years, Amy has toured the US, Canada, UK and Europe. She lives with Wreckless Eric in upstate New York. When she's not writing and performing, she pours beer and sells books at The Spotty Dog bookstore in Hudson.
How to Get Tickets: Please note that there are three distinct ticket types for this event. Weather permitting, this show will be outdoors in the garden of the Van Vleck estate. In the case of inclement weather the show will be held indoors (capacity 95). Type 1: $25.00 (advance)/$28.00 (Day of Show) Guaranteed ticket (individual) regardless of if the show is indoors or outdoors. We will only sell 95 of these tickets and you are guaranteed admission regardless of weather.   Type 2:  $25.00 (advance)/ $28.00 (Day of Show) Outdoor only ticket (individual) will only be available after the first 95 guaranteed tickets have been sold. If the weather is bad and show is indoors, your ticket purchase along with any fees will be refunded within 7 days of the show. Type 3: $60.00 Outdoor only ticket (family pack) will include admission to 2 adults and up to 3 children under the age of 12 weather permitting only. Additional children's tickets may be purchased at the door day of show for $5 each. If the weather is bad and show is indoors, your ticket purchase along with any fees will be refunded within 7 days of the show. Tickets are available at Watchung Booksellers, 54 Fairfield Street, Montclair, 973-744-7177, Montclair, 973-509-7591; and available for purchase online.
---
The article continues after this ad
---
---
Volunteers will also be accepting donations of the following items for the soup kitchen in Orange, New Jersey at all concerts: peanut butter, jelly/jam, granola bars, fruit cups or other healthy snacks, white athletic-type socks.
Outpost in the Burbs is an all-volunteer nonprofit outreach organization in Montclair dedicated to building community through music, community service, and cultural events. For over 30 years, the Outpost has presented more than 450 concerts by internationally known artists such as Judy Collins, Roger McGuinn,, Jorma Kaukonen, Jimmy Webb, Richie Havens, J.D. Souther, The Jayhawks, Nick Lowe, and Dar Williams. In addition to promoting and staffing concerts, Outpost volunteers have donated many hours of their time through programs affiliated with Habitat for Humanity, Toys for Tots, the Human Needs Food Pantry of Montclair, the Community Food Bank of N.J., Dress for Success, MESH (Montclair Emergency Services for the Homeless), and a soup kitchen run by Outpost volunteers in Orange, NJ.