Will Wood will take over Asbury Park's Collective Art Tank from May 13 to 29 with an art exhibit, movie screening, video premiere and two concerts with his band, the Tapeworms. PHOTO BY ANGELICA PASQUALI
Also featured this week are The Tide Bends, Danny Coleman, Houston & the Dirty Rats, Debra Devi, Old Franklin Schoolhouse, Lowlight, Dentist, Rock Dance Collective and Pack the Bowl.

This week, Makin Waves features a premiere of the trailer of the new Will Wood concert film, The Real Will Wood, a stream of which is below. A Neptune native, the 2016 Makin Waves Male Artist of the Year is returning to his roots to take over Asbury Park's Collective Art Tank on Bangs Avenue from May 13 to 29 with an art exhibit, the premiere of the concert film, as well as a video from the forthcoming live album, The Real, plus two concerts by Will Wood & the Tapeworms. 
Directed by Christian Dunning, The Real Will Wood premieres on May 18 at Will Wood's HEAD, aka Art Tank. Tickets are available online. Seating is limited in the small independent theater and art gallery. Concessions will be served. Wood suggests his fans bring flowers and confetti.
The Real Will Wood and The Real are culled from a series of live performances that got high praise from music press, including New Noise and Dying Scene. The screening also will feature the premiere of the Wood-directed music video for "Love, Me Normally," a track helmed by multi-platinum Panic! At the Disco, Ariana Grande, and The Used producer Matt Squire. 
The entire "HEAD" exhibit, which includes the first-ever display of Wood's psychedelic visual art, opens May 13 at Art Tank. The free exhibit will be open daily through May 29. However, tickets are needed for the screening, as well as two concert Will Wood & the Tapeworms will perform on May 25 and 26 at the venue. In the meantime, check out Wood's "Red Moon," one of the tunes featured in the forthcoming concert film, at "Radio Jersey."
Green Knuckle Material, winners of the Stone Pony's Rock to the Top contest, are dropping a single on April 12. "Queen of Dragons" is inspired by the beautiful bad-ass Dany Targaryen on Game of Thrones, and Makin Waves is premiering the track. You also can hear the lively tune live when GKM play April 20 at Rutgers University; April 27, Rutgers Day, New Brunswick; April 28 at Community Art Fest in Princeton and May 5 at Scarlet Pub with Contact High Vibration. The band then will embark upon the Back to Your Roots Tour May 17 in Norwalk, Conn.; May 18 Warwick, N.Y.; May 19, New Paltz, N.Y.; May 25, their EP release party at Debonair Music Hall in Teaneck; May 31, Philadelphia; June 1, Richmond, Va., and June 2, Washington, D.C. Other upcoming GKM dates include June 14, Willie McBride's, Hoboken; their Bayville V Music Festival, June 15; July 2, Jenks Club, Point Pleasant Beach, opening for Badfish; July 12, House of Independents, Asbury Park; July 13, Allendale Fest; July 14, FM Bar, Jersey City; July 19, Mill Hill Basement, Trenton, and July 21, Blackthorn, New Brunswick. Having won Rock to the Top, GKM also soon will be headlining at the Pony, as well as opening for a national act. 
Dan Amato's new single, "Better on You," also is a new musical direction for the Jersey Shore-based singer-songwriter. He said he's been inspired by the country radio charts and wanted to try blending that with his own Springsteen-meets-Sinatra style. 
"I also wanted to embrace the singer-songwriter in me as opposed to energetic band leader that usually came through on recordings of our party songs," Amato said. "I tried to tell the story of two people that could never get their timing right fresh out of long unsatisfactory relationships."
Recorded at Retromedia Sound Studios in Red Bank with Adam Vaccarelli, as well as remotely with musicians from as far away as Munich, the single will be featured soon in video form. In late May, Amato said he once again will tap into Vaccarelli's recording talents to continue to pursue his new-found country-inspired direction. Meanwhile, he'll play April 19, July 5 and Aug. 30, Fox Hollow Winery, Holmdel; May 3 and July 12, The Asbury hotel; May 4, Danny Clinch Transparent Gallery, Asbury Park; June 8 and July 6, Orange Lantern, Paramus; June 29 and Aug. 16, The Dog House, Washington Township; July 26, The Chubby Pickle, Highlands, and Sept. 20, Willie McBride's, Hoboken.
Tide Bends have released an amazing new animated video for "Keeper" created by L.A.-based Andrew Knives. 
"After seeing a few pieces of his work we were all-in so we contacted him and began the process," the band said. "Working with him was simple and comfortable. There didn't need to be a ton of back and forth and explanations. Stylistically, he understood the feel of the song and applied a treatment that was spot on."
The single is the first of three that will be released over the next few weeks. Two will be accompanied by video, the band said. Hear them live on April 27 when Tide Bends play Asbury Park Music & Film Festival on April 27 at The Saint with L.A.-based Here Lies Man, Ribeye Brothers and DJ Foggy Notion.   
"Danny Coleman's Rock On Radio" will celebrate 10 years of covering the music scene with a free 10th Anniversary Celebration Bash on April 24 at The Asbury hotel with Radio Fiction, The Williamsboy, Dave Vargo, John Alberici, Strumberry Pie, and The Jo Wymer Band. The show debuted on April 26, 2009, on WIFI 1460-AM in Burlington County, as a one hour weekly program featuring interviews and live performances largely by unsigned independent artists, bands and entertainers. The popularity of the program grew quickly and so did its length; expanding to a full two hours causing Coleman to abandon terrestrial radio for the vast audience of internet broadcasting resulting in syndication in the U.S., the U.K. and Canada. As the show's audience increased, national artists became part of the focus as well. Performers such as Rock and Roll Hall of Famers John Oates of Hall & Oates and Steve Hackett of Genesis, comedian Louie Anderson, , the late Peter Tork of The Monkees and many more have called into the program and interacted with Coleman and his guests, offering insight, advice and amusing anecdotes. What started out of necessity quickly became a passion connecting Coleman to music communities the world over. A musician, entertainment journalist, emcee and radio personality, Coleman has been nominated for multiple Asbury Music Awards, supported various charities and engaged more than 500 guests. "Rock On" airs 7 p.m. Sundays at COARadio.com and societybytesradio.com. Coleman also writes a weekly "Rock On" column, which appears Thursdays here at NewJerseyStage.com.
On Feb. 27, the Phillipsburg-raised punk rock band Houston and The Dirty Rats left New Jersey on their "100 Shows in 100 Days" tour. After performing more than 50 shows, they are doing some "home-for-the-holidays performances." They then will venture out again through the Midwest, Pacific Northwest, Canada, Buffalo, New York, and then home. The trek takes them through 41 states and two Canadian provinces in order to raise funds for a tour European tour. 
While on the road, the band got to see the Grand Canyon, Rocky Mountains, national monuments in Washington, D.C., and their Trenton cronies, Dock Rotten, who they surprisingly shared a bill with in Las Vegas while opening for Fat Wreck Chords act The Last Gang. The trio will bring their "rat rock" back on the road to finish the 100 shows in 100 days, but first they'll play a free all-ages show on April 19 at Spin Me Round Records in the hometown of Phillipsburg with Rockstar Racecar, Jack & The Me Offs, and Vengents. The weekend home stand also will include April 20 at Nazareth Jacksonian Club in Nazareth, Pa. with The Road Sodas, Steveo and The Crippling Addiction, and The What Nows. On April 21, the band will headline a punk-rock Easter show at The Pickering Creek Inn, Phoenixville, Pa., with Connecticut-based Zombii.
Jersey City blues-rocker Debra Devi continues to be makin waves. She recently recorded three songs with Government Mule bassist Jorgen Carlsson and Matt O'Ree/Anthony Krizan drummer John Hummel. John Agnello (Son Volt, Kurt Vile) produced at Kaleidoscope Sound in Union City. Devi said she plans to release the songs as summer singles, one of which also will be released as a video. But first she will play April 14 at the Stanhope House opening for Rusted Root's Michael Glabicki & Dirk Miller. 
Devi's love of blues music doesn't just translate into tunes. She also is the author of The Language of the Blues: From Alcorub to Zuzu, which features a forward by and interview with New Orleans great Dr. John and interviews with blues legends Hubert Sumlin and Robert Jr. Lockwood. Rock and Roll Hall of Famer Bonnie Raitt described the book as "a great resource, as fascinating as it is informative," adding, "Debra's passion for the blues shines through." The Language of the Blues won the ASCAP Deems Taylor Award for Outstanding Book on Music. On April 16, Devi will give a multimedia talk based on the book at Nonlinear Knitting Studio in Jersey City.
Oh my how I love the local music scene, and a great example of why is happening all weekend at Old Franklin School House. Asbury Park-based Lowlight are one of the Makin Waves Dirty Dozen and winner of three Makin Waves Awards in as many years, including 2016 Band of the Year. They have curated the music of a fundraiser for the beloved and historic Old Franklin Schoolhouse in Metuchen, singer-songwriter-guitarist Renee Maskin and drummer Colin Ryan's hometown. Franklin Music Fest '19 will feature Maskin in a solo set, plus Hair Magic, San Tropez, Afraid Brigade and The Nowhere on April 12. Lowlight will play both April 13 and 14. Sharing the Saturday bill will be Dentist, Rock 'n' Roll Hi-Fives, Coach 'N Commando, and Connor Bracken & the Mother Leeds Band. Sunday's lineup also will feature Ramblin' Deano of The Waco Brothers, Tara Dente & the Blind Pilots, Hank Reineke and Lance Green. Tickets are $5 on Friday and $10 each on Saturday and Sunday or $20 for the whole weekend.  
In other Lowlight news, the band is readying its debut LP with Telegraph Hill Records having released the single, "Burkhalter," earlier this year. With the LP due in June, Lowlight also will play Beardfest April 27 at White Chapel Projects, Long Branch, with Coach 'N Commando and Old Lady; May 4, Asbury Park Yacht, also with Coach 'N Commando, as well as Driftwood Soldier; May 17, Bourbon & Branch, Philadelphia, with Cold Weather Company and Foxanne; June 1, The Chubby Pickle, Highlands; Aug. 23, 2nd Wind, Carrboro, N.C., with Rock 'n' Roll Hi-Fives and Joe Romeo, and Sea.Hear.Now in September on the Asbury Park beach.
Speaking of Dentist, the Asbury indie rockers have a trippy new video out for "Alone in the Garden" from last year's highly acclaimed Night Swimming LP on L.A.-based Cleopatra Records. The clip was shot and directed by Dana Yurcisin and produced by Yawn Mower's Biff Swenson. Having recently returned home for a tour that included an official SXSW date, Dentist will play a few local shows before heading out on the road again. They include April 17, House of Independents; April 18, Asbury Lanes, with The Coathangers, and April 28 at the Norvo Nordisk NJ Marathon in Long Branch. Then in early May, they'll head to Cleveland, Chicago, Washington, D.C., Chapel Hill, N.C., and the East Coast Music Conference in Norfolk, Va.
On April 13 at Headroom Bar & Social in Jersey City, Rock Dance Collective will feature a newly revised production of "Invited," a highly acclaimed piece premiered to audiences last winter. "Invited" is an immersive experience that brings the audience into a party to explore the lives of the invited guests. Throughout the evening, the dancers investigate the subtle and not so subtle underpinnings of our social lives, explore sexual tension, power dynamics, and the intimate worlds that live inside a passing glance. The performance features live music, food and drinks.
Artistic Director-Choreographer Cleo Mack said she is most interested in subjects that are complicated, nuanced and unfamiliar, while at the same time commonplace. These subjects require more investigation to understand our shared humanity, Mack said.  
Wondering where to go to celebrate 4/20? I highly recommend the second annual Pack the Bowl Fest, featuring Cosmic Jerry Band, Waiting on Mongo, Mark Diomede of Juggling Suns, Pete Tonti of the Crosswick, and host Stu Coogan of 90.5 the Night at The Lanes At Sea Girt. Vendors, food, booze and bowling also will be among the highlights. Admission is $10 for the all-ages show. Proceeds will go to Rescue Ridge, a Jersey Shore pet rescue. Guests are encouraged to bring packaged food donations or supplies for animals in need. See ya' there!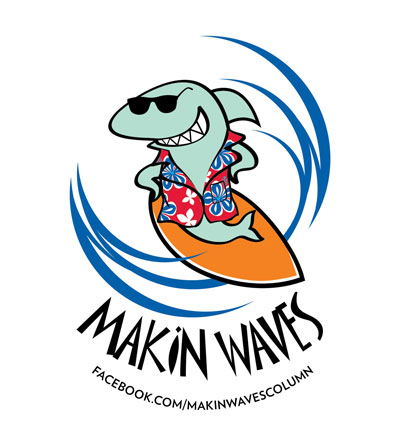 Bob Makin is the reporter for MyCentralJersey.com/entertainment and a former managing editor of The Aquarian Weekly, which launched this column in 1988. Contact him at makinwaves64@yahoo.com. And like Makin Waves at www.facebook.com/makinwavescolumn.