Pyrenesia are performing frequently in support of their impressive debut album, Off-Beat Symphony. PHOTO COURTESY OF PYRENESIA
From the Pyrenees Mountains, as well as Carpathians and Appalachians, comes the mixed-metered mountain mix of gypsy jazz, klezmer, old-time and swing music by Lambertville-based Pyrenesia.

Pyrenesia do for the gypsy jazz of Django Reinhardt and Stephan Grappelli and Eastern European music, particularly klezmer, what New Orleans' Tuba Skinny do for trad jazz and the Carolina Chocolate Drops do for old-time hillbilly music: lovingly and distinctly bring an older style of music to a young audience. Playing a fascinating, mixed-metered mix of mountain music from the Pyrenees to the Carpathians to the Appalachians, Pyrenesia (pronounce peer-uh-nee-juh) make an impressive debut with their 12-song Off-Beat Symphony. The collection features eight originals, five of which are awesome instrumentals, as well as four covers. 
The opening "Defiance," one of three instrumentals composed by accordionist Tony Kovatch, is a fusion of Eastern and Western European rhythms that make for a delightful global groove and old-world romp. The similar "Gadjo Carousel" is a playful tune that sounds as if it was this much fun to make as it is to listen to in a blend of klezmer and gypsy jazz that features great individual solos by Kovatch, guitarist Alan Rigoletto, and violinist Daniella Fischetti, the instrumental's composer, as well as a treble solo in which they each play their own leads together. Meanwhile, bassist Patrick Knapp lays down a strong foundation for them to do so. A gadjo is a non-Romani person, so the carousel must the song's swirl of gypsy and klezmer styles with a cascading rhythm that's a fun ride. 
Next up is the Makin Waves Song of the Week, Rigoletto's lyrical tune, "It's Not Sin," a funny look at spirituality from the perspective of a rambler. I especially love the chorus: "It's not sin. It's wine. Sippin' on guilt on a Saturday morning, soaking in the divine." Rigoletto's bologna voice matches the road-weary tale and is augmented by the sweetly solid harmonies of the rest of the band. You can check out "It's Not Sin" four times daily all week at AsburyMusic.com.
Fischetti's countryesque take on gypsy jazz and klezmer borrows from the old American west and the old-time tunes of the Appalachians. Another Rigoletto vocal then covers the 1930 Jimmy McHugh/Dorothy Fields classic "Exactly Like You," about a "rug cutter" and his swing-out sister. Originally featured in a 1930 Broadway musical, Lew Leslie's International Revue, which also featured the songwriting team's better-known "On the Sunny Side of the Street," "Exactly Like You" has been recorded by dozens of folks, including Reinhardt, as well as Louis Armstrong. Pyrenesia's version is a cross between the two. 
Fischetti makes her fiddle cry on Kovatch's "Reconstellation Waltz," which also features some fine pickin' by Rigoletto, while the accordionist's klezmer-flavored "Piro Harmonika" may be the best example of how these exceptional musicians play off of and feed into each other. Rigoletto's inconsistent vocals mar the title track, which explains the band's unusual approach to music, as well as perhaps life. His voice also made me wince on the otherwise gorgeous gypsy-jazz arrangement of Johnny Mercer's "Autumn Leaves." But then Pyrenesia do what they do best – swing, jam and groove – on a medley of two traditional Russian tunes, "Petyorshka" and "Dark Eyes." Fischetti's all-too-brief plucking at the end is amazingly awesome. 
Then there is Rigoletto's inspired "Oh My," which recalls a time when you actually had to dance to music that actually had to played and extremely well. One of the best performances closes Off-Beat Symphony with a stunning rendition of Italian composer Monti's "Czardas," a tribute to Hungarian folk dance. Pyrenesia eloquently and elegantly execute four distinct parts. A heartbreakingly beautiful intro led by Fischetti turns into a rhythmic old-world frenzy that allows the band to jam, then into a rollicking, lilting romp that crescendos back into the old-world stomp. 
The band have followed their debut LP with a video for Rigoletto's "Wolves on the Balcony," which flexes their folk muscles as an entrant in NPR's annual Tiny Desk Contest. While they wait for the results, Pyrenesia will be busy performing in support of Off-Beat Symphony. They will play April 13, May 5 and June 2 at Logan Inn, New Hope; April 27, Godfrey Daniels, Bethlehem, Pa., with Alex Radus; April 28 at Shadfest in their hometown of Lambertville; July 13, Black Potatoe Music Festival, Clinton; July 27, Little Engine Studio, Frenchtown; Aug. 4, Shippen Manor, Oxford, and Aug. 22, Whittemore Gardens, Lebanon.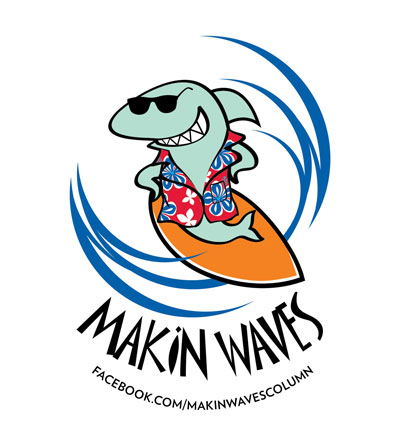 Bob Makin is the reporter for MyCentralJersey.com/entertainment and a former managing editor of The Aquarian Weekly, which launched this column in 1988. Contact him at makinwaves64@yahoo.com. And like Makin Waves at www.facebook.com/makinwavescolumn.