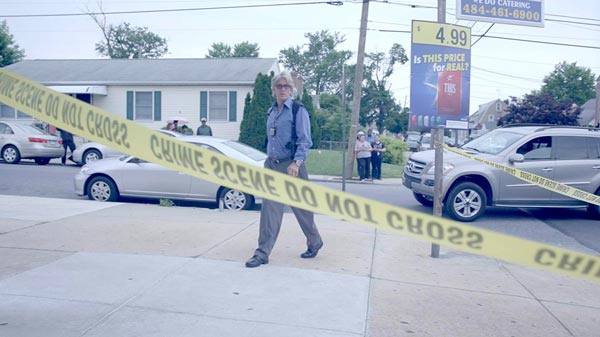 (RIDGEWOOD, NJ) -- The 9th Annual Ridgewood Guild International Film Festival starts with a screening of Oscar-winning film ROMA and other world films at the Ridgewood Public Library, continues with its main nights at the Bow Tie Cinema in Ridgewood on April 24th and 25th, both nights which start off with an exciting Red Carpet in front of the theater. After Thursday's Premiere showing of the film Hollywould, the festival is featuring a Hollywood-style After Party with its cast and crew and including many of the Filmmakers at Felina's Restaurant in Ridgewood. 
The festival continues with a Human Rights Festival at the Unitarian Church in Ridgewood. Along with the premiere of a new independent film Hollywould starring Eric Roberts, this film festival boasts over 150 films in total. There are documentaries, animation, shorts, music videos, experimental video, web/new media and digital shorts. The prices are reasonable compared to other film festivals and offers a lot of entertainment at a small price. For those not familiar with film festivals, the two main nights are pay one price to attend as many films as you want for the night.
---
This Year's Lineup
April 10 World Film Night at the Ridgewood Public Library showing the multiple Oscar-winning movie ROMA. FREE ENTRY.
April 18 Foreign Film Night at the Ridgewood Public Library (A series of foreign shorts submitted to the festival). FREE ENTRY.
---
The article continues after this ad
---
---
April 22 Launch Party: Raymond's Restaurants 101 E. Ridgewood Ave. 7:30pm $40 per person for questions call 201-493-9911
April 24 Opening Night at Bow Tie Cinema, Red Carpet at 6:00pm Cost is $12 for the evening (Seniors $5)
April 25 Closing Night at Bow Tie Cinema, Red Carpet at 6:00pm (Hollywould Film Premiere Night) Cost is $12 for the movies only or $30 which includes the movie & entry to the After-Party at Felina Restaurant. Note: The Awards & After-Party at Felina starts immediately after the film festival concludes. (approx. 10:30pm) Your chance to mingle with "Eric Roberts" the cast / crew and the other filmmakers. Tickets for After-Party alone at the door are $20 each.
May 10 Human Rights Festival in conjunction with the Unitarian Church 7pm- $10 per screening block or $25 for all three screenings
May 11 Human Festival in conjunction withe Unitarian Church 1pm and 7pm $10 per screening block or $25 for all three screenings
---
Premiere of New Film
This year, Hollywood really does come to Ridgewood… The film Hollywould will premiere at the festival on Thursday evening April 25th This Joshua Coates film is a crime - mystery - thriller about an award winning writer named Mark Travis who seeks inspiration by returning to his hometown. What he finds is not what he expected. Her name is Holly. What Holly would do, is like nothing Mark has ever experienced before. Starring: Eric Roberts, Torrei Hart, Pete Postiglione, Caitlyn Fletcher & many others including Ridgewood resident RJ Konner. As a Special Bonus there will be a "Meet & Greet" with Academy Award and a three-time Golden Globe nominee Eric Roberts at the After Party.
---
Festival Highlights
Skin - This Oscar-winning film stars Lonnie Travis from This is Us
Out Fox the Holidays - This comedic short stars Andy Richter and is made by Bergen County's Emmy-winning director Glenn Clements of the Late Late Show with James Corden
Awakening Arlene -This short by returning filmmaker and former Ridgewood resident Brad Forenza stars Vince Pastore (The Sopranos).
Silk City Artists and Musicians - By award winning Paterson filmmaker Vince Parrillo
A Case of Blue Trailer - The premiere of this film shot in Ridgewood made by many Ridgewood residents starring Stephen Schnetzer and Annapurna Srirum. It was written and directed by Ridgewood resident Dana Glazer. The Executive Producer is Scott Rosenfelt, the EP of Home Alone,
TEEEM – Videos will show how local high school children are giving back and helping families in Africa and Peru. Viewers of this films will gain an understanding of how this organization helps children learn about families in third world countries and also how it activates them to help them.
---
Films by Students: From Bergenfield, ridgewood, Allendale, Waldwick, Mahwah, Middletown, Hudson County, NY and elsewhere. Several of these films deal with social issues faced by students.
---
The Ridgewood Guild International Film Festival awards prizes in several categories and also gives a $500 scholarship to the director of the Best Film by a student. The festival attracts top-quality films from our area, the country and internationally. 
Tickets are available here. Tickets for the Thursday, April 25th Hollywould Premiere including the Awards Party at Felina's  are available here.
Special appearances are still being coordinated. In the past the Festival has hosted such celebrities as Danny Aeillo, Tony-award winning actor Christian Borle, Three-time Emmy Winner Martha Byrne, Chris Mann (Oscar-nominated for Loving), RHONJ Dolores Catania, Executive Producer of Home Alone Scott Rosenfelt, Soap Icons Terri Conn, Austin Peck, Tonja Walker, Cady McClain, Orange is the New Black's Alysia Reiner, David Alan Basche (Equity and Egg films), Sarah Megan Thomas (Equity, Liberte: A Time to Spy), Vincent Curatola (The Sopranos), Jack Mulcahy (The Brothers McMullen) and more. Check our media for updates.