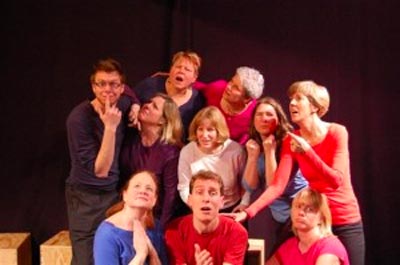 (TOMS RIVER, NJ) -- Spend  a  day engaged  in  lecture, discussion,  and  improvisational  theater with  Dr.  Robert Jensen  and  the River  Crossing  Playback Theatre at part of "An Experience in Privilege: Our Stories"on Wednesday, April 17, and Thursday, April 18 at Ocean County College. 
Wednesday's event runs from 9:00 am to 3:00 pm and features both Dr. Jensen and River Crossing Playback. On Thursday, Dr. Jensen will speak from 9:00 to11:00 am. Events will be held in Room 104 of the Gateway Building Auditorium (Bldg 101). 
Robert Jensen, Ph.D. is an emeritus professor in the School of  Journalism at the University of Texas at Austin, a founding board member of the Third Coast Activist Resource Center, and a member of the team developing Ecosphere Studies at The Land Institute. In his writing and teaching, Jensen draws on a variety of critical approaches to media and power. Much of his work has focused on pornography and the radical feminist critique of sexuality and men's violence, and he also has addressed questions of race through a critique of white privilege and institutionalized racism. 
River Crossing Playback Theatre is an ensemble in the lower Susquehanna Valley building community through the dramatic portrayal of real-life stories. In Playback Theatre, audiences tell, watch, and learn from their own stories, participating in a new common story that honors both their differences and common ground. 
---