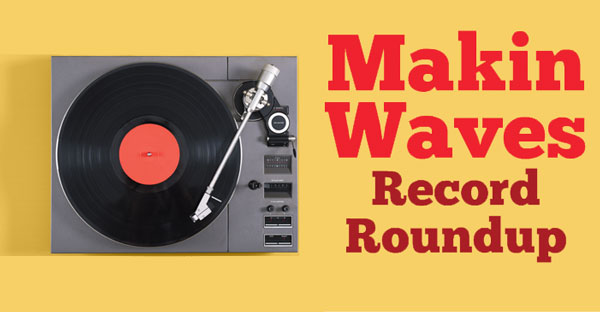 It's been really fun and equally impressive to watch Cold Weather Company's career unfold. They handle their growing business as effectively as their intricate three-piece harmonies and lush acoustic-based arrangements. 
And so that brings us to their third album, Find Light, which like 2015's Somewhere New and 2016's A Folded Letter, boasts intelligent, emotional story songs and inventive musical and vocal interplay symbolic of the trio's bond. But this time out, guitarists Jeff Petescia and Brian Curry and pianist Steve Shimchick produced the 16-song outing with the help of several of their talented musician friends from Rutgers, including the horn section of the hip-hop band Cook Thugless. 
A much bigger palate with which to express themselves, Cold Weather Company ably live up to the task with additional help from engineer and co-producer Pat Noon (River City Extension, Bric + Mortar) of EightSixteen Recording Studio in South River. Masterfully weaved together by Grammy-winning mastering engineering Alan Douches (Cage the Elephant, Clutch) of West West Side Music, Find Light finds a warm, winning home in the golden throats and nimble fingers of Petescia, Curry & Shimchick. 
My favorite track is "Clover," a meaty tune that serves as the centerpiece of Shimchick's impressive four-song cycle about a relationship that swerves from wary optimism through defeat, reflection and, finally, letting go. The cycle also includes the fragile yearning and exotic rhythms of "Do No Harm," the richly rhythmic "Things You Saw" and the stark, deceptively simple "Atlas." His bright mix of classical music and indie rock is balanced by the darker sounds of Curry's folkie singer-songwriter approach and Petescia's jam-band style.
Finding light in darkness is a theme that permeates each band member's songs, the album title, and its artwork — a three-paneled cover of rocky shores and the violent collision of waves in Maine, with the sun reflecting off the

chaos. Musically, the chaos includes "Reclamation," a cathartic chronicle of Curry's two near-death experiences -- a serious car accident and a fall through ice into a frozen lake -- as well as their psychological impact. The triumphant end is marked by a stellar horn line by trumpeter Rick Rein and trombonist Frank Rein, brothers from Princeton now based in Philadelphia. 
On the opposite end of the fun scale is the funky Dave Matthews Band-at-Jazzfest romp that is "Pocket," another standout. Out of the nearly 50 songs that Cold Weather Company have released across three albums, this one is most unlike the others. While it maintains their strong organic approach, the collaboration with Cook Thugless trombonist Keith Lalley, saxophonist Brian Clines and bassist Riley Byrne is a rhythmic feast that borders on second line. 
Other Find Light guests include cellist Kevin Lucero, violinist Nicole Scorsone, Great Big World/Sting percussionist Zach Jones, percussionist Shane Luckenbaugh, and Tyler Rousseau and Scout's Devon Moore on backing vocals. It will be interesting to hear how Cold Weather present all this music live, but since arranging is one of their many strengths, I'm sure it will blend seamlessly into their repertoire. 
See them live March 20 at Gramercy Theatre, New York City, with Afternoon Men and Wild Manes; March 28, World Café Live, Philadelphia, with American Trappist and Apollo Sonders, and May 17, Bourbon & Branch,

Philadelphia, with Lowlight and Foxanne.
On Karma Gambit's debut LP,  This is Probably a Mistake, But …, singer-songwriter-guitarist Jack Linden combines the strong folk-rock of his previous band, Rose Boulevard, with blasts of power pop, largely forged from The Beatles and David Bowie, but also chunks of Cheap Trick and the whimsy and wonder of Weezer. There's even a surprising reference to Rick Springfield. 
Engineer-bassist-guitarist Sean Ahern does a great job crafting the disparate elements into a cohesive sound, while layering the gang vocals that permeate the 10-song collection and keeping the rhythms tight and energetic along with drummer Sean Clinton. Like Rose Boulevard, Karma Gambit features Linden's younger brother, Jeff, a strong songwriter is his own right who fronts the Black Spot Society, which also features Jack. 
I would love to see the Linden Brothers form a band in which they share singing and songwriting responsibilities, but in the meantime, This is Probably a Mistake is a great excursion into the Beatlesque trip that is Jack

Linden's mind. 
Here's a look at each track:
"Still Frames," a strong opener that sounds like The Cure at their most upbeat, such as "Friday I'm in Love." A nice acoustic breakdown features fine acoustic guitar and piano playing respectively by the older and younger Linden brother that heightens the emotion of the fun track.
"Prison Break," a mash-up of good construction, hard edge and big beat that recalls the lighter side of Taking Back Sunday and the harder side of Plain White T's.
"Charming Cashier," a rollicking rocker that mines Springfield's greatest hit, but instead of being Jessie's girl, the unrequited love is a charming cashier. I love the line, "I'm having a staring contest with the clock, and I'm losing."
"Chameleon," John Lennon-like mind game about an alluring lass who never smiles.
"Cardiac Kleptomaniac," tongue-in-cheek Weezeresque rocker that marries acoustic art with alternative pop, along with Ahern's grungy guitar and Jack Linden's hearty strum. 
"Romantic Nightmare Theology 101," standout track at its strongest in a chorus that states, "I wanna go back and get my degree. I'm interested in theology and figuring out what kind of god would create someone like me." Really fun, retro-sounding ooing backing vocals and an acoustic bridge that slams into rockin' guitars and drums also add to the fun, philosophical tune and showcase Linden's strong songwriting. 
"Fire in Our Blood," Paul Westerberg-like tune with haunting vocals by Jack and piano by Jeff that features the strongest lyrics in the bunch, especially the lines: "And I'm as desperate as a middle-aged man grasping for attention with a sports car and a new wife. At least he's lasted that long. I'm a flash in the pan. People used to sing my songs, now I just wear my jeans too tight. She smoked a cigarette after we had sex. Sat out on the porch and watched our dreams turn into smoke rings. The only bright side is we're not dead yet. I'm no scientist, but I know there's a cure for being lonely." 
"Magic 8," XTC-like power-pop within a Bowiesque beat and wall of crunching guitar
"The Acid of Love," Weezer-ish tale of inaction and regret
"Diamonds in the Spring," haunting solo acoustic closer in which Linden eloquently expresses longing in the face of a goodbye. 
Karma Gambit will play April 6 at Asbury Park Music Foundation; April 19, The Asbury hotel, and April 20, John and Peter's, New Hope.
Seventeen-year-old singer-songwriter Ezra Caspi is a retro-rockin' second-generation Jersey Shore musician, but he isn't following in the Doc Martens of his father, local punk great Jon Caspi. Instead, he channels the luscious harmonies of Crosby, Stills & Nash, as well as The Beach Boys; their rich pop arrangements, along with those of The Beatles, and the smoky vocals of Jackson Johnson and Elvis Costello.
The two best tracks on Caspi's first full-length outing, The Best Is Yet to Come, are kind of like bookends relating to the theme of youth crafted in a way the belies his age. While "My Youth" looks forward within a dichotomous '60s-inspired style, complete with Farfisa organ, the closing title track looks back at the pain of bullying in a cathartic, uplifting way. 
I love the way "My Youth," which reminds me a bit of Buffalo Springfield, smashes up the ends of the verses with the beginning of the choruses, thereby showcasing young Caspi as a producer. 
He recorded the entire album in his bedroom, programming exotic instrumentation, such as Beatlesque sitar and tabla ala "Norwegian Wood" and "Tomorrow Never Knows" on the title track, as well as its closing "Sgt. Pepper"/"Abbey Road"-inspired fanfare. The strength of this track also is in the lyrics, particularly the last two verses:  "Well, I set out on my journey through the cheaters and their lies, while their words poured in around me, not immune to their device. And it took nine long years until I learned my way, knowing that hate is not the answer and to learn from my mistakes … Well by the time I got to high school, I'd been broken by their crimes, and I built up courage on heartbroken nights with every note that I could find. And after four long years, well, I've finally found my place with my friends that give me freedom and a girl who gives me faith." 
The lyrics of "Follow You" also are strong in a tune that the sports the passion of Zack Brown within the structure of The Who-like power-pop. Caspi writes, "There's a dark cloud on my generation. Everyone is so worried about themselves. Don't try to tell me that it's OK to hurt someone for your own gain. Do you feel my pain?" 
The Best Is Yet to Come is a follow-up to a four-song EP, Summer Girl, recorded and released when Caspi was only 15. 
The new album's highlights also include:
The opening atmospheric instrumental, "Initiation," which channels the weather within its soundscape.
"Ghost," a pretty love song made prettier within a beach setting.
The acoustically spare "Awaitin'," which features a lush vocal harmony in the tradition of Crosby, Stills & Nash.
 "Say Whatever," a nod to the innocent charm of Buddy Holly and the truthful croon of Elvis Costello.
 "Yours, Mine," which will appeal to fans of The Beatles, The Beach Boys, and The Byrds with its folk foundation and rich vocal tapestry.
On May 18, he will open the second day of the inaugural Makin Waves Fest at the Brighton Bar in Long Branch. For more about Makin Waves Fest, click here.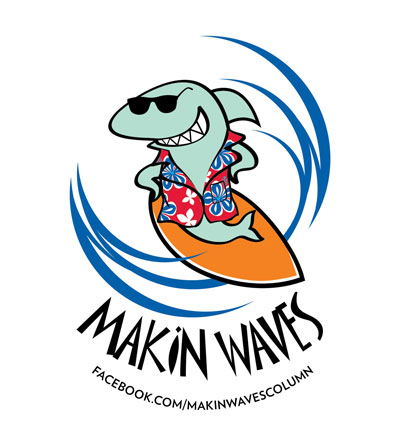 Bob Makin is the reporter for MyCentralJersey.com/entertainment and a former managing editor of The Aquarian Weekly, which launched this column in 1988. Contact him at makinwaves64@yahoo.com. And like Makin Waves at www.facebook.com/makinwavescolumn.