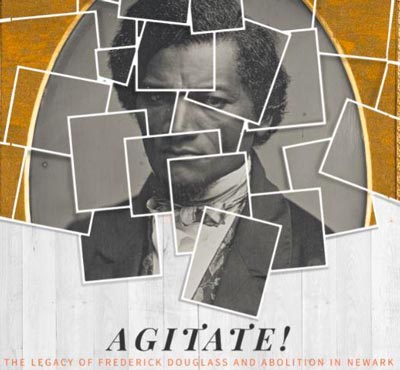 (NEWARK, NJ) -- To commemorate the revered 19th century civil rights pioneer Frederick Douglass's visit to Newark 170 years ago, Rutgers University–Newark (RU-N) will celebrate the life and legacy of Douglass at the on-campus site that now bears his name, Frederick Douglass Field (at University Avenue and Warren Street), on Wednesday, April 17 at 2:30pm. In addition to honoring Douglass, "Agitate! The Legacy of Frederick Douglass and Abolition in Newark" will acknowledge the nearby underground railroad stop and the vibrant abolitionist community in Newark at the time. The event will culminate with a reception at the Paul Robeson Campus Center at 350 Dr. Martin Luther King Jr. Blvd in Newark.
Confirmed attendees include Newark Mayor Ras J. Baraka; Newark Historian Junius W. Williams; Rutgers University President Robert L. Barchi; RU-N Chancellor Nancy Cantor; Frederick Douglass Family Initiatives Co-Founder and President Kenneth B. Morris Jr., the great-great-great grandson of Douglass; and more than 200 descendants of Greater Newark's abolitionists.
According to research by entrepreneur Todd Allen, a member of the Board of Directors of Frederick Douglass Family Initiatives; and RU-N graduate student Noelle Lorraine Williams, Douglass accepted the invitation of local abolitionist leaders to deliver an address at the Plane Street Colored Church located in Newark's African-American community on April 17, 1849, to fundraise for the North Star newspaper and rally action around the abolition of slavery. The defunct church at which Douglass spoke stood where RU-N's athletics field borders University Avenue between Warren Street and Raymond Boulevard. RU-N renamed the athletics field in honor of Douglass on July 18, 2018. The naming took place in a year when the country celebrated the 200th anniversary of Douglass's birthday.
The commemoration and reception are free and open to the public. To register, click here.
Rutgers University–Newark (RU-N) is a diverse, urban, public research university that is an anchor institution in New Jersey's cultural capital. More than 13,000 students are currently enrolled at its 38-acre campus in a wide range of undergraduate and graduate degree programs offered through the College of Arts and Sciences, University College, the Graduate School, Rutgers Business School-Newark and New Brunswick, the Rutgers Law School–Newark, the School of Criminal Justice, and the School of Public Affairs and Administration. RU-N is exceptionally well positioned to fulfill higher education's promise as an engine of discovery, innovation, and social mobility. It has a remarkable legacy of producing high-impact scholarship that is connected to the great questions and challenges of the world. It has the right mix of disciplines and interdisciplinary centers and institutes to take on those questions and challenges. It is in and of a city and region where its work on local challenges undertaken with partners from many sectors resonates powerfully throughout our urbanizing world. Most importantly, RU-N brings an incredible diversity of people to this work—students, faculty, staff, and community partners—making it more innovative, more creative, more engaging, and more relevant for our time and the times ahead.  
---