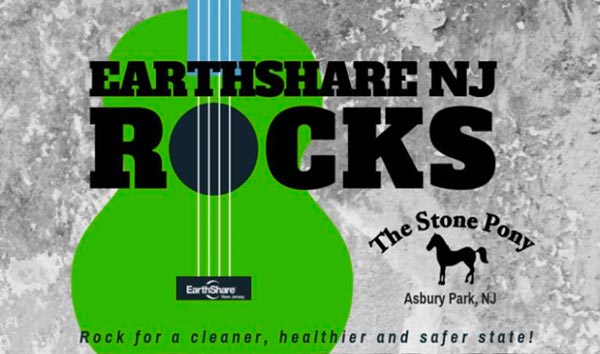 (ASBURY PARK, NJ) -- The third annual EarthShare NJ Rocks will take place on Saturday, March 23rd at The Stone Pony in Asbury Park. Free Pass, The Troubles, The New Soul Rebellion and The Dirty Shine will perform from 7:00pm to 11:00pm.  Tickets are available for $20 in advance, $25 at the door. Students with valid id are $12 in advance and $15 at the door. The first 300 to enter will receive a free event t-shirt. Doors open at 6:30pm.
Legendary DJ Lee Mrowicki serves as MC for the evening bringing decades of music history to the stage. Free Pass, plays a variety of great music covers from rock, country, pop, dace and rock and roll. They start the evening strong and pave the way for a night of great music and musicians. Best described as a power trio cover band, The Troubles specialize in classic rock from the 60s to today and will surprise you during their set with forgotten gems that evoke memories of another time. The New Soul Rebellion is a groovin' funk band based in Red Bank that brings an energy and soulfulness to the stage that is meant to be enjoyed. With decades of talent in the band, these veteran artists create a funky beat with soulful tones that you can't help but move to. And if these bands haven't gotten you up out of your seats, The Dirty Shine with their unique sound of soul, blues, R&B and rock will certainly ignite your spirit. Filled with power and beauty in their uniquely original yet classically familiar sound, members of The Dirty Shine have a contagious passion for music.
"When we first explored the concept of EarthShare NJ Rocks, we weren't sure what would happen," said EarthShare NJ Executive Director Paula Aldarelli. "Since then, attendance has tripled each year and the talent that donates their time to raise money and awareness for our environment gets better and better." 

The bands are taking part in the benefit to help bring about a cleaner, greener and healthier New Jersey. There is a distinct connection between our environment and the arts, especially music. The proceeds of this evening go to ESNJ's non-profit members for education programs and conservation efforts supporting air, water, land and wildlife across New Jersey. Tickets are available for purchase online. 
The Stone Pony is located at 913 Ocean Avenue in Asbury Park, New Jersey.
---
The article continues after this ad
---
---
EarthShare New Jersey (ESNJ) was formed in 1994 by New Jersey's leading environmental non-profits to help raise awareness and funding for their programs. Today, EarthShare New Jersey is part of the nationwide federation representing more than 450 environmental and conservation charities throughout the U.S. working together for a healthier and safer tomorrow.
ESNJ connects individuals with the environmental world around them. Here in New Jersey, that means our waterways, open spaces, hiking trails, wildlife, and the myriad of issues each faces. They coordinate educational courses, volunteer experiences and philanthropy programs for employers across the state connecting them with the local environmental 501(c)3 organizations that work with EarthShare New Jersey. Serving as the bridge between the non-profits and employers is a critical role in bringing environmental awareness to the general public.
EarthShare New Jersey's mission is to mobilize people to conserve and preserve our air, water, land, and wildlife, creating a cleaner, healthier, and safer place to live, work and play.