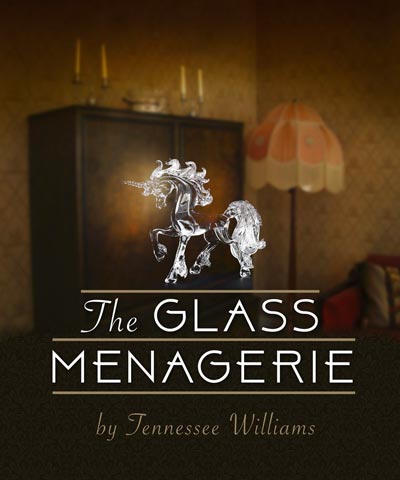 (HADDON TOWNSHIP, NJ) -- The Ritz Theatre Company presents The Glass Menagerie by Tennessee Williams from March 15-31. The Glass Menagerie is a memory play by Tennessee Williams that catapulted Williams from obscurity to fame.  The cast includes Sara Viniar (Laura), Lori Aleixo Howard (Amanda), Taylor Darden (Tom), and Jared Calhoun (Jim). Matthew Weil directs the production.
A drama of great tenderness, charm, and beauty, The Glass Menagerie is one of the most famous plays of the modern theatre. Set in St. Louis in the 1930s, the play focuses on the Wingfield family with Tom, who is torn between his obligation to his family and his desire to break away from his overbearing mother Amanda and his frail sister Laura, whose memory he cannot escape. More than seventy years after its first premiere, Williams' most personal work for the stage continues to captivate audiences around the world.
"The Glass Menagerie is certainly a classic, written by arguably the best American playwright of all time," said Matthew Weil, Director and also the Ritz Production Manager. "Many of the issues addressed in the show are just as timely today as they were when the show was originally written and produced." 
Opening on Broadway in 1945, the play has had a number of revivals, and was adapted for the American film screen twice, the most recent directed by Paul Newman, starring Joanne Woodward. The play was also produced for broadcast on radio and television. The first television production, a CBS Playhouse production, starred Hal Holbrook. The second television production starred Katherine Hepburn. Many other performers have appeared in the show in various productions, including Maureen Stapleton, Jessica Tandy, Julie Harris, Jessica Lange, and Judith Ivy. In 2017, Sally Field was nominated for a Best Actress in a Play TONY.
"We're thrilled to bring the Tennessee Williams classic The Glass Menagerie to The Ritz," said Ritz Producing Artistic Director Bruce Curless. "This show is sure be a treat for our patrons who know the show, and just as much for those seeing it for the first time."
---
The article continues after this ad
---
---
Tickets are available online.  The Ritz Theatre is located at 915 White Horse Pike in Haddon Township, New Jersey.
---
PERFORMANCE SCHEDULE
Thursday March 14 at 7:30pm

Friday March 15 at 8:00pm

Saturday March 16 at 8:00pm

Sunday March 17 at 2:00pm
Wednesday, March 20 at 7:30pm

Friday March 22 at 8:00pm

Saturday March 23 at 8:00pm

Sunday March 24 at 2:00pm
Wednesday, March 27 at 7:30pm

Friday March 29 at 8:00pm

Saturday March 30 at 8:00pm

Sunday March 31 at 2:00pm
About The Ritz Theatre Company

The Ritz Theatre Company was founded over thirty years ago to bring live, quality, professional productions to our region … and we're still doing it today. Throughout our history, we've aspired to make theatre accessible to everyone, to entertain our audiences with favorites, to challenge them (and ourselves) with complex works, to provide on-stage training for actors, to introduce kids to the magic of live theatre, and to help restore the historic building we call our home.