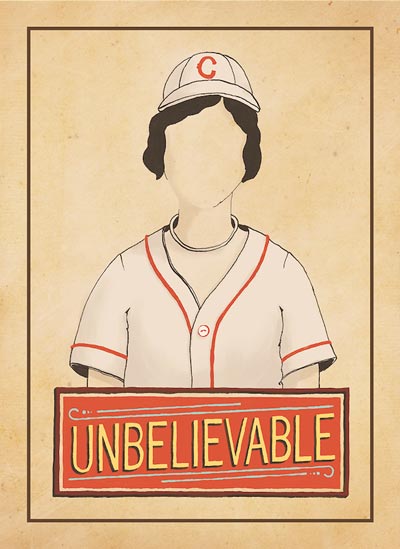 (FAIR LAWN, NJ) -- New Jersey Theatre Alliance presents Skyline Theatre Company's world premiere musical workshop production of "Unbelievable" on Saturday, March 16 at 7:00pm at the Fair Lawn Community Center. The event is part of the Alliance's Stages Festival, the state's largest annual theatre festival that provides free and discounted theatre events for all ages throughout the month of March. This one-night-only event is free to the public. 
"Unbelievable" tells the largely unknown true tale of Ms. Jackie Mitchell (August 29, 1913 - January 7, 1987) who was one of the first female pitchers in professional baseball history. Pitching for the Chattanooga Lookouts Class AA minor league baseball team in an exhibition game against the New York Yankees, she struck out Babe Ruth and Lou Gehrig in succession.  Or did she?
The Stages Festival offers dozens of performances, workshops, classes, and events at theatres, art centers, libraries, schools, senior centers, and other community venues throughout the state. The program was developed to encourage New Jersey's residents to attend their local professional theatres by making the experience affordable, accessible, and fun.  
For more information, or to make a reservation, call Skyline Theatre Company's box office at 800-474-1299.  Skyline Theatre Company is in residence at the Fair Lawn Community Center at 10-10 20th Street in Bergen County's Fair Lawn, NJ.  To receive a full schedule of events for The Stages Festival please visit stagesfestival.org.
The workshop production is directed by Sam Scalamoni, Artistic Director of Skyline Theatre Company. "Unbelievable" music is written by Rachel DeVore Fogarty with lyrics by Kevin Fogarty and book by John DeVore.
---
The article continues after this ad
---
---
"The Alliance is grateful that Skyline Theatre Company is participating in the 2019 Stages Festival," said John McEwen, Executive Director of the Alliance. "For 22 years, Stages has provided theatrical experiences for thousands of residents across New Jersey. These efforts would not be made possible without the wonderful help of our partners such as Bergen County's own Skyline Theatre Company."
Skyline Theatre Company's next production is the drama "Lombardi" written by Eric Simonson. It will run one weekend only from May 3-5.  
Founded in 1995, Skyline Theatre Company's mission is to bring together professional artists to create quality theatre that entertains and inspires an audience. We make commitments to the education of young people in all aspects of the arts and to cultivating and nurturing new artists and their works.
Founded in 1981, New Jersey Theatre Alliance was the first statewide service organization for professional, not-for-profit theatre companies in the United States, and is now a leader in developing model programs that foster collaboration, cooperation, and audience development. The Stages Festival is a project of the New Jersey State Council on the Arts and the Alliance. Major funding is also provided by Bank of America, The Horizon Foundation for New Jersey, and PSEG Foundation. Additional support is provided by individuals, corporations, and foundations such as The Blanche and Irving Laurie Foundation, F.M. Kirby Foundation, The Geraldine R. Dodge Foundation, Fund for the New Jersey Blind, and George A. Ohl, Jr. Trust.