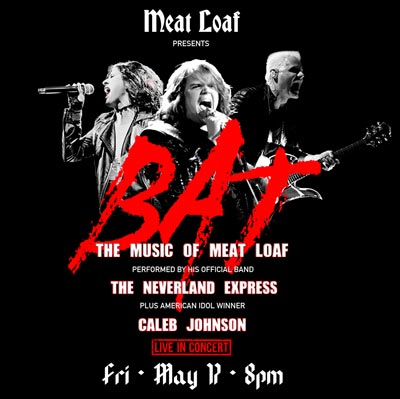 (NEWTON, NJ) -- Experience the hit songs from Meat Loaf performed brilliantly by his band, The Neverland Express, plus American Idol Winner, Caleb Johnson on Friday, May 17 at 8:00pm at The Newton Theatre. Tickets start at $39.
The Neverland Express includes world-class alumni spanning the history of the Meat Loaf legacy. Decades of touring and recording with Meat Loaf shape the Neverland Express into a world-class backing band.
In addition to a #1 album and touring with some of the biggest names in rock, Caleb Johnson is the winner of American Idol season 13. He delivers his own unique stamp to such classics as "Bat Out Of Hell", "Paradise By The Dashboard Light" and "I Would Do Anything For Love" while staying true to the essence of Meat Loaf's delivery.
The show is presented by Grammy Award winner Meat Loaf and produced by his musical director/guitarist/record producer, Paul Crook. 
The Newton Theatre is located at 234 Spring Street in Newton, New Jersey.  Tickets start at $39 and are available for purchase online, at The Newton Theatre box office, or by calling 973-940-NEWT.
---